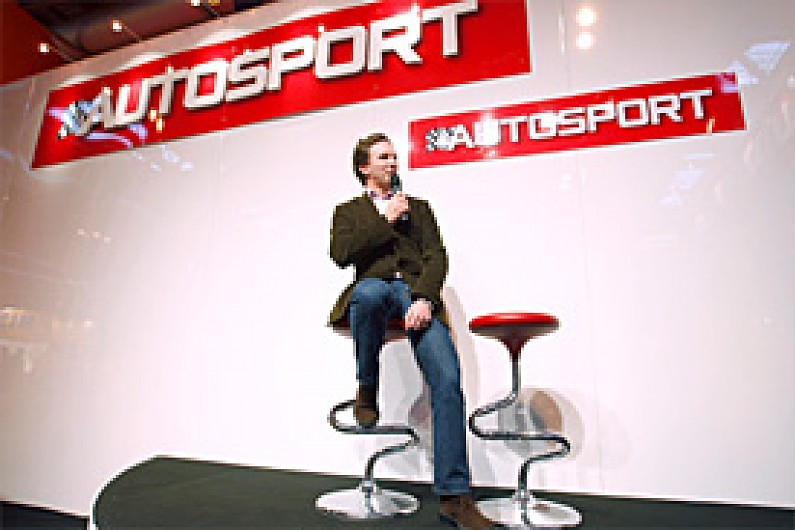 Red Bull Racing emerged last season not just as race winners but as serious contenders for world championship glory.
With high hopes for its 2010 RB6, team principal Christian Horner took to the main stage at the AUTOSPORT International show on Friday to talk about the chances for this season, the future of F1 and the decision to skip the first pre-season test in Valencia.
Q. Let's reflect on the sensational year you had in 2009? You won the last three races of the season and RB5 was probably the fastest car by the end of the campaign. Were you pleased with the overall effort?
Christian Horner: I think 2009 was a big year for Red Bull and we had a great year. We won six races, we challenged in both championships until very late on, and it was an interesting year. There was a massive regulation change going into the season and then some controversy over the regulations as to what was permitted and what wasn't in terms of diffuser. I certainly knew more about diffusers in the run-up to the season than I had knowledge of previously.
It was great year. It was great for F1, to have two new teams running at the front, and we are looking to build on that momentum that we carried through the season finishing the season on a real high as we set off for 2010.
Q. Is there an element of frustration that Jenson Button and Brawn GP were able to skip away in those first six or seven races because of the diffuser situation? Had it been clearer at the beginning what the rules were, you would have been there wouldn't you?
CH: Yes, but they exploited the regulations, or a greyness within the regulations, which was given clarity after the appeal. They made hay while the sun shone and obviously Jenson did a great job exploiting the performance in the car in that first third of the year which really set him up very well. Then his consistency was quite remarkable, even in the races where he wasn't competitive.
He was still picking up fifth, sixth or seventh places, and continuing to add to his score sheet. His campaign got off to a very aggressive start at the beginning and then we didn't see him on podium between Turkey and Abu Dhabi, but collecting those points served him very, very well.
Q. How do you assess the relative performances of your two drivers, Sebastian Vettel and Mark Webber. Sebastian won four races, and almost won the championship. Mark had a breakthrough win and won again in Brazil - can you analyse them?
CH: We are very fortunate that we have a great balance of youth and experience. Sebastian has demonstrated he is a real talent, he has grown and matured and improved throughout the 2009 season. It was a great campaign for him to win four grands prix, and witnessing how he developed was very impressive. He had some hugely impressive drives in Japan and Abu Dhabi and even in Brazil, which went largely unnoticed from a lowly grid position. And obviously Silverstone as well.
He is a young guy. He is very intelligent, mentally very strong and he is a very likeable character. He is a very popular member within the team, he has a great sense of humour and had a very strong working relationship with Mark.
One mustn't forget the difficulties that Mark had 12 months ago when he had a very nasty accident, badly breaking his leg - and also he forgot to mention he broke his shoulder blade as well. So his recuperation over the winter was quite phenomenal. It really took him two or three races to get back up to full speed, and it was great to see him win his first grand prix in Germany and obviously the emotion he had after crossing the line.
Q. Even with the drive-through..
CH: Yes, even with the drive-through. Effectively he did a three-stop [strategy]. He was very, very quick that day and I don't think anything was going to stop him from winning that grand prix. So it was great to see him finally break his duck, and the two of them worked very well as a combination. We are very fortunate within Red Bull that we have two drivers who have a very strong work ethic. They are both very quick, and complement each other very well.
Q. One of significant things is that you are only top team keeping the same two drivers for 2010. Is continuity crucial?
CH: For us we believe it is crucial - not just with the drivers, but across the board with personnel and all aspects of the car, including the engine. So we are probably one of the big teams that has not had a change, and there is always that settling down period, especially with the restricted testing, that drivers who change teams or new drivers coming into teams are going to be under pressure to get up to speed quickly. But we have the benefit of continuity, but obviously the other teams are quality teams and world class drivers and I am sure by the time we arrive in Bahrain they will all be in good shape.
Q. You have taken a long-term view with Sebastian Vettel. He is a superstar of the future. Where does Mark fit into the picture? What does he have to do in 2010 to keep his place for the following year?
CH: He needs to do what he did in 2009! His motivation is very high, he is training very hard and he is now back at full fitness. He had his last operation to remove some screws from his leg, which gives him full movement of his right leg now.
So he is training very hard and his motivation is high. It will be interesting with qualifying changing as well, slightly in the third element now with it being a flat-out Q3 without the fuel effect, it will probably suit him quite well. I am sure he will be very competitive this season.
Q. He was lucky it was his right leg wasn't he, because in a modern F1 car you brake with your left leg?
CH: Yes, he would have been in a lot of trouble. This time 12 months ago he could not bear weight on his right leg and he was very concerned, because before he drove the car he did some running in a go kart just to make sure that the feel and the movement was in the leg.
He focused so hard on the throttle movement actually going down, that we he drove the car, what he found difficult, was that the tendons had stiffened up and he found it difficult to come off the throttle. But the look of relief in his eyes after he completed his first couple of laps, that everything was working and the feel was still there, you could see the relief written all over his face having completed his first run.
Q. In terms of your driver line-up, and looking ahead, what do you think about somebody like Kimi Raikkonen who could be available in 12 month's time?
CH: I think Kimi has pledged his future to rallying. His heart seems to be firmly set on rallying, he is going about his campaign in preparation for his rally campaign this year and it is going to be fascinating to see how he performs in that arena. Certainly going the other way, when we tested Sebastien Loeb in Barcelona at the end of 2008, he acquitted himself very, very well. It will be interesting to see how Kimi performs but I think his focus is fully on rallying, and our focus is very much on our own drivers for the 2010 season.
Q. Kimi is one of those guys whose head will drop if the car is not going quite well - and you don't get that feeling with Sebastian Vettel or Mark Webber? They are focused, driven guys.
CH: That is what I think was one of the most impressive things with Sebastian last year. He never ever gave up. No one was more disappointed than him in Brazil, because he never gave up belief that he could win the championship no matter what the adversity was - like the engine failures he had to deal with last year. He kept fighting and he is a very positive force, and I think that stands him in great stead. He is a fierce competitor and also Mark, as well, as he demonstrated with the recovery from his accident.
Q. For 2010, we are due an absolutely classic season. We have Michael Schumacher coming back, and Sebastian will be wanting to maintain his position as the fastest German.
CH: It is going to be fascinating. I think it is great that Michael Schumacher is back in F1. I was still at school when he was first driving in F1, so it gives hope to every 40 something old out there that there is life in the old dog yet. I am sure he will be very competitive and there is a huge amount of respect for Michael from his peers, particularly from Sebastian who is a close friend of his, but I am sure when they are out on track that he will treat him as every other competitor, and both will be very keen to beat each other.
Q. After a lean season for both McLaren and Ferrari, are you concerned that these big hitters, the legendary racing teams, will fight back?
CH: Absolutely. You cannot underestimate those teams. They are very, very strong teams and they are formidable opponents. They have great resource, and historically they have been the prominent two teams. They both struggled respectively against their own high standards in 2009, and I am sure they have been focusing a lot of efforts on 2010 also. But we believe that we have got a very strong group of people, they have demonstrated their ability not just in 2009, but we also had a good chassis in 2008 - as Sebastian clearly demonstrated by winning the race in Monza.
I think that Red Bull is a young team but it has grown, developed and it has started to mature. While obviously have complete respect for our opponents, we believe hopefully we can be a key part of the championship battle in 2010.
Q. You have direct dial to Dietrich Mateschitz, what is his long term view of F1? Is he in for the long haul?
CH: I think Mr. Mateschitz and Red Bull have demonstrated their association, it goes back beyond Red Bull Racing. They were a shareholder and sponsor of the Sauber team, and there are young drivers they supported. The Red Bull presence through all motorsport is enormous.
Mr. Mateschitz is a big fan of F1. He wants to see the sport continue to grow and continue to be a fantastic spectacle. The commitment that Red Bull has shown to F1, not just through Red Bull Racing but also Toro Rosso, and the numerous drivers they have supported to help find their way in F1 is second to none. So he is excited about the future of F1 and obviously looking forward to the season with great interest.
Q. You say Red Bull Racing is a young team, but in 2010 we have some even younger teams - and some teams that don't even exist yet. What are your views on these new outfits?
CH: You have to show a lot of respect to those teams. It is a massive task to design, produce and then operate a grand prix car. With the resource that we have, we are stretched - so one can only imagine and only have respect for the task that they have ahead of them. Hopefully they will all make it and I think it is positive for F1 that there are new independent teams coming into the sport. It is good to see the Lotus name back in F1, and it is going to be a big challenge I am sure, but they knew that before they signed the entry form.
We obviously lost a few manufacturer teams going into this season but I think independent teams have been the stalwarts of F1, and hopefully they will all be there in Bahrain and in Abu Dhabi at the end of the year.
Q. Red Bull is a classic example of an independent operation coming good. Do you think the future direction of F1 is that?
CH: It is always disappointing to see teams disappear and one can only have sympathy for the employees of those teams. But out of adversity, comes opportunities. And hopefully opportunities have been created with the new teams.
F1 needs a balance of independent and manufacturer teams. Perhaps the most important thing, and where F1 has been slightly guilty in recent history, is that costs have spiralled significantly. With the work that has been done collectively between the Formula One Teams' Association (FOTA), the FIA and FOM, costs have been contained which is enabling new teams to enter F1.
It also enables a team like Red Bull to be competitive. Certainly when we entered the sport in 2005, with unlimited testing, with tyre development wars going on, huge engine costs, it was far more prohibitive. Whereas now, with costs having been significantly reduced, there is still quite a bit of work to do in that area, it enables a privateer team such as ourselves to run at the front. And I think that is only positive for F1. The challenge still has to be technical challenge, man and machine at their absolute limit, but I think a lot of the unnecessary costs have been managed to be addressed.
Q. Are we entering a new era of unity between the FIA and the teams, and FOTA?
CH: Obviously a lot of water has gone under the bridge in recent years, and it's a relationship between the three parties that has to work in the interests of the sport. That is the number one objective of all three parties.
I think Jean Todt will be a very strong president, and the great thing abut Jean is that he has run a Formula 1 team, he knows the challenges that are involved in F1, but beyond that he has been involved in sportscars and world rallying, so for the world of motorsport he was the obvious candidate to take over from Max Mosley. I am sure we can look forward to good things under his presidency.
Q. A final few thoughts on the RB6. Can you explain the thought process behind the recent announcement to miss the first test?
CH: Strategically it is something that we looked at, and it is something that you look at when you look at the planning of the car. It was something we elected to do in 2009, to give the designers, Adrian [Newey] and his team as much time as possible, to optimise the launch car. Last year it poured with rain for three days at Parc Algarve, and we don't have good enough weather satellites to say it is going to do the same in Valencia. But it is a strategy we have adopted.
We believe it gives us the best preparation for the first race in Bahrain, and the season ahead. It is a long campaign, 19 races this year, so rightly or wrongly that is our decision. It is an aggressive route to take. It has always been part of our strategy and we will hit the ground running at the second test in Jerez. It is the most southern test track in Europe where hopefully the weather will be starting to warm up a little by then, and we believe it gives us the best preparation for the first race in Bahrain.
Q. You were holding out for a Mercedes-Benz engine for a number of months but it didn't happen in the end. Is that a factor in the car being late?
CH: I don't think the engine decision made any difference at all to our planning. There was obviously some discussions with Mercedes-Benz during the latter part of the summer, but as soon as it was clear what our engine choice was going to be, it hasn't compromised anything in any way.
The engines these days, through regulations, are so similar in terms of their packaging that it hasn't compromised us at all. We are looking forward to hopefully another good year with Renault. As the regulations are more stable and inevitably as the chassis converge, then engine performance will be a key performance differentiator - and it is important that under a fair and equitable basis, one engine will not be allowed to have a significant advantage over its peers.
Q. Will the sale of part of Renault to Genii make any difference to what is an engine supply deal for you?
CH: Our deal was always with Renault Viry, where the engine was produced - just south of Paris. So we don't actually have any interaction with the Renault Enstone team, so as far as working relationship with Renault is concerned, it doesn't affect it in any shape or form. It is good to see a solution was found for the Enstone team to be on the grid in F1.
Access even more news on Autosport.
Register for free to increase your monthly limit from 15 to 25 stories - or subscribe today and get unlimited access.
Get unlimited news
Full access to our news and in-depth Autosport Plus features - all in an ad-free enviroment.
Subscribe to Autosport Plus
Get 10 free extra stories
A quick upgrade and you'll boost your monthly news limit instantly - for free.
Register for free