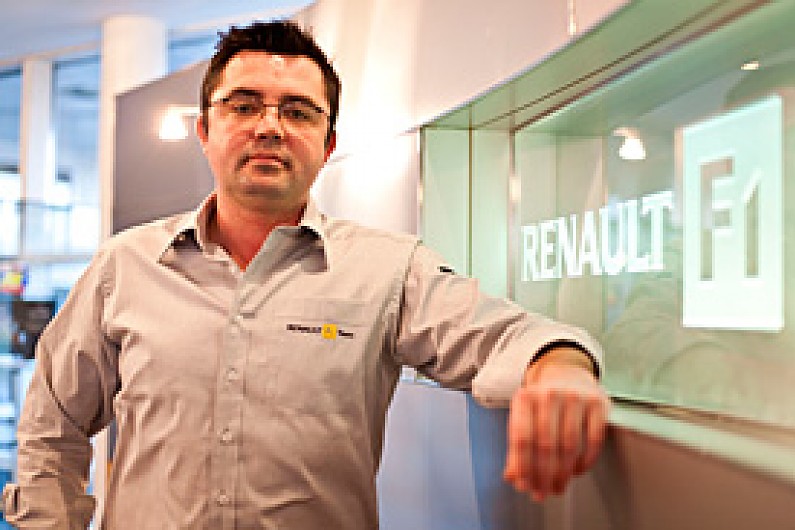 Renault's new boss Eric Boullier may have no previous experience in Formula 1, and be a relatively young at 36, but he knows everything about the hard work needed to be successful in motor sport.
The popular Frenchman has a vast experience from a whole host of categories outside of grand prix racing - having worked in recent years at all levels from Formula Le Mans and Formula BMW, all the way up to A1GP and GP2.
Boullier is a graduate of the French Institut Polytechnique des Sciences Appliquees engineering school where he studied aeronautical and space craft engineering.
During his time there, he worked as an engineer for the RJ Racing team in sportscars, before taking up a full-time position as chief engineer at Racing Engineering from the start of 2002.
He spent that season in charge of the team's World Series by Nissan programme, and in particular looked after Frenchman Franck Montagny.
At the beginning of the following year, he moved to French team DAMS as its managing and technical director. There, he oversaw the team's activities in the numerous categories that it was competing in - which included taking charge of the A1 Team France effort from 2007 until 2009.
His weekends at Formula Le Mans, Formula BMW, GP2 Asia and A1 Grand Prix filled up his year - with some estimates suggesting he was away from home for at least 40 weekends of the year.
At the end of last year, Boullier fancied a change of scene and he took up the offer to become CEO of Gravity Sport Management - the company backed by now Renault co-owner Gerard Lopez.
At Gravity, Boullier was put in charge of looking after the careers of a number of young drivers including Ho-Pin Tung, Adrien Tambay, Jerome D'Ambrosio and Christian Vietoris.
However, when Lopez completed his deal to take a majority shareholding in Renault, it was inevitable that Boullier would be drafted in to take a role at the outfit - with talks about him becoming team principal taking place before the Christmas break.
His experience elsewhere shows he is ready for the challenge - and he is equally sure that his young age will be no hindrance either.
"The team wanted some fresh blood and to open a new chapter," he said. "F1 is made of cycles and the shape of tomorrow's sport is being defined now with a new generation beginning to fill the paddock little-by-little. Ferrari and McLaren have, among others, followed this evolution. And Christian Horner from Red Bull Racing is my age!"
Boullier is also keen to make it clear that his move into Renault is not simply because of Lopez and his Genii Capital involvement at the team.
"I have been appointed by Renault F1 Team who stays in charge of all operational aspects of its F1 activity," he said. "Of course, representatives of Genii Capital were consulted, but it would be wrong to think of Renault as a two-headed structure that will have two decision-making hubs. This is one team with one structure."
The confirmation about his appointment marks the start of an exciting new chapter in Boullier's career - but one that he appears more than ready for after his years of hard grafting.
"I have set myself relatively high objectives," he said. "F1 is a dream for an engineer and I wouldn't want to let this opportunity pass me by. There is no pressure, only the motivation to do the job for which I have been appointed well."