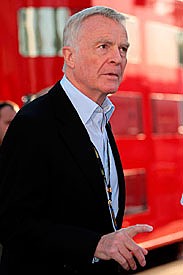 Former FIA president Max Mosley has vigorously denied any suggestions that the governing body's punishment of Flavio Briatore earlier this year for race fixing was fuelled by revenge.
Briatore was handed an indefinite ban from involvement in FIA-sanctioned motor racing series for his part in staging a deliberate crash at the 2008 Singapore Grand Prix to help Fernando Alonso win.
That penalty is the subject of an ongoing court action in the French courts, and a recent report in The Guardian newspaper revealed details of court documents that Briatore had submitted.
In them, Briatore accused Mosley, who was then president of the FIA of "being blinded by an excessive desire for personal revenge" and the FIA itself of a "breach...of the most basic rules of procedure and the rights to a fair trial."
The leaking of those private documents has enraged Mosley, who has made the step of issuing a press statement defending his actions and making it clear there was no hidden agenda behind what the FIA did.
"Briatore should be the last person to complain that the FIA has not treated him fairly," wrote Mosley. "The FIA has repeatedly given him the benefit of the doubt.
"It did so when prohibited software was found in a car under his control, again when a component was removed from his team's refuelling equipment, again when his team failed to declare properly the purpose of a particular suspension component and most recently when they were caught with information illicitly acquired from another team."
Mosley said that the overwhelming evidence provided to the FIA about the events of Singapore meant the governing body had no choice but to come down hard on the guilty parties.
"Once the FIA had a sworn statement from Nelson Piquet Jr confirming that he was ordered to crash, a full professional inquiry conducted by outside lawyers was inevitable.
"That inquiry, like Renault's own investigation, established Briatore's responsibility beyond question. The suggestion that all this was somehow manufactured for reasons of personal vengeance is a desperate and unsustainable argument.
"By persuading The Guardian to publish sensationalist extracts from his Court submissions, without any mention of the other side of the story, Briatore succeeded in using that newspaper to distract attention from his key role in one of the worst and most dangerous examples of deliberate cheating in the history of sport."