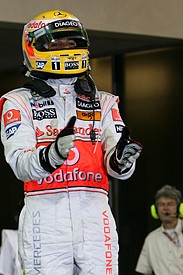 Lewis Hamilton and McLaren have surged back from nowhere at the start of the year to become race winners and consistent top three contenders again going into the final rounds of the 2009 season.
Having continued that form with a crushing pole position in Abu Dhabi, Hamilton told the media why he is so upbeat about 2010, but why the current car is still not perfect.
Q. If you had had this car at the start of the season, do you think you would have been fighting for the title?
Lewis Hamilton: I don't think so. It is difficult to say it would have been a world championship campaign for sure, because there are some tracks where the car has really been quite poor, I think of Spa for example. Even though it is feeling quite good here on these slow speed corners, it is still not the best car by a fair amount. We still have a lot to improve on. And the foundations of the car are not perfect, so we need to improve that for next year. The faster we get, the worse the car gets in the high speed corners, and if we went to places like Spa we would struggle still.
But the reliability has been good, the engine has been performing fantastically, and we have definitely got closer. If we had this car from the beginning we would have got closer, and if we had started from here we would have just continued to improve.
Q. Were you expecting such domination this weekend?
LH: The weekend is not over, but I didn't expect it. We arrive at every race this year, and each one is different. Sometimes we are there, sometimes we are not. We came here, and I didn't know where we would be. So it was a real surprise. On Friday we really dialled the car in, and it feels the best it has felt all year to drive. So it was a surprise for all of us.
Q. Watching trackside this place looks fantastic, how does it feel from the cockpit?
LH: It is a bit like driving a go-kart through some of those corners. Turn 11/12/13, it is like corners of a go-kart track. A bit of kerb here, a little bit more there, a little bit less - you lose vision as you go over the brow, and then the car drops back down so you get back on the power. It is cool. I like it.
Q. There were a lot of incidents in Brazil that have prompted a debate about driving standards this weekend. Is it time for a new code of conduct, or is the FIA doing enough?
LH: I think the FIA has done a tremendous job this year. Whether it has all been perfect... it is a very hard job to do. The situations are always different, but they have done a great job this year. I think for Brazil, clearly we had some great racing, some very tough calls for them, but for us in the drivers' briefing it was more comments about younger drivers coming in. The rest of us, we have been here and we have established an agreement amongst drivers. The new ones have come and have not been briefed about what we all go by manoeuvre wise, so perhaps it is a question of them becoming aware of it.
Q. What direction would you like to see F1 go now that we have a new FIA president in Jean Todt?
LH: I haven't really thought about it too much. I have not really seen Jean to say congratulations, but I think he is going to do a great job. Clearly, it is not an easy job for him to just step in and do, but he did a great job in his past history in F1 and has been a good team leader. So the people around him, hopefully he will be able to manage them very well and help us all move forward. From our point, [that means] working well with the GPDA and hopefully improve safety. For the rest of the FIA, I don't know what they need to improve but hopefully it is going to be an addition to the group and hopefully a positive.
Q. How encouraged are you by the way the team has ended the year, looking ahead to next season?
LH: It is extremely encouraging. I cannot express how encouraging it is. When you come from a team where for two years you have had a good, competitive car, to the beginning of the year where you had your doubts and you felt the car was just nowhere, and didn't know when or if it would get better. It is encouraging for the future, but it is also such an encouraging feeling to be working so close with everyone, my team-mate, and all the guys back at the factory. Bit by bit we are getting there.
Q. McLaren's approach is different to Ferrari - who drew a line under the season and started developing the new car for next year straight away. You've kept developing this year's car. Are you satisfied enough effort has gone into the 2010 car?
LH: Yes, definitely. Sure you can always start earlier, but we had to understand and work with this year's car to know where we were going. If you start making a new car but don't know where you've been or where you are coming from, then you cannot work on it. We think we have done a great job, a very good approach to understand mistakes and wrong routes/right routes with this car, to improve it to the point that we are now. But we have been focusing on next year's car for some time now so we should be quite strong.
Q. Sebastian Vettel could not explain the gap after qualifying. Could you explain it? Was it the perfect lap for you? Was it KERS?
LH: We are getting no more than we are always getting from KERS. There was a great feeling in the car, and it was a great lap. I would say it was the best lap I have done all year. It was a very, very nice lap. I need to go and look at it to see where I could improve. There are always places where you can do a little bit better, but if I compared it to my perfect lap - maybe there are a couple of hundredths here or there. Otherwise I am very happy with it.
Q. Better than the lap in Q1 then?
LH: Yeah, it was better than that. So that is why I am smiling. It was even better. Especially when you have got heavier fuel, the balance between front and rear tyres, the amount of kerb you are taking. In previous laps you take a bit too much kerb in places, hits the bottom of the car, miss the apex a bit, and lose a bit of time. But it was just full on.
Q. There has been talk this weekend about the pit exit. How close to the limit have you been there?
LH: I have been quite sensible. It is quite a challenging pit exit, especially going from 60 km/h to 100 km/h, you switch off the pit limiter and it accelerates so quickly. Then all of a sudden you have to brake, so you have to be careful. It drops all of a sudden and it is easy to lock your tyres and go straight on, so it is not easy. But is definitely exciting and should be a real challenge. There is time there if you need it.