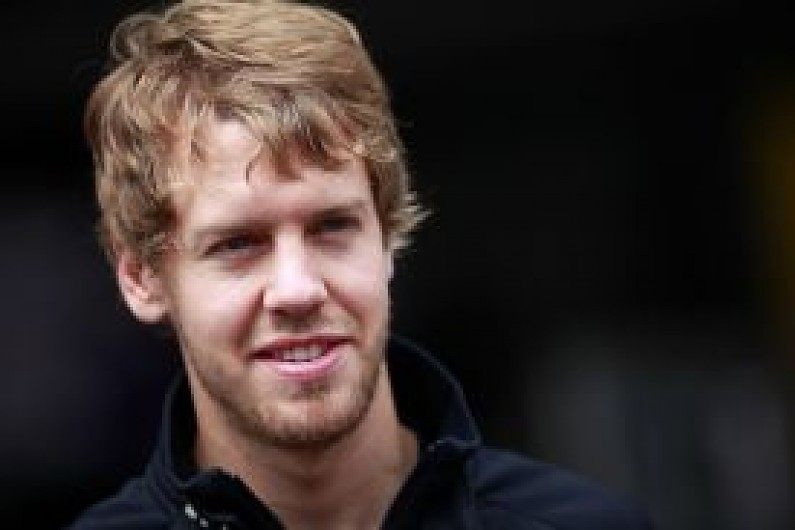 Q. How do you approach a weekend on a new track?
Sebastian Vettel: Pretty much like every weekend. Obviously the team and myself try to prepare. It's clearly a bit different because it's a new circuit, so what do we do? We try to collect as much data and information as we can. The GP2 cars tested here last weekend and I've done some laps on the simulator too. Other than that we come here, do the usual track walk and get some information about the circuit. It looks quite interesting, quite challenging. I would say it's a mix of Singapore and Bahrain. Singapore because there are some quite slow corners, some left-right combinations, kind of Mickey Mouse. It's kind of smooth, so not bumpy at all. It's very smooth and has some long straights - one straight that's even longer than at Shanghai. We will see. It should be good for us. The car was competitive in the last few races, no matter where we were.
Q. Is the sun setting a concern?
SV: Now I don't know, but tomorrow we will have the practice in changing conditions with the sunlight and it depends on the circuit layout and the combination of where the sun goes down. To get a real idea you can only tell by sitting in the car and watching where the sun goes down. We will see, but if the sun is very low, and depending on the corners, it could be quite critical.
Q. What kind of visor did you use in Australia?
SV: A dark visor, because we started in the daytime and it was quite sunny. It was close to sunset when we finished. It was starting to get dark and the sun was very low at the end of the race. For here it will be something like medium because it will be dark for the last part of the race and bright to start off with. Actually it's a good question.
Q. Does the disappointment of Brazil ease a little after two weeks?
SV: It's normal to be disappointed. For sure it took some time, so it was a big disappointment. But in the end you have to see the positives and I think it was a very good season for us. A lot of things happened, we learned a lot of things, lessons... all in all there are a lot of things we can do better next year, but for now the focus has to be on securing second place in the drivers' championship and having a very good race on Sunday.
Q. So you're happy to finish second in the championship now then? In Brazil you said it didn't matter.
SV: Sometimes you get out of the car and say things. You don't have a lot of time to think about it. Generally I'm not here to finish second or third. This hasn't changed, but for now third is worse than second, so I want to win the vice title or be second in the championship.
Q. If someone had told you at the start of the season that you'd finish second in the championship, how would you have reacted?
SV: These questions always appear at the last few races, either positive or negative. This year was special because the rules changed so much that we didn't know what to expect. In the first test already we had a good feeling with the car. We were very happy, but we didn't know until Australia how competitive we were. It was very important to be competitive from the beginning right to the end. On top of that, this year was very up and down anyway for the different teams at the top. That was very important. If anyone had have told me, I'd probably have said 'If I have a car that's good enough to finish second, then why can't I be first?'
Q. Is Australia the big regret for the points that you gave away?
SV: No. Obviously there is one more race to go, but looking back, I don't think there's only one race where things went wrong. It's no secret in the end that the guy who wins the championship is the guy who scores the most points. You don't score points for first only, but also for second and third and down to eighth. Sometimes you may find yourself in a situation where you're not strong enough to win, but still it matters to bring the car home third, fourth, fifth and collect points. I think that at every race this year we were strong enough to finish in the top five - which no-one else was - except maybe Monza. Sometimes you may call it bad luck, but at other times we made mistakes with the strategy. Other times it was a mistake from myself. All in all, we had five races where we didn't finish and didn't score points. Australia was only one of those and it was a racing incident. You are going to have those kinds of situation when you are racing; I'm not on the circuit to wave people past as soon as they appear in my mirrors. I would say that these kinds of things just happen. But there were too many other things happening as well, and these things cost us important points.
Q. Have things you've done this year been the cause of that? For example, strategic decisions that were too aggressive because you wanted to win races and didn't think you'd be competing for the championship?
SV: Yeah. In the end, we are a team and we have done decisions that at the time you feel is best. After the race you learn whether you have made a good decision or not. Sometimes our decisions were not the smartest and for sure it's something we can improve on for next year. Obviously we were a little bit handicapped by the engines, but also everyone was expecting us to change at least one more engine before the last race, and here we are and we haven't had to do that. Thanks to Renault we made it. It's pretty simple in the end. Looking back we can see that there are things we perhaps could have done better, but the important thing is that we learn from those decisions and don't make those mistakes again.
Q. How do you compare these modern circuits to the older tracks like Spa and Suzuka? Which do you prefer?
SV: Well I haven't driven this circuit yet, so I don't know. As far as new circuits go, one thing missing is the history. When you go to Spa or Monza and you walk the track, you know that 10, 20, 30 years ago, Formula 1 was taking place and you can feel it. It's something special. Some of the corners are legendary... Eau Rouge, Parabolica etc. This is something new circuits cannot deliver yet because they are too new. But sometimes, obviously, circuits like here or Bahrain, all the new types of circuits, have much improved safety, but sometimes it's difficult to give the circuit character, because they look the same. Inside the car, each circuit feels individual, but it looks all the same. There's lots of runoff everywhere so maybe sometimes you don't pay enough for your mistakes.

Access even more news on Autosport.
Register for free to increase your monthly limit from 15 to 25 stories - or subscribe today and get unlimited access.
Get unlimited news
Full access to our news and in-depth Autosport Plus features - all in an ad-free enviroment.
Subscribe to Autosport Plus
Get 10 free extra stories
A quick upgrade and you'll boost your monthly news limit instantly - for free.
Register for free