Fernando Alonso feels certain "lies" have been spread about his Formula 1 career, including his 2012 title defeat, where images of him post-race in Brazil painted him as "in shock".
In that race at Interlagos, Alonso lost the world title to Sebastian Vettel in a final-race decider that was turned on its head on the first lap when Red Bull driver Vettel collided with Bruno Senna before staging a comeback to deprive Alonso by three points.

In an exclusive interview with F1 Racing magazine, Alonso says images suggesting "the story was that I was in shock or sad" are incorrect, and that he was in fact looking for his then Ferrari team-mate Felipe Massa, who had finished third behind Alonso and race winner Jenson Button.

"There are lies about my career that are not the truth," said Alonso.

"I got out of my car and I was looking at Felipe, who for some reason could not stop crying.

"He was with his mechanics and wife, so I was standing there waiting for him, seeing if he was okay.

"The story was that I was in shock or sad - no, I didn't care that much. I wanted to give Felipe a hug."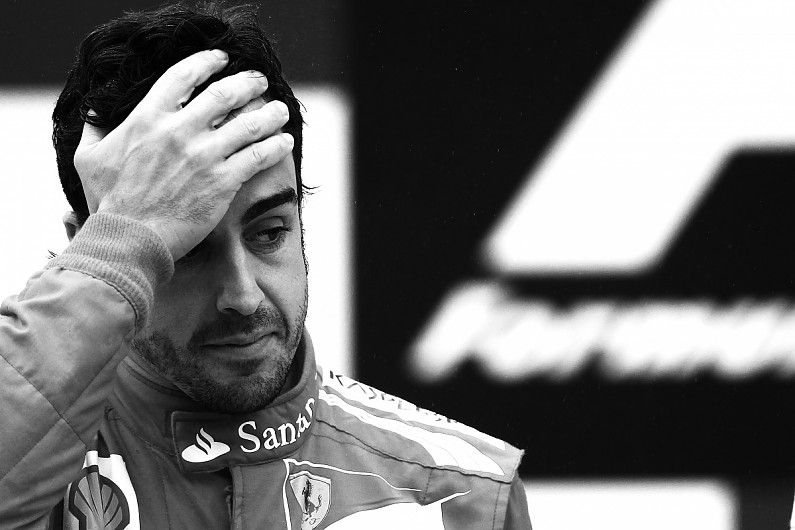 Alonso said that he has "heard people say that I was selfish in my career", but insisted "at Ferrari and at other teams I always used to share my prize bonus with my mechanics".

He added: "I thought if we were getting a podium or race win, it was not only me but team work. So, if I won $30,000 I would share it with my team.

"When I join a project, I commit 100% with that team and I dedicate my life to that team and those guys and they appreciate it. The last thing that I am is selfish.

"Why is it that I have performed better than my team-mates? I cannot say sorry for that."

In the same interview, Alonso also expressed regret for describing Honda's first attempt at a V6 turbo power unit as a "GP2 engine" at the 2015 Japanese Grand Prix.

"It came from a place of frustration and maybe I should not say that, but I didn't say it in the TV pen or the press conference," he said.

"I was talking to my engineer in a private conversation [which was broadcast]. It was not meant to be public.

"But the engine was very bad. The first year in Jerez, in four days we did seven laps.

"Now Honda wins a race and I receive a lot of messages that read: 'GP2 engine wins now, it should be a sad day for you.'

"I'm very happy, but the engine I had in the car was not the same as the one winning in Brazil."