Mercedes Formula 1 team boss Toto Wolff said he was 'surprised' to see Valtteri Bottas and Lewis Hamilton claim the front row in qualifying for the British Grand Prix.
Bottas set a time of 1m25.093s to deny his team-mate Hamilton a pole in his home race at Silverstone by a margin of just 0.006s, but Ferrari's Charles Leclerc had the edge over both Mercedes drivers in the second phase of qualifying.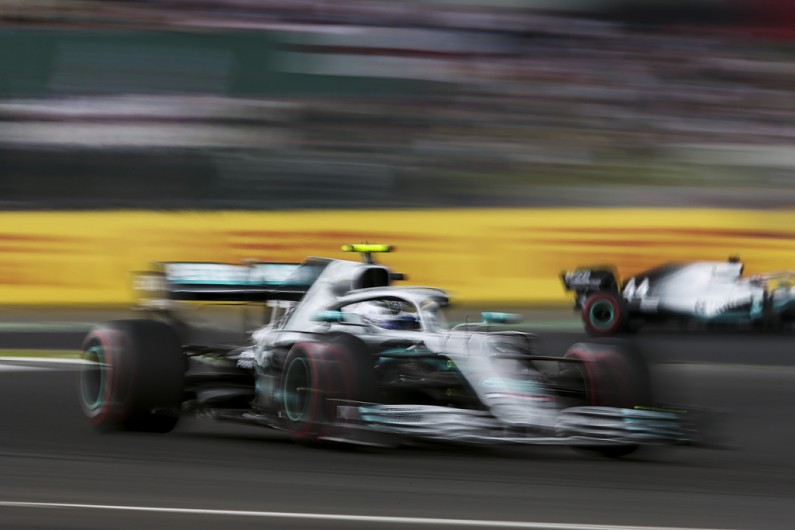 Leclerc had also gone fastest in the earlier final practice session on Saturday morning, but ultimately qualified in third after Ferrari showed disappointing pace with its Q3 efforts, while Sebastian Vettel is set to start the race from fifth - behind the Red Bull of Max Verstappen.
"To have both cars on the front row today came as a little bit of a surprise for us because we were on the back foot through qualifying," said Wolff.
"We expected Ferrari to be very strong but when we came to Q3, they seemed to go backwards and we went forwards; the grip on track ramped up, the drivers found their rhythm and it all came towards us.
"On the first run, Valtteri had a fantastic lap and Lewis made a small mistake; on the second run, Valtteri couldn't improve but Lewis did an almost identical lap to Valtteri's first one.
"These were the tiny things that made a difference in the end.
"Our Medium tyres will be a few metres less competitive from the start line - hopefully after that, they will prove more robust and we can deliver some of the race pace we saw on Friday."
Mercedes' total dominance of the 2019 F1 season came to an end at the last round in Austria, where Verstappen took victory for Red Bull and Leclerc claimed pole, while Bottas and Hamilton recorded the worst performance of the year for Mercedes with third and fifth respectively.
Pierre Gasly then set the benchmark time in the opening free practice session of the British Grand Prix weekend for Red Bull, before Bottas went fastest in FP2, but technical director James Allison admitted finding tyre temperature has been difficult for the team so far.
"Much like yesterday, it was a tough old day and we were trying to find lap time that has been a little bit elusive throughout," said Allison.
"Again like yesterday, our opposition looked very threatening on single-lap pace and Ferrari were perhaps the favourites heading into qualifying.
"But in the end, in Q3 when it properly counted, both drivers managed to find the pace and Valtteri took a well-earned pole with Lewis a hair's breadth behind.
"It hasn't been easy to get the best from the tyres on a track which both loads them heavily through the fast corners, then cools them quite rapidly in the cool air conditions; that has made life very difficult this weekend."