Formula 1 cars should move to more of a ground-effect style from 2021 but there are concerns this could lead to stock bodywork like in IndyCar.
F1's bid to improve the quality of racing as part of its major new rules package in two years' time includes trying to make it easier for cars to follow one another.
One way to slash the 'dirty air' effect cars currently encounter without reducing the overall performance is to produce more downforce from underneath the cars and potentially reducing how much teams can do with the bodywork on top.
Racing Point technical director Andrew Green says the technical regulations for 2021, which are still being debated, "do take some of other formulas technology" like IndyCar.
"Moving towards more of a ground effect car going forward, that definitely comes from the north American series," said Green.
"If we're looking at trying to have the cars race closer together then I think that's the right thing to do, that makes complete sense.
"But I think at the same time, we need to keep Formula 1 at the pinnacle. It needs to be a technological amazement really.
"That's where I think the sport needs to be. It's not just about having cars that are close, it's about a bit more of a Wow factor and we need to make sure we don't lose any of that."
Red Bull's chief engineer Paul Monaghan agreed that "the way they [Indycars] generate their downforce is of interest to us".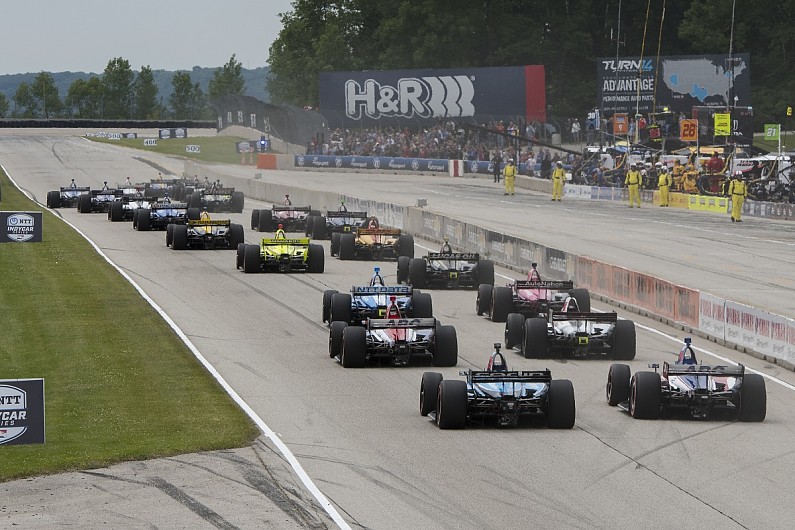 However, he specifically raised the concern that "the question becomes can they run closer, can we still maintain differentiation between the cars, as opposed to stock bodywork as they would call it over there?".
"You keep an open mind and you look and you learn, and you don't assume that you have perfect knowledge," said Monaghan.
"I think that open-mindedness will serve us well."
Different teams across the grid have slightly opposing views on how much standardisation F1 should feature, although most are in agreement that some spec parts are necessary to reduce costs.
Teams design and manufacturer many smaller components that are either unseen, are not performance differentiators, or both.
However, further restricting the areas teams can work on visible parts of the car - with the front wings, brake ducts and bargeboards already simplified for 2019 - is a contentious topic.
Mario Isola, head of F1 tyre supplier Pirelli, said any inspiration for new technical rules needed to keep in mind "the DNA of Formula 1".
"It is clear that we cannot have a Formula 1 that is a standard series like Formula 2 or something like that," said Isola.
"There are a lot of dedicated aspects to consider but observing the rest of motorsport with a critical view can only be positive."
Autosport has produced a standalone special magazine to celebrate our 70th birthday. All current print subscribers will receive a copy for free. To order your copy of the 196-page Autosport 70th Anniversary issue, please go to: autosport.com/autosport70th