Lewis Hamilton says he now feels "conflicted" over his comments suggesting former team bosses should not run Formula 1, as he now believes Toto Wolff would be an ideal candidate.
Following the French Grand Prix, Hamilton said he believed it was better for F1 if it was run by neutral individuals without links to existing teams.
Hamilton had cited the example of FIA president Jean Todt, the former Ferrari boss, and Mercedes chief Wolff, as good leaders that could be viewed as partisan by fans.
But after a period of reflection, Hamilton believes F1 is in need of someone like Wolff because the championship requires inside knowledge of its working processes.
"I've been a bit conflicted the last few days after Sunday night," said Hamilton ahead of the Austrian Grand Prix.
"I haven't spoken to Toto or to Jean [Todt] but I've got a great relationship with Jean. When we did this meeting at the FIA he was so welcoming to us as drivers, to the GPDA and really took on board.
"I think he's done such a great job since he's been in position. "I'm sure someone else will need to take that role [on after Todt] and I was thinking after the race, the best person I know for managing a business - I don't know anybody else better than Toto.
"So I felt a bit conflicted because I made a comment but I don't feel like I got out exactly what I was meaning.
"Over the past couple of days, I was thinking to myself that bringing someone in that doesn't know much about Formula 1 is not necessarily the right decision.
"If you look at people like Toto for example, he's been in two different teams, he's also been in a different business before.
"If you could see how this company is managed from the top down I don't know how he does it. I could never do his job and it's a good thing he could never do my job as well!"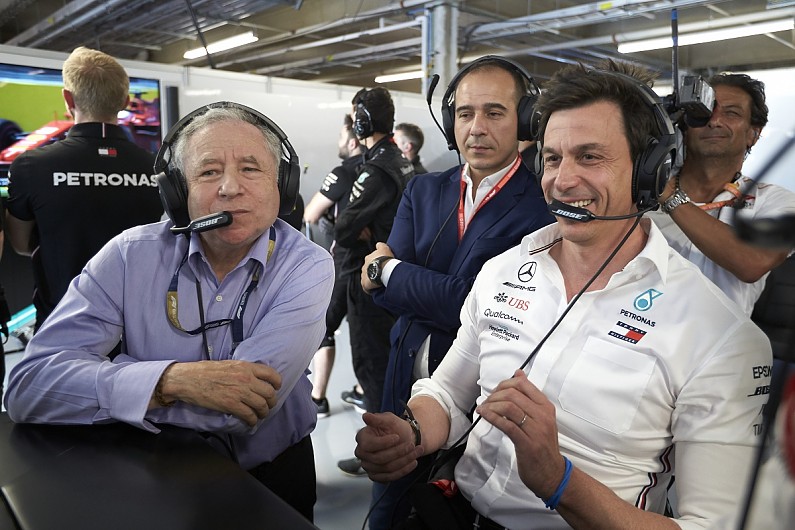 Hamilton adds that he has been impressed by Wolff's management skills and his ability to get the most from his staff.
"I'm fascinated by how people manage businesses and how you find people, people management, putting people in the right position," Hamilton said.
"I don't know anyone else that is able to do as good a job as him in that respect.
"I obviously know people from outside in different businesses, but even [with] those [people], I don't think [they] do as good a job as him.
"But that's because I'm within the organisation and I see it first-hand. I think Toto could do a pretty special job [for F1].
"Would it be better? I do believe it would be better, but that's just from the experience of working in this organisation and seeing it improve drastically since I've been in the team."