Sebastian Vettel suggested Formula 1 stewards had to be "blind" to think he could have kept control of his Ferrari in the incident that cost him Canadian Grand Prix victory.
The four-time F1 world champion was left furious after losing his and Ferrari's first win of the season to a five-second penalty incurred for the manner in which he rejoined ahead of Lewis Hamilton after getting sideways into the Turn 3/4 chicane with 22 laps to go and cutting across the grass.
The stewards, which included five-time Le Mans 24 Hours winner and former F1 racer Emanuele Pirro as the driver representative, judged that Vettel "rejoined the track at Turn 4 in an unsafe manner and forced car #44 [Hamilton] off track".
They felt that Hamilton "had to take evasive action to avoid a collision".
Vettel was unable to pull far enough clear of Hamilton to keep the win once the penalty was applied.
Speaking on team radio immediately after the finish, Vettel vented his fury at what happened.
"You need to be an absolute blind man to think you can go through the grass and then control the car," he said.
"I was lucky I didn't hit the wall. Where the hell am I supposed to go?
"This is a wrong world I tell you. This is not fair."
Team boss Mattia Binotto tried to calm Vettel down but was rebuffed.
"I am not staying calm. This is not fair. It is not fair," Vettel replied.
"I'm angry..and I have the right to be angry. I don't care what people say."
Vettel refused to drive his car down to the post-race holding area, instead parking it near race control.
He stormed immediately to his team hospitality unit before being encouraged to return and attend the podium ceremony.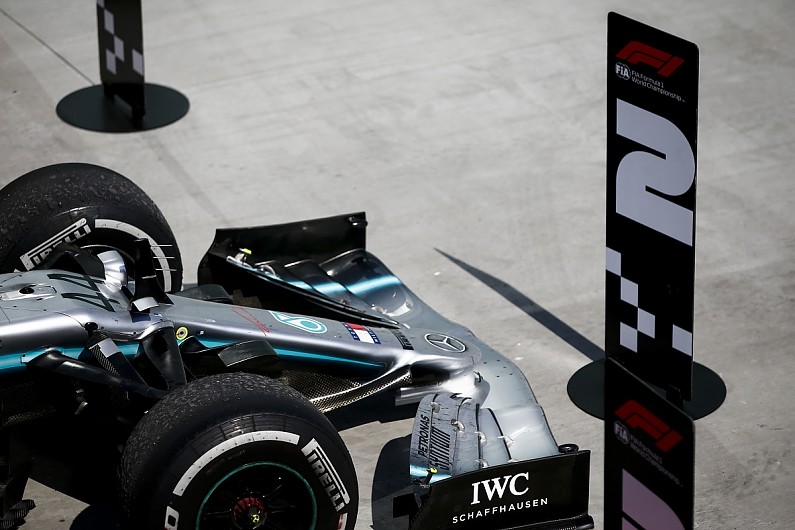 On his way there, Vettel picked up the number one board from in front of Hamilton's Mercedes and placed it in the gap where his Ferrari should have been parked, then put the number two sign in front of Hamilton's Mercedes.

Hamilton persuaded Vettel to briefly step onto the top step of the podium during the ceremony.
Interviewed on the podium, Vettel declined to discuss the incident or penalty.
"I think I said enough,: he said.
"You should ask the people what they think. We had a great show. Ask the people..."
When the crowd began booing at the podium and Hamilton, Vettel responded: "The people shouldn't boo at Lewis. He saw what was going on... but people shouldn't boo at Lewis.
"If anything they should boo at these funny decisions."
As Vettel then walked away, Hamilton added: "All I can say is I didn't make the decision so I don't know what they are booing at."