Lewis Hamilton says Mercedes does not "take many risks" like the one that knocked Ferrari's Charles Leclerc out of the first part of qualifying for Formula 1's Monaco Grand Prix.
Leclerc was knocked out of Q1 by several late improvements and was unable to respond because Ferrari kept him in the pits in the closing minutes, a decision the morning practice pacesetter said he questioned.
After being told of what Ferrari did and the consequences it had, Monaco GP poleman Hamilton said that sort of mistake is "all about preparation" and "it's really a formality".
"We sit down and talk a lot about the plan, even until going into Q3 we were talking about the timings and preparation and the communication is constant," said Hamilton.
He added: "Sometimes it happens. They'll have a minimum time, the knockout time, and predict the track is going to improve a certain amount and they'll say 'you're safe'.
"My first lap they were like 'you're safe, but you can stay out and do more'.
"I decided to stay out to better my time and see if the track improved.
"I've been sat in the garage on the edge, 'we might go out we might not'.
"They chose to risk [it]. We don't really take many risks."
Ferrari's qualifying disappointment was compounded by Sebastian Vettel being beaten to third place by Red Bull's Max Verstappen.
Vettel hit the wall on his final flying lap, which Hamilton said he saw but felt it is "very easy" to do.
"It is such an intense battle still, whatever package you have you're still trying to squeeze every drop out of it or more," said Hamilton.
"When you're on the knife-edge you're going to make more mistakes.
"When your car is off the pace you hope as a driver you can bring another 2/3/4 tenths whatever it is, and you push it over the limit and make more mistakes."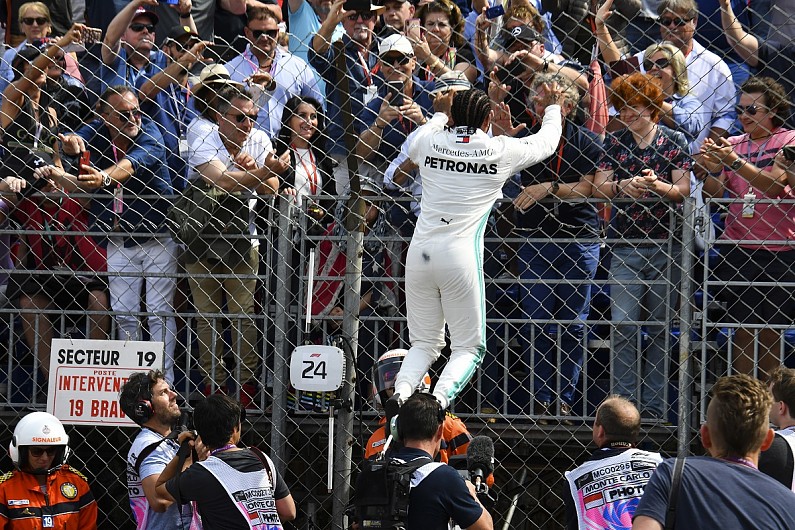 Hamilton's wild celebration after pole lap
Hamilton went into Monaco GP qualifying on the back foot but turned the tables on team-mate and provisional polesitter Valtteri Bottas with a lap 0.086s faster in Q3.
That triggered an emotional outburst over the radio on his slowing-down lap and a fence-scaling moment in parc ferme.
"I was just so super hyped," he said when asked by Autosport to talk through that moment.
"I just tried to hold it in but there's a lot of Brits and a lot of British flags, and I don't know, it was just a spur of the moment thing.
"I felt the fence was going to come over actually! Luckily it didn't."
Hamilton said his emotion was heightened by how tense qualifying had been and not knowing if his "ragged edge" lap was enough.
"I was waiting for a long, long time to find out," he said. "I was like, 'where the hell is Valtteri?'
"Talk about sitting on the edge of your seat when you don't know what's happening..."