Valtteri Bottas blamed his Spanish Grand Prix defeat to Lewis Hamilton on some "strange behaviour" with his Mercedes Formula 1 car's clutch costing him the lead at the start.
Bottas started on pole for the third race in a row but Hamilton pulled alongside him with a better getaway and gained track position on the inside into Turn 1.
Hamilton then raced into a commanding lead and kept Bottas comfortably behind after a late safety car restart as well, to move back ahead in the title battle by seven points.
The defeat came at the end of a weekend in which Bottas had been fastest in two of the three practice sessions and all three qualifying segments, then taken pole by six tenths of a second.
"On the first lap I felt a vibration in the clutch and that's why the initial getaway was really poor," said Bottas.
"It was kind of biting and releasing, really quick frequency.
"It's really annoying. A lot of hard work this weekend went down with that.
"Obviously I'm not blaming any individual in the team and as we are a strong team we are going to investigate why that happened, and how we can avoid it ever happening again. That's the strength of the team."
Victor Hamilton described it as an "interesting" start, after attacking Bottas on the inside just as the Ferrari of Sebastian Vettel tried to pass both around the outside.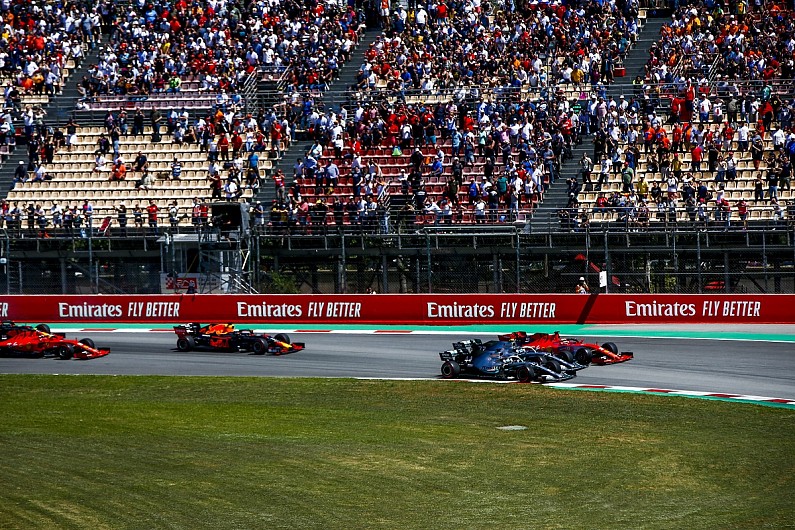 "I saw the red car go around the back of both of us so I had no idea if they were further ahead," said Hamilton.
"I assumed they might be, I knew Valtteri would brake super deep, but it wasn't a replay of Baku [when Hamilton failed to pass Bottas at the start] at least."
Mercedes had already set a new record for one-two finishes at the start of a season in Azerbaijan.
The team's crushing performance in Spain means it has now tied the all-time record for consecutive F1 one-twos with five.
Bottas said Mercedes' continued success made it hard for him to be too disappointed about his personal defeat.
"For me as a person it's annoying to have it happen this way but that's how it goes," he said.
"There could be worse days in the office, as a team we're performing on an incredible level and from my side hats off to every single team member, at both factories and here at the race team."