The Formula 1 world has been paying tribute to race director Charlie Whiting, who has died on the eve of the 2019 season opening Australian Grand Prix.
Whiting, who had been in the Melbourne paddock on Wednesday, passed away at the age of 66 on Thursday having suffered a pulmonary embolism.
His sudden death left the paddock in shock on the pre-race media day, with leading figures quick to praise Whiting's character, fairness in his difficult role, and his huge contribution to F1.
Gunther Steiner, Haas team principal: It's a very sad moment. I was very emotional when I heard this morning about it. I thought this cannot be true. I sat for a long time with him in Barcelona, I had a good chat with him.
Charlie was a very big part of this sport. We all knew him, he was always polite. He never had anything bad to say. Which is amazing from a person, especially in his job. My condolences to his family because he was too young to go.
He was a friend of Haas, a personal friend. I would say without the help of Charlie in the beginning, five years ago, here to advise us how to do things best, we wouldn't be here. I've got a lot of respect for what he did.
We realise how quick it can be over. Until it happens, we think it never will. He was around yesterday in a good mood, and today he's not with us anymore. We always have to remember him being one of the big ones in this sport to make it what it is now. We have to never forget we can show up here, have a good time, have a good life out of this, because of people like Charlie. A lot of respect to him.
Like the rest of the #F1 family, we're all extremely saddened to learn of the passing of FIA F1 Director Charlie Whiting. A true gentleman and friend, who we worked closely with since our arrival in F1, and an absolute legend of the sport who will be incredibly missed every day.

— Pirelli Motorsport (@pirellisport) March 14, 2019
Ferrari team principal Mattia Binotto: Charlie was a true professional and extremely knowledgeable, but more than that, he was a wonderful person, who always treated everyone with respect. A tireless and enlightened motorsport expert, he helped make F1 safer and better. He was a pillar of Formula 1. Our sport is diminished by his passing and we have lost a friend. He will be greatly missed.
Mercedes motorsport chief Toto Wolff: I was shocked and saddened to hear the news of Charlie's passing this morning. He was a pillar of our Formula 1 family - balanced in his approach, subtle in his understanding and always with the interests of Formula 1 as his main focus.
Charlie was a fantastic ambassador for our sport and a true guardian of its best interests; all of us who were lucky enough to know him will miss his ready smile and gentle humour.
On behalf of the entire Mercedes motorsport family, I send our deepest sympathies to Charlie's family and friends.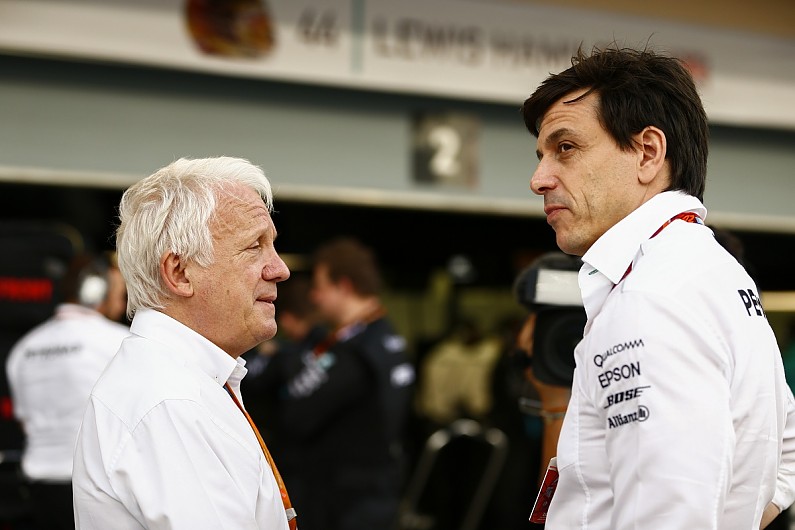 Ross Brawn, ex-Ferrari boss and F1 sporting director: I have known Charlie for all of my racing life. We worked as mechanics together, became friends and spent so much time together at race tracks across the world. I was filled with immense sadness when I heard the tragic news.
I'm devastated. It is a great loss not only for me personally but also the entire Formula 1 family, the FIA and motorsport as a whole. All our thoughts go out to his family.
Daniel Ricciardo, Renault: He was there for us and we gave him a hard time, we'd really press him and push him and make him work but he was always receptive. You always felt he was on our side. We would, I guess like a broken record, complain about a lot of things and he would never really shut it down, he had ears open. He did a lot for the sport. We have some very, very nice and positive memories of him.
I remember my first Aussie GP in 2012 going up with Franz [Tost] and he goes 'go and introduce yourself to Charlie, go and start the relationship on a good note'. Time goes fast but it's important to appreciate it. Every moment you do take for granted. I am sure we will race with a lot of passion this weekend and it's a reminder as long that we're all very lucky to be in this position.
Have known Charlie Whiting for a very long time ,shocked at the news of his death.His professionalism and judgement was second to none R.I.P

— Nigel Mansell CBE (@nigelmansell) March 14, 2019
McLaren F1 team: All at McLaren are shocked and deeply saddened at the news of Charlie Whiting's passing. Charlie will be remembered as one of the giants of our sport, as well as a great colleague. Our deepest sympathies and thoughts are with all of his loved ones.
Honda F1 technical director Toyoharu Tanabe: I want to express our deep sadness and shock at the news of Charlie's sudden passing. It's hard to believe he will not be with us this weekend, as he was such an integral part of Formula 1 for so many decades.
He performed his role in a diligent and fair manner and he really loved racing. His death is a great loss to this sport, to which he made such an important contribution. We will miss him on a personal and a professional level and, on behalf of everyone at Honda, I offer our sincere condolences to all his family and friends.
Horribly sad news about Charlie Whiting... A great friend who I enjoyed working with at the Indian GP & on various FIA commissions. His contribution to motorsport was huge - did 5 people's jobs yet managed to reply to a call or an email within an hour! Condolences to his family.

— Karun Chandhok (@karunchandhok) March 14, 2019
Mario Andretti, 1978 F1 champion: Totally shocking news of Charlie Whiting's passing. Charlie was a true giant in our sport and very possibly irreplaceable. Sincere condolences to his family and everyone who appreciated this man. RIP my friend.
Four-time IndyCar champion Dario Franchitti: So sad to hear the Charlie Whiting has died. A lovely man who was an integral part of F1, he'll be greatly missed by the sport and especially by his many friends.
GPDA chairman and ex-F1 driver Alex Wurz: So sorry and sad to hear that Charlie Whiting has passed away. RIP Charlie, I respected and enjoyed every minute with you.
Lewis Hamilton, reigning world champion: Obviously incredily shocked this morning to hear the sad news and my thoughts and prayers are with him and his family, All he did for this sport, his commitment, he really was a pillar as Toto said, such an inconic figure within the sporting world and he contributed so much to us.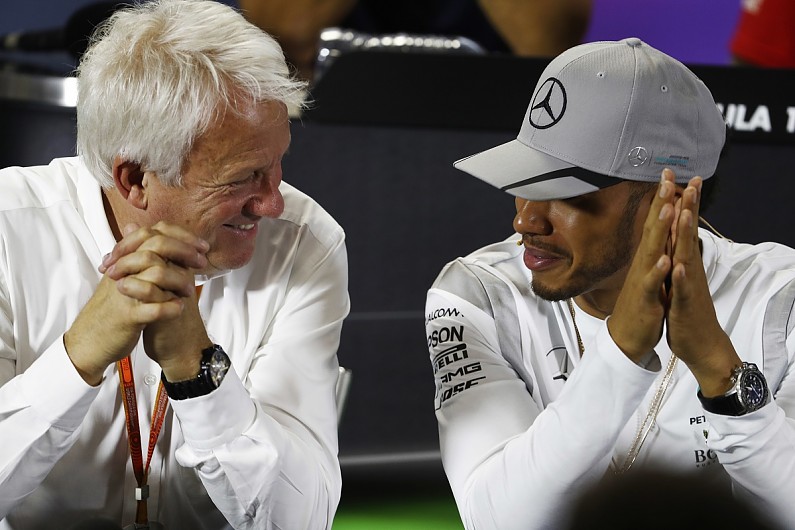 Max Verstappen, Red Bull driver: It was a big, big shock. I spent the day with him in Geneva a few weeks ago. We had a good chat about a lot of things. When I left, I said 'see you in Australia for another season of racing'. Then of course when you hear this news it is unbelievable. Just 66 years old... We just have to appreciate every day and every morning you wake up that you enjoy that. It's not only about Formula 1, it's about other things in life, this is just one part of it. At the moment what is the most important is that thoughts are going to his family and friends and close ones.
Just arrived in Melbourne to the terrible news about the passing of Charlie Whiting. Charlie was one of the best and most respected figures in @F1 , and above all a great person. It's a great loss for our sport. He will be deeply missed! All my thoughts are with his family. RIP pic.twitter.com/uZIzj1NDnZ

— Marcus Ericsson (@Ericsson_Marcus) March 14, 2019
Carlos Sainz Jr, McLaren driver: Many good memories. I remember my rookie year, he spent a lot of time with me. I remember him as an extremely attentive, really wanting to listen to your opinion and it shocked me because I was a rookie, I thought my opinion didn't count for much when I arrived to Formula 1. Even if I was 20 years old and I had done three races, he came to me, talked to me, 'what do you think, what would you do better?' So he was very open, very open to young drivers also.
I remember my first year being particularly aggressive on track and he was not coming to me to say 'you need to calm down', he said 'I think it is great what you are doing for Formula 1 both Max [Verstappen] and you, you are showing new standards of driving a bit more aggressively, you are raising some questions up with moving under braking and that' and he didn't tell me to stop. He just told me 'be careful, you are great for F1, keep doing it that way because everyone is enjoying seeing both of you guys battle. But just be careful'.
And I enjoyed it a lot because he was that kind of guy that was very open, he always was open for a chat. In my first year of F1, that shocked me quite a lot. So when I heard the news today, I was quite devastated because he was one of those guys that I have always enjoyed chatting to. I've spent the winter sharing some emails with him on how to improve the sport, how to maybe do a few more meetings with stewards or organise ourselves to join stewards and drivers in a more productive way.
Hard news to take in. Charlie Whiting was such a warm & considerate human being, never mind the fact that he calmed the waters of this often stormy sport more times than any of us will know. #F1 pic.twitter.com/7sxfpY90Mq

— Mark Gallagher (@_markgallagher) March 14, 2019
Daniil Kvyat, Toro Rosso driver: I knew him very well, we always had some really nice conversations. He was always nice and fair to me, and we discussed many episodes that happened to me on track person-to-person. Also we sometimes had a cup of team outside of the track, maybe to discuss some things about the sport. He asked some opinions of mine, I remember in Japan in 2015. He will be very missed, but he left a very big mark in our lives and a mark on the sport in general.
Ex-Force India owner Vijay Mallya: A great tragedy. He was the central pillar of Formula 1 rules and racing and a wonderful human being. I am in shock.
I'm deeply saddened to hear the news of Charlie Whiting's passing. Such a huge figure in the world of motorsport. All of my thoughts are with his family and his many friends right now. We'll all miss him very much. https://t.co/yX8RqMixvF

— George Russell (@GeorgeRussell63) March 14, 2019
Williams F1 team: We are terribly saddened to hear of Charlie Whiting's passing. Charlie was a true legend of the sport and will be greatly missed. Everyone's thoughts at Williams are with his family and friends at this difficult time.
Renault F1 team: Renault Sport Racing was shocked and saddened to hear of the sudden passing of Charlie Whiting. Charlie was one of the pillars and leaders of the sport. His drive to ensure exciting, safe and fair racing was unparalleled and his passion will be sorely missed. Our thoughts are with his family and friends at this time. The sport will unite to continue his legacy, not just this weekend, but well into the future.
Very sad to hear Charlie Whiting has passed away.? I will never forget our arguements during drivers briefings, and his well known trade mark "Point taken". What a great man! One of the men that has done more for our sport and our own safety. THANK YOU?RIP

— Pedro de la Rosa (@PedrodelaRosa1) March 14, 2019
Sebastian Vettel, Ferrari driver: I was as shocked as we all still are now, especially because I spoke to him yesterday and walked the track for the first couple of corners together with him. It's difficult to grasp when somebody's just not there anymore.
I have known him for a long time and he has sort of been our man, the drivers' man. Obviously there are regulations and all that, and then there is us, and he was the middle man. Someone you could ask anything at any time, his door was always open. He was a racer. He was just a very nice guy.
The entire motorsport community has suffered a huge loss today and is left behind with fond memories of one of the most fantastic figures in the history of our sport. Our sincerest condolences go out to Charlie Whiting's family, friends and colleagues. #Formula1 pic.twitter.com/SUIrqu7NTx

— Alfa Romeo Racing (@alfaromeoracing) March 14, 2019
Red Bull team principal Christian Horner: I am deeply saddened to hear the terrible news that Charlie Whiting passed away last night. Charlie has played a key role in this sport and has been the referee and voice of reason as race director for many years.
He was a man with great integrity who performed a difficult role in a balanced way. At heart, he was a racer with his origins stretching back to his time at Hesketh and the early days of Brabham. On behalf of everyone at Aston Martin Red Bull Racing we pass on our sincere condolences to his family and friends. Charlie was a great man who will be sadly missed by the entire Formula 1 paddock and the wider motorsport community.
Kimi Raikkonen, Alfa Romeo driver: It is a very sad thing. He has been part of F1 for a very, very long time, and he has always been very nice with the drivers and keeping us under control. So it is a very sad thing, not just for racing but also generally in life.
Very sad news about Charlie Whiting, he was a great figure in our sport and took it to the high it is. A true racer, and friend. #f1

— Paul Di Resta (@PaulDiResta) March 14, 2019
Robert Kubica, Williams driver: It is a hard moment. I saw Sebastian walking with Charlie yesterday and I thought I would not interpret them because I would see him on Friday at the drivers' briefing. That will not be the case, and it's very sad.
He was a kind of icon of Formula 1, but not only Formula 1. He was a racer but also keeping up everything in the regulations and he was really the kind of person who you could always trust.