Esteban Ocon has been disqualified from his points finish in the 2018 United States Grand Prix after his car was found to have breached Formula 1's fuel flow limits.
Immediately after the Racing Point Force India driver crossed the finish line in Austin to claim eighth place, the FIA announced that his car was suspected breaking the rules.
The FIA's telemetry data had pointed to it breaching the 100kg/hr fuel flow limit during the opening lap of the race.
Following an investigation by the stewards, the rules breach was confirmed and Ocon has been disqualified. His Force India team has the right to appeal the decision.
Ocon's disqualification is the second time the rule governing fuel flow has cost a driver a grand prix result.
At the Australian Grand Prix in 2014, the first race of F1's turbo hybrid era, Red Bull driver Daniel Ricciardo lost his second place finish at Albert Park for the same infraction.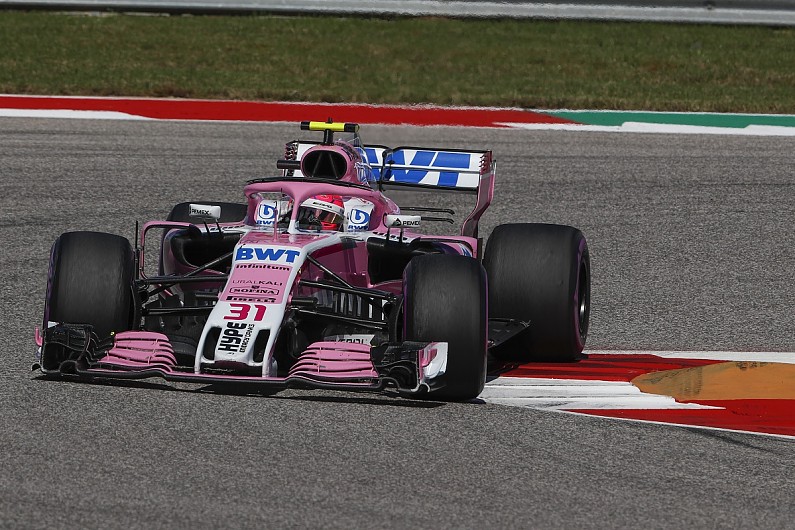 Force India team principal Otmar Szafnauer explained that his team's data had shown that Ocon's car had briefly encountered an unprecedented surge of fuel, but this corrected itself before the lap was done.
"What happened was that there was a spike of flow and then a trough - so if you look at it over a lap it was neutral," said Szafnauer, who was commenting before the stewards' decision had been reached.
Pushing the whole race, getting good points, and getting disqualified in the end for a stupid reason is probably the worst feeling ever. Our mistake...
Anyway not giving up for sure!! #USGP #EO31 pic.twitter.com/u8vVd2D9sb

— Esteban Ocon (@OconEsteban) October 21, 2018
"If you look at it over the lap there is no infringement, but it depends how you chop up the lap. This is the first time it has happened."
Szanfnauer was adamant that Force India had not gained any benefit from what had occurred, as the engine's systems had automatically corrected for what had happened.
"We didn't get an advantage," he said.
"There are track limits but if you go outside track limits, which you shouldn't do, then if you haven't gained an advantage they don't do anything. If you have gained an advantage then they do something.
"This is another limit where we haven't gained an advantage. I think it is unprecedented."
Autosport has produced a standalone special magazine to celebrate our 70th birthday. All current print subscribers will receive a copy for free. To order your copy of the 196-page Autosport 70th Anniversary issue, please go to: autosport.com/autosport70th