Lewis Hamilton extended his Formula 1 world championship lead with victory in the Hungarian Grand Prix, as Sebastian Vettel survived late contact with Valtteri Bottas to finish second.
Hamilton took a comfortable win from pole position with Vettel taking second despite being hit by Bottas when the Mercedes driver tried to fight back after being passed for second with five laps to go.
Bottas slumped to fifth, making more contact on the way in a collision with Daniel Ricciardo, as Kimi Raikkonen stole the final podium position.
Hamilton and Bottas maintained Mercedes' one-two advantage at the start, with Vettel jumping Raikkonen at Turn 2 by passing his team-mate around the outside.
Hamilton built a six-second gap over Bottas, who had Vettel within a couple of seconds of him, before Bottas pitted on lap 15 of 70 in response to Ferrari bringing in Raikkonen a lap earlier.
That eliminated Hamilton's protection and the Briton extended his stint another 10 laps but gradually began to get caught by Vettel, who was on softs to Hamilton's ultrasofts.
A mistake from Vettel at Turn 12 on lap 23, when he locked the front right and ran wide, losing a second, gave Hamilton a small reprieve.
The leader stopped with a lead of just over six seconds and fell back from Vettel initially but then used his fresh soft tyres to chip away and get back within 10s before Vettel finally stopped with 31 laps to go.
Traffic, combined with Bottas pumping in two very fast laps and Ferrari suffering a problem with the front-left when Vettel stopped, meant Mercedes just regained its one-two as Vettel emerged back in third.
That was crucial because it meant Vettel was stuck behind Bottas and could not use his ultrasoft tyres to chase down Hamilton.
Vettel spent 20 laps behind Bottas, which allowed Raikkonen - who had made a second stop for more softs - to make it a three-car fight for second.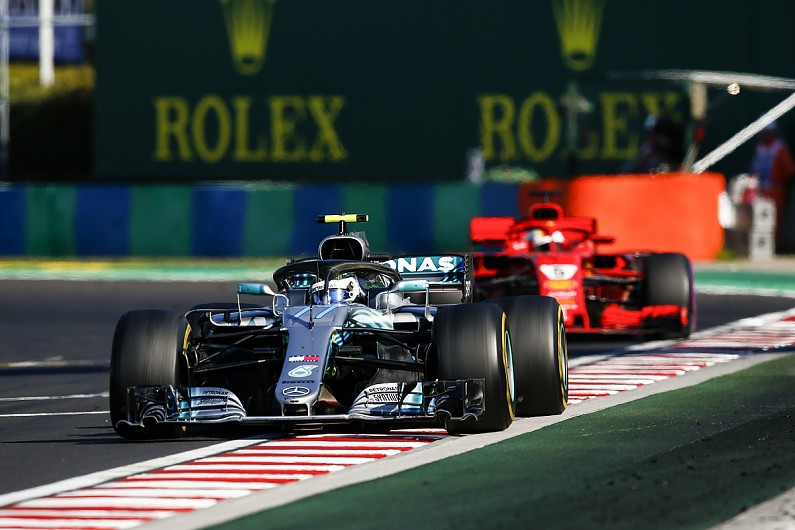 Bottas was finally forced to defend into Turn 1 with five laps left as Vettel closed in, and Vettel cut back and got ahead on the outside heading to Turn 2.
Bottas braked too late as he tried to retain the place on the inside, clipped the inside kerb and hit the back of the Ferrari.
He broke his front wing but Vettel somehow continued without damage or a puncture, keeping Raikkonen at bay in the process to finish a distant second behind Hamilton.
Mercedes opted to keep Bottas out, but his damage left him susceptible to a charging Daniel Ricciardo, who got a run on Bottas down the start-finish straight with four laps to go.
He was passing him around the outside of Turn 1 when Bottas locked up again and clattered into the side of the Red Bull, an incident that damaged Ricciardo's sidepod and will be investigated after the race.
Ricciardo caught Bottas again and passed him with an undercut exiting Turn 1 on the final lap to complete a stunning fightback.
He had charged up the order having started 12th and dropped to 16th on a messy opening lap that included being hit by Marcus Ericsson and passed off-track by Sergio Perez.
His late promotion to fourth gave Red Bull some consolation after losing Max Verstappen early to a problem that led team boss Christian Horner to lambast engine supplier Renault mid-race.
Red Bull is switching from Renault to Honda for 2019 and its silver lining will be the Japanese manufacturer scoring sixth place with Toro Rosso and Pierre Gasly.
The Frenchman got ahead of Carlos Sainz Jr on the opening lap, after Sainz was divebombed by Verstappen into Turn 1, and managed his race perfectly to withstand a late charge from Haas driver Kevin Magnussen.
Fernando Alonso claimed eighth by extending his first stint and jumping a pack of cars that were ahead of the McLaren early on and then got held up by a long-running Esteban Ocon when they stopped.
Stoffel Vandoorne should have made it a double-points finish for McLaren but retired from ninth with a gearbox problem in the final third of the race.
That promoted Sainz to ninth, with Romain Grosjean claiming the final point after jumping Brendon Hartley and Nico Hulkenberg with a longer first stint.
Race result
| Pos | Driver | Car | Laps | Gap |
| --- | --- | --- | --- | --- |
| 1 | Lewis Hamilton | Mercedes | 70 | 1h37m16.427s |
| 2 | Sebastian Vettel | Ferrari | 70 | 17.123s |
| 3 | Kimi Raikkonen | Ferrari | 70 | 20.101s |
| 4 | Daniel Ricciardo | Red Bull/Renault | 70 | 46.419s |
| 5 | Valtteri Bottas | Mercedes | 70 | 1m00.000s |
| 6 | Pierre Gasly | Toro Rosso/Honda | 70 | 1m13.273s |
| 7 | Kevin Magnussen | Haas/Ferrari | 69 | 1 Lap |
| 8 | Fernando Alonso | McLaren/Renault | 69 | 1 Lap |
| 9 | Carlos Sainz Jr. | Renault | 69 | 1 Lap |
| 10 | Romain Grosjean | Haas/Ferrari | 69 | 1 Lap |
| 11 | Brendon Hartley | Toro Rosso/Honda | 69 | 1 Lap |
| 12 | Nico Hulkenberg | Renault | 69 | 1 Lap |
| 13 | Esteban Ocon | Force India/Mercedes | 69 | 1 Lap |
| 14 | Sergio Perez | Force India/Mercedes | 69 | 1 Lap |
| 15 | Marcus Ericsson | Sauber/Ferrari | 68 | 2 Laps |
| 16 | Sergey Sirotkin | Williams/Mercedes | 68 | 2 Laps |
| 17 | Lance Stroll | Williams/Mercedes | 68 | 2 Laps |
| - | Stoffel Vandoorne | McLaren/Renault | 49 | Gearbox |
| - | Max Verstappen | Red Bull/Renault | 5 | Power Unit |
| - | Charles Leclerc | Sauber/Ferrari | 0 | Collision |
Drivers' standings

| Pos | Driver | Points |
| --- | --- | --- |
| 1 | Lewis Hamilton | 213 |
| 2 | Sebastian Vettel | 189 |
| 3 | Kimi Raikkonen | 146 |
| 4 | Valtteri Bottas | 132 |
| 5 | Daniel Ricciardo | 118 |
| 6 | Max Verstappen | 105 |
| 7 | Nico Hulkenberg | 52 |
| 8 | Kevin Magnussen | 45 |
| 9 | Fernando Alonso | 44 |
| 10 | Sergio Perez | 30 |
| 11 | Carlos Sainz Jr. | 30 |
| 12 | Esteban Ocon | 29 |
| 13 | Pierre Gasly | 26 |
| 14 | Romain Grosjean | 21 |
| 15 | Charles Leclerc | 13 |
| 16 | Stoffel Vandoorne | 8 |
| 17 | Marcus Ericsson | 5 |
| 18 | Lance Stroll | 4 |
| 19 | Brendon Hartley | 2 |
| 20 | Sergey Sirotkin | 0 |
Constructors' standings

| Pos | Constructor | Points |
| --- | --- | --- |
| 1 | Mercedes | 345 |
| 2 | Ferrari | 335 |
| 3 | Red Bull/Renault | 223 |
| 4 | Renault | 82 |
| 5 | Haas/Ferrari | 66 |
| 6 | Force India/Mercedes | 59 |
| 7 | McLaren/Renault | 52 |
| 8 | Toro Rosso/Honda | 28 |
| 9 | Sauber/Ferrari | 18 |
| 10 | Williams/Mercedes | 4 |