Lewis Hamilton believes his fight back to second in Formula 1's British Grand Prix was "huge" for Mercedes after minimising Sebastian Vettel's championship gain.
Hamilton's charge meant victor Vettel extended his lead at the top to only eight points, despite Hamilton dropping to 18th on the opening lap thanks to a hit from Vettel's Ferrari team-mate Kimi Raikkonen.
"We're in a tough battle this year and it's the most intense battle that I think we've probably all had," said Hamilton.
"I'm very, very grateful that the car was still in one piece after the first turn three incident.
"Whilst I appeared, at the beginning, to have lost something on the rear end, when I looked at the car afterwards it seems to be OK and it was driving better and better throughout the race, so that was a great thing.
"Honestly, to get back to second it's huge for us.
"I will definitely take it, of course, and I'm happy with the drive that I did."
Hamilton's initial messages to Mercedes over the team radio about the incident were slightly disjointed and a mix of dejection over the contact and concern over damage to his car.
His engineer Peter Bonnington attempted to reassure the four-time world champion on both counts, telling him the car looked fine and that he would be able to fight back.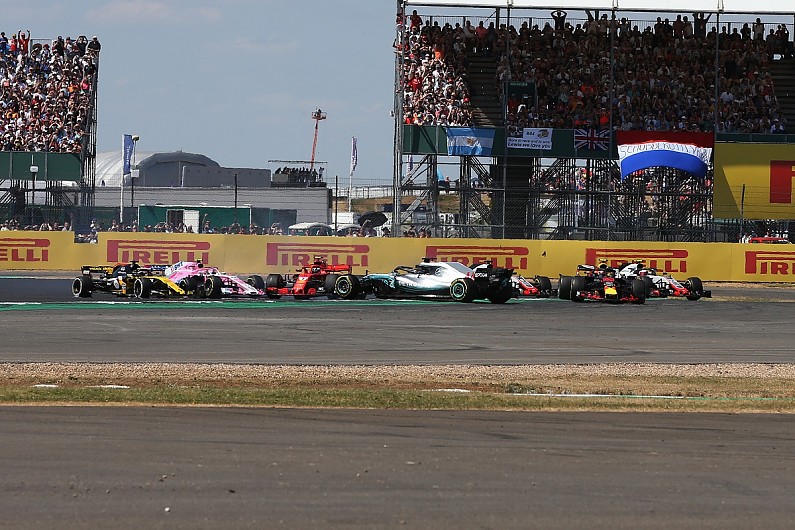 Asked post-race if he thought an 18-point haul was possible after the start, Hamilton replied: "Yes. I had to have that mentality.
"I was last and I still believed I could win.
"I had to keep that mentality to get back to where I was."
Hamilton finished second after Mercedes opted not to pit him and team-mate Valtteri Bottas for fresh tyres under the safety car, which handed them track position against the Ferraris but meant they would have older rubber when racing resumed.
Bottas fell from first to fourth as he faded on his mediums, but Hamilton was able to pass his team-mate and keep Raikkonen behind him.
Mercedes team boss Toto Wolff said: "I think it was absolutely the right decision to do.
"There was 15 or 16 laps to the end, we were on quite fresh mediums that would last and gaining track position was the important one for us.
"Doing the opposite [to Ferrari] was the choice we went for and in the end it brought us a P2 and P4.
"Considering how the race started we need to accept the result as an OK outcome, as damage limitation."
Bottas said he was treating "every lap like a qualifying lap" in the final phase to stay ahead but that left him feeling like he was "driving on ice".
"I didn't quite expect it based on the laps before," said Bottas of Vettel's race-winning pass into Brooklands, which the Finn did not defend against.
"It was disappointing at that point but then seeing what happened to me lap after lap there was nothing I could do."