Force India Formula 1 drivers Esteban Ocon and Sergio Perez believe the delay to an upgrade package planned for the Austrian Grand Prix caused their qualifying struggle.
Ocon missed Q3 in 11th place, while Perez was caught in traffic in Q1 and could not better 17th, before gaining a spot when Charles Leclerc was penalised.
"We are lacking a bit of pace, to be honest," said Ocon.
"First run was quite good for me luckily, because we got traffic in the second one, and I couldn't improve there. That's how Sergio got squeezed out, because of traffic.
"We are in this position because we are not fast as we would like to be.
"I think two-tenths behind the Renault was not reachable today to reach Q3.
"We need those big updates like all the teams are bringing, and that's why they caught up.
"We were supposed to have an upgrade here, but it didn't arrive.
"Normally we should have it for the next race, and I hope we can make a step from there."
Perez agreed Force India needs the upgrade for Silverstone.
"Now the competition in the midfield is so close than anything we can get will be quite good for us," he said.
"We saw again the margin was close to be in Q3 as well, but we definitely need a step forward, especially as that will help me quite a bit with my balance, that I'm currently struggling with."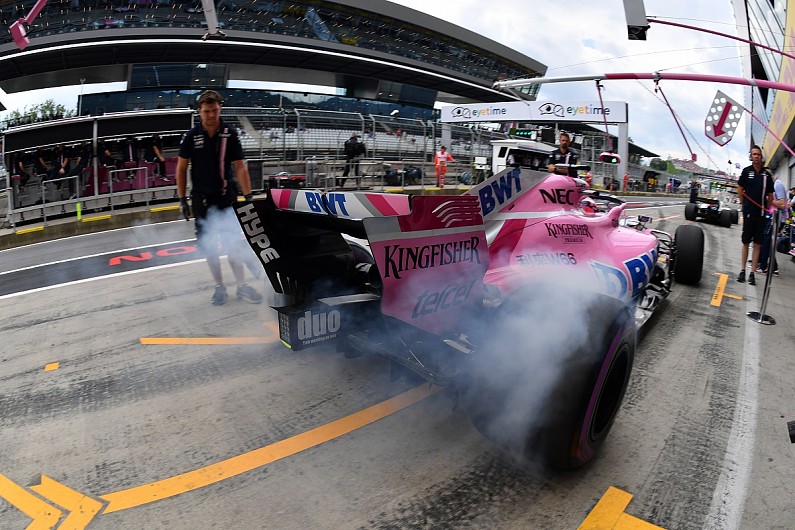 Perez said his Q1 session was complicated by a team decision to run an extra lap to properly prepare the tyres for his qualifying run, which in turn put him out of synch with other cars.
But he denied that the strategy choice had been a mistake.
"I don't remember when was the last time I out in Q1," said Perez.
"Given how close the margin was and I got a little bit of traffic in Turn 9, losing a bit more than a tenth, and that meant out of Q2. So very frustrating, but there's no point in looking back.
"I think it's 100% just being in the wrong position. We were doing a different strategy to everyone else with the tyres, which meant a preparation lap, so when I was on the prep lap everyone was on a flying lap and vice versa, so that meant I overtook six cars or so on my lap, so it was not going to be ideal, especially with these cars which are so sensitive to having a car ahead.
"It was not a mistake. It was just the strategy that we had to do and the timing as well.
"I was stopped for the weighbridge, so I had no more time. I only had one attempt, and I had to go for it.
"It wasn't a gamble. It was just that we couldn't do two laps, because of timing, so we were just fucked there."