Red Bull team principal Christian Horner says Max Verstappen's spin during the Formula 1 season-opening Australian Grand Prix was partly a consequence of damage he sustained while pursuing Kevin Magnussen.
Verstappen made a strong initial getaway at the start of the race, but his line approaching the first corner was compromised by Ferrari's Sebastian Vettel and allowed Haas driver Magnussen to squeeze past around the outside into fourth.
The Dutchman later spun at Turn 1 at the start of lap 10 and dropped to eighth, before finishing the race in sixth after a long and fruitless chase of Fernando Alonso.
Horner said Verstappen had damaged the rear of his car after running wide at the fast Turn 11/12 left-right complex on lap six, which left him struggling with sporadic losses of downforce.
"Where he was unlucky was at the start," said Horner.
"He had a good initial start, he went to the right of Vettel [and] he had a run at him.
"But unfortunately he got boxed in there and Magnussen was able to take advantage of a clear track and faster line through the first couple of turns and sneak ahead of Max.
"As soon as he was behind the Haas, knowing how tough it is to overtake around here, he absolutely went for it, got a bit wide I think [in] Turn 11/12 on lap six and that damaged the rear diffuser and created a significant imbalance for him, which he did incredibly well to manage for the rest of the race.
"But that then caught him out at Turn 1.
"He was getting intermittent loss of rear downforce in mid-corners, but [there was] nothing he could do about it."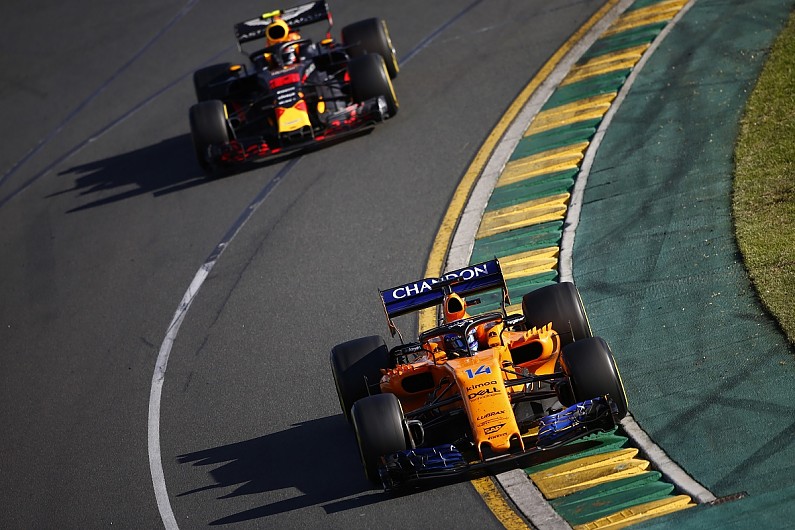 Horner said he believed Verstappen's position loss at the first corner had hampered his race more than the damage and subsequent spin.
"As we saw today even with a car advantage to overtake is impossible here," he added.
"He was having a pretty rough ride with it, but he did incredibly well to be pushing Fernando as hard as he was at the end.
"Even with a pace advantage, Lewis [Hamilton] couldn't pass Sebastian, Daniel [Ricciardo] couldn't pass Kimi [Raikkonen], [Valtteri] Bottas couldn't pass anybody, that was the way it was."