Renault will focus on strict quality control of parts for its 2018 Formula 1 engine, as it bids to fix the unreliability that blighted its '17 season.
Renault-powered teams collected 320 engine-related grid penalties in 2017, with Red Bull boss Christian Horner describing his team's reliability as its worst since 2006, while Toro Rosso publicly fell out with Renault over persistent engine problems.
The Renault works team calculated it lost 45 points and fifth place in the constructors' championship to unreliability of its own, but team boss Cyril Abiteboul said retaining the same engine architecture for 2018 while being "much more draconian" when signing off new parts would address the problems.
"There is much more stability, in the sense the engine is much more similar next year to what it was last year versus the previous year," Abiteboul told Autosport.
"We are changing only the parts that will make a difference to the performance, whereas last year pretty much everything - internal combustion engine and hybrid - was new.
"We're also changing our internal procedure on sign-off, and making sure to be much more draconian in the way we are dealing with project milestones and sign-off of any new part.
"I'm very confident what we are doing on the dyno is very representative and will provide a product that is much more mature as soon as the winter tests."
Abiteboul said Renault conducted an "in-depth review" of its engine department, but decided procedural changes would be enough to improve reliability without restructuring again.
New engine limits could boost qualifying performance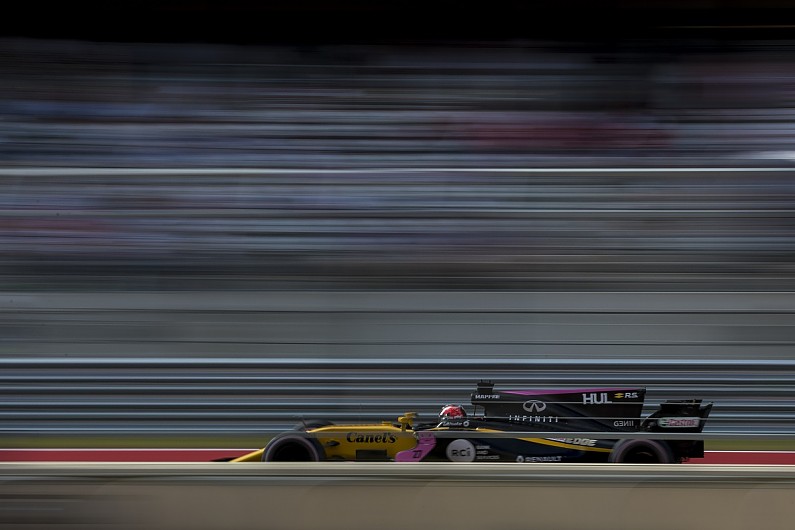 Red Bull also complained about lacking so-called 'magic modes' needed to consistently fight Mercedes and Ferrari in qualifying, which Renault said it was working on for 2018.
Abiteboul said Renault's performance in the 2017 Abu Dhabi finale, where Nico Hulkenberg nullified a five-second pitstop penalty during a battle with Sergio Perez's Mercedes-powered Force India, showed Renault is getting better at extracting performance from its engine.
He also said new limits for 2018, which will restrict each driver to three engines for 21 races, will force all manufacturers to prioritise reliability, which would make qualifying modes less potent.
"The pace in Abu Dhabi has shown we are much better in trying to assess the best compromise between performance and reliability," Abiteboul added.
"There is more to come for next year - even though we know also the regulations will make it more difficult to have purely qualifying modes.
"You will need to have only three engines per driver next season, so that's something also to take into account, because the qualifying mode is the combination between tricks maybe like oil burn - which will become much more restricted - but also the fact that you are damaging the engine.
"I'm expecting most manufacturers to be much more conservative in the way they operate the engine, but we are also looking at our own ways to extract more performance on a limited number of laps."