FIA president Jean Todt says there is no going back on the move to three engines in Formula 1 next year, despite fears it will result in a flood of grid penalties.
Red Bull boss Christian Horner has tried several times to get the regulations changed, because he thinks it is "barking mad" to be cutting back on engine usage with manufacturers having struggled to get through this year with four power units.
But with not all teams in agreement that the rules need changing - and Ferrari president Sergio Marchionne giving short shrift to the idea in a recent Strategy Group meeting - there is now no hope of a change.
Todt said he was as unhappy as other people about the extent that some teams had been hit with grid penalties this year, but he said without all teams wanting to change things there was nothing that could be done.
"It is something that was decided," explained Todt. "Some people are still thinking, why don't we have one engine for the whole championship?
"It is not something that is new. It was decided years ago for 2018.
"We had some meetings with teams and the way the regulations are made and the governance are made, to decide now to go back to four engines, or let's go back, we need to be in 100% agreement.
"And we don't get 100% agreement, so we are down to three engines."
Todt said that F1 had no option but to cut back on engines because when it was a free-for-all, costs had got out of control, and smaller teams would never be able to afford customer deals.
"I don't feel it is easy to find the right solution," he said. "If you don't do anything - it will be more expensive to buy the engines.
"For the FIA to decide that you don't have limited amount of engines, it won't be a problem, but it would be a problem for the competitors."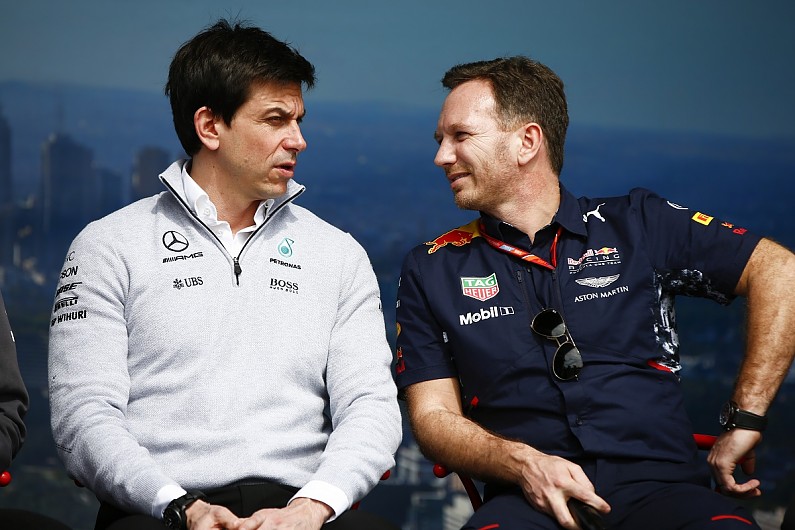 Horner remains unhappy about the situation for 2018, but is well aware that with Ferrari so adamant it won't consider a rule change, there is little he can do.
"Sergio shot it down last time. There is no chance for next year," he said.
When asked how worried he now was for 2018, the Red Bull boss said: "There will be plenty of grid penalties next year and what you would hate to have is a championship decided on grid penalties.
"We are getting to the point where with 21 races for three engines - it is nuts really."
Responding to comments from Mercedes boss Toto Wolff that Red Bull only had itself to blame for the three-engine limit because it had campaigned so hard for engine costs to come down, Horner said: "Whatever Toto says - his non-executive chairman [Niki Lauda] was arguing for four engines earlier in the year because it is a false economy.
"Those [additional] engines go on a world tour, they are here anyway."