Red Bull boss Christian Horner believes Formula 1 needs to have a rethink about track limits following the furore over Max Verstappen's penalty in the United States Grand Prix.
Verstappen was handed a five-second penalty, dropping him from third to fourth, after the FIA ruled that he had gained an unfair advantage by cutting the track at Turn 17 to overtake Kimi Raikkonen on the final lap.
That ruling caused widespread fury among fans and onlookers, with Mercedes chairman Niki Lauda calling it the "worst" ruling he had ever known.
Horner thinks that if the FIA is not willing to police the matter in a consistent way, by punishing all drivers that run off the road, then another way forward needs to be found.
"It [racing] is what fans want to see," said Horner. "If you don't want cars to go there, put a bigger kerb or put some gravel, or something else there.
"What is annoying is the lack of consistency. Where do you draw the line? For fans, for casual viewers, it needs to be clear."
Horner said the Verstappen ruling was especially frustrating because there had been a number of similar incidents - including when Valtteri Bottas held on to third place despite running wide at Turn 1 on lap two - that went unpunished.
"How can you say that what Valtteri did on one hand is OK but what Max did isn't OK?" said Horner.
"In any other sport, you are out, then you are out. You cannot have, that is OK to be out there but not OK to be out here.
"Either get rid of it completely and let them race or if you don't want the cars to go there, put in a gravel trap, or bigger kerbs or a deterrent for the drivers not to go there."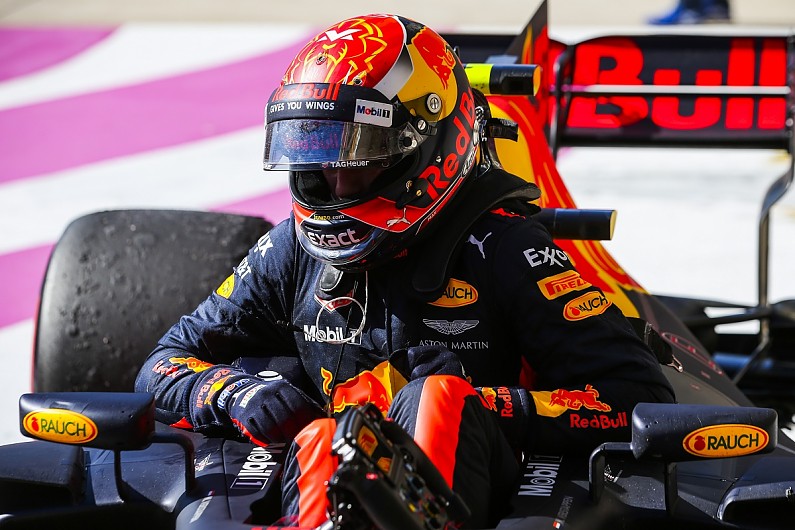 Verstappen let rip straight after the race, claiming that one "idiot" steward had a history of ruling against him in incidents like this.
When Horner was asked if he felt the stewards were up to the job, he said: "You would have to question it.
"It is a question that has been raised before, that consistency of stewarding depends on the stewards you get on the day and some are very good and some aren't.
"The problem is we all spend an awful amount of money going motor racing, and you want it to be consistently refereed and professionally refereed.
"When you get decisions like today it is difficult to understand where the consistency is.
"A bad decision has been made in the heat of the moment and because it relied around a podium and putting the right people on the podium.
"It was an inconsistent decision with other incidents that have happened in the race.
"It would be incorrect to say that the stewards favour one team over another. The issue is just that the decision was poor."