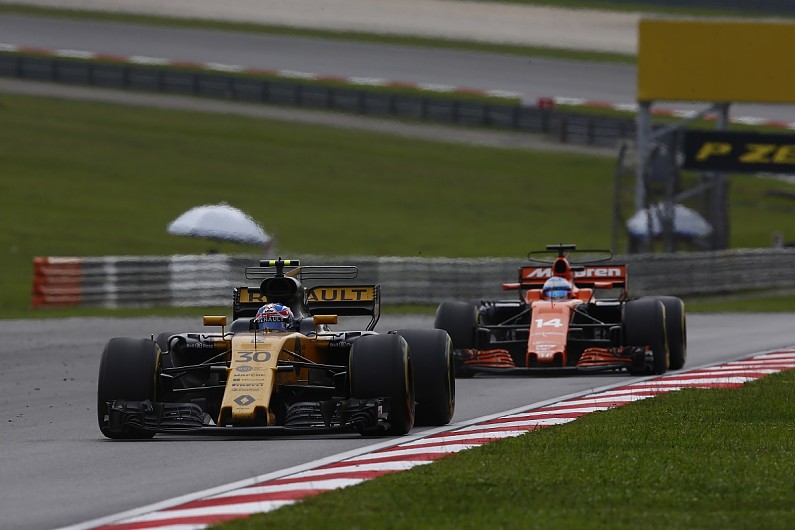 Renault insists it is not afraid of being beaten by McLaren in Formula 1 next year, in the wake of its new engine supply deal.
After McLaren finally lost faith in Honda after three years of difficulties, an agreement was reached for it and Toro Rosso to swap engine partners for 2018.
Renault F1 managing director Cyril Abiteboul admitted the prospect of supplying McLaren did prompt some concerns within the French car manufacturer about potentially handing a strong rival an opportunity to overtake it in 2018.
He says he won over the sceptics by explaining that the move was best overall for the Renault works team.
"There were some concerns, so it was important to explain also to everyone, including internally, including Enstone, that the philosophy is not changing,"Abiteboul told Autosport.
"We are not turning our backs to the fact that the only purpose of our F1 programme is to position the Renault factory team at the highest level.
"We need to think strategy, we need to think tactics, and it is no secret that accepting to support that musical chairs on engines has created more options - including the option on Carlos Sainz, which would not have been available otherwise.
"My management style is to be inclusive, so I tend to share with the management group in Enstone and Viry [where Renault's engine programme is based] what we do, and why we are doing what we are doing.
"Now, I think everyone is on board of why we are doing that, and we are not afraid of McLaren.
"Because ultimately, if we want to stick to our plan and deliver against the ambitions that are laid out, we have to be capable of beating everybody.
"Plus we see working with, and changing customers, is to change the way we are working ourselves, which is good."
Abiteboul admits there were certain conditions that had to be met before the deal could go ahead to avoid "headaches".
"We want to be working with teams that are professional, that are servant, that are loyal, and we have a long standing relationship with Red Bull and a bit of back and forth with Toro Rosso.
"It is a relationship that has had its up and downs but it is working - and that is why we were not desperate to break that relationship.
"We only decided to entertain a change of customer, a swap - because it should not be at the expense of the technical project, so we did not want more than the current [three] customers.
"And we only wanted to do that under certain conditions, in particular economic conditions.
"It had also to serve a certain strategy, to position the Renault works team at the highest level.
"When all of that was aligned it was a fairly straightforward deal to accomplish."