Sauber F1 team principal Monisha Kaltenborn has admitted the team was "very surprised" with the quality of last-minute debutant Antonio Giovinazzi's performance in the Australian Grand Prix.
The Italian driver was drafted in by Sauber on Saturday morning after Pascal Wehrlein reported fitness concerns following Friday's practice sessions.
Ferrari third driver Giovinazzi, who stood in for Wehrlein at Sauber for the first Barcelona test, qualified 16th and finished his first F1 race in 12th position.
Kaltenborn said Sauber did not set Giovinazzi expectations beyond ensuring he "did not to make mistakes and hung in during the race".
"It definitely surprised us because it's his first race," she told Autosport.
"Yes he's been testing, done things like the Pirelli test [for Ferrari], but that's not the kind of testing that other people have been doing.
"It's not like this level of motorsport, so it was very impressive.
"He's had one free practice, one hour, and did a very good qualifying and the race was not an easy one because he had flat-spotted his tyres and the car was not easy to drive.
"He showed the potential the car has despite all these difficulties."
Wehrlein's withdrawal raised the issue that Sauber does not have an official reserve.
Kaltenborn said Giovinazzi would effectively hold that role because the team has "an arrangement with Ferrari which allows us to react in that situation".
"This is fine for us," she said. "Our focus is rather now that Pascal is fit, that our regular driver comes in.
"We have covered ourselves with the third driver situation and there is nothing else we need to do now."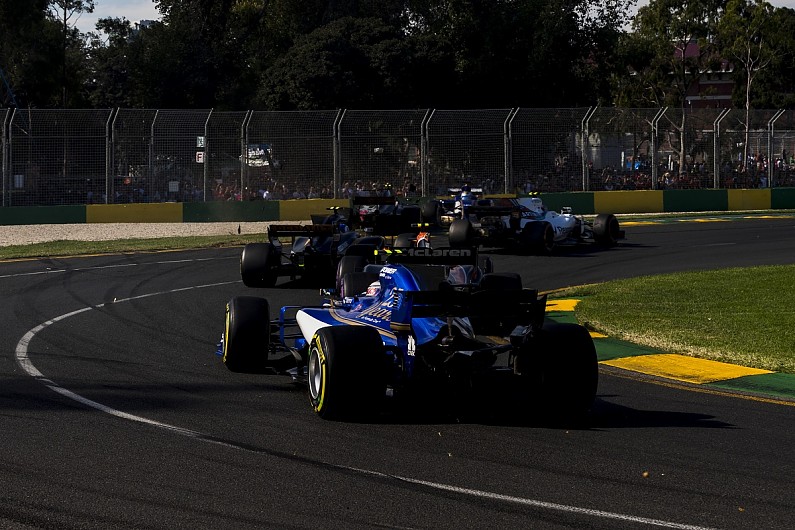 GIOVINAZZI: I WAS TOO CONSERVATIVE
GP2 runner-up Giovinazzi reckoned a lack of experience with low-degradation tyres led to him taking it unnecessarily easy during the race.
Giovinazzi had a 39-lap stint on super-softs and said his experience in GP2, with high-degradation Pirellis, had sparked a bit of paranoia.
"I was taking it easier in the beginning of the run, because in GP2 with super-soft it was possible to only do seven or eight laps and then you need to box," he said.
"I took it really easy, just to understand the tyres and understand the car."
After lapping only two tenths slower than team-mate Marcus Ericsson in qualifying, Giovinazzi took advantage of an electric problem for Stoffel Vandoorne in the race to beat the McLaren-Honda driver by 14 seconds and finish the race as top rookie.
"Yesterday I was just two tenths from Q2, and today just two positions to the points," he said.
"To be on top of the rookie drivers, with the preparation I had before - nothing - I think was a pretty good weekend."