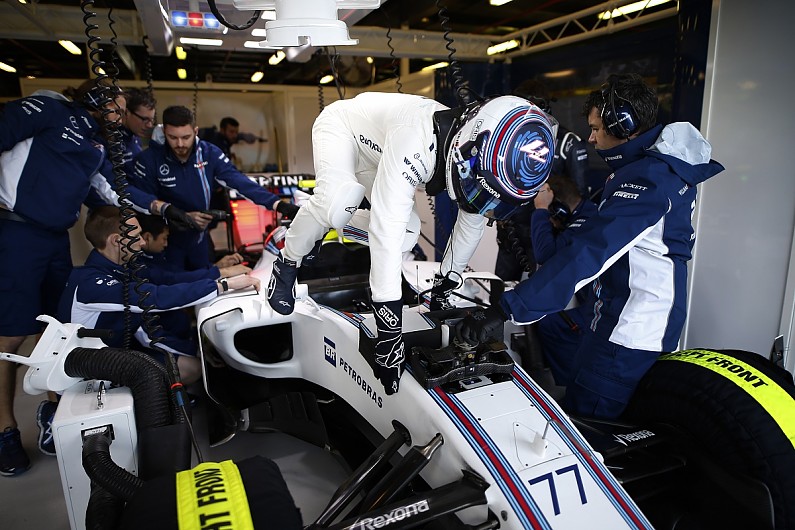 Formula 1 teams' spare parts shortages were a major factor in the lack of running in Australian Grand Prix Friday practice, drivers have admitted.
The Williams team was particularly low-key on day one of the 2016 F1 season, with Felipe Massa and Valtteri Bottas completing just six laps each in the morning session, then waiting until the final moments of the wetter second practice before venturing out for two-lap installation runs and pitstop practice.
Asked by Autosport if a shortage of spare components had prompted Williams to steer clear of the wet track, Massa replied: "Yeah, we're quite short on parts, that's why we didn't run.
"We saw other teams not running as well, so maybe they had similar issues to us."
Nico Rosberg destroyed one of the limited supply of Mercedes' latest front wing when he aquaplaned into the wall on an early run in afternoon practice.
Massa said that situation proved Williams had made the right call.
"That's why we decided to stay in the garage because if you crash it would be very tricky for us looking at the parts we have for the car to get the best out of the weekend," he said.
Williams's chief technical officer Pat Symonds had warned on Thursday that a wet track would be unnerving for teams as the late change to the 2016 calendar had put pressure on production schedules.
"I think a lot of people haven't realised the significance of moving this race forward two weeks," he explained.
"When you're designing a Formula 1 car, it's quite a long project so you start it off with a date in mind.
"When everything came forward by two weeks, we were well into the project so you can't suddenly just sort of invent two weeks from nowhere.
"I honestly think everyone is behind where they want to be.
"I'm sure there are plenty of people here who are not looking forward to running in the wet with walls next to the track because they haven't got the level of spares that they'd wish they had."
Sauber also sat out the afternoon session, with Renault another team that limited its running.
Drivers from both confirmed that spares shortages were an issue.
Sauber's Marcus Ericsson said: "It's the beginning of the year and like a lot of people on the grid you don't have a massive amount of spares.
"Not that we are super-tight, but it's always a calculation of how much risk you want to take and how much you can learn.
"But tomorrow in FP3 if we have dry weather conditions we need to get out there and drive."
Asked by Autosport if Renault's stance was similar, Kevin Magnussen replied: "We don't have that many front wings.
"If we felt we would learn something, we'd go.
"We're not that tight on parts, but it's just not worth the risk."