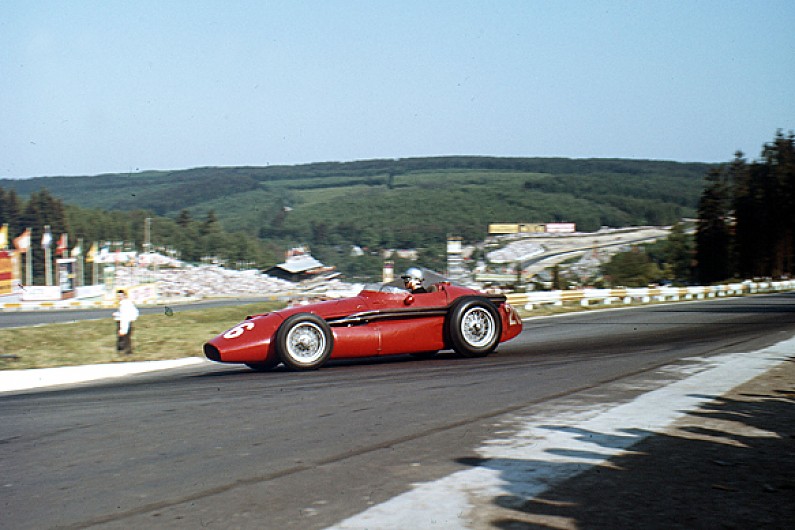 Maria Teresa de Filippis, the first woman to start a Formula 1 world championship grand prix, died last week. PAUL FEARNLEY assesses her career and place in F1 history
Petite and independent - she gave the domineering Enzo Ferrari the flick in favour of Maserati - Maria Theresa de Filippis contested all of Italy's gruelling sportscar races - Mille Miglia, Targa Florio, Coppa d'Oro delle Dolimiti, Giro di Sicilia and Pescara 12 Hours - and scored several class wins before becoming the first woman to start a world championship grand prix.
That occurred at Spa-Francorchamps on June 15 1958 (pictured above). She qualified last in her privateer Maserati 250F - a bitsa with a chequered past - and finished 10th, two laps behind the victorious Vanwall of Tony Brooks.
Born to a wealthy family in Naples on November 11 1926, de Filippis was dared to swap horses for horsepower in the late 1940s by her three brothers - and was supported by her aristocratic industrialist father once she had won their bet, with obvious panache, and caught the bug.
Impressive performances in increasingly powerful sportscars - from BMW bike-engined Urania and 750cc Giaur-Fiat to 1100cc OSCA - caught the eye of GP driver Luigi Musso, who convinced her to graduate to a two-litre Maserati for 1955.
The following year she finished second in a support race at the Naples GP despite starting from the back having missed practice.
Her Formula 1 car of 1958 was uncompetitive in comparison and demanded a physicality she struggled to muster.
Having finished a distant fifth in the non-championship Syracuse GP, she failed to qualify in Monaco but was far from disgraced: among the nine drivers slower was Bernie Ecclestone in a Connaught.
She did not lack bravery - Juan Manuel Fangio feared for her safety and urged caution. During practice for the Portuguese GP at Oporto, she wrapped her 250F around a lamppost then jumped into a borrowed car for the race. It retired early because of an engine problem.
Her final GP start, at Monza, resulted in a late retirement because of engine failure.
Musso had been killed at Reims in July and de Filippis was taken under the wing of Jean Behra. The plan for 1959 was for her to drive the Formula 2 Porsche-based single-seater that the Frenchman had commissioned from engineer Valerio Colotti in Modena.
It made its debut in Monaco, where de Filippis again failed to qualify although she was faster than reserve driver Edgar Barth.
Her next outing was to have been at Avus in August, but Behra, recently sacked by Ferrari, took the drive at de Filippis' behest and was killed when he skidded over the lip of the track's notorious brick banking.
This was one tragedy too many for the woman who also numbered the late Peter Collins and Alfonso 'Fon' de Portago among her friends. Marriage and children soon followed and she never raced again.
This pioneer returned to the sport in 1984 as the secretary general of the Club International des Anciens Pilotes de Grand Prix. Elected vice president of the organisation for retired drivers in 1997, she became its honorary president in 2011.