The Williams Formula 1 team says a fuel pressure problem compromised Felipe Massa's final run in qualifying for the Brazilian Grand Prix.
Massa was only eight hundredths of a second shy of Interlagos pole man Nico Rosberg after their first Q3 runs, but the Williams racer aborted his final effort after encountering Kevin Magnussen's McLaren in the second sector.
Williams performance chief Rob Smedley said a fuel pressure problem delayed Massa's release from the pits for that final run, which meant he ran into traffic.
"We couldn't get fuel pressure in the car. We got it started up, but as we dropped it off the jacks we lost fuel pressure and the engine cut out," Smedley explained.
"We then had to put a bit more fuel in to make pressure.
"It's just an unfortunate set of circumstances with the very low fuel levels we run here.
"The fuel consumption around here is a lot lower than other tracks, therefore when you put one lap of fuel in you put in very little fuel in the main tank and it's just difficult to pick it up sometimes."
Mercedes driver Rosberg improved to a 1m10.023s best on his final run, beating team-mate Lewis Hamilton to pole by 0.033 seconds.
Massa's combined ideal sector times would still have put him just over a tenth shy of pole, and Smedley reckoned the Mercedes were out of reach even if Massa had not encountered traffic.
"We didn't get that last run in, which was a little bit disappointing, but I don't know whether either car could have done better than they did," Smedley added.
"I asked Felipe afterwards, he said there's maybe a tenth in the car.
"If he'd got another good lap in that would have still kept us in the same position."
LOCK-UPS COST BOTTAS
Massa's team-mate Valtteri Bottas ended up fourth fastest, after also aborting his final run in Q3.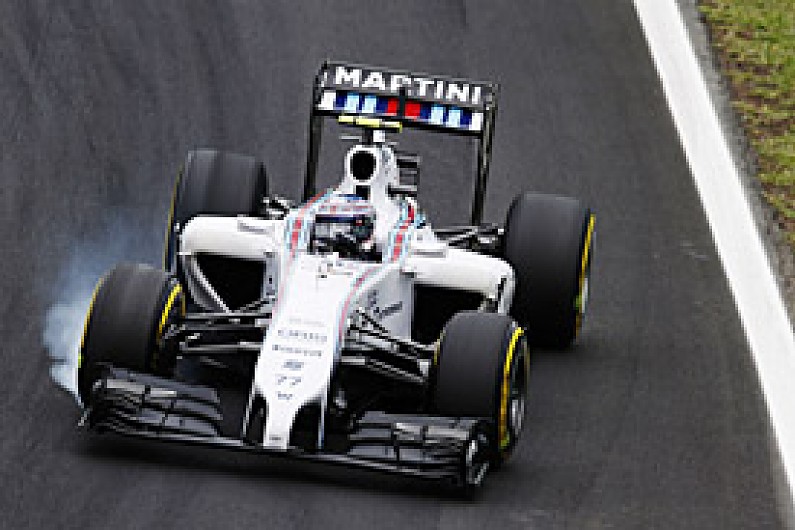 The Finn explained that three front brake lock-ups during his flying lap meant there was no chance of improving on his best time.
"In Turn 1, Turn 4 and Turn 8 I had a bit of a lock-up and ran a bit wide," Bottas explained.
"By the time I got to Turn 9 I saw the time delta was so much back to my best lap it was better to abort it.
"I was trying to get a bit more front grip out of the car but I think there was not much more in it."
Although Williams is only a couple of tenths adrift of Mercedes on pace, Bottas does not expect to be able to challenge Rosberg and Hamilton in tomorrow's race.
"I think that's going to be difficult," he said. "Normally they have more of an edge in the races than they have in qualifying.
"But we need to try and be as close to them as possible."