Mercedes believes it 'absurd' that rival teams think there is a need to tweak Formula 1's regulations just two races into its new era.
Ferrari president Luca di Montezemolo is due to meet with FIA president Jean Todt and Bernie Ecclestone in Bahrain on Sunday to discuss potential tweaks to the rules.
The meeting comes after di Montezemolo expressed concerns about the fuel economy restrictions that he believes has left F1 as 'taxi cab' racing.
It is understood that a host of potential rule changes - including lifting the fuel-flow restriction and making races shorter - are being considered.
But Mercedes, which has won the opening two races of the season, feels that criticisms of the sport are hiding the real agenda, which is a push to change the competitive order.
"The interesting bit is that some engine manufacturers or teams are saying we have not managed to make the car efficient and fast with 100kg [of fuel], so what we are trying to do is let's add 10kg," said Wolff.
"Well, sorry they didn't do their job in the way we have done. I find this whole discussion absurd."
Wolff is aware that there are competitive reasons behind some teams seeking changes to the rules.
However, he thinks it wrong that some are resorting to criticising the sport as a whole as a way of getting their arguments across.
"If this is the agenda then we should not talk the sport down as a total," he said. "We should say, hold on a minute. Mercedes has done a better job."
NO TAXI CAB RACING
Wolff also says that suggestions F1 is now 'taxi cab' racing are wide of the mark, because the evidence from Malaysia was that drivers are still racing flat out.
"I don't think anyone had a fuel consumption problem in Malaysia," he said. "There was no problem with fuel consumption. We were flat out; all the cars were flat out. We finished with some margin of fuel.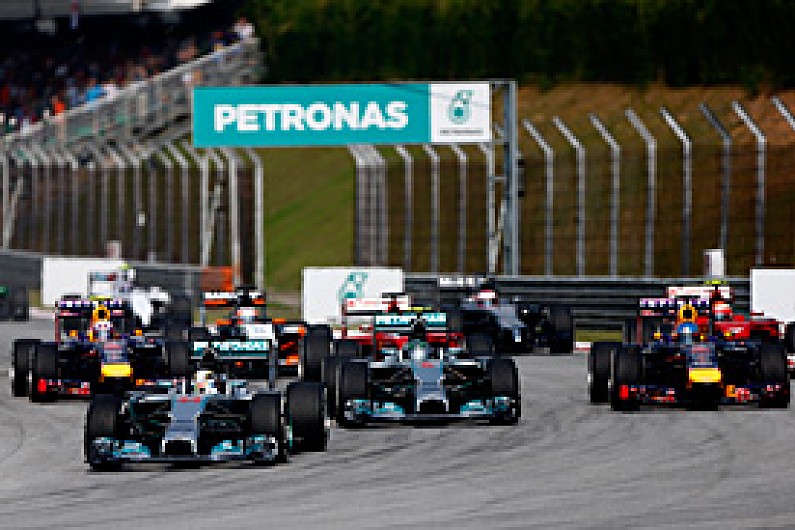 "So what has been said is not true. There is no fuel saving mode. There is no taxi driving. It is flat out. The hard tyres have added to this - we are flat out."
He added: "We just have to understand what the fans don't like. If it is the noise then we have to address the noise.
"Is it that races have become boring by a team or car dominating? Maybe we have had that phenomenon in the last 20 years.
"Was it boring that Sebastian [Vettel] won the last nine races? For sure it is more boring if you have somebody who is dominant - and I see that as a fan as well."