Howdy race fans.
What do we all think about last week's International Tribunal then? Personally, I think it all went quite well and the outcome was spot on... I jest, of course.
What an absolute joke. And not the funny kind either. I've worked in this wonderful sport for some time now and have seen it all. GPs where only six cars start; espionage on an almost James Bond scale (and I don't just mean the $100m McLaren time); race fixing and secret fuel tanks; adulterous drivers with their bosses wives, and international drug smuggling.
I've seen some of these things covered up by all manner of people and I've seen others go through often questionable, judicial proceedings. None have been good for the sport.
If I found the whole thing in Paris a little twisted and a little less transparent than this new, independent panel of judges was billed, what on Earth must the observing millions around the world have thought on Friday evening?
Of course the lads down at Merc aren't too upset. There was a moment or two when some of them got slightly concerned over their jobs, but in the end they've wound up with nothing more than an extra few days to get the cars ready for Hungary.
Expect those Silver Arrows to be all freshly painted and highly polished at the Hungaroring, while the rest of us are struggling just to get ours there and be ready in time after our youngsters have thrashed the nuts off them for three days around Silverstone.
Anyway, it's the British Grand Prix this week and that's something to celebrate right? Well, it depends how you look at it really.
It is great for the fans of course and the drivers definitely love the track. Ours tend to go alright here too, so that's all good.
For us though, it can be a complete pain in the arse.
As I write this, almost a week before a race that takes place a mere handful of miles from our HiFlex F1 factory, I'm on a tour of the country setting our car up on various display stands for sponsor events and media nonsense.
I'll get the car back to base on Wednesday afternoon, just in time to work late into the night finishing it and get it over to the circuit garage.
I've then been 'volunteered' to show a group of VIP guests around the garage at 9pm on Thursday night, while all my chums are off getting stuck into the traditional Silverstone team curry.
Whereas normally, we work like crazy to get the cars finished and loaded into the trucks so they can spend a couple of days on the road to the track, leaving us behind to enjoy a day off before flying out ourselves, here, there is no day off. We have an extra couple of days in the factory with the car, so we use them... working like crazy.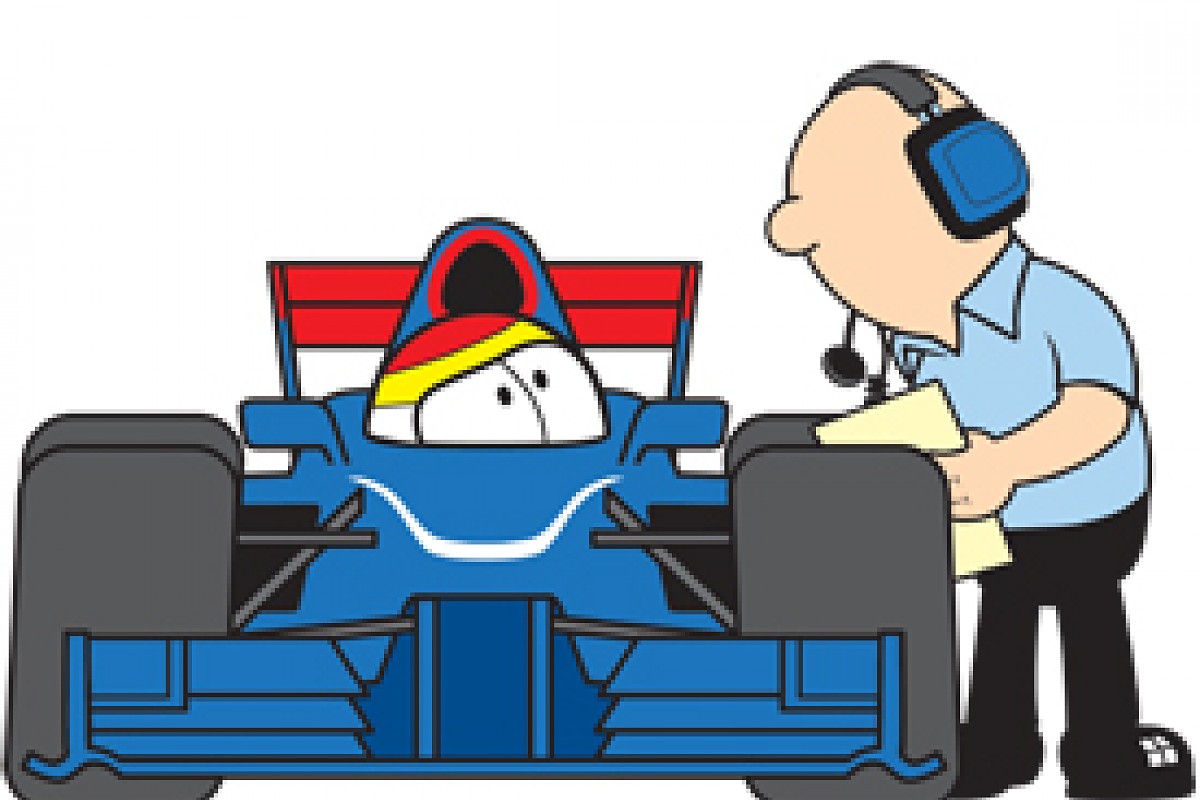 Showing guests around is no picnic © LAT
There's so much extra curricular stuff going on to stop us doing our real jobs and the drivers are never around to discuss things because they're busy themselves. On top of all that, Mrs Spanners is coming up for the weekend.
I love her dearly, obviously, but she came up for race day a couple of years ago and it ended in tears. While I was saying hi to her and her friends at the paddock gates on Sunday morning, the entire troop of barely clad grid girls, that I'd met in the pub the night before, marched past, giggling, waving and calling out my name. It took a while for her to calm down.
Grumpiness aside, it is a great atmosphere at Silverstone, there's nowhere else like it. Monza has a passionate and vocal crowd, but they're thoroughly partisan and all there for one team only. At Silverstone the crowd's huge, mixed in terms of support and, above all else, dedicated.
I find it incredible that so many people turn up for all three days, all day and irrespective of the weather every year. Formula 1 seems to do its utmost at times to put people off this big game of ours, whether it's traffic and parking fiascos, inflated ticket prices or a debacle like last week's in Paris, but the Brits just won't be deterred. Good on you all.
Actually, on that note, I would like to take this opportunity to just deter my own extended family and circle of Facebook 'friends' from continually asking me for free tickets. I haven't got any. Thank you.
As for life here at HiFlex F1, it's all OK really. Things are getting easier for us now that those gracing the upper floors have made the decision to effectively stop developing this year's car and concentrate all efforts on the super-duper-turbocharged-electric monster for 2014.
The official line is that we're "carefully managing and proportioning resources between all areas of necessity, in order to maximise our current and future potential", but the truth is we've given up on this season.
That means no more new bits to try and make work and that means an easier life for me from now on.
To be honest, things have been getting slightly easier ever since we signed the recent deal with our 'Alcoholic Beverage Partner'. The case of 2005 Rioja Reserva that landed on my bench a couple of weeks back is going down nicely each evening and making the world a slightly better place all together.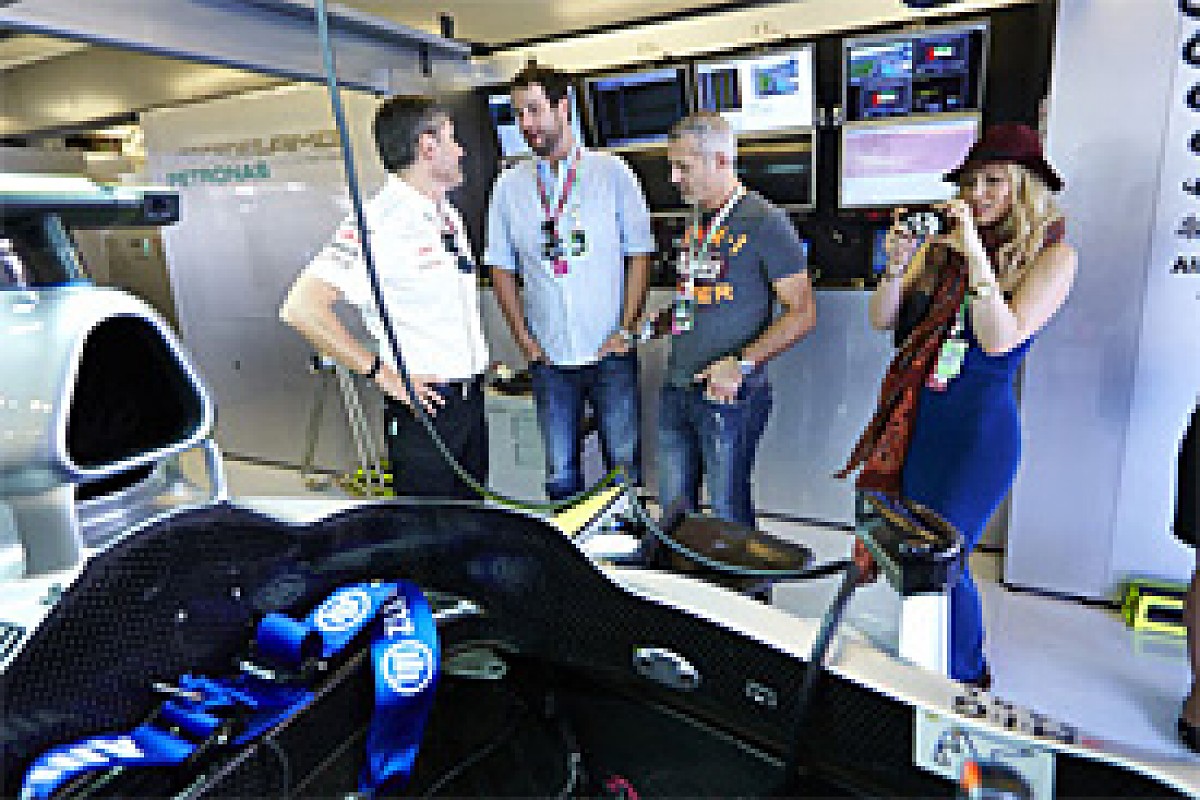 Shopping centres, railway stations... show cars can get sent anywhere © LAT
Talking of 'partners', I need to go and have a little word with our marketing 'lovies' about next year. The lads have all been talking in the race bays and unanimously agree that it's imperative we bring together a more 'beneficial' group of sponsors.
All we ever hear in the pitlane is how the guys at other teams have been given new mobile phones, laptops or just picked up their brand new cars on company deals.
Aside from our recent wine giveaway, the only other sponsor related perk we've had this year is a large piece of tasty, but overly fragrant Taleggio from our 'cheese partner'.
Why on earth, as a Formula 1 team, do we need a partner in cheese? Seriously, that's gotta change.
Anyway, I digress. I must get back to furiously waiting for the speeches to finish here, so I can put our car back in its trailer and move on to the next event at a local posh school.
It's at tedious times like this I like to console myself by thinking it could always be worse. Some of my mates at Force India have spent the afternoon today minding their car on a stand at Asda in Milton Keynes.