Mercedes team principal Ross Brawn had promised last week that everyone would have their 'answers' about the tyre test controversy at the FIA's International Tribunal hearing in Paris on Thursday.
But after more than seven hours of deliberation at the headquarters of motor racing's governing body, there were still plenty of issues for the five-strong judging panel to work through before they could reach their decision.
When it came on Friday, it was a light punishment for Mercedes: a reprimand and exclusion from the three-day young driver test at Silverstone.
Here AUTOSPORT looks at the main issues of the Tribunal day - as well as the answers that we did finally get for the first time.
WHAT PERMISSION DID MERCEDES GET FOR THE TEST?
According to evidence delivered in the hearing, Formula 1 race director Charlie Whiting was first contacted via telephone by Mercedes team manager Ron Meadows on May 2 to enquire about the possibility of the team running a 2013 car in a Pirelli test.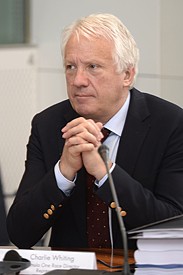 Charlie Whiting's responses to Mercedes were key to the team's evidence © LAT
Later that day, Mercedes team principal Ross Brawn had a conversation with Whiting too.
On May 3, Whiting wrote to the FIA's legal director Sebastien Bernard to ask about the possibility of a team using a 2013 car for the Pirelli test.
One of the key factors here is that the FIA and Pirelli were eager for the test to be used to help cure the delamination issues that had struck a number of cars in the first races of the season.
Growing concerns about the delaminations were made clear in the hearing when it was revealed that the Grand Prix Drivers' Association (GPDA) had written to the FIA in early June expressing worries about Pirelli not being allowed to change the tyres to cure the matter.
These safety concerns were why there was an impetus to get a 'representative' car for the test, rather than a 2011 machine like that used by Ferrari earlier in the year for another Pirelli test.
Whiting wrote: "In my view any such testing would not actually be undertaken by the competitors, it could be argued that this was done by Pirelli. Would we be able to take this position?"
The response that Mercedes got from Whiting following his exchange with Bernard was that it was theoretically possible for a 'representative car' to be used - as long as Pirelli had invited all the teams to test and had demonstrated that to be the case.
While Mercedes believes that his notification was good enough to be considered approval for the test - as Pirelli as long ago as March 2012 had invited other teams to test - the FIA argued that Whiting's authority over the test was irrelevant.
It said the only way the test can take place with a 2013 car was if the sporting regulations were changed, which would require the World Motor Sport Council getting involved.
THE TRANSPARENCY ISSUE
Mercedes had long argued that the Barcelona test was not secret, but private.
Mercedes admitted at the hearing that it could have been more open © LAT
And while Pirelli might not have invited other teams to the test, or notified them it was happening, between the May 2 conversations and the running on May 15-17, its stance is that other teams were given previous opportunities to run.
Furthermore, teams were invited to test again in a letter sent after the Monaco Grand Prix, as well as in an email on the night before the hearing.
In March 2012 it first made such an offer to the teams - and only Ferrari responded. The Maranello team ran a 2010 car during a previously unknown Pirelli test in '12, and then also had that test with its '11 contender at Barcelona prior to the Spanish Grand Prix.
Mercedes argued strongly that if it was in breach of the rules, then Ferrari had to be too - because it had gone through the same channels to authorise the test, and a two-year-old car still in theory conforms substantially to the regulations.
The FIA argues, however, that a two-year-old car is allowed - and that the Mercedes test was not authorised because no other teams were invited to take part in the test, and none of them knew about it.
Mercedes did admit that there were elements of the test that it could have handled better though, like not running Lewis Hamilton and Nico Rosberg in black helmets to avoid them being identified by fans.
"We regret now the decision of our drivers to wear black helmets... we regret it and apologise," said Mercedes lawyer Paul Harris.
"We had our reasons - it was about the lack of bodyguard and security personnel. We do acknowledge that this part of the test aroused suspicions and it is regrettable."
WHAT COMES FIRST - THE CONTRACT OR THE REGULATIONS?
One of the main talking points ever since news of the test emerged was that Mercedes was allowed to test a 2013 car because Pirelli's contract allows 1000km of private tyre testing.
Pirelli's frustrations over testing rules have been mounting © XPB
The specifics of this were pored over in great depth at the hearing, with much focus on Clause 4 of Pirelli's contract, which relates to testing.
Although the contract has not been published, extracts from it were read out by the lawyers.
According to them the key clauses are:
Clause 4.1 - To facilitate tests by competitors, the provider (Pirelli) will be present at its own expense at a maximum of 20 test days nominated by the FIA with all necessary personnel and equipment to fit and service tyres.
Clause 4.2 - Each of the competitors from the previous year's championship should be invited to make available up to 1000km of tyre development testing at the provider's request, subject in each case to the agreement of the FIA. The provider undertakes to treat all competitors equally with respect to anything which affects the performance of the cars.
While 4.1 refers specifically to pre-season testing that is governed by the sporting regulations, one of the arguments put forward by Mercedes is that 4.2 means its Pirelli running is exempt from these rules.
The FIA argued differently - stating that competitors can only test when article 22 allows: which means not during the season with a current car.
However, Mercedes countered that argument by suggesting it could not be governed by article 22 either because the Barcelona run was a Pirelli test.
Mercedes lawyer Paul Harris said: "This was not a test undertaken by Mercedes. They are critical words in text of Article 22 - 'undertaken by'."
DID MERCEDES GAIN A BENEFIT?
Although much of the focus of the hearing revolved around whether or not running a 2013 car was a breach of the rules, more talk than expected was devoted to potential benefits that Mercedes could have gained.
Rivals and the FIA argued that three extra days on track at Barcelona could only be an advantage © XPB
This was because the FIA put forward the view that if it can be proven Mercedes gained a competitive advantage from the test, then that could be prejudicial to the interests of competition - which is a breach of the FIA's International Sporting Code.
The FIA argued that telemetry data was taken by Mercedes from the test, which was only archived in a secret Mercedes server once the disciplinary proceedings had begun.
Even if no competitive advantage was obvious, the FIA insisted that the very running of the car was a benefit.
It would have delivered the team the knowledge about reliability and car durability, even if there were no mechanical defect that came to light.
FIA lawyer Mark Howard argued: "Running the car for three days at least informed Mercedes that they did not need to change the cars. That in itself would be valuable information."
THE PIRELLI JURISDICTION ISSUE
Prior to the hearing it had not been clear as to why Pirelli had been summoned at all.
Pirelli's Paul Hembery arrives at the Tribunal © LAT
The tyre company is not a competitor and therefore believes that it should not be brought to rights by FIA disciplinary procedures.
It suggests the only course of action is for issues to be dealt with in a civil court, if the FIA believes there have been breaches in its contract.
The FIA's lawyer Mark Howard suggested, however, that Pirelli was actually bound by the Sporting Regulations and International Sporting Code as part of its contract.
He said that clause 6 of the FIA's contract with Pirelli states that the Italian tyre company "must abide by the International Sporting Code and the Sporting Regulations."
The FIA therefore suggested that by allowing Mercedes to test a 2013 car it not only participated in a breach of the rules, but also acted in a way that was prejudicial to competition - so falls foul of that catch-all article 151c of the Sporting Regulations.
An interesting response from Pirelli was that if clause 4.2 does not allow it to test a current car, as it believes is sometimes necessary, because of article 22 then that is actually a restrictive practice.
Pirelli's lawyer Dominique Dumas stated: "It [the FIA] has granted us a right that we cannot implement."
GOOD FAITH OR CHEATING?
One thing that both the FIA and Mercedes are in agreement on was that the Mercedes' use of a 2013 car was not a blatant cheat.
Instead, the potential rules breach appears to be more a matter of an error in the unchartered territory of tyre testing.
While Mercedes' claims it should actually be 'applauded' for conducting a test to help improve safety for everyone in F1 may be going a step too far, there was little evidence to suggest Mercedes had not made efforts to check it was OK to run the 2013 car.
Harris said: "We did everything we thought reasonable and in our power to obtain the relevant and proper consent and thought we had got it."
Mercedes' demonstration of good faith seems to have minimised the punishment handed down.
To continue reading this feature, subscribe to Autosport Plus today.
Expert opinion. Technical insight. Unbeatable analysis. Subscribe today for unlimited access to the world's best motorsport journalism.
Get unlimited access now
No more monthly limits. Get complete access to all our news and Autosport Plus features.
Subscribe to Autosport Plus
Completely ad-free environment.
Access Autosport Plus - the best motorsport analysis, insight and opinion.
No monthly news limit.
Explore Forix, the world's most comprehensive motorsport stats database.