So that's the first four done. Once we get going it really does fly by, and before we know it we'll all be lauding Vettel's fourth championship in Brazil and kissing goodbye to F1 as we know it, ahead of the new turbo and ERS era.
I've got to say, the opening rounds have been brilliant, albeit bloody hard work, but we've had some great races.
Those who make their living writing and talking about the sport certainly can't have been short of material, that's for sure. Apart from Lewis's bright-red aeroplane and occasional American accent recently, a couple of things that've made me chuckle over the opening spell from up and down the pitlane are the 'great tyre debate' and the childish squabbles among team-mates.
Here at HiFlex F1, we get given the same tyres as everyone else on the grid. There's no magic involved in us making them last a bit longer than others throughout a race; perhaps we're not going as fast as some, but Felix and JC are always on the limit. Actually there's been more than one occasion so far when young Felix has been way beyond the limit, but I'm sure we'll iron that out of him.
I'd love to say our car was designed to be light on its tyres. I've no doubt, in fact, that that's exactly what the guys up in the drawing office say, but I strongly suspect the truth is that we've lucked in to that particular car characteristic. I'm pretty sure the same applies at Lotus. They, like us and maybe Force India, in certain conditions and with certain drivers, can push the car harder while still looking after the boots.
I was talking to my driver, Juan Carlo Mountjoy, in Bahrain about this and he reckons it's all about driving style. He says it was the same last year, everyone learnt how to drive with them by mid-season and it was barely spoken about after that.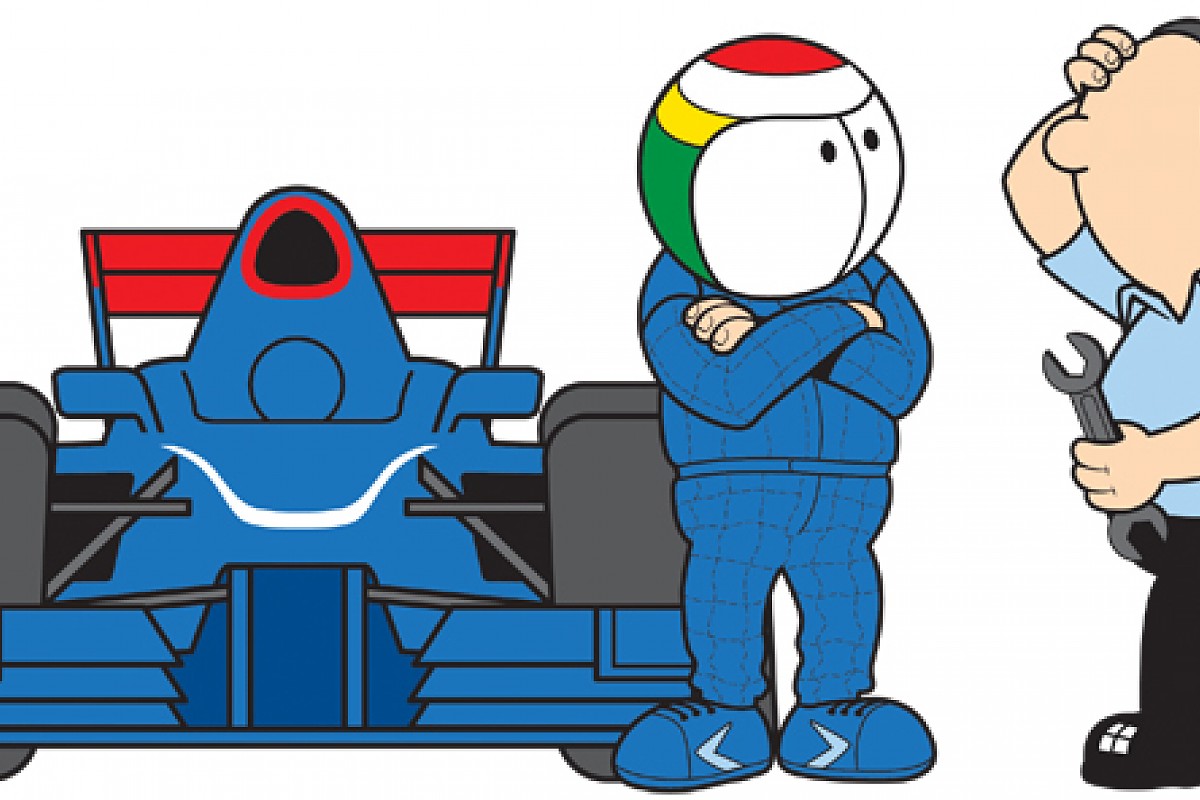 What's making me laugh is how so many complaints were coming from one end of the pitlane, particularly when the team in question didn't win the opening race. Rather than address the issues with their car or drivers, they actually want Pirelli to change the way they make their tyres to help them out a bit. Unbelievable!
What will they do next year if they don't hit the ground running: ask to have the rules revert back so they can use their old V8s? Honestly. What's also kept us entertained down here is winding up the mechanics at such teams. It's like the 'powers' have the whole team brainwashed and we've only got to drop in a little line about buying a set of Pirellis for the road car and it's like lighting the blue touch paper and off they go on an 'official' rant.
The way I see it is: a grand prix's like drinking a pint of fizzy lager down the pub. Whether you're managing tyres, engines, gearboxes, brakes or fuel levels, you have to control your pace to get to the end. Very few people can down a full pint in one hit (Daisy, our electronics girl, can!). Most have to take it steady, pausing frequently between gulps. Now, you don't want to be left with half a pint when your mates have all finished, so a respectable pace needs maintaining, but equally, the last thing you need is a massive gas build up and a resultant expulsion. Careful management of the task in hand, dependent on your individual strengths, weaknesses and capabilities. Stop moaning and get on with it.
Now, with all the fuss of team-mates falling out left, right and centre in Formula 1, I found it amazing that the little story I'm about to tell you never made the headlines in the past week.
Bearing in mind that our 'number-two' driver, Felix Croissant, is the new kid on the block and still a little wet behind the ears, as it were, he pulled a brave stunt in Bahrain last week, which backfired somewhat.
On race-day morning, the fervent Frenchman, who desperately wants to make his mark in the team, decided to hide one of JC's race gloves as a joke after a photoshoot in the team's hospitality unit. I've no doubt he only intended it to be a temporary prank, however Juan Carlo didn't notice and Felix promptly forgot about it.
Of course the gloves are the last thing to be required on the grid and what he hadn't considered was the intensely superstitious nature of our Argentinian. Despite owning others, in reality he only has one pair of gloves, he's had 'em for years and won't race with anything else, plus the left one MUST go on first.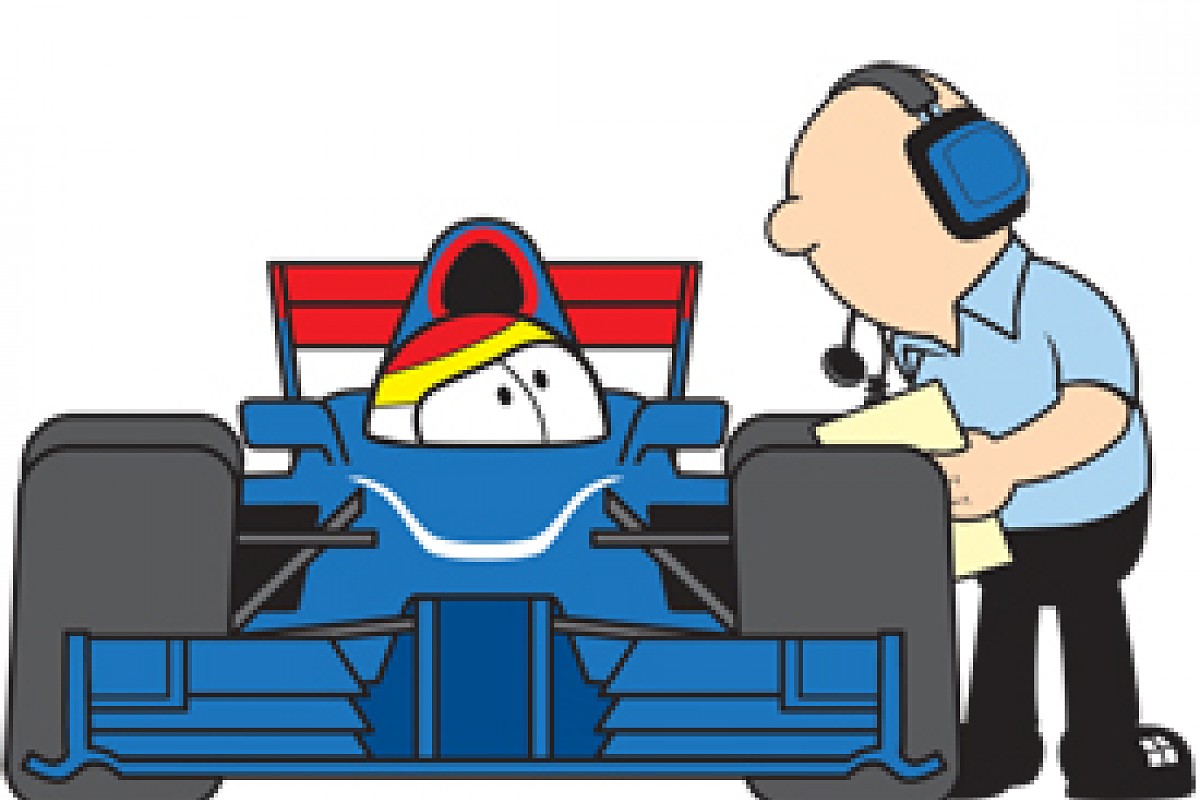 It's lucky the drivers' trainers are fit fellows, because this one's never had to sprint so fast in his life and thanks to Bernie playing musical hospitality units in the paddock, the run was longer than it should've been to retrace the route the gloves had taken that day. Obviously it was found and delivered to the car just before we had to clear the grid, but he seriously wouldn't have raced if he didn't have it.
I think if I'd been Felix I'd have kept quiet, but he sheepishly owned up after the race and the two haven't spoken since. I don't think I've seen anyone look so scared since Ron Dennis got hold of Alonso's physio on the pitwall after Fernando's naughty pitstop in Hungary. Never mock or mess with a South American's traditions. A mate of mine once nicked a chip from Montoya's dinner plate when they were sitting next to each other at their factory canteen. They never spoke again.
We're back at the factory now and the freight arrived here on Tuesday. There's a fair bit to do before we pack up again for Barcelona, not least that we've got a magic, voodoo-like hydraulic suspension system coming to the cars, which sounds fiddly and messy to me.
I saw the state of Nico Rosberg's car when their system packed up in China, and it wasn't pretty. I heard they described it as an "anti-roll bar failure", but in all my years I've never seen an anti-roll bar spraying red hydraulic fluid all over the place like that one did. If someone like Mercedes, who've had this type of kit on the cars for years, are struggling with it like they are, I'm a little nervous for ours, I must admit.
The other thing we've got to look forward to next week is a visit from 'Shakey', or Sheik Mouffansa, the owner of HiFlex F1. He only turns up here once in a blue moon with his entourage, but I always wonder what he thinks of it all.
The place has to be so forensically spotless and sterile, it's impossible for us to get on with any real work. The factory manager goes around the entire building, staging situations in each department that look interesting, yet clean and tidy, for his grand tour. Bizarre. Never quite sure if it's really the way 'Shakey' wants it, or just the way the team thinks he wants it... I'd love to get him out for a beer one day.
The result of all this is that once he's gone, the real work has to begin again and that generally means another late night at the factory. Oh deep joy.
I'm not really sure I can claim jet lag coming from a country only two hours ahead of this one, but I'm definitely feeling weary. There's a sense of 'intermission' having returned from the first four flyaways, and it's all catching up with me all of a sudden. Still, at least with Mr E mixing up the paddock layout, I've been used to a long trek for sustenance, so the half-mile maze to the coffee machine here's an absolute doddle.
See ya soon.