There is something worth even more than championship points at stake right now. It's called pride.
Through the Circuit de Catalunya's quick uphill right hander at Turn 9, sometimes referred to as Campsa, Fernando Alonso has got it all crossed up.
As the rear tyres snap sideways, and Alonso furiously turns the front wheels to try and catch the moment, Felipe Massa is able to breathe the smallest sighs of relief.
He's ahead by a couple of tenths now, and that should be enough - shouldn't it?
Bang in the middle of this battle - observing Ferrari's two men going at it hammer and tongs - is your AUTOSPORT correspondent. For any Formula 1 fan around the world, there is no better seat in the house on this day.
Sat to my left, deftly dancing the Ferrari 458 Italia around the home of the Spanish Grand Prix, and positioning this red beast everywhere he can to fend off his team-mate, is Massa.
A few centimetres from our rear bumper is Alonso who, while knowing this is all just a bit of fun for us lucky passengers, equally does not want to be beaten. To competitive men like racing drivers, these things still count...
It's the morning after the final test of the season and Ferrari's sponsor Santander has hired the Barcelona track to treat a few lucky journalists to an up close look at the racing stars in action.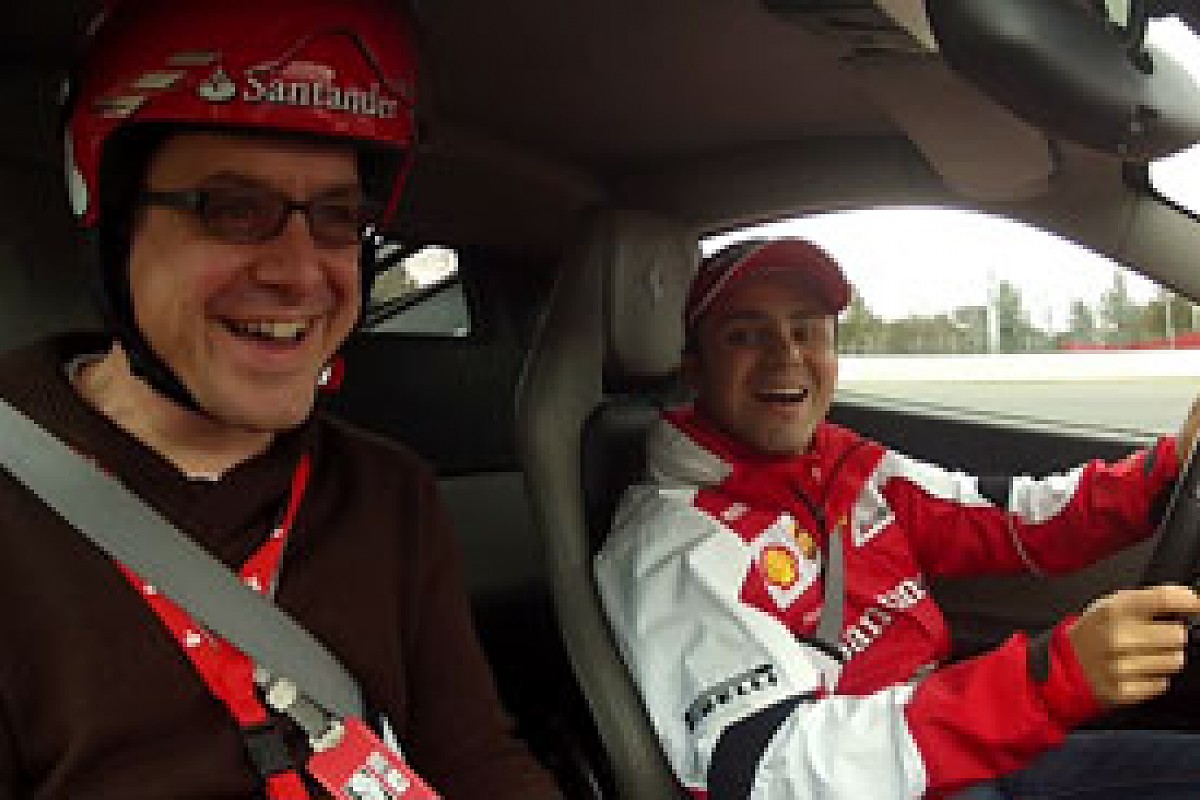 Massa had Alonso covered - at least until a suprise line at the chicane
Call it perfect timing or call it jammy, but as my chauffeur Massa flicks the 458 Italia in to action and accelerates out of the pits for my lap, Alonso sat just in front of us is ready to go too.
The Spaniard sees the chance for a bit of competition and, as he pulls away with his heavy right foot leaving big patches of rubber down the pitlane, he glances across with a huge smile on his face.
Massa's momentum carries him past Alonso, and I signal to the Spaniard that it's time to take up the challenge. We need to have a bit of fun, and he nods across in agreement. It's game on.
Straight out the pits Massa is hard on the power, flicking up through the gears as he checks right to make sure that he is clear in front of his team-mate.
See that white pitlane exit line that if you cross in an F1 race you get a penalty? Well, it doesn't count for today and Massa swings left across it to ensure that he has the perfect line for Turn 1.
Alonso is tucked right behind us, so Massa brakes as late as he dares, sliding the car through the right-left-right as all the time he checks for where Alonso is.
Bouncing over the kerbs he is clear, and then he jumps back on the power, keeping it dead smooth through the long Turn 3 before grabbing another gear on the exit.
Alonso's not giving up and he has a look down the inside at Turn 4, which Massa completes with a deft bit of oversteer correction through mid-corner.
The heavy braking for Turn 5 is a clear opportunity for Alonso, but Massa has it covered. He is neat under braking, turns the car in as hard as he dares but gets on the power too early on the way out and we are sideways for a bit.
That's allowed Alonso to gain a bit of momentum behind us and through Turn 6 he keeps to the inside, letting Massa know he is there, ready to pounce at the slightest slip.
Through the 7/8 chicane Massa is swift, but the pressure is building. The uphill Turn 9 is going to be key to this battle.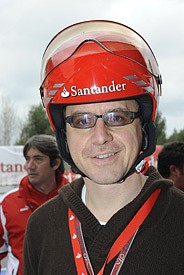 Not Noble's best photo
In an F1 car it's a tantalising curve, flat on low fuel and new tyres. But in a 458 with none of the huge downforce that a grand prix car generates, it's another prospect.
Massa senses that Alonso knows this is probably his only chance to swap positions. Get this one wrong - by going sideways and scrubbing off too much speed - and the long run down to braking for Turn 10 is going to result in Alonso diving through.
As the corner is upon us, Massa flicks it in. He appears to have got it spot on, but then the back end slips a little and he is forced to make a bit of a mid-corner correction.
For a split second he's worried he's blown it. But as the rear comes back into line, he glances across at the mirror on the right hand side to see where Alonso is and a huge smile erupts across his face.
He can see the red car even more out of shape, Alonso's back end swinging both ways for a few seconds before behaving itself again. It's enough. Massa laughs, knowing the hardest work is now done.
Massa inches clear for the braking zone at Turn 10, and the long sequence of following bends in the stadium section are surely going to provide no opportunity for Alonso to get back.
As we drop down the hill for the chicane, Massa is neat and tidy as he covers all avenues off.
But Alonso has other ideas. As we brake for the chicane entry on the left, Alonso darts right across the run-off area, missing the chicane completely as he guns it for the pitlane entry.
Massa hasn't spotted what his team-mate is up to, so I tell him. He checks to his right and floors it, drifting the car out of the chicane and not letting up on the speed.
Alonso is already in the pitlane entry, so Massa goes wide, giggling all the time as he keeps the power down to dive around the outside of the pitlane-in bollard.
Both men are now fully focused on getting to the narrow pitlane in front, and Massa's late spurt of power around the outside has helped. He pulls across on the other Ferrari and it's job done.
Massa's laughs heartily to himself, clearly chuffed at this little victory on a day when the pressures of his day job don't matter.
It's high fives all around as we tour back to the garage; me to reflect on a stunning 120 seconds of Ferrari F1 fever, Massa to take the next guest for round two with Fernando.
In Melbourne a week on Sunday, their battle will be renewed properly but sadly there will be no room in the cockpit for me to get as close to the action again...
You can watch AUTOSPORT'S onboard lap with Massa, sadly without sound, below: