Eight down, four to go. With the first Barcelona Formula 1 test now in the history books and the Australian Grand Prix only three weeks away, still nobody knows what the competitive order really is.
But that's not to say that we didn't accumulate a lot more evidence during the four days of running just outside the Catalan capital, albeit only enough to draw the most provisional of conclusions.
Skipping Jerez no disaster
Half-an-hour before the pitlane opened for the start of the second pre-season test, all eyes were on the Williams pit and the reveal of the new FW35. Unlike the other 11 teams, Williams had opted to skip the opening test at Jerez.
Technical director Mike Coughlan dismissed the necessity to prove a car's reliability with on-track test mileage and his confidence was justified when the new car clocked up a very respectable 86 laps to show that the vast amount of dyno work done at the factory had paid dividends.
Not only that, but the car delighted both Pastor Maldonado and Valtteri Bottas and were confident that it was a big step forward over its predecessor. The team itself was very happy with its four days of work and has every confidence of a good season.
To underline the point, Maldonado's best lap on the third day, a 1m22.675s, was just 0.39 seconds off his pole position time from last year's race, which considering the car didn't run in anything approaching qualifying trim confirms that the package is a decent step.
The Mercedes is not a dog, but...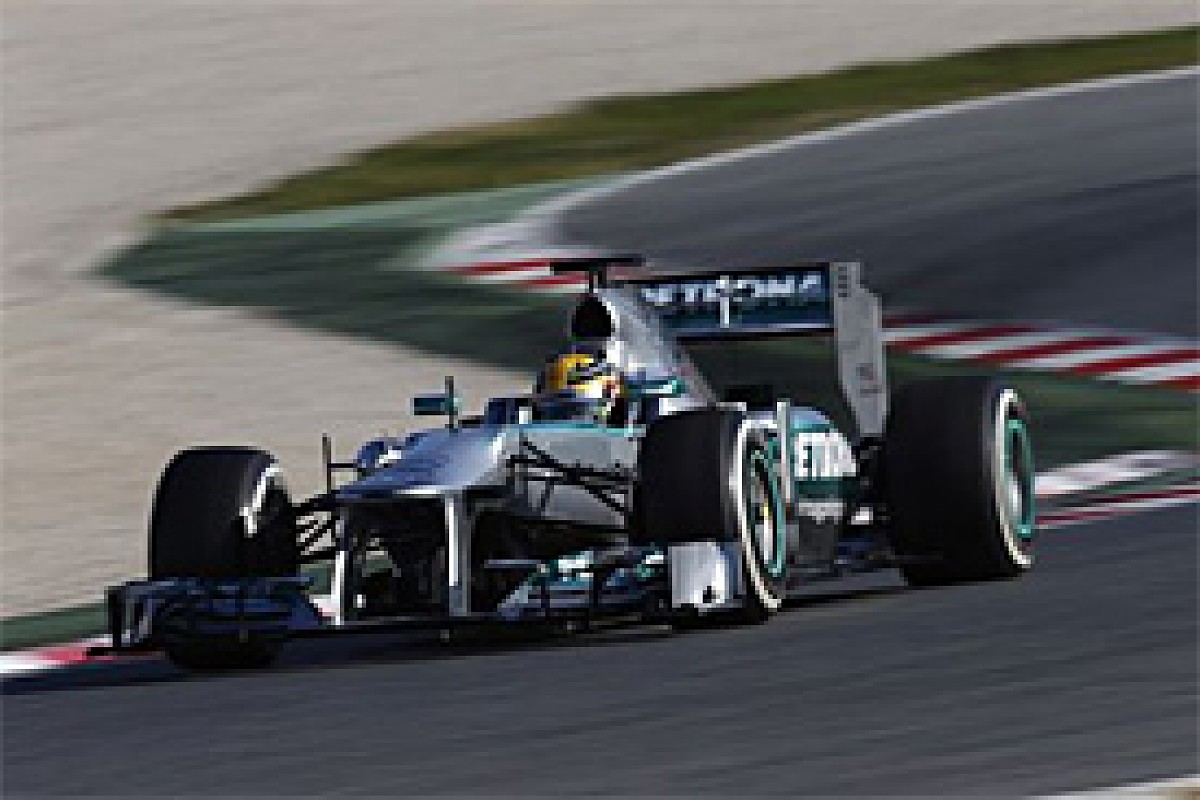 Hamilton continued to be cautious about Mercedes' chances © LAT
Roscoe Hamilton is far from the first dog to frequent the F1 paddock. Gilles Villeneuve had German Shepherds Bella and Princess hanging out in his motorhome, and Michael Schumacher famously adopted a stray called Floh in Brazil in 1996.
But the level of media coverage Roscoe attracted underlined that 'Brand Hamilton' is in a brighter spotlight that at any point since his whirlwind rookie season. 'He's made his Merc debut, he's crashed it, he's not giving much away about the car... what can we write about...? He's got a dog!' seemed to be the general media's thought process.
Hamilton wasn't really being coy about the W04, though. Asked for its strongest and weakest points, he listed "engine" and "downforce" respectively, the lack of the latter cropping up persistently in his interviews.
Mercedes certainly is in better shape and Nico Rosberg's effusiveness is not totally misplaced. But his new team-mate knows what a world championship calibre car feels like. And this isn't one.
The decisive upgrades come next week
Two thirds of the way into 2013 winter testing and there's still a plethora of updates and developments teams have waiting in the wings.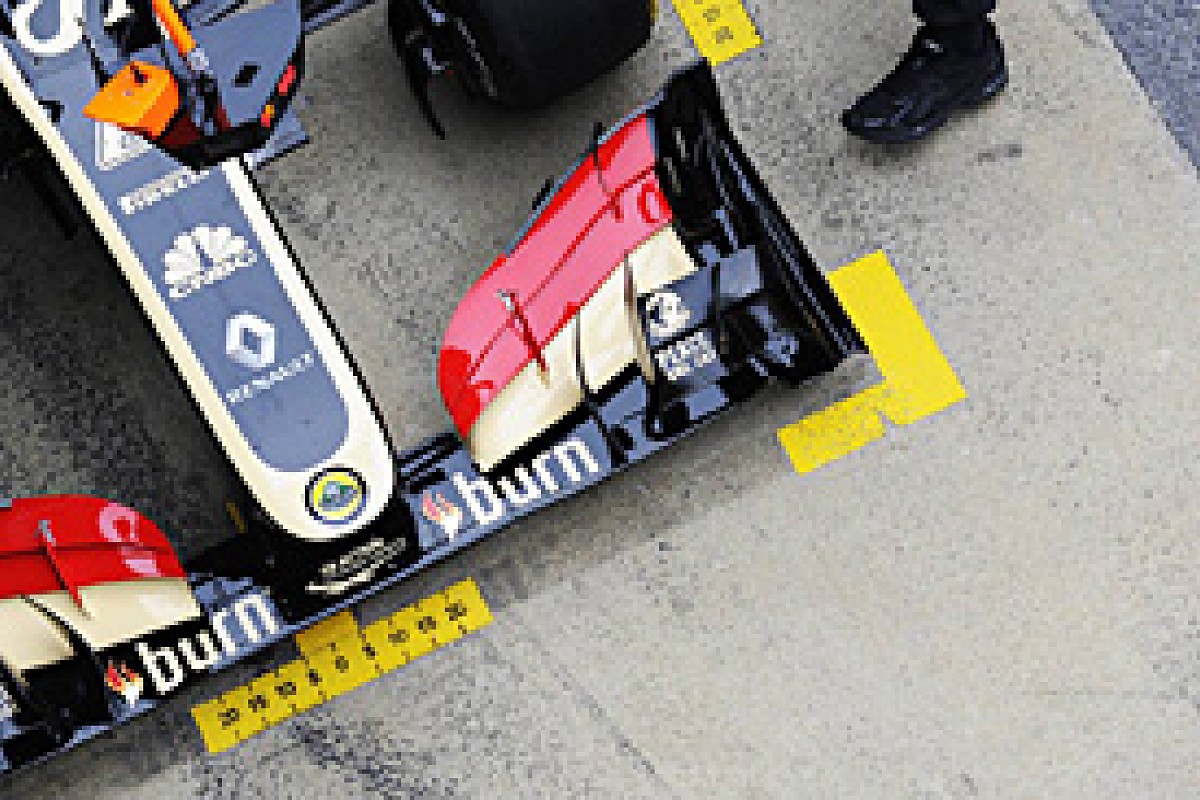 The main upgrades have not been seen yet © XPB
The specific structure of testing programmes all along the Formula 1 pitlane means the final four days at Barcelona have long been identified as the time to trial definitive aero packages.
While there's an element of the fabled phoney war in such planning, it's mainly down to the fact system checks and set-up and reliability work are easily enough to occupy the first eight days of the season.
An inclement final day may also have persuaded teams to keep their powder dry until next week.
As Romain Grosjean explained to reporters on Friday: "We would have loved a dry [final] day as there's always more aero stuff to test. But I think it's the last test that you try to work on performance. We are going to have some updates, and then hopefully some more for Melbourne. The team is pushing hard."
Ferrari still has gains to make
Fernando Alonso made his first appearance of 2013 and made all the usual positive noises about the Ferrari, which is unquestionably far better than it was at the same stage last year. But there is still more to come.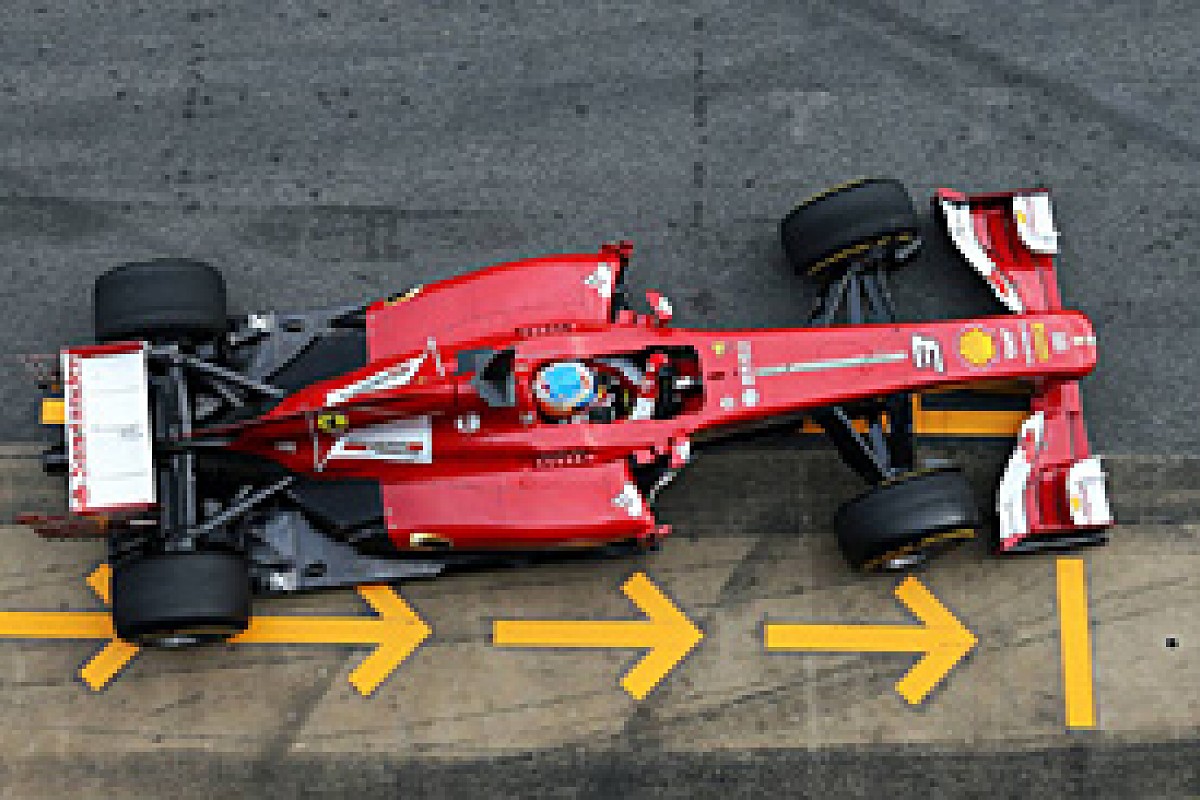 Ferrari needs more pace, but it's looking better than in 2012 © XPB
Ferrari's Luca Marmorini confirmed that there is still work going on with its exhaust system, with small gains still to be made on cooling, engine power and downforce produced with its design.
There were times when the rear of the F138 seemed to give up slightly earlier than some of the other well-fancied machines, but it's a question of tenths to be found, not seconds as it was last year.
With more upgrades expected for next week's test and, as Alonso confirmed, for Friday practice at the Australian Grand Prix, it's clear that there is still more to come.
Crucially, the platform is sound. And that's the most important thing at this stage of the year.
Caterham and Marussia haven't bridged the gap yet
Barcelona confirmed what Jerez suggested: that Caterham and Marussia haven't yet bridged the gap to the midfield contenders.
These are of course early days, particularly after the major technical changes each team has undergone over the past 12 months.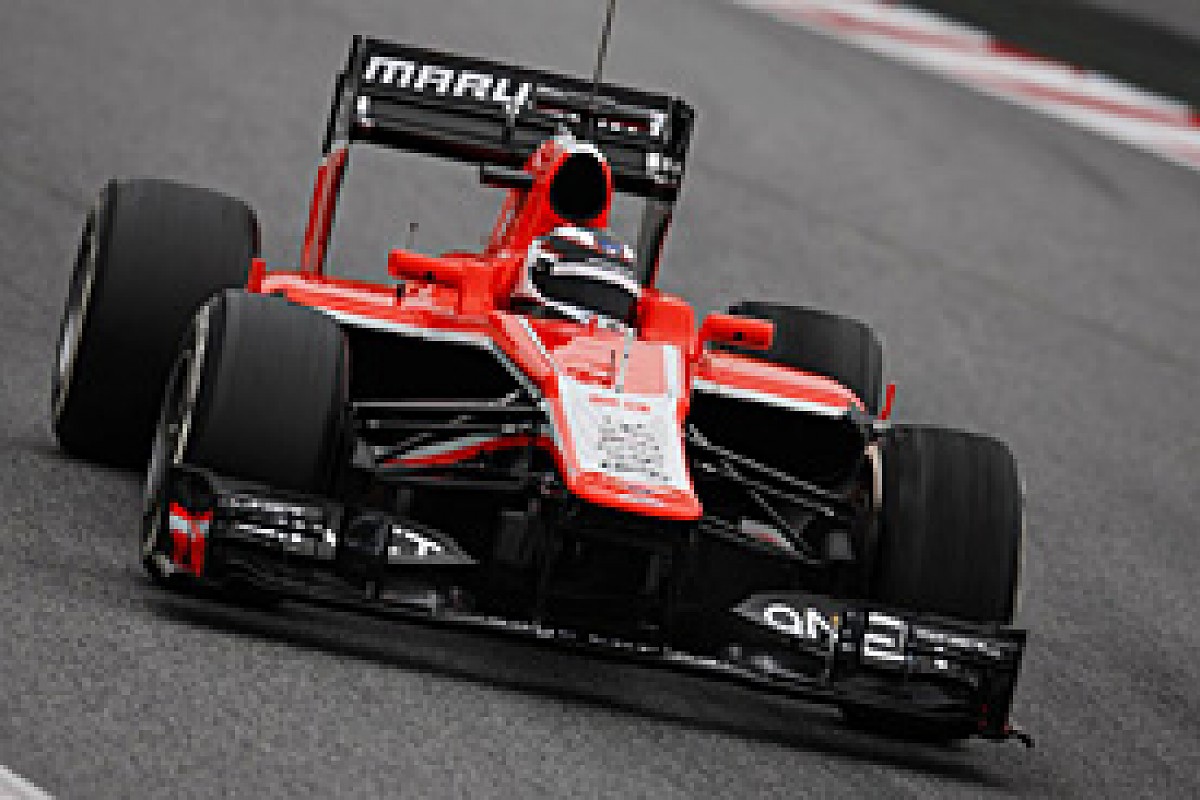 Marussia remains far from the midfield © XPB
In addition to that Caterham is yet to introduce its new aero package and Marussia spent much of the four days at Barcelona on a very specific testing programme, which didn't lend itself to chasing lap time.
That said, the behaviour of both cars on-track is still strikingly different from the rest of the field.
There's no disguising the Caterham's lack of bite in the slow stuff, and its discomfort in the high-speed turns. If points are to come for either team, don't expect them to arrive too quickly.
A new flavour of tyre headache
Exasperation over Pirelli's latest tyres has become a standard part of F1's pre-season testing script, though now it is tempered by general acknowledgement from most in the pitlane that the Italian firm's strategy is very healthy for the sport, even if it does drive them crazy at times.
This year though, the challenge is different. The 2013 Pirellis have none of their forerunners' unpredictability. The sweet spot is swiftly found, it just then vanishes equally rapidly for everyone. As Jenson Button put it, the playing field is level because everyone's struggles are equivalent.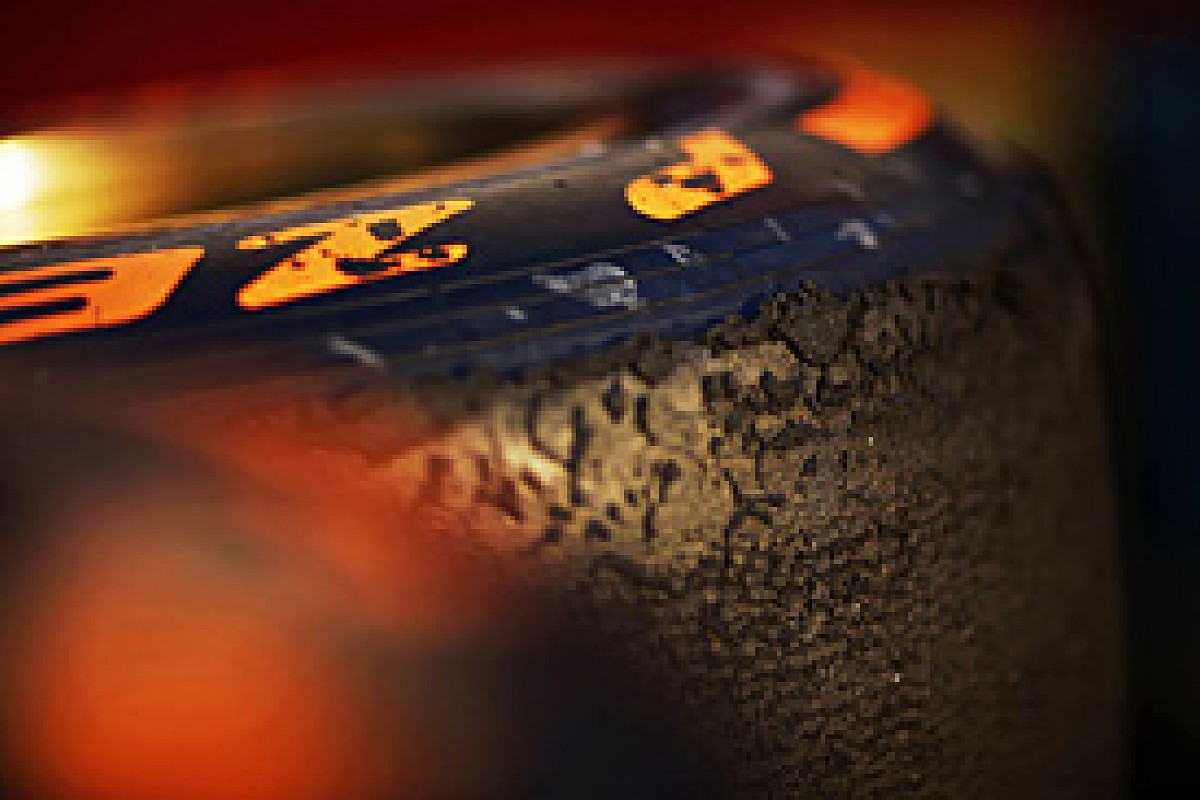 New tyres have brought new problems © XPB
The bigger frustration was not the prospect of multi-pitstop races, but how much the tyres were interfering with testing. The fleeting grip means scant consistency over a run - and teams need consistency for technical evaluation.
Temperature has also become more critical than ever given the tyres' response to it, and chilly winter Spanish tracks therefore have less relevance for the season ahead.
Would three days in Abu Dhabi now be more useful than 12 in Spain...?
There will always be tech rows
Caterham had caused some raised eyebrows among rival teams when it ran with a vane mounted in its Coanda channel designed to work with the high-speed exhaust gases during parts of the Jerez test. But when the Williams appeared with a similar aerodynamic detail, it prompted the FIA to have a quiet word.
Williams claimed that their design was legal, whereas the Caterham one was not, because it was in two parts.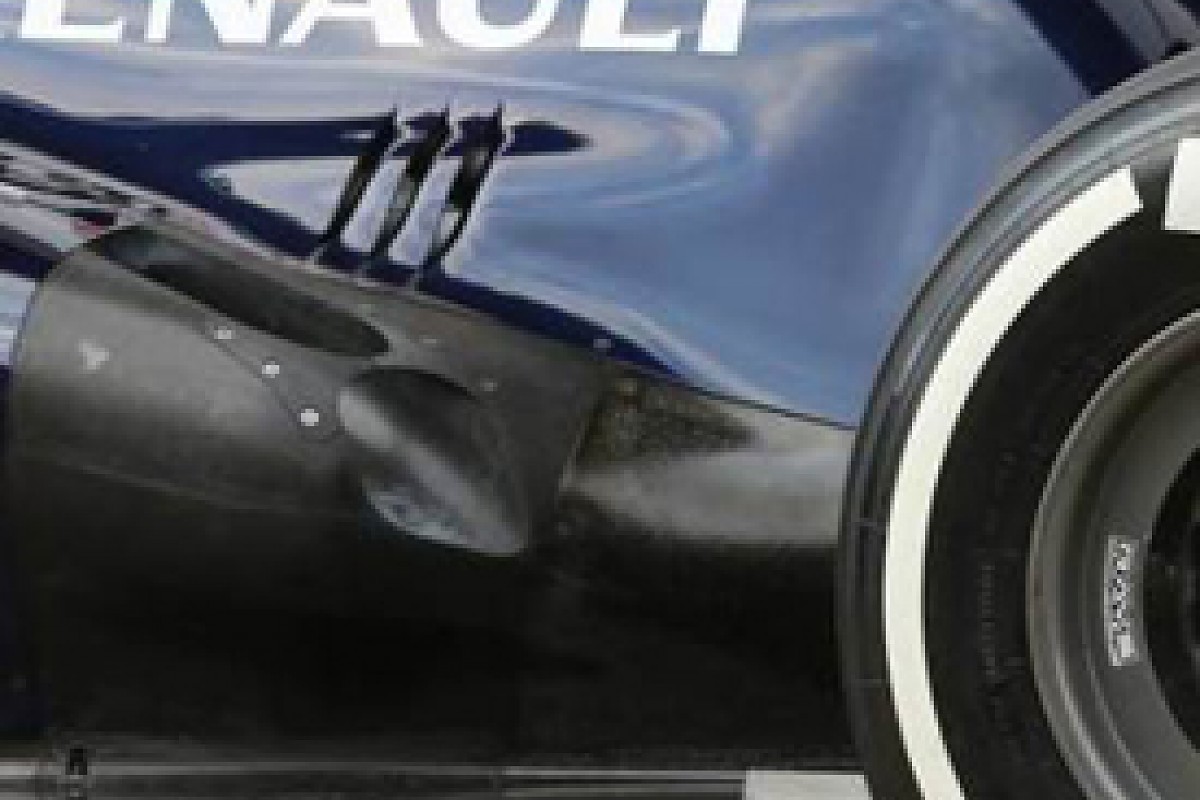 Williams exhausts have generated controversy © XPB
But with technical directives supplementing the regulations insisting that the outside 'walls' of the Coanda channel must be vertical or point outwards to prevent the exhaust's primary purpose from being for aerodynamic effect, the FIA believes it is not acceptable.
This doesn't constitute an official ruling or a rule change and is merely advisory at this stage. If the teams continue with the part, it will be down to the FIA to refer them to the stewards in Melbourne.
The effect of the vanes isn't going to be significant enough to have a dramatic effect on the cars. But this very mild technical controversy proves that, rules stability or not, there is always scope to probe those grey areas.
Sutil hasn't gained any rust
Nearly 15 months out of a Formula 1 car and under pressure to prove he was worth another shot when so many experienced drivers are being squeezed out, Sutil faced a tough task at Barcelona.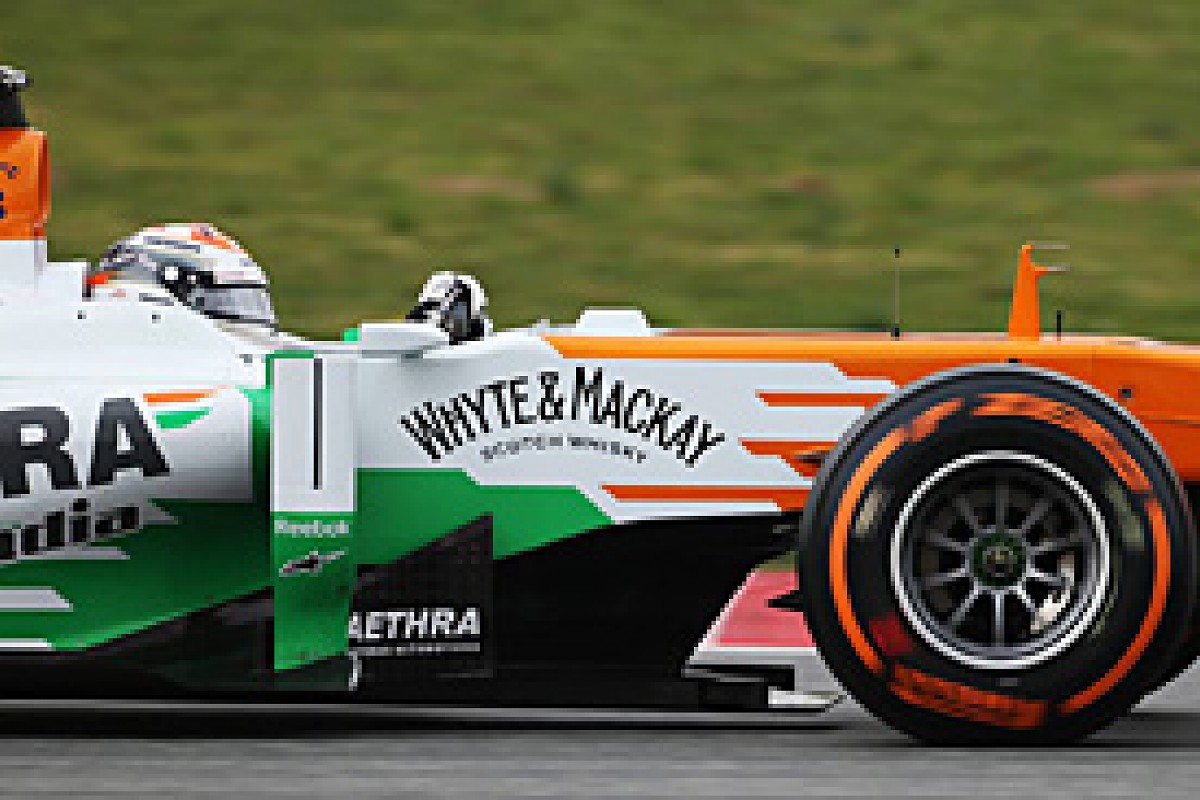 Sutil was back and fast © XPB
But once back in the cockpit, it was like his 2012 absence had never happened. The sight of him in Force India overalls seemed utterly routine, and he was straight back to a respectable on-track pace.
The only nod to his situation was an admission that the "special muscles" only tested by an F1 car would be sore next day.
There is no doubt that Sutil could slot straight back in and drive as he did before. But is that enough?
Bianchi passed his test
Sutil's return put the ball back in Bianchi's court. No, this wasn't just a straight shoot-out, but the Frenchman definitely couldn't afford any slip-ups on Friday.
Force India has not forgotten the test day wasted last winter when he skated into the Jerez barriers on his first lap.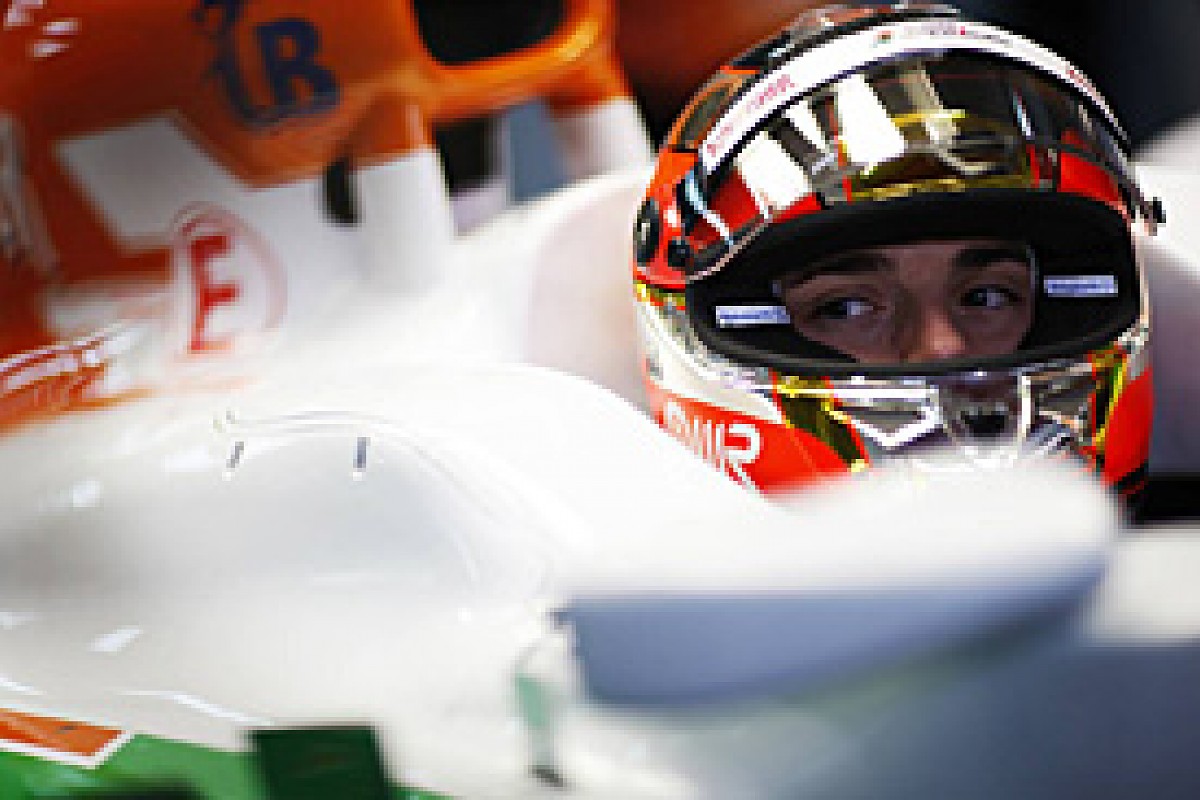 Bianchi continues to wait © XPB
Conditions were similarly slippery for Bianchi's run on Friday.
But while many drivers found the gravel, Bianchi kept himself together and also looked like a man thoroughly at home in a Force India seat.
AUTOSPORT understands that no immediate decision is likely. Financial packages, 2014 engine deals and other issues are all intertwined with the choice, but there remains a chance that it could all come down to Vijay Mallya's gut instinct.
Don't read too much into long runs
Despite the cold weather, Thursday afternoon saw the first true long runs of 2013, including Romain Grosjean's 66-lap stint.
As tempting as it may be, reading too much into those runs is a dangerous pursuit.
For starters, the runs aren't designed as bona fide race simulations. Chasing theoretical race times isn't the focus.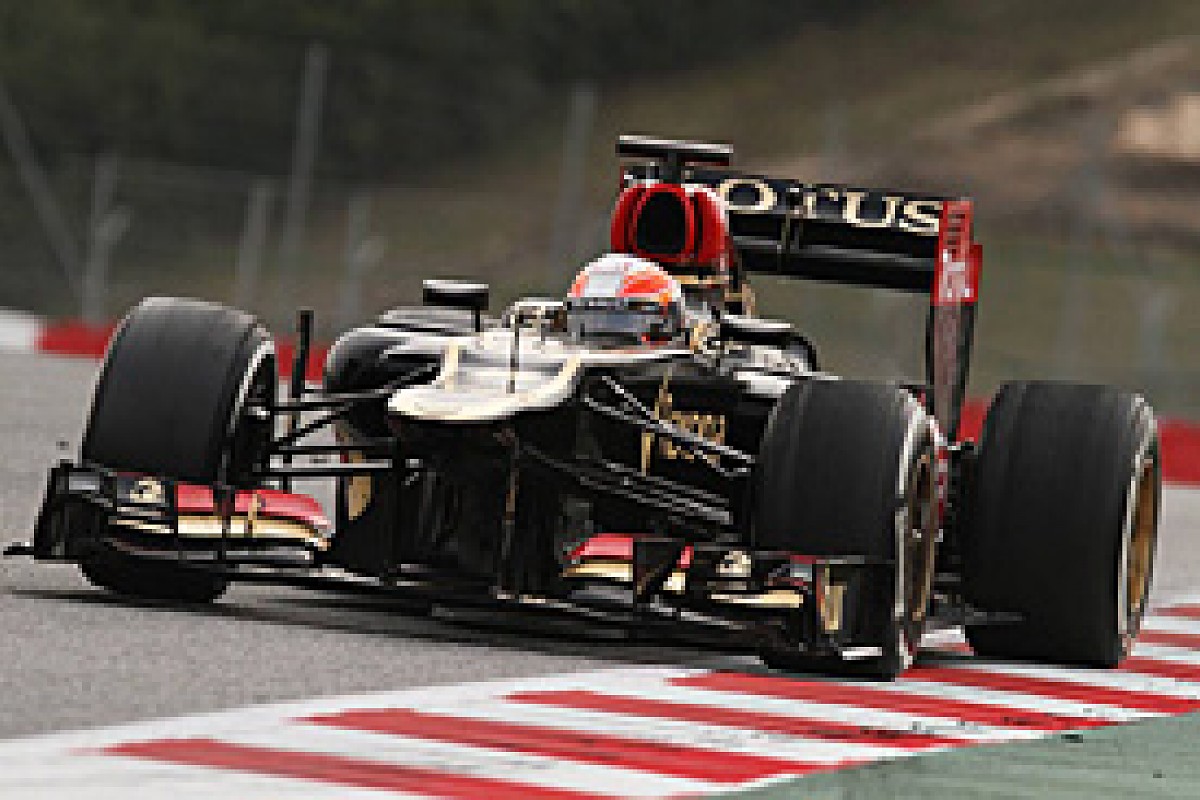 Even long runs don't mean much in testing © XPB
In fact, on one of Grosjean's stints he pushed hard to tear the Pirellis (cold tear being when the tyre slides and rips the tread from the surface) to help the team get a better understanding of the rubber characteristics.
There's also the fact that Barcelona offered up what Mark Webber termed the 'worst case scenario' combination of temperature and track surface, further blurring just how representative the early long runs of 2013 are.
But while specific analyses should be resisted, we can at least form a more general picture from the long runs that suggests - without much surprise - that Red Bull, Lotus and McLaren are all strongly in the mix.
Compiled by AUTOSPORT's team on site at Barcelona - Matt Beer, Sam Tremayne and Edd Straw