Formula 1's first pre-season test at Jerez kicked off the official countdown to the first race of 2013, but the consensus afterwards was that it may as well have been a follow-on from the final race of last season.
Mark Webber even cheekily suggested that the test should be viewed as 'race 21' of 2012, rather than the start of something new.
With only minor tweaks to the technical regulations, and teams electing for an evolutionary approach with their new cars while they keep one eye on the major 2014 rules overhaul, there was no huge surprise from the first four days.
Yet beyond the headline times there were still some big lessons that came out of the first 2013 F1 mileage. Here then is what we learned...
F1 IS BRACED FOR ANOTHER TIGHT SEASON
Although fuel loads made it very difficult to make a judgement on who has come out with the fastest car - if indeed there will be one machine that is ahead of the pack for a sustained period - that does at least mean we may well be braced for another ultra-competitive campaign.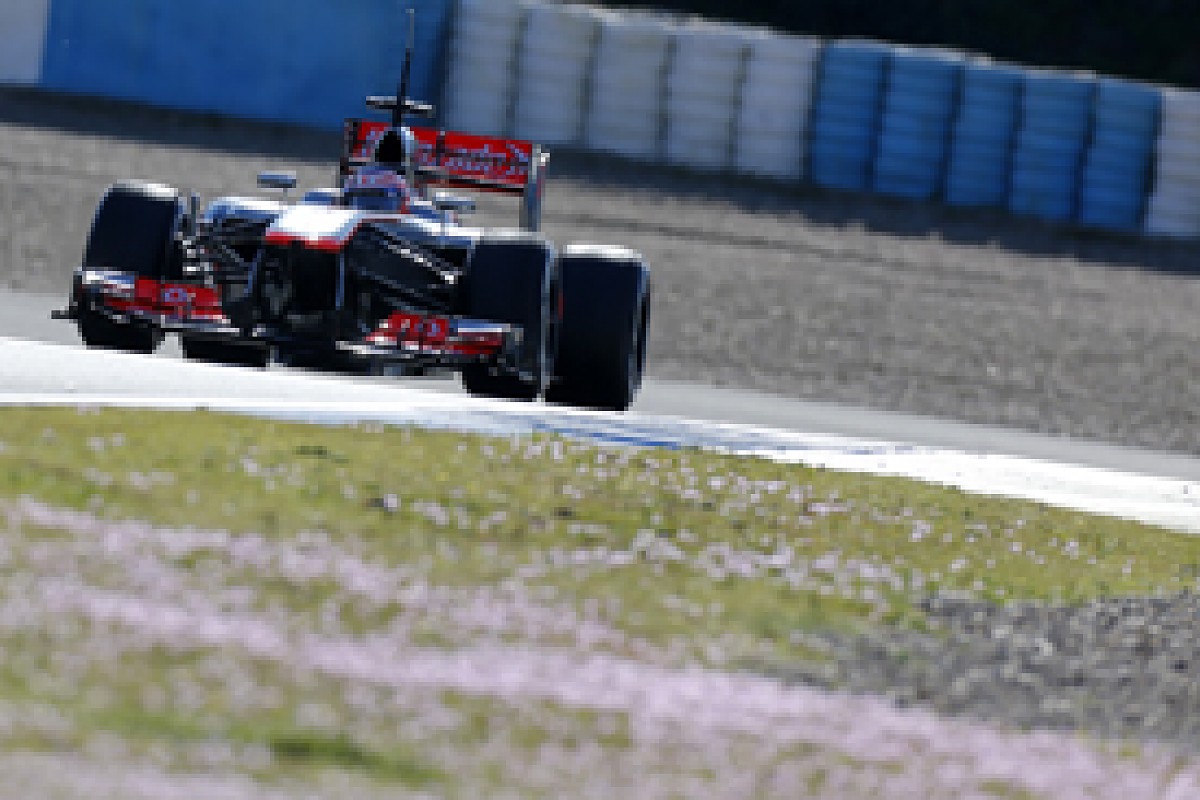 Button's day one time was on rivals' minds all week © LAT
Tight for glory in 2012 was effectively a four-way fight between McLaren, Red Bull, Ferrari and Lotus. Those four outfits appear to be at the top of the table again.
On track, the Red Bull looked wonderful for allowing Sebastian Vettel and Mark Webber to do what they wanted with it; while the fastest times of each day were produced by McLaren, Lotus and Ferrari.
There was an estimated six tenths of a second difference between the hard tyre (with which Jenson Button set his best lap of 1m18.861s) on the first day, and the soft that Felipe Massa set the quickest overall time of 1m17.879s.
But that does not factor in the track evolution, or the fact that 10kg difference of fuel could change the picture. We are going to have to wait until long runs at Barcelona to really get a better picture of who has got it most sorted for this year, but it looks mighty close.
TYRES ARE STILL KEEPING THE TEAMS GUESSING
Jerez used to be a brilliant venue for testing tyres, with decent corner direction changes, a mixture of corners and a pretty abrasive surface.
However, weathering and the general wear and tear of the circuit has led to a notable deterioration in the track surface, which manifested itself in excessively high tyre wear.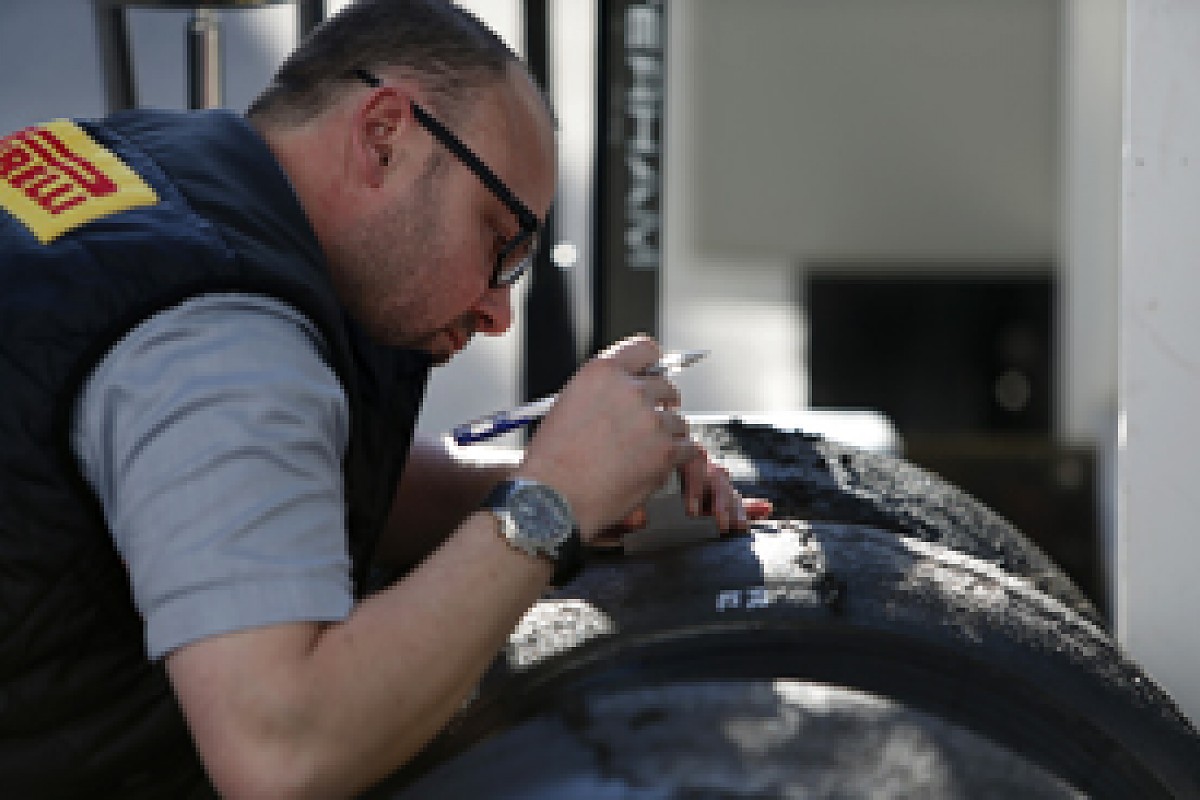 New Pirellis mean new challenges - and Jerez didn't help © XPB
Such characteristics - with the rears giving way quicker than is ideal for allowing decent stint lengths - meant that the longer race runs that offer the best performance indicators were few and far between.
It made it harder to judge how much of a difference the new 2013 compounds are going to make to strategy, although it was clear for everyone that the tyres appeared to be warming up much better than last year's rubber.
And while Barcelona's track surface will allow teams to run longer stints for a better indication of tyre performance, it is also pretty cold there at this time of year - meaning that the picture can be confused.
It looks like, once again, we are going to have to wait for those hot opening races to find out what really is going to go on with the tyres.
SAUBER'S SIDEPODS WORK
By far the most striking innovation among 2013's crop of grand prix cars is Sauber's narrow sidepods, which are around 120mm narrower than the maximum width permitted.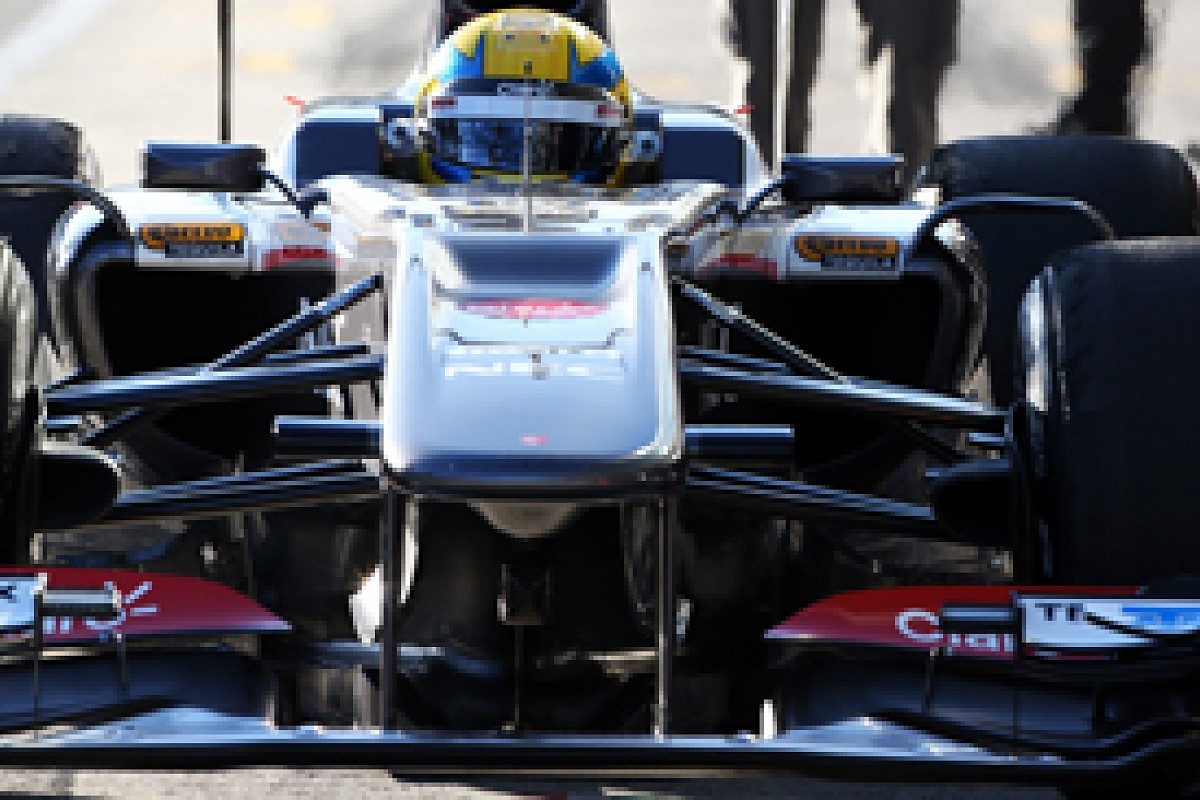 So far, so good for Sauber's distinctive design © XPB
Until the C32 ran on track, it was impossible to be absolutely certain that this impressive feat of packaging would not compromise cooling. Sauber logged just over 1900kms at Jerez, in excess of 250kms more than any other team, and had no real problems.
The car looked quick enough, although there remain question marks outside the team about whether the smaller sidepods compromise the ability to accelerate the airflow and therefore limit the potential for generating downforce, even though there is a clear reduction in drag.
Confidence is high inside Sauber that it has made the right move and further tweaks are expected to the aero detailing in this area.
HAMILTON AND MERCEDES WILL NEVER BE OUT OF THE SPOTLIGHT
Lewis Hamilton and Mercedes are set for a year where they are going to dominate the gaze of the world's media.
The Briton's decision to move from McLaren was already a tantalising prospect, before the winter management overhaul of the Brackley-based operation that grabbed the headlines.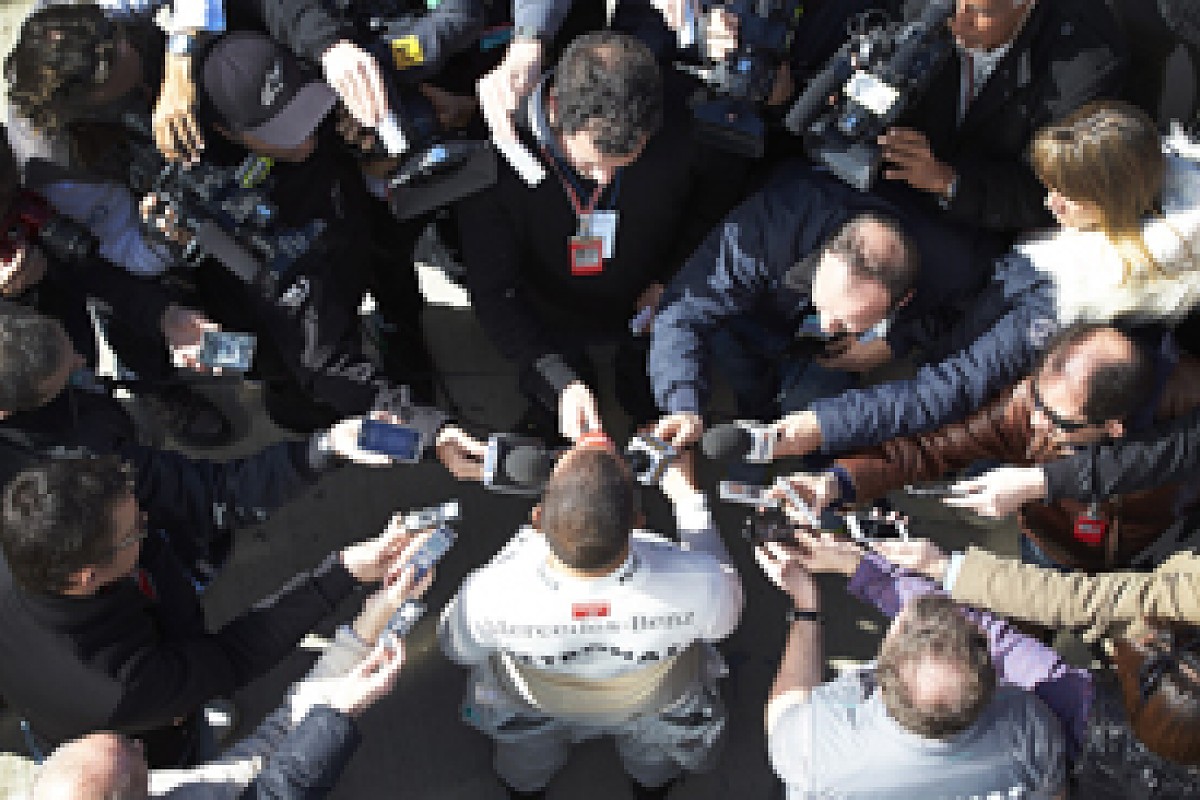 All eyes on Hamilton © LAT
At Jerez, the restricted running of the opening days - allied to Hamilton's crash after the failure of the rear brakes - led to suggestions of a crisis unfolding.
Mercedes swiftly nipped that one in the bud with some hefty mileage on the final two days, although it was clear from the lap times, watching Hamilton having to hustle the car into corners, as well as his reaction afterwards, that the W04 is not a world-beater.
There is a lot of work ahead for Mercedes and Hamilton, and it will be how swiftly they can pool their resources to push on forwards that will determine whether the media is chasing a story of toil and trouble, or one of great sporting success.
FERRARI WILL NOT HAVE AS TORRID A WINTER
Last year at Jerez, Ferrari had the most terrible of test sessions, as the F2012 proved to be far from the machine that Fernando Alonso and Felipe Massa had hoped for.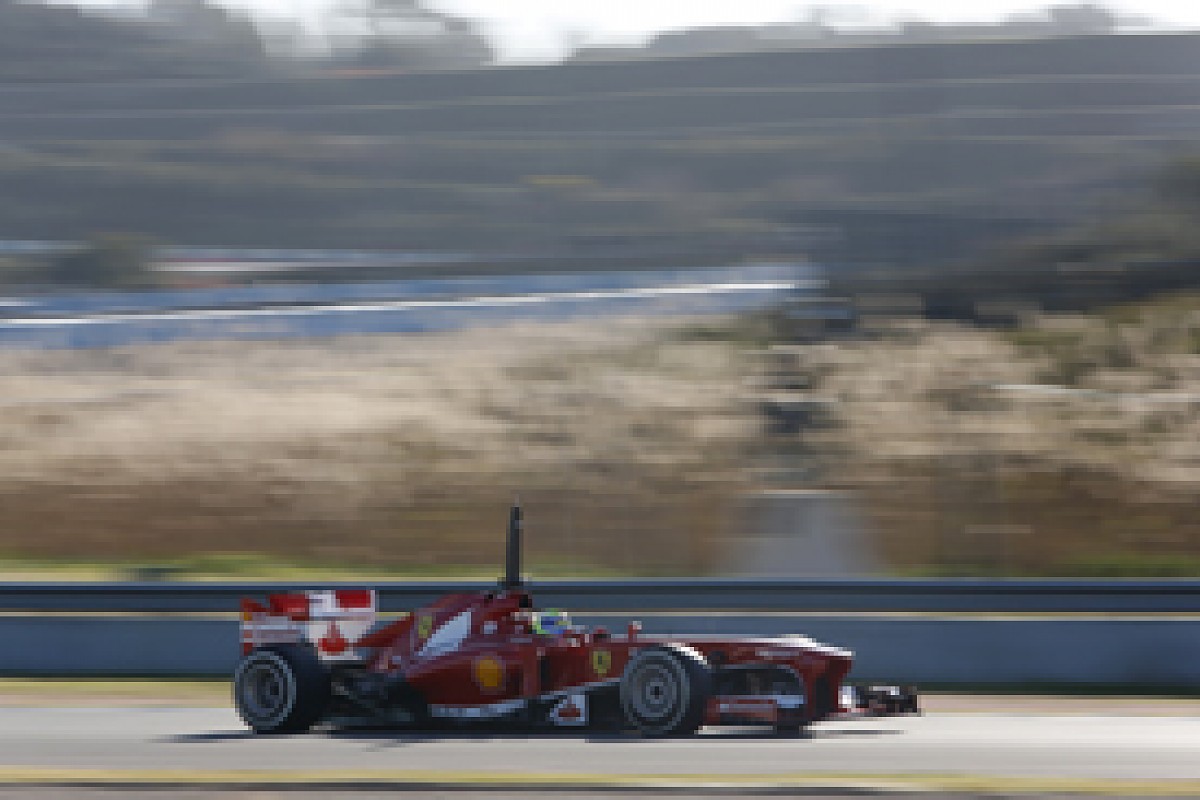 Ferrari might not be the absolute pacesetter but at least this year it's not firefighting already © XPB
After making solid progress with the car over the course of the campaign - and especially understanding the intricate exhaust concepts in the post blown-diffuser era - there was little to suggest that the team's evolutionary F138 design was going to put it back to step one.
Yet despite Massa confirming that Ferrari was in a 'different planet' from where it was 12 months ago there was also a sense that it was perhaps not as far forward as it may have hoped.
Massa's swift time on day three of the test appeared to be on a relatively light fuel load, and he kept remarking about how impressive Button's opening effort had been on a dirty track.
Ferrari knows that its title foundations need to be laid at the start of the campaign with a pacesetting car. After Jerez the team looks like it is in the mix, but is not at the top of the bunch of four at the head of the field.
NEW TEAMS STILL PLAYING CATCH-UP
With the demise of HRT, there are only two 'new' teams left on the grid now, and they are both heading into the season eager to start joining in the fight with the established teams.
Caterham and Marussia have undergone major technical staffing changes over the past 12 months and these should help them in their task of closing down the gap to the cars ahead of them.
For now, though, it appears that meeting that target is going to be a longer term aim rather than an early goal. Both Caterham and Marussia had their share of struggles over the week, both in terms of lap times and reliability.
But that is what testing is all about: finding the problems and working out what is going wrong so they can be addressed in time for the races.
We should get a better answer about all these themes at Barcelona when testing resumes.