Last season a few tough lessons about Formula 1 were delivered to Woking. After years of focusing on its commitment to technical excellence to help produce the fastest car, McLaren appeared to have the hit the bullseye.
Over the course of the whole campaign, the MP4-27 was arguably the fastest car. It began the year quickest, it ended the season on top and it was dominant for a large chunk in the middle.
Despite doing the hard bit though, McLaren let itself down perhaps in the most elementary of ways. For the most basic of lessons for any racing team is clear: to finish first, first you must finish.
And although there were many factors that contributed to McLaren allowing Red Bull and Ferrari a clear path to fight it out for the title, it was indeed reliability that proved most costly in letting the title slip from its grasp.
How many points did Lewis Hamilton and Jenson Button lose through the fuel filling problem in Spain, the gearbox issue in Singapore and the fuel pressure problems in Italy and Abu Dhabi? Was it enough for it to have headed into the season finale in Brazil with a shout of the title? Almost certainly.
Michael brought a new perspective on what McLaren was doing right and wrong © XPB
Yet for all the frustration that the DNFs brought to McLaren, they did at least provide it with a clear direction for what needed to be addressed for this season.
As sporting director Sam Michael summed up so perfectly: "We are incredibly good here at McLaren at doing the difficult things. It's the simple things we have to focus on. We can do them, it is just a matter of doing our job properly."
Michael is bang on in the viewpoint that it is not necessarily the tricky stuff that catches McLaren out. In the 15 years since McLaren's last constructors' championship (it has only won one drivers' crown in that period too), it has won no end of races, fought for lots of titles and produced innovative and swift cars.
Yet somehow events - some within its direct control and some without - have conspired to prevent it having that little extra that would have delivered more titles.
Perhaps in the past there was not enough self-analysis about what had gone wrong; and perhaps at times it wasn't strictly obvious exactly what needed to be changed to prevent a repeat in the future.
Last year though it was pretty obvious what had to be focused on, and the arrival of Michael in his operational role meant there was someone senior there able to look at things from a bit more of an outsider's perspective.
"We've spent the last six months reviewing all our procedures and processes and looked at the mistakes we had made operationally at the trackside," said Michael.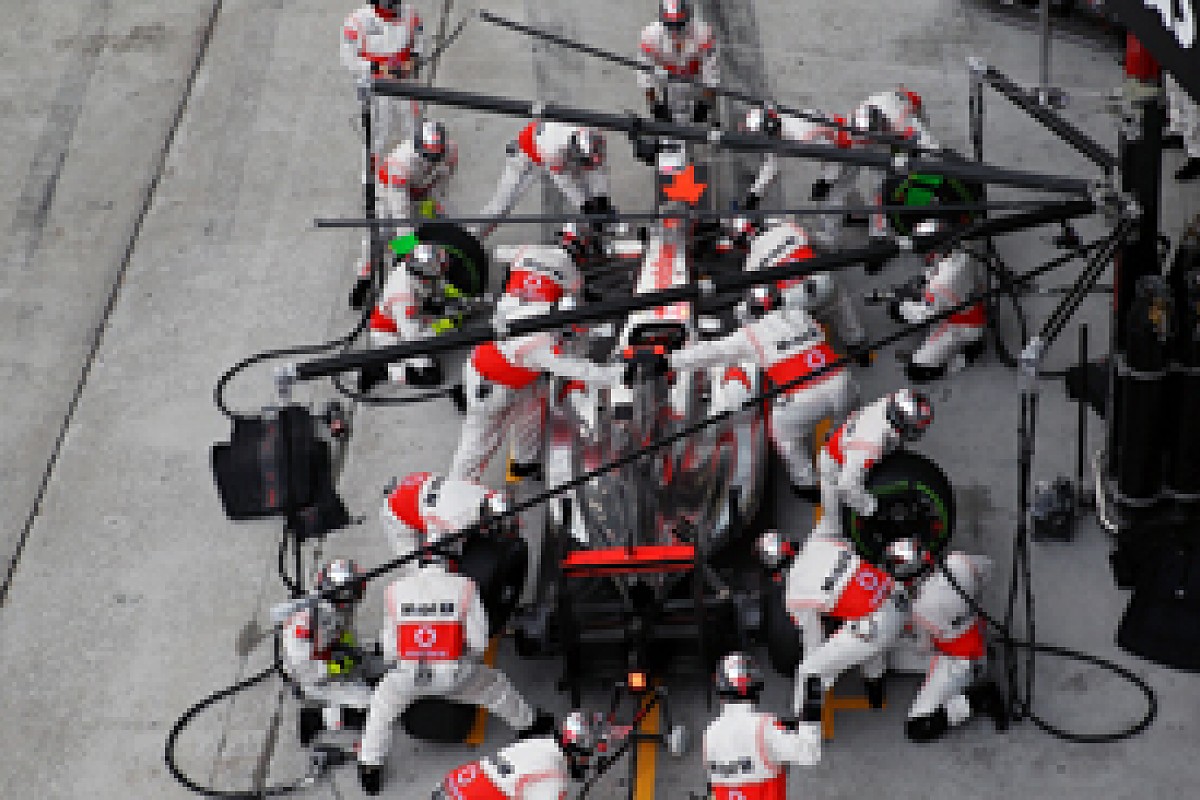 Pitstops were a McLaren weakness early in 2012 © XPB
"There were some very visible ones earlier in the year - items such as pitstops. But there were also things like the fuelling in Barcelona, and we had a number of other issues that were not so evident outside but they cost us. We really sat down and reviewed the entire way we did things.
"That included the mechanical reliability, things like the gearbox problems we had in Singapore, the exhaust problems we had in Bahrain and fuel system problems in Monza and Abu Dhabi."
It was that run of late-season issues that pointed towards a problem in the McLaren system, one that was not so easy to sort out because each of the reliability issues had been unrelated.
But while each failure was not linked directly, perhaps there were issues with the way McLaren approached things. And here again, McLaren had maybe tried to be too complicated, too clever, in the way it did things.
Michael adds: "All of those things come down to human factors - not human mistakes always - but when you set out a procedure there are a couple of things that can go wrong.
"Either the procedure is not being followed, that is the first order of mistake. Or the other thing is it might be extremely difficult to follow a procedure with the time constraints and the equipment you have.
"That is why you have to make sure that you regularly audit your procedures and understand them: so are you operating something exactly as it was intended to be operated?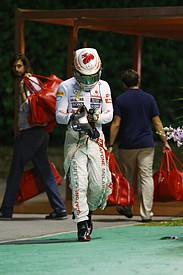 Hamilton walks back after his McLaren retired from the Singapore lead © LAT
"We spent a lot of effort on that in the last six months. The great thing is that inside McLaren people get it, and there is a big appetite to make a change and review that side of the business to ensure we don't have another year like 2012."
It is these simple things that will almost certainly be the key to its 2013 title hopes. The new MP4-28 is an aggressive step forward, with new pullrod front suspension and another iteration of its exhaust.
Yet if any team has the technical capacity to pull off such a move - at a time when resources have to be carefully balance ahead of 2014 - it is McLaren.
Now though is the time to prove that McLaren is not just about excellence in the most complicated of areas: it is about being thorough in those parts of racing where perhaps things had been allowed to slip.
Perhaps McLaren had, to steal a financial metaphor, been pound wise, but penny foolish, in the way it had approached things.
By far the hardest thing in F1 is to create the fastest car. It takes skill, intelligence, commitment and resources to beat everyone else on the stopwatch. McLaren had done that bit; yet slipped up elsewhere on more basic stuff.
There is little point in producing something super quick if it is not going to see the chequered flag. It is like having the world's best football team that can only play for 85 minutes or being the world's fastest runner for 90 metres when you are gunning for the 100m final. It is all about seeing the job through until the end.
It's a lesson McLaren learned the hard way last season; but one that could now pay dividends for Button and Sergio Perez.