If the aim of the 2012 prescribed exhaust regulations and more stringent flexi-front-wing tests was to thwart Adrian Newey and Red Bull after such a dominant 2011 season, then they were highly successful. Temporarily.
Seven different winners from the seven opening races polarised paddock opinion. Some loved it, some thought it too random and some went as far as to say it made Formula 1 meaningless.
I liked it. For me F1 has long been too random in a different way. Time was when you pretty much knew what to expect when drivers reached F1. In Europe at any rate, they'd all followed much the same path - Formula Ford, Formula 3, Formula 2, F1.
There was no way they could avoid each other on the way up and you had a pretty good idea of who the stand-outs were before they even reached F1. There was never any doubt, for example, about what Ayrton Senna would do when he arrived.
Not so today, with myriad different feeder formulae. Back in the 1970s, when most F1 teams used the ubiquitous Ford Cosworth and aerodynamics were relatively insignificant - until the ground-effect Lotus arrived - a driver with ability stood every chance of winning races. James Hunt, for example, could do his stirring stuff in a Hesketh and land himself a McLaren seat.
But then manufacturer influence and engine spending took over and you had periods of dominance based around engine performance - and who's to say we're not about to head right back there in 2014!
Equipped with Honda engines, Prost and Senna dominated in 1988 © LAT
You had the turbo Renaults and Brabham-BMWs of the early eighties, the McLaren-TAG Porsches of the mid-80s, then the Williams-Hondas, followed by the McLaren-Hondas, then the Williams-Renaults all the way through the mid-90s.
You can count on one or two fingers the number of times a driver took one against the head - Alain Prost in '86 and Michael Schumacher, arguably, in 1995.
For 15 years and more if you weren't in one of those cars you didn't have an earthly chance. Some argue it was ever thus from the very beginning of the world championship, but I think less so. That 15-year period, for me, was when we lost the drivers' world championship as a credible gauge of talent. As champions there was no doubt about Prost or Senna but there were question marks over plenty others.
Then came big manufacturer influx, multiple windtunnels and moronic spending levels. If you weren't in a Ferrari or a McLaren for the better part of the noughties, then forget it. Latterly you've needed Adrian Newey's Red Bull, Ross Brawn's double-diffuser car notwithstanding. That's why we have a teams' championship, fine, but the drivers' championship should also be what it says.
A decade or so ago, Max Mosley talked about rotating drivers between teams but was never serious. It was just his usual modus operandi of shocking to the core so that he could take a step backwards and have other proposals accepted as the lesser of two evils.
I've always thought rotation the single most fascinating thing you could do to F1. It would give you a genuine drivers' championship and a genuine teams' championship. And I don't care how many marketing noses would be knocked out of joint by being unable to build season-long campaigns around one driver. Irrelevant.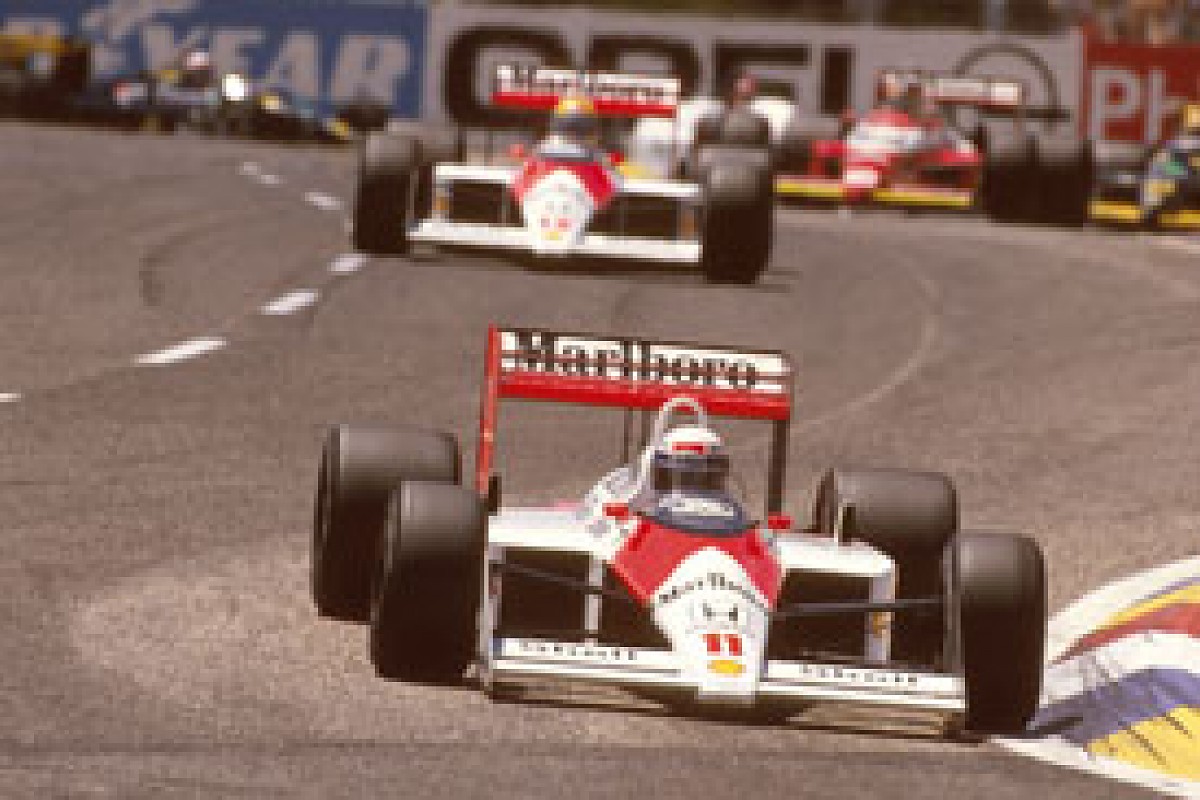 What could Hamilton do in a Red Bull - or Vettel in a McLaren? © XPB
If Bernie truly wants 20 races and 10 teams, the maths work just fine - two races in each car for each driver per season. Teams know in advance who is driving for them for purposes of cockpit optimisation etc.
Race Thursdays become general test/acclimatisation days - teams can also track-test new parts - and so there are some decent talking points/copy for the media - bigger and more engaged than it has ever been - and away we go. At the end of the season the bottom four drivers in the championship are 'relegated' and the top four from GP2 step up.
The GP2 series therefore becomes a proper equivalent of tennis's ATP Challenger Tour or golf's qualifying school, where you need to qualify for a main 'tour card'.
Drivers who are competent but no more can no longer turn up with wedges of cash and buy themselves a Formula 1 drive, which is as it should be. After all, the USPGA doesn't allow you to pitch up at Augusta and pay-to-play The Masters, anymore than you can turn up at Wimbledon and join in with Roger Federer and Rafa Nadal.
Drivers would no longer be on team payrolls but instead paid by FIA/FOM. So much per race as a 'salary' and then prize money per point with the really big money for a top-three finish in the championship.
You would no longer have underperforming drivers blocking up top cars because 75 per cent of their retainer is ending up in places that it shouldn't. You wouldn't get cruise-and-collect anywhere on the grid because drivers would know they must optimise every race result whatever the car.
I don't blame Christian Horner or anyone else for not wanting to be involved in any sort of RRA/cost-capping that doesn't include everything and, this way, you've done away with daft driver salaries as a cost escalator and taken away a potential unfair advantage for richer teams.
If you don't think it's a factor look at Mercedes these past three seasons. Not a stunning success story. Does it deserve to have Lewis Hamilton in next year's car? Probably not, but it's got him.
The successful teams would still earn the big sponsorship bucks because they are in front of TV cameras most and if Hugo Chavez wants to plaster 'Venezuela' all over the place, he can do whatever deal he wants with Pastor Maldonado for overall or cap space. If there is a conflict with team backers on one particular weekend, the team sponsor takes preference.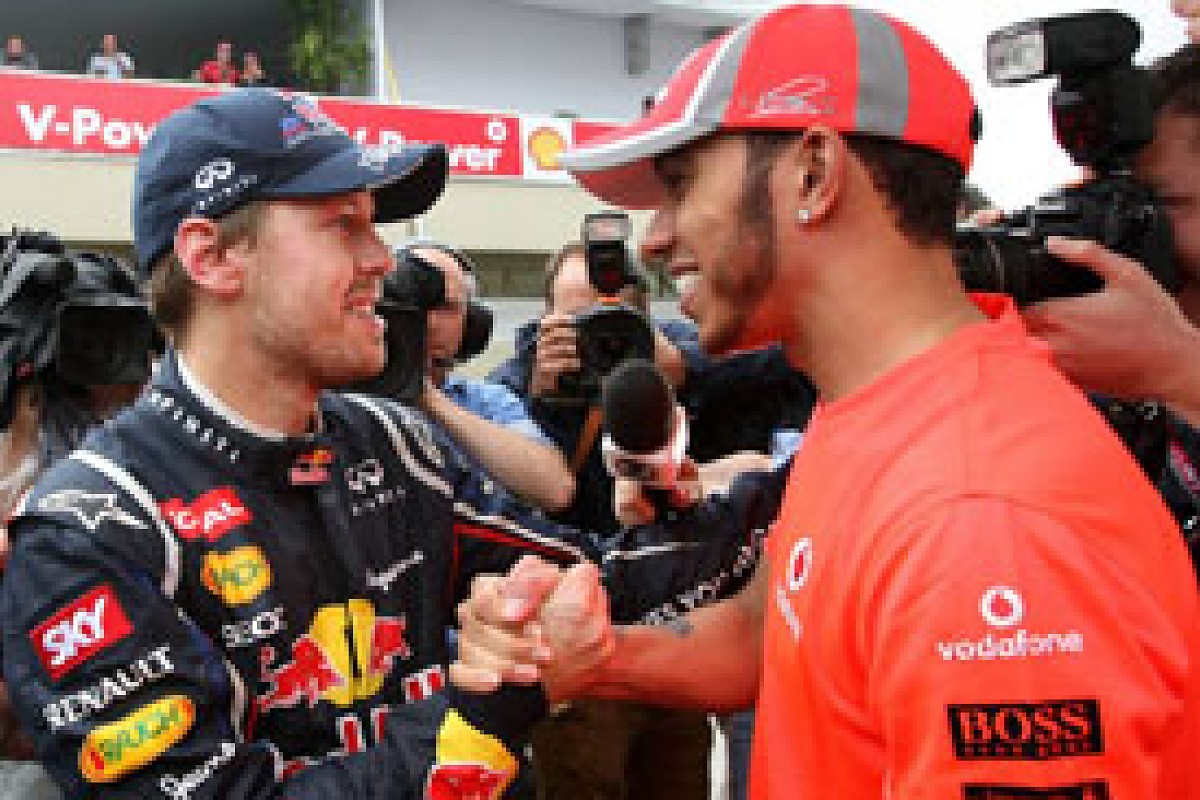 Media commitments play a large role in modern F1 © XPB
Drivers would be free to do whatever deals they wish with sponsors to supplement earnings via product endorsements. The marketable, hard-working, personable ones will do very nicely thank you. The lazy, boorish, charmless dolts will earn nothing. Once more, as it should be.
But, we've got what we've got and Adrian Newey and his Red Bull technical team again proved their worth beyond any doubt in 2012 and Sebastian Vettel was, in the end, rewarded again for the propensity to bury his right foot in the bulkhead at times when it seemed counter-intuitive, even to a brave chap like Mark Webber (think Spa, Eau Rouge, Fernando Alonso, 2011).
But when all's said and done, admittedly simplifying things a tad, we're still spending fortunes not to find out who the best driver is, but to establish who can design the best vacuum cleaner.
We've been doing it for the better part of 35 years now - ever since Gordon Murray memorably overcame Colin Chapman's and Peter Wright's genius by sticking a bloody great fan on the back of his Brabham, simultaneously sucking the car onto the track and showering everyone behind with crap. For the most hilariously illegal but legal win of all time, Niki Lauda, Brabham, Sweden '78 tops Alonso, Renault, Singapore '08 anytime.
But isn't it about time we stopped? Adrian's probably earned enough and would no doubt be given an ownership stake in Hoover or Dyson. Why don't we write some regulations that properly negate diffuser effect and give them back some horsepower instead? Hardly a new idea I grant you, but then we wouldn't have to worry about the likes of DRS and stupidly expensive energy-recovery systems.
Look at the cycle of events. Aero effect dictates that cars can't go through corners close enough to the one in front for the driver to make a decent stab at overtaking in the next braking zone. When frustration takes over the driver has a go, gets it wrong and attracts a fine and/or ban. So instead, he just sits there. So we introduce KERS. But once everyone becomes a bit savvy with it, the effect is neutralised. So we introduce DRS as well. But then it's too easy.
So, you get angsty, frustrated radio outbursts from Vettel when Hamilton walks past him on the straight at Austin. You might argue that it was up to Seb to be smart enough to time it so that he didn't run up the back of an HRT en route to the detection zone, but there's only so much you can do. Make DRS tougher and you're back to square one: overtaking is too tough = frustration, mistake, contact, fine.
While F1 is not supposed to be a contact sport, you have to cut drivers some slack. You can't make overtaking too hard and then fine drivers every time a move goes wrong, then wonder why you don't have any racing.
Actually, don't set too much store by that. An F1 driver will never temper a move because he's worried about a fine. They're too wealthy for that and probably well know that the FIA needs to fund its expense account with quite so much going to the commercial rights holders. Just please don't start fining drivers for breaking wind. The overtaking conundrum is a delicate balance and one that won't become any easier so long as you have vacuum cleaners.
The Williams year was a highlight. A few seasons ago a magazine editor asked me to write a feature addressing whether Williams was the new Tyrrell - a team run by a charismatic but ageing 'racer' that was on the wane and would never match former glories. I turned it down. I could easily have built a case, but didn't want to.
Grove's 2012 was fascinating on a number of levels. It started with a Spanish website, Marca, motivated by I know not what, publishing a Williams sales invoice to Venezuelan state oil company PDVSA dated 17/09/2011. It requested the tidy sum of $46m (£29.4m at the exchange rate of the time), payable on or before 31/10/11.
If anyone was in any doubt, this fully explained why Adam Parr had gone with Maldonado and poor Nico Hulkenberg had spent 2011 on the sub's bench. There was also a letter from Venezuelan congressman Carlos Ramos to Claire Williams, referring to an 'ongoing investigation by the Venezuelan parliament'. The inference was that the spend had required a congressional sign-off, and hadn't received it.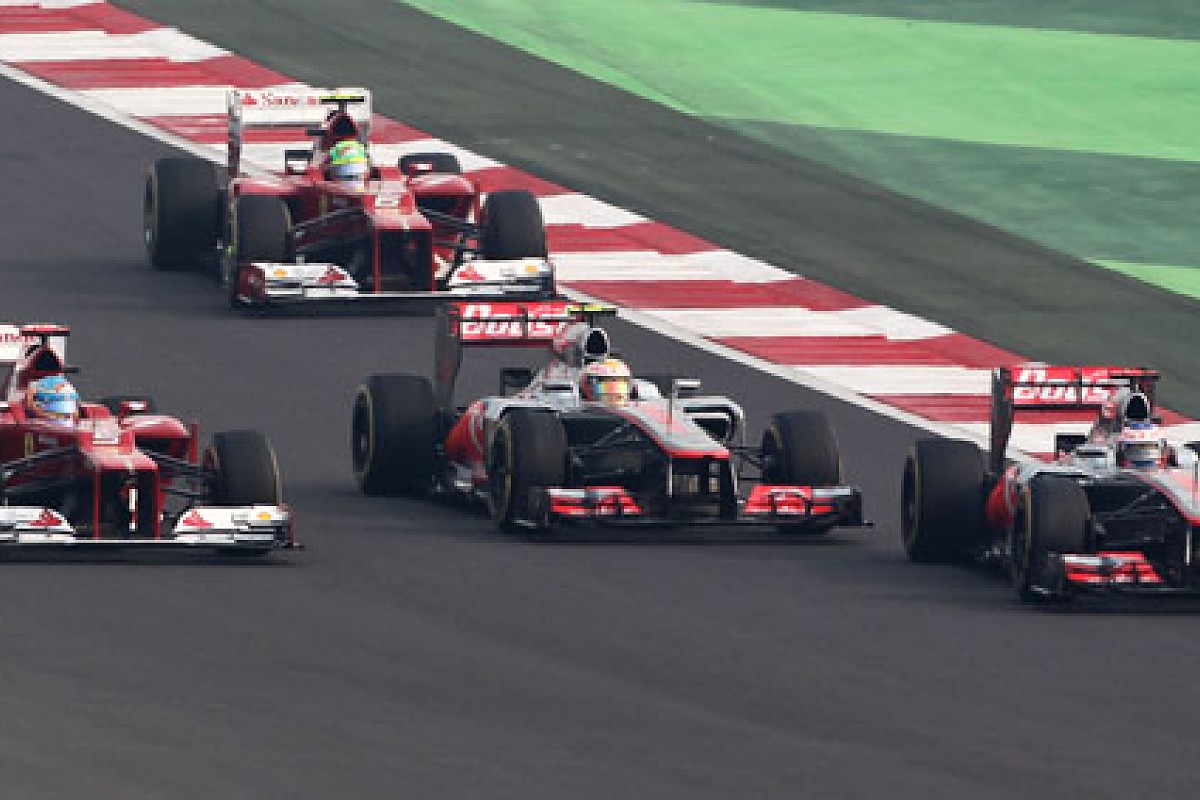 Pastor Maldonado beat Nico Hulkenberg to a 2011 Williams seat... © XPB
For whatever reason, someone was stirring here - maybe someone hoping for a Williams ride trying to unstitch Maldonado's deal? If so, it failed and Pastor duly won the Spanish GP at Barcelona, just less than a month after Frank had turned 70.
Spain was the first European race after the April 16 date of Frank's 70th and a surprise party had been arranged. You couldn't have made it up. It prompted one of the great lines of the year from Christian Horner when someone, nit-picking, pointed out that May 13 wasn't really Frank's birthday.
"I don't think it matters..." Horner said with a wry smile, "when someone pays you 30 million quid and he's quick enough to beat Fernando Alonso, it's your birthday every blooming day!" Frank liked that.
Ironically, though, the man who'd worked hard on the Venezuelan deal, Parr, wasn't there to see it. Frank's anointed successor had suddenly stood down as Williams chairman early in the season. The Eton-educated lawyer evidently had not studied his history deeply enough to know that if you made strong waves your boat would eventually sink.
Bernie and Frank go back 40 years and the word on the street was that it had been made plain that with Adam at the helm, the commercial terms offered to Williams for 2013-2020 would be very much below par, pun intended. A double or treble bogey, even. So the poor man fell on his sword.
You can't do that, can you? Well, I don't know. Perhaps its no surprise that Parr has written a book and, only last week, effectively confirmed that he was forced out. Obviously though, given events in Germany, it didn't make a start on being the most controversial aspect of the way that Mr E does business...
Then there was Bruno Senna. Bruno came with Embratel backing but was by no means the only other driver with a budget. And so, 18 years after the accident that was the lowest point in Williams history, Frank had another Senna in his car. The more you came to hear about Valtteri Bottas's strengths and the more Bruno struggled to match Maldonado, you started to wonder whether Frank had backed himself into a corner.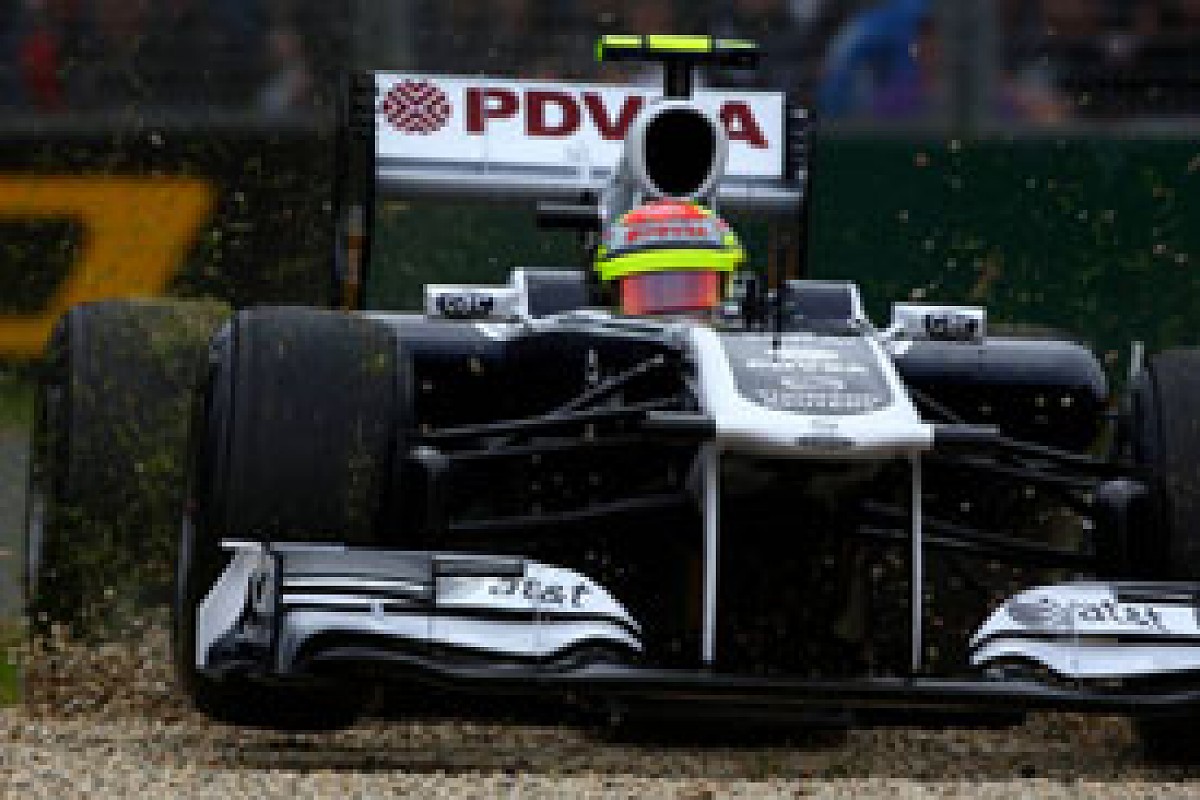 ...while this year Bruno Senna was selected ahead of Valtteri Bottas © XPB
Bottas clearly deserves a race seat and the team's Mark Gillan waxed lyrical about his capabilities, likening them to Mika Hakkinen, with whom Gillan worked at McLaren.
Hakkinen and Didier Coton, Mika's manager back in the day, now look after Bottas for Williams co-team principal and shareholder Toto Wolff and, mid-season, they admitted that the young Finn absolutely needed to be in a race seat in 2013 but that getting money out of Finland for F1, was tough.
Knowing how deeply Frank Williams is steeped in the sport and its history, you wondered whether he would find it tough to replace Senna after just the one year. And so, when the Hamilton situation at McLaren started to look complicated, you wondered whether Bottas could even become McLaren's new Hakkinen or Raikkonen.
Jenson Button, after all, scored more points for McLaren across three years than Hamilton, and so wasn't McLaren ideally placed to take a punt on F1's next ace by buying Bottas from Toto/Frank just as it'd bought Raikkonen from Peter Sauber?
Perhaps the fact that McLaren didn't is a sign of the times. Vodafone is reported to be evaluating its continued involvement in F1 beyond the end of 2013 and perhaps Sergio Perez's recruitment as Hamilton's replacement had as much to do with his support from Telmex and the world's richest man, Carlos Slim, than his innate talent.
Sure, Perez had some very strong races for Sauber, specifically the 'Ms' - Malaysia, Montreal and Monza. Each time though, it was about him being on the right tyre in the right operating window on the right day.
Perez may well be absolutely fine but when you hear Christian Horner explain that Sergio, driving for Arden in GP2, was a very good racer but his weakness was qualifying, you do wonder whether the Mexican is the right driver to replace the man who, Button says, is the quickest racing driver over one lap that he has ever seen.
Politically, Bahrain was obviously the great divider. Should we have gone or shouldn't we? You can moralise until you're blue in the face. Ultimately, how correct are the billions gratuitously spent on professional sport - all sport - when we have starving children in the world and elderly people freezing to death in winter?
But sport is never going to solve the world's problems and while it's great at breaking down cultural barriers, it shouldn't, in my opinion, be tasked with trying to solve those problems.
It is what it is - largely insignificant in the general scheme of things. It is play. If you try hard enough you can come up with any number of reasons not to go anywhere. By holding sporting events you are not endorsing anyone's politics. At least you shouldn't be.
But when you allow the F1 logo to be used in a banner proclaiming 'UniF1ed' in a place that is clearly anything but, you are doing precisely that. It was among the dumbest, most cynical things I've ever seen. We were lucky to get away with it.