It's lap seven of the Japanese Grand Prix and Sergio Perez throws his Sauber up the inside of Lewis Hamilton's McLaren at the hairpin, locking his inside-front Pirelli but making the move stick.
It's a brilliant, instinctive pass and one that catches Hamilton napping.
13 laps later though, after stopping for another set of tyres, he's back behind the McLaren and looking for another opening.
Just as before, he closes up on the McLaren's gearbox as they approach the hairpin again, only this time, wise to a repeat, Hamilton positions his car slightly to the left.
It's a tiny but crucial adjustment and Perez is immediately undone, spinning the car to a halt in deep Japanese gravel.
If ever there was a moment that encapsulated the difference in experience between Hamilton and his 2013 replacement, this was it.
In fact, as race weekends go, Japan gave us a little of everything we've come to expect from 'Checo' to date: an underwhelming qualifying effort followed by brilliant race pace; fearlessness when battling higher-profile drivers, but a susceptibility to coming out on the losing end of such encounters (see also Perez v Alonso in Malaysia, aka 'the win that got away').
"My main target this season was to position myself in a top team for 2013," says Perez. "Now I have a contract with the best team in F1."
Yes, he's bagged Hamilton's seat; now for the hard part...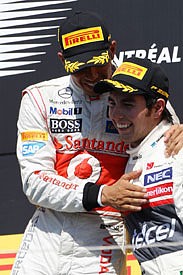 Perez and Hamilton shared the podium in Canada © XPB
Perez's move to McLaren surprised everyone, and not just because of his Ferrari connections. Once Hamilton had nailed his colours to Mercedes' mast, there wasn't an obvious top-line driver for McLaren to bring in.
Force India duo Paul di Resta and Nico Hulkenberg seemed the most likely candidates, despite the fact that neither could match Perez's podium record.
Perez says he was in talks with the team "for a few months", but according to McLaren team principal Martin Whitmarsh, Guadalajara's finest had been on his radar for much longer, even before those trophy-bagging performances in Malaysia, Canada and Italy.
"If you look at Sergio's career, in his rookie season he had several incredible drives and this year he's had strong podium finishes in which he's proved he's not afraid of anyone on the racetrack," says Whitmarsh.
"He's got a real talent and makes few mistakes. He makes some errors, but not many for someone so young."
"You have to remember that Sergio is the same age now [22] as Lewis was when he started with us in F1.
"We worked very hard with Lewis over the winter of 2006-07. At the time, people were saying, 'How irresponsible, he's not ready and you're pitching him against Fernando Alonso.'
"But he turned up at the first race with a strong podium and then got another eight in a row. Our job is to see if we can get Sergio to the first race capable of winning."
Whitmarsh continues: "One thing I said to him, and this is no disrespect to Sauber, was that for many teams, if you qualify on the fourth or fifth row and maybe make the podium, that's a celebratory weekend. If you don't make the podium, there's no inquest.
"When you're a McLaren driver, if you're not on the first two rows there's one hell of an inquest. It's a different level of pressure and if you're competing for a podium or race win, again there's that level of scrutiny.
"He'll have to acquire the tools to be able to cope with that level of pressure."
Being ready to win from the word go may seem a big ask for someone who: (a) hasn't won a race at this level; (b) hasn't dealt with racing for a top team, and (c) hasn't had a world champion team-mate.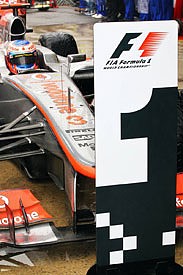 Perez says he can cope with the pressure of being a McLaren driver © XPB
But Perez does not lack self-belief and is acutely aware of what McLaren wants of him. "They expect me to be world champion," he says, matter-of-factly. "It's why they signed me.
"I've always had a lot of pressure, but I like it. I've always had big companies behind me - Carlos Slim, for example. It's not been as easy for me as people might think."
Ah yes, Carlos Slim: world's richest man, boss of telecoms giant (and Sauber sponsor) Telmex, friend of Perez and, for many, the real reason why the Mexican had the edge over his rivals for the seat.
Having spent the past 10 minutes eulogising about Perez's potential, Whitmarsh takes the topic on board with a wry smile.
"I'll answer some of the silly things I've heard. First, we don't have a dealership in South America," he explains, refuting the theory that Perez was signed to shift McLaren road cars on that continent. "We've been asked if we'll do one in Brazil, but Mexico isn't on the list.
"Second, we have no deals with any Mexican company. We're paying Sergio a good salary - he's not paying us. We've chosen him because we think he's massively exciting and has the potential to be world champion."
Bullish though both parties are, it's hard to believe that McLaren won't be significantly weakened by Lewis's departure.
While Perez seems tailor-made for the current 'tyre-saving' regulations, many question his ultimate pace - something that was never an issue with Hamilton.
Is this the real reason Ferrari was willing to cut ties with him? Look at Perez's head-to-head qualifying record against team-mate Kamui Kobayashi and it's surprisingly average for someone so highly rated (pre-India, Kobayashi led nine-seven).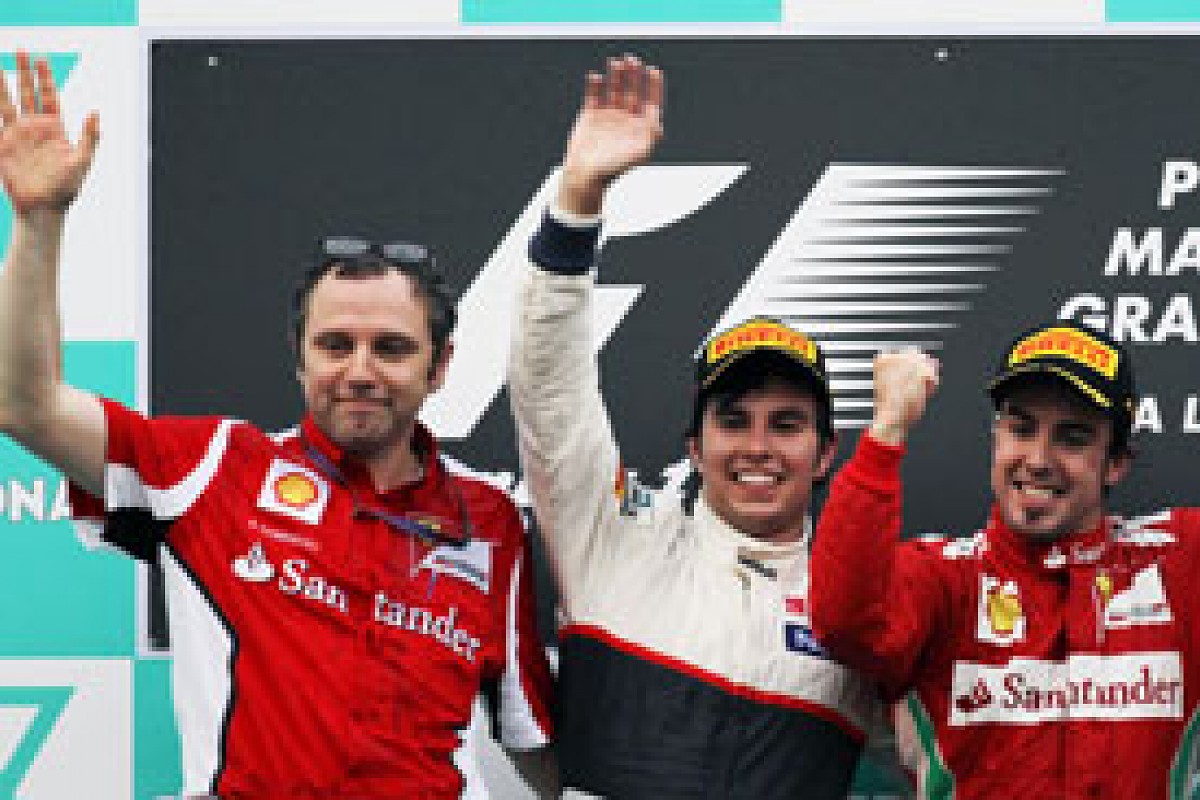 Ferrari cut its ties with Perez © XPB
Sergio has an explanation. "At the moment, qualifying probably is a weakness, but then I always aim to maximise the races. At Sauber, our approach is to maximise the weekend in terms of set-up for the Sunday.
"At McLaren, I believe it's very different - the approach there is to go for pole and fight for the win at every grand prix."
A man well-placed to judge Perez is Peter Sauber, who lost the fledgling Kimi Raikkonen to McLaren in 2002.
"I think Sergio has the skills," he says. "We were surprised he left us so early, but it's hard to say if it's too early or if it would have been better for him to stay another year - only the future will tell.
"Also, it's hard to say if someone is too young for such a step because I think back to Kimi. He had zero experience when he came to us and went to McLaren after he'd been with us for just one year.
"Every driver who is in F1 at Sergio's age learns quickly or they wouldn't have made it."
Perez is going to be busy at his new team. "He'll spend more time at Woking than he probably realises," says Whitmarsh.
"We're going to work very hard with him to get him prepared. He'll need an understanding of our engineering and simulation programmes and he'll also spend a lot of time with the sports scientists, his engineers and the strategists.
"There'll be a very detailed programme over the winter to try to get him to where he might have got to on his own, but in double-quick time."
After Suzuka, Whitmarsh described Perez as "a diamond that needs to be honed". There's a lot of polishing to do, but McLaren is convinced it's found another gem.