Just before the Abu Dhabi Grand Prix the word on the street, not to mention the internet, was that Lotus had some financial issues.
The rumour was that salary payments were late, and one of them may have been Kimi Raikkonen's. These things are easily top-spun, but generally there's no smoke without fire.
Performance-wise the team has been one of the most impressive of 2012, so you hoped the doomsayers were wrong.
The reality seems to be that some payments were late, the reasons were explained by letter, it was sorted and there is no longer a problem. It was logistical, I'm told.
And, happily, a new sponsorship announcement with Coca-Cola, which will promote its 'burn' energy drink through the team, was announced in Brazil.
It's not title sponsorship, and the full details have yet to be announced, but it's a coup and should guarantee that the development budget is enough to allow Lotus to be an even bigger thorn in the sides of the leading teams.
Recently, I sat down to chair a round-table discussion for the Haynes/FOM review annual, and heard some interesting opinions.
Raikkonen won for Lotus in Abu Dhabi © LAT
While discussing Ferrari retaining Felipe Massa, Martin Brundle said: "The real tragedy is, Robert Kubica should be in the car. That would have been worth seeing and I think Fernando would have probably accepted that because they are quite close."
Picking up the theme, Williams co-team principal Toto Wolff added: "Kubica would have been a game-changer generally. I think he would even have given the likes of Red Bull a hard time in that Lotus when we've seen what Kimi has been able to do."
So, how did he assess what Raikkonen has been able to do?
"He was out of the business for a long time, came back and was very solid, constantly scoring points even if it was nothing brilliant," replied Toto.
"He won, but my honest opinion - and I'm not shy to say it - is that if you want to be a world champion and beat people like Sebastian, you have to have commitment to the overall picture.
"People liked the radio comments ['I know what I'm doing', etc, in Abu Dhabi] and all that stuff, but you should be a team player and acknowledge what they do for you.
"You push hard, you work hard, you're at the factory and in the simulator, not seeing it as a weekend job.
"What he said on the radio, for me, was unacceptable. The engineer and the team are trying to give support and you can't ridicule them in front of five million people. I wouldn't accept it."
Interesting. And, considering the 'weekend job' part, I thought about that in Brazil when I heard that Kimi had asked the team if he could give Thursday at Interlagos a miss.
They apparently said they'd rather he didn't, but he did anyway.
Which prompted someone with a sense of humour to suggest that if he'd bothered to turn up and do a track walk, he might not have got lost when he went off the circuit in the race!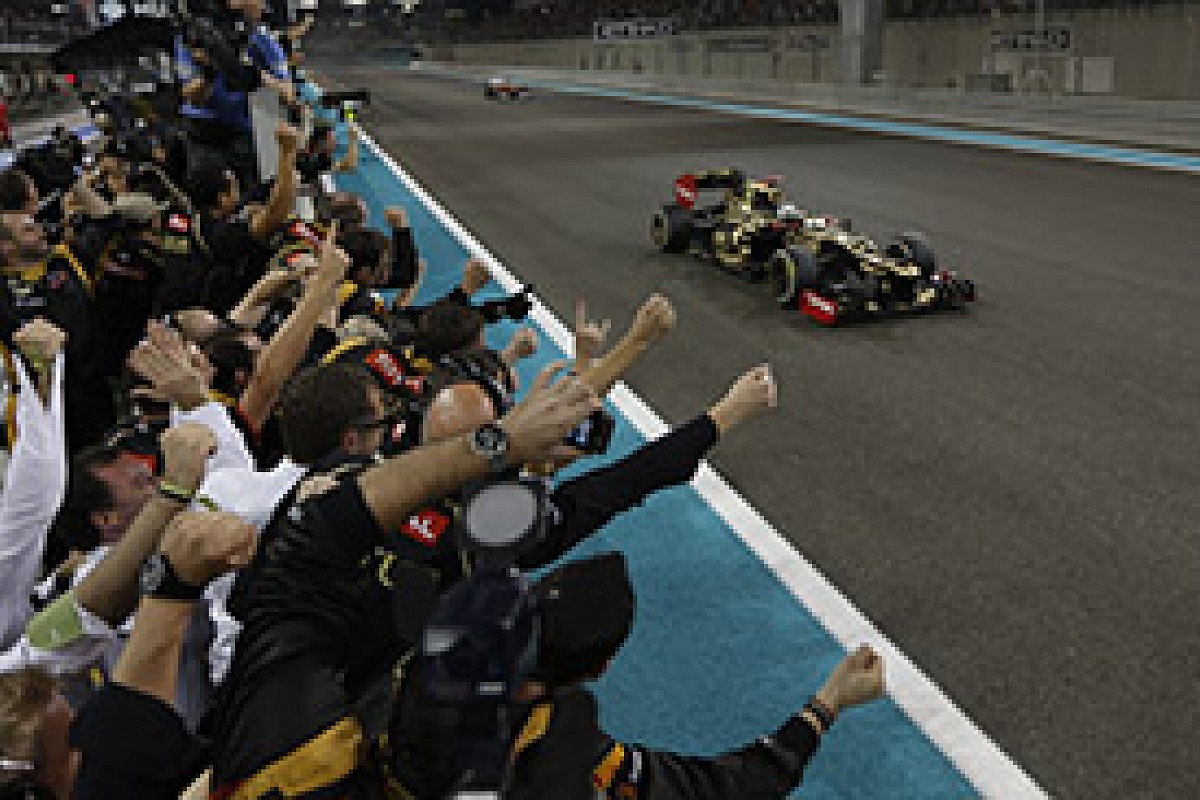 Raikkonen has gelled in well at Lotus © LAT
Kimi himself had a better explanation: "Where I went off you can get back on the track by going through the support race pitlane, but you have to go through a gate.
"I know because I did the same thing in 2001 and the gate was open that year. Someone closed it this time. I'll make sure it's open again next year..."
Brundle, however, is of a rather different mindset concerning Kimi.
"I think he's done an extraordinary job, if I'm honest," he said. "He's the only driver to complete every racing lap this year; he's been in the points consistently.
"I thought he would fade at the end of Abu Dhabi, but he looked fresher on the podium than Alonso did.
"I was convinced he would run out of physical fitness, and I quite like the irony that he got kicked out of the Ferrari team to make way for Alonso and he cost Alonso the world championship by beating him in Abu Dhabi. I never believed he would win...
"I don't know, maybe the car's incredible, maybe if you'd put Sebastian or Lewis in, it would have won everything.
"But what's impressed me most is that he's been out for two years rallying, hitting trees, and yet he's not hit another F1 car. His racecraft has been incredible.
"I think if Grosjean had been on form, Lotus could have won the constructors' championship."
Run that past a couple of experienced Enstone team members and they think that while the championship might have been a bridge too far, they could have finished second.
"They could certainly have put up a much bigger fight," agrees Christian Horner.
"I like Kimi, I think he's good for F1, he's a character and not afraid to be his own person, and I think that's why he has an enormous following.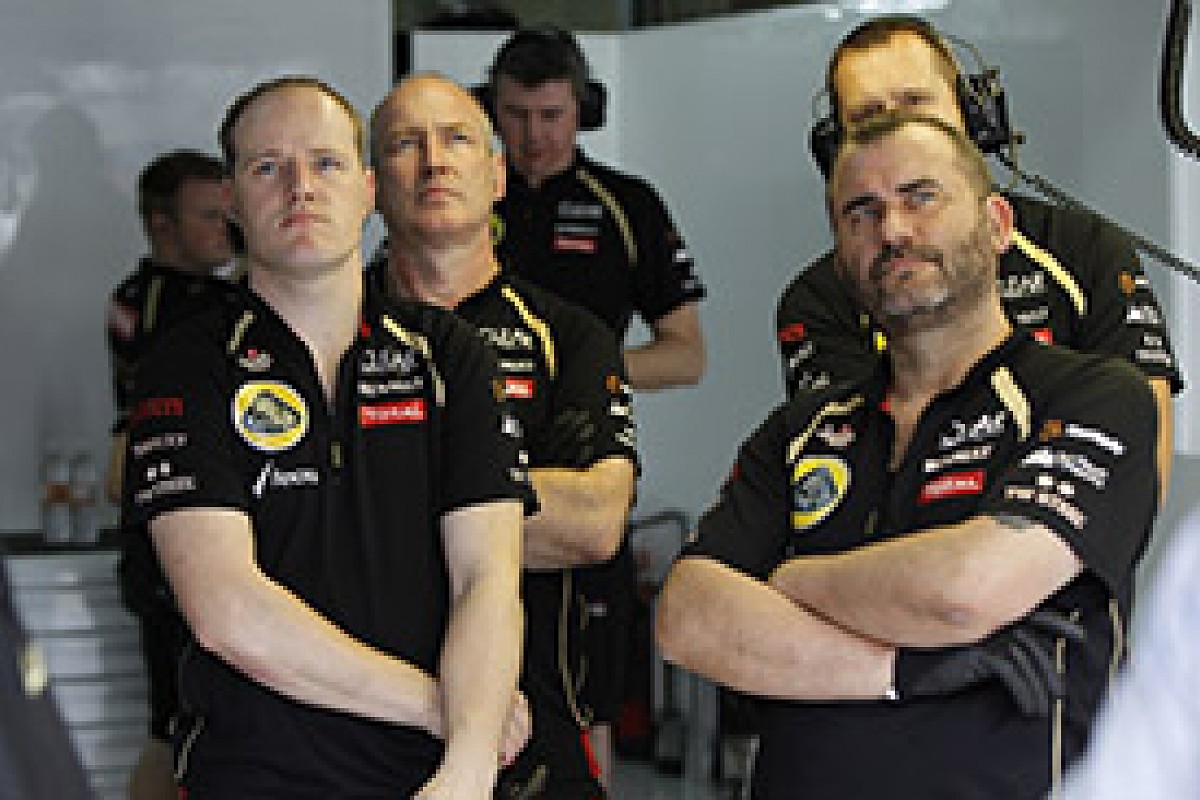 The jury is still out on Grosjean © LAT
"I think he's done a very good job this year. He's come back, kept himself in the world championship until Abu Dhabi, has finished every single grand prix, raced well and has been consistent.
"Formula 1 is, I think, a better place for having Kimi Raikkonen in it.
"And I think his team-mate is actually bloody quick, he just needs to calm down a little bit. Grosjean is a definite talent."
That last thought came into my head watching Q1, when Grosjean attempted to go past Pedro de la Rosa's HRT when it was never on, as if he had absolutely no concept of risk. He could have finished up in the grandstand.
Then there was an agitated "No way!" when his engineer told him they were P18 and out of qualifying after, unsurprisingly, he had insufficient time to get his tyres back up to temperature after pitting for a new nose. It shouldn't really have come as a surprise...
The team is a little frustrated because they know how quick and talented Grosjean is. Those who have been at Enstone since the beginning will tell you that they went through a lot of trashed nosecones when Michael Schumacher arrived in 1991, but that he learned.
There is always a learning period, but Romain's, they are starting to feel, is going on for a while.
There's no doubt that this is a proper racing team and I'll be fascinated to see where they're at next year.