On the tightest of margins do things turn.
Sebastian Vettel may not have looked remotely in danger of losing the Japanese Grand Prix, but on Saturday night he had a close call.
The world champion was summoned to the race stewards to answer complaints from Ferrari that he had impeded Fernando Alonso's Q3 run at the chicane. Jean-Eric Vergne had done the same thing to Bruno Senna in Q1 and earned himself a three-place demotion on Sunday's grid. Was Vettel about to lose his pole and be relegated to fourth, or worse?
"We always respect the stewards' decision..." was the politically correct response from Ferrari when the officials ruled that Vettel had indeed committed an offence, but let him off with a reprimand.
Inconsistency of decision making has always raised temperatures, and behind closed doors Ferrari was less than impressed, especially given that the two men now look likely to fight out the world championship over the next few weeks.
Let us say straight away that there have been precedents for both courses of action - or inaction if you prefer - over the course of this year.
Pastor Maldonado and Pedro de la Rosa escaped with reprimands for blocking in China, as did Kamui Kobayashi in Valencia. Sergio Perez, however, was penalised five grid places in Germany and Maldonado incurred a three-place penalty at Spa, both for the same offence.
While Vergne had clearly not been paying attention and was culpable, in Vettel's case there were mitigating circumstances, given that he'd had to back off for yellows at Spoon Curve for Kimi Raikkonen's spun Lotus. Vettel could be forgiven for thinking that, in the circumstances, nobody behind him would be bothering to complete a hot lap.
The German was wrong, though.
A driver is required to demonstrate appropriate caution in a yellow zone and must not record a sector best, but those drivers doing only one Q3 run (including Alonso) would certainly still be finishing their laps. Had he forgotten that?
Ferrari said Vettel had slowed down Alonso © XPB
Ferrari said that Alonso was half a second up on his previous (Q2) best lap when he encountered the yellows and lost another 0.1-0.2s to Vettel. The lost time to the yellow was just tough luck but, interestingly, the difference between starting the race fifth, on the clean side of the grid and ahead of Perez, and sixth, on the dirty side behind the Mexican, was just 0.09s. So Ferrari appeared to have a case.
It has been suggested that Ferrari might have overplayed its hand in the stewards' office by claiming that Alonso could have been on pole, which is a tad fanciful.
Even if you scratched Vettel's 1m30.839s, Mark Webber's Red Bull had still gone round in 1m31.090s, against Alonso's 1m32.114s.
The Spaniard certainly had the pace to have lined up as the fastest non-Red Bull - third, ahead of Kobayashi - but as we've explained, he would still have had to live with the yellow and could only realistically claim the lost tenth or two to Vettel.
If it's true that Ferrari did lay it on a bit thick, you could easily imagine a no-nonsense chap such as Derek Warwick (the ex-driver on the Suzuka stewarding panel) sending its representatives away with a flea in their ear and asking them to shut the door quietly on the way out...
We could, however, quite easily have had Webber on pole, Kobayashi second on the dirty side and beaten away by the "first-lap nutcase" (as Romain Grosjean was memorably labelled post-race by Webber), Perez fourth on the dirty side and beaten into the first corner by Alonso from fifth on the clean side.
Vettel could have been left to start sixth on the dirty side with a five-place penalty, fending off the better-starting Raikkonen's Lotus from the clean side - a task Alonso made a bit of a fist of, contributing to his own downfall. That would all have put an entirely different spin on things.
The stewards have far more information/video footage than is available to the press, and they deliberated for quite some time, so you must presume that they were satisfied with the decision they reached.
Certainly you have far more confidence in that process these days than in times of old, when there was widespread belief that a phone call from Paris carried far more weight than any actual data.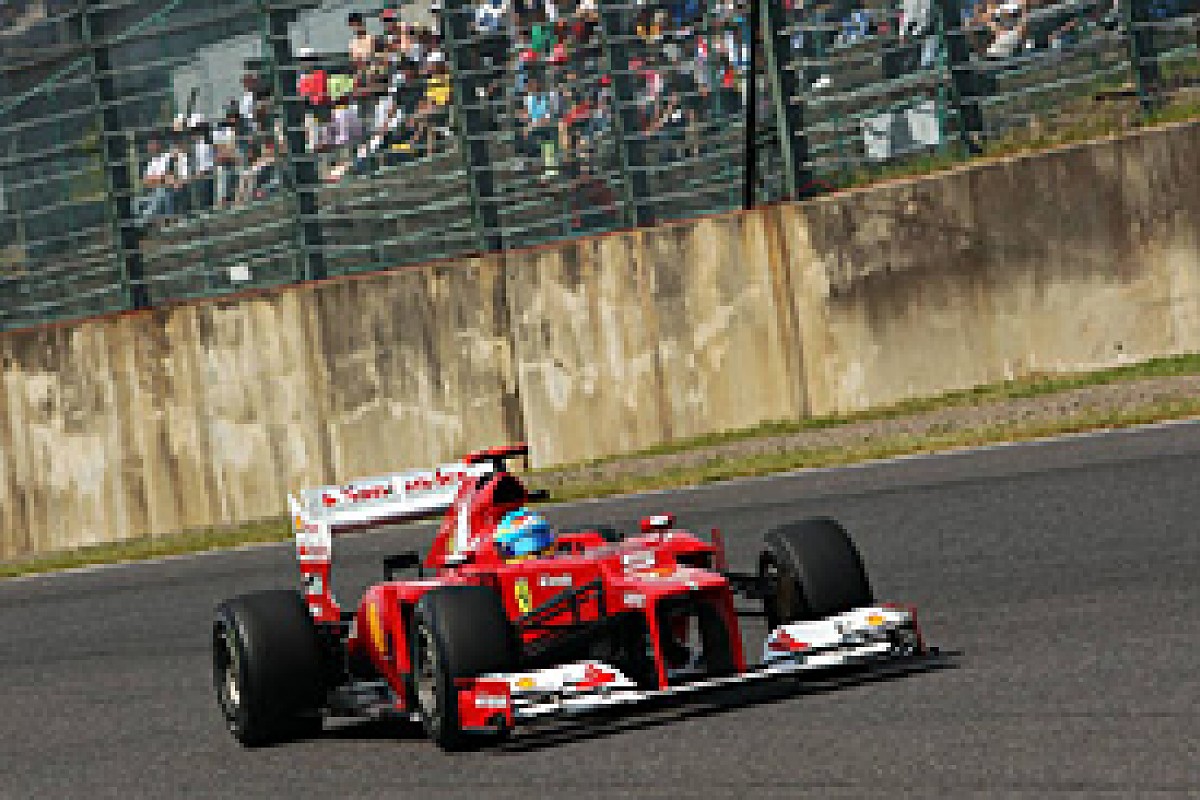 Jacques Villeneuve, Michael Schumacher at Suzuka in 1997 © LAT
It was at the same circuit 15 years ago that we learned that Jacques Villeneuve had set a sector best in a similar yellow-flag zone to this weekend, when Jos Verstappen had pulled his Tyrrell off the track.
Villeneuve was already racing under a suspended one-race ban from Monza for the same offence, which had been his third such transgression of the year. He was far from the only driver who had offended in the yellow zone, however, another being title rival Michael Schumacher.
Come Sunday night, though, Villeneuve had been disqualified from his fifth place race finish, and his loss of two points allowed Schumacher to head for the Jerez title decider one point in front rather than one point behind the Canadian.
It all felt terribly contrived, and I well remember a press room full of colleagues shaking their heads and feeling slightly affronted that they were stupid enough to fly all over the globe trying to take this pantomime seriously.
We then arrived at that Jerez title decider, and had the two title contenders and Heinz-Harald Frentzen's Williams all qualify on times identical to the last thousandth of a second.
Someone bothered to work out the odds of this happening, which I can't quite recall, but you can imagine. Cue more shaking heads and affronted faces.
Vettel was a lucky boy in Japan. He may not have been paying attention, just like Vergne. And if he wasn't, you could argue that Red Bull, with the aid of GPS trackers, should have made sure he was. Whatever you thought of the decision, though, we have come a long way in 15 years. I hope.