There was a time when an interview with Mika Hakkinen was not the work of the moment. While he was locked in the intensity of life as a top-line F1 driver, gunning for world championship glory against the might of men like Michael Schumacher, simply extracting more than a few customary words during a sit-down chat with the Flying Finn was a pretty big achievement.
Time has moved on.
Now, away from the pressures of a life measured in thousandths of a second, Hakkinen is a new man. He is just as busy - combining 'racing dad' duties with his son, management responsibilities with long-time ally Didier Coton, and a global ambassadorial 'responsible drinking' role with Johnnie Walker.
It's the whiskey connection that's the reason we're meeting again. Hakkinen has just driven up to Monza from his home in Monaco having signed a new contract extension.
While some drivers' post-F1 commercial tie-ups may just be a means of adding dollars to their bank accounts, in Hakkinen's case this is something very different.
There's a genuine enthusiasm from him about a job that's seen him travelling the world preaching the 'don't drink and drive' message to new markets.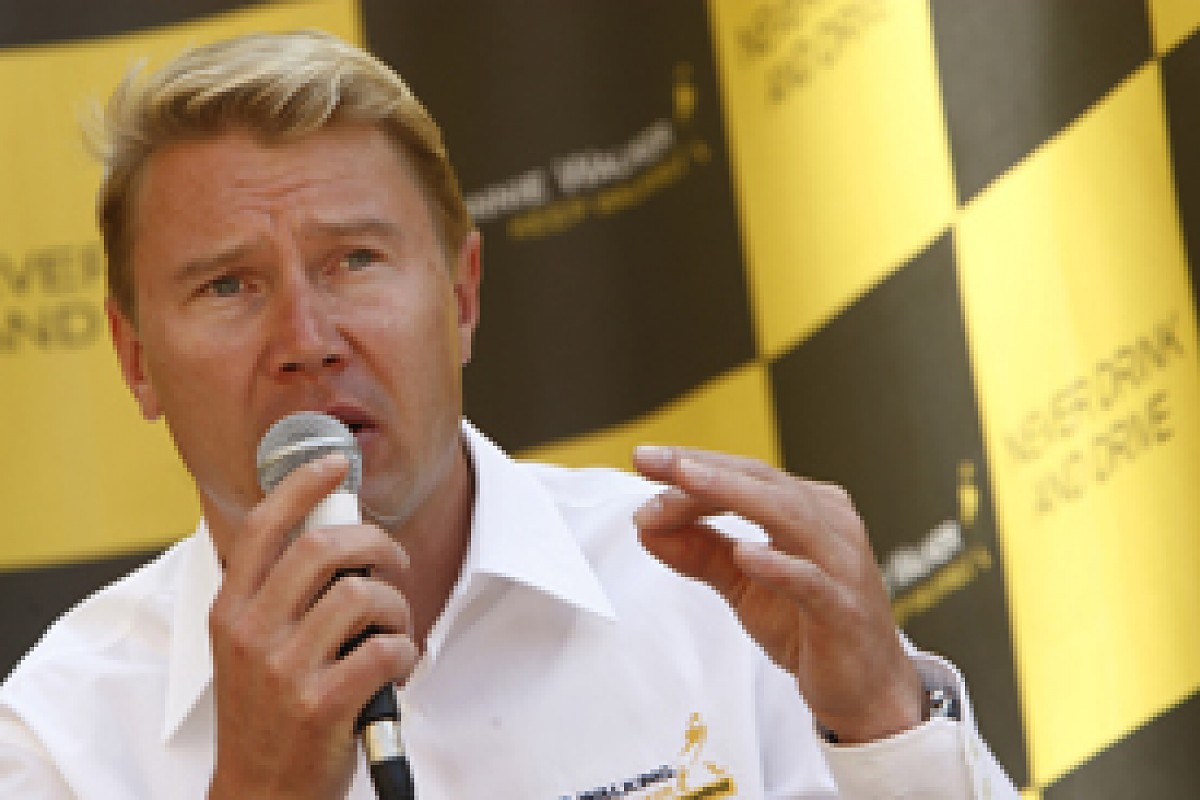 Hakkinen is now working on PR duties with Johnnie Walker © LAT
"It has been very constructive, and very interesting to see people's reactions," he says, his eyes widening as he talks with energy about what he's up to.
"It's good to see the reactions of the media, reactions of the public, reaction of the government in different countries and the reception we have been getting to go to these locations around the world.
"The events we are doing are huge. The most memorable probably was Bogota in Colombia. It was absolutely incredible. There were hundreds of thousands of people on the streets, making a show with the supercar and making public appearances to talk about never drinking and driving. And every time it is more and more motivating.
"We are not here to stop people using alcohol. People do what they want to do. You cannot change their life and we don't want to change their life. That is how they want to live, but we can really send the message. When you drink alcohol, you never drive..."
Finally there is a pause and a smile.
"I keep talking a lot but I want to talk a lot because the whole campaign that we do is such a great thing. The governments are doing a lot of work, Johnnie Walker are doing great things; it is great."
Hakkinen's relishing of his role is in no doubt and this is certainly not the robot-talk of a man blinded by PR spiel. You get the sense that he has found a personal satisfaction from the efforts he's making. He's getting results from his hard work, just as he did as a racing driver.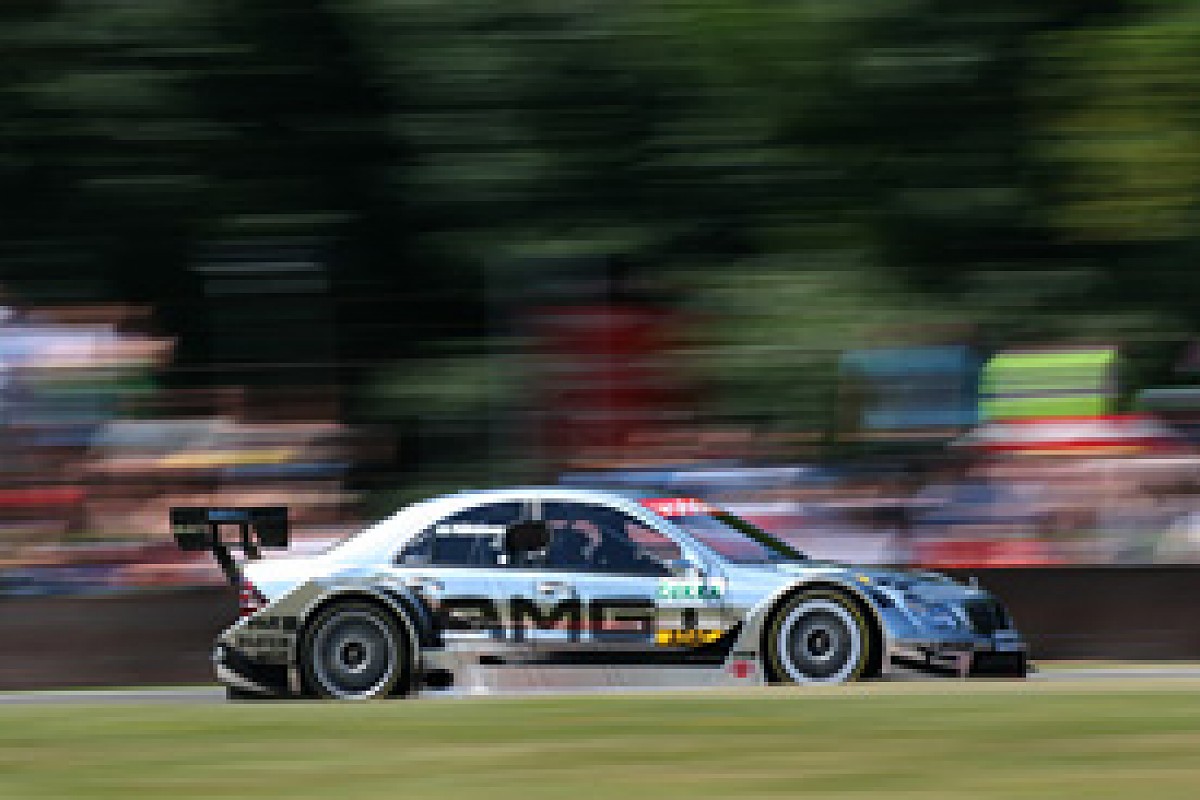 After a few years out of F1, Hakkinen returned to racing in the DTM © LAT
And finding that input/reward balance is perhaps the biggest difficulty that racing drivers face when they finally hang up their helmets. What else in life is going to give them such a direct response for their efforts?
Hakkinen concedes that achieving contentment after F1 is not easy - which perhaps explains why he spent years drifting from time on the beach, to racing in DTM, to flirting with an F1 comeback and finally now finding happiness.
"It takes time," he explains. "It doesn't just come when you stop grand prix racing. You don't wake up the next morning and think, 'oh, I want to do this'. Of course you can plan things in advance, which is definitely the right thing to do.
"But F1, in my case, I felt was a very hectic world. It was very demanding psychologically, and physically. Winning the world championship twice was a hard job, going through the accident I had in 1995 was also very hard to cope with.
"So, when I stopped racing I wanted to really stop racing, and take time for myself. But it took a few years for me to understand and say, 'hold on a second. I am not made to sit down and do nothing. I want to do things. I have so much to give'.
"I got so much from my F1 experience of going around the world, working closely with the people and partners of grand prix racing, so why should I just keep it in myself? I want to work and I am happy to work."
If Hakkinen is happy that he has found something that floats his boat after F1, he's also pretty thankful that he's not starting out in his career now: at a time when the racing ladder appears so fragmented. In his day, you won in F3, you went to Macau and you were pretty much set for F1.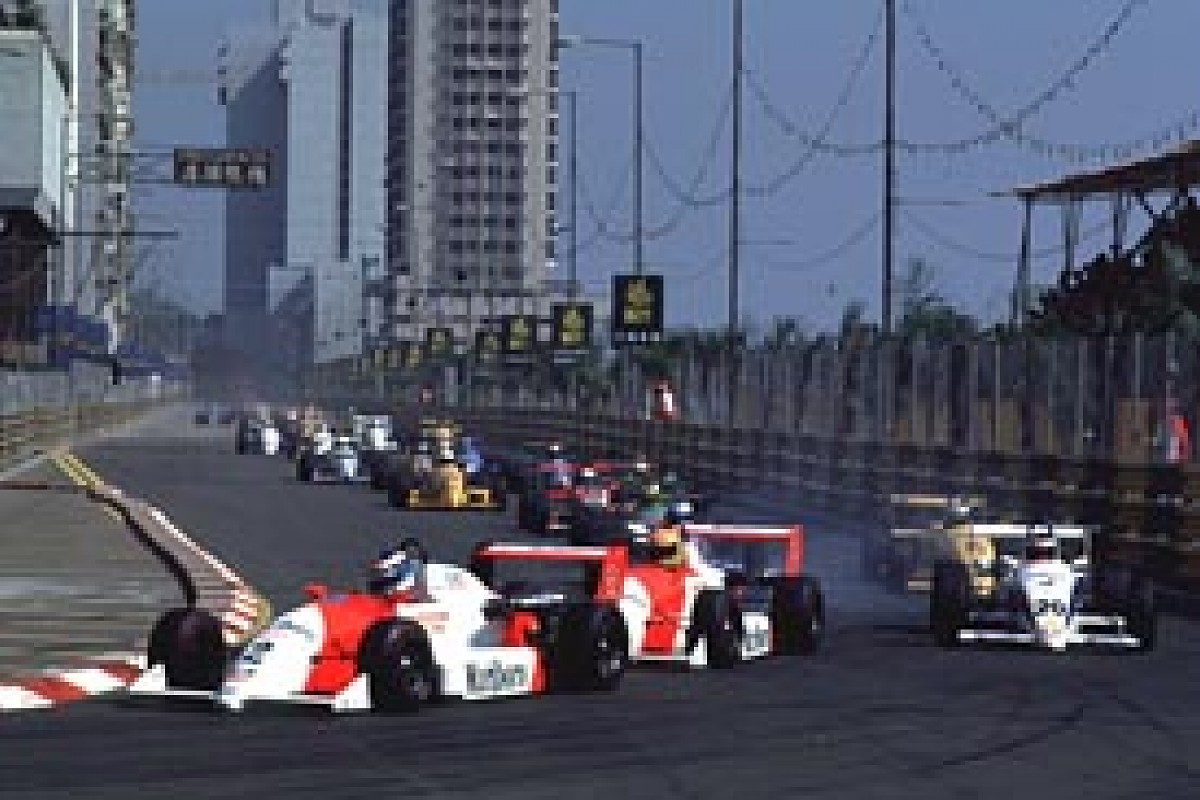 F1 took note of Hakkinen in F3. Here the 1990 British champ leads at Macau © LAT
"Nowadays, when you are 10, 14, or 17, motor racing is already far too expensive for normal families to be able to afford for their son or daughter to go to the kart races in Europe; it is impossible to find the money. And that is certainly very difficult to come out of - it's so expensive.
"Beyond that there are lots of different categories in many countries, so it's difficult again to prove yourself and show the world you are good. You cannot have a situation where an F1 team looks at somebody and says, 'wow, that guy is good' because you have these categories all over the place.
"It's too difficult. But that's an opinion: it's not like I am saying, 'hey FIA, hey F1 teams, change the whole concept'. I am not speaking like that. I am saying that is the reality and it is a very difficult to get to F1 now."
The challenges for the youngsters do not stop outside of F1 though, because even arriving in F1 there are hurdles and difficulties - caused by the lack of testing.
"When you get to F1, you have no testing. When I was in F1 I was testing a lot, to get the routine, the experience, and to develop the car for myself and the team. It helped to motivate the team, the engineers and the mechanics.
"I got the car exactly as I wanted. Now these [young] guys sit in the simulators and the race weekend is a test session. It is so much more challenging for a young driver to come to F1 and prove themselves, because there is no chance. You are just testing in simulators and it's not exactly the same as the real action."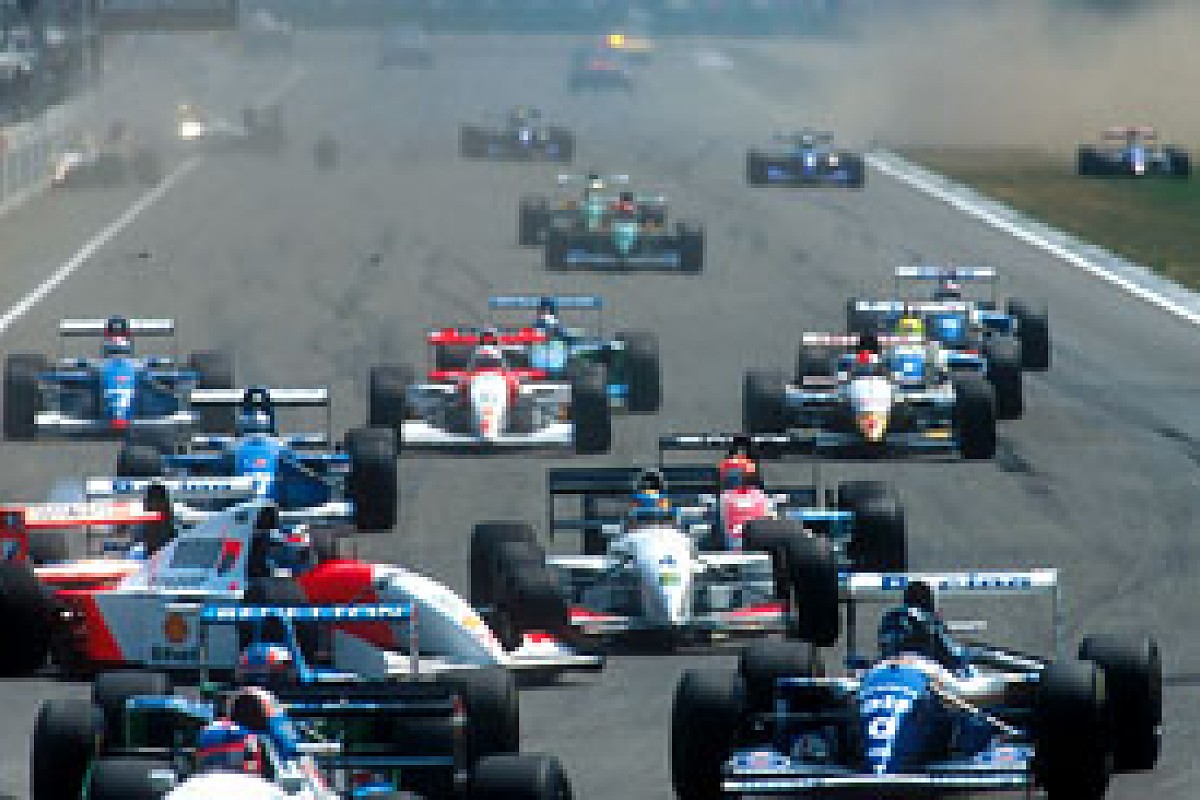 Hakkinen was banned for a race for causing a German GP pile-up in '94... © LAT
A deeper consideration about the problems youngsters face in getting the right experience was highlighted in recent weeks when Romain Grosjean was handed a race ban for causing a pile-up on the run to the first corner in the Belgian GP.
He was the first driver to be handed such a punishment since Hakkinen himself was forced to sit out the 1994 Hungarian GP for triggering an accident at that year's German race.
Hakkinen's mind rewinds back - and he offers a fascinating insight into what goes through a racing driver's head when they get told to sort out their behaviour.
"Sure, I remember that like yesterday, that whole incident in 1994. It was at Hockenheim. It was my first full year racing with McLaren, as the year before I was just testing.
"I was very committed of course. Very motivated of course. Very excited. Keen to get the results.
"And sometimes when you are so motivated and excited the mistakes happen. When I look back on my incident, I don't only look in the mirror and say it's my mistake. There are cars around you and drivers sitting in them and they all have eyes.
"So I didn't fully agree with what happened at Hockenheim because I was basically squeezed. But there's no point to go further and discuss any more about that.
"But Grosjean? I'm sure he's feeling more or less the same that I felt and thinking, 'hang on a second, why don't the guys behind me lift a little bit'.
"I have learned that sudden movements are never good in the start because there is no space and there are three or four cars along, and nobody really wants to brake.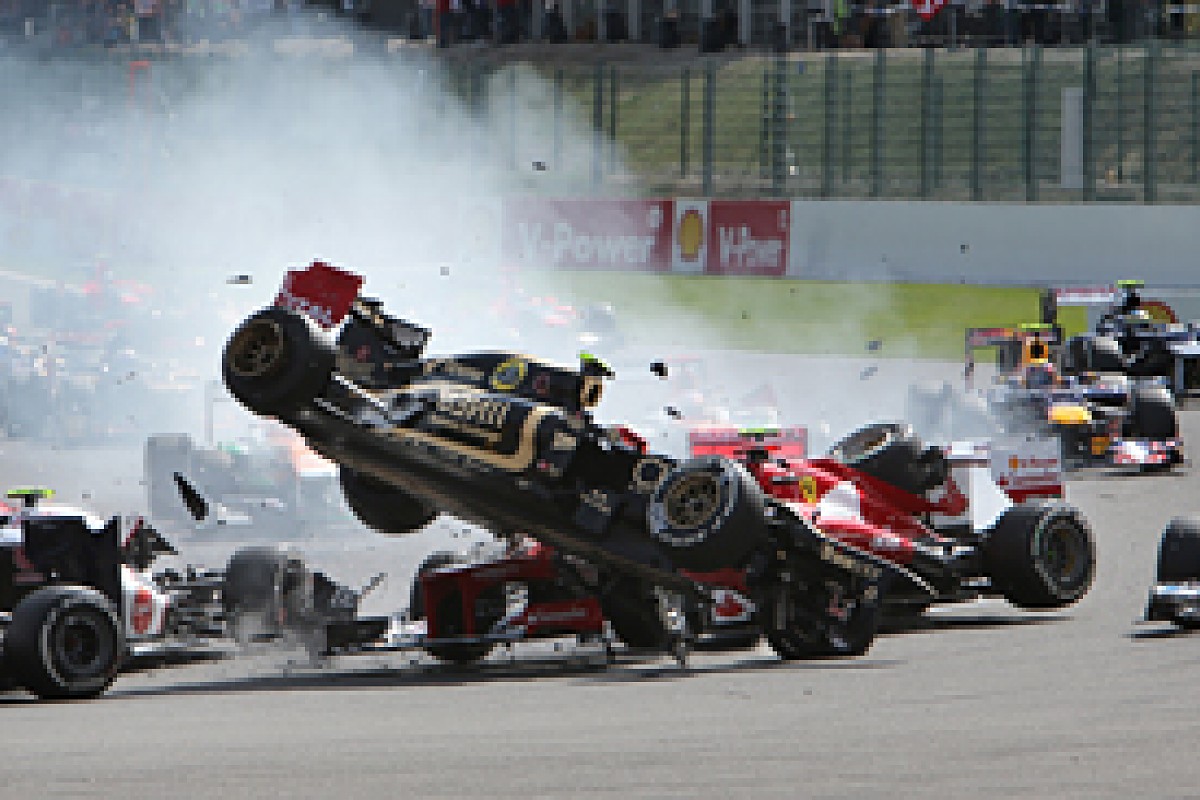 ...and he can sympathise with Romain Grosjean after the Spa fall-out © LAT
"But the fact is there are not many cases where you win the grand prix at the first corner and the race is really long. So you should wait a bit. If you lose one or two places, it's not the end of the world. So it's all about experience and learning."
So did Hakkinen come back calmer? Did his ban make him think twice before he reacted so boldly in trying to gain positions thereafter? He first of all says not, but then corrects himself.
"Of course, I was more cautious, but that was not... even in situations like that there is a big risk that a driver can change. It can change because people want to change you, but then you try to be something else and that's not a good idea.
"Be yourself. Just learn from your mistakes. You can still be aggressive, you can still go flat out, but you have to believe in yourself. You have to understand if you are right or wrong. If somewhere the question is between, then you have a problem. So just go flat out, but with respect to others."
Hakkinen's talk of being 'flat out' may be a bit of a Finnish cliché, but it is exactly what he is to this day. Our time chatting is over and he is on to the next thing. Still busy after all these years, but there is a spring in his step and a smile with everything he does nowadays.
Still maximum attack, eh Mika?