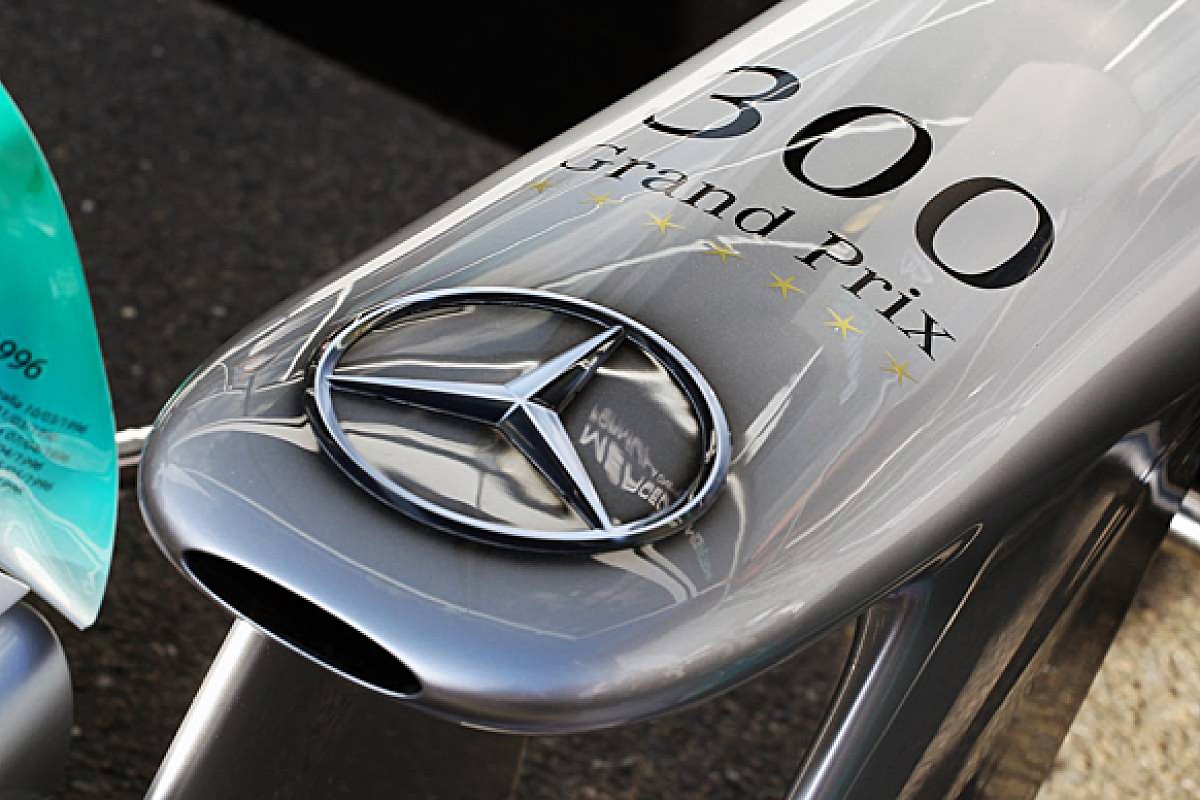 Spa-Francorchamps can't fail to stir the emotions of hardcore racing fans, and it was great to arrive at one of the most iconic venues on the calendar after Formula 1's summer break.
Olympic fever was still gripping a few F1 regulars, especially those who had been lucky enough to get a ticket for the athletics.
Mark Webber even suggested it was one of the highlights of his life.
"I thought it was awesome," beamed the Red Bull driver. "Watching Mo Farah's 5000 metres, I was in the stadium that night and it was one of the best things I've seen in my life. It was very emotional to see him pull that off in front of his home crowd."
Meanwhile, at Mercedes there was some serious activity going on as Michael Schumacher celebrated his 300th grand prix.
He had his whole family with him, and there were numerous people popping by to wish him the best. He'd even been made an honorary citizen of Spa, the circuit where he made his F1 debut way back in 1991. The team gave him a cake and a nosecone, while helmet supplier Schuberth delivered him a special platinum lid.
The focus on his 300th race inevitably prompted questions about his future, and Schumacher was adamant of one thing: he would not be around to celebrate his 400th grand prix.
"I guess I can say not," he said, reacting to questions prompted by a fans' banner that urged Schumacher to do another 100. "It's obviously nice that the fans are still with me and encourage me to go on."
So it's official then: Schumacher will definitely quit by the end of 2017...

With a load of long-haul trips to faraway places coming up very soon on the F1 calendar, no-one wants to get on a plane if they don't need to. That's why the Belgian Grand Prix turns into an opportunity for a road trip, especially with Spa-Francorchamps, for the Brits, being just a short hop across the Channel and then a few hours' blast down the motorway.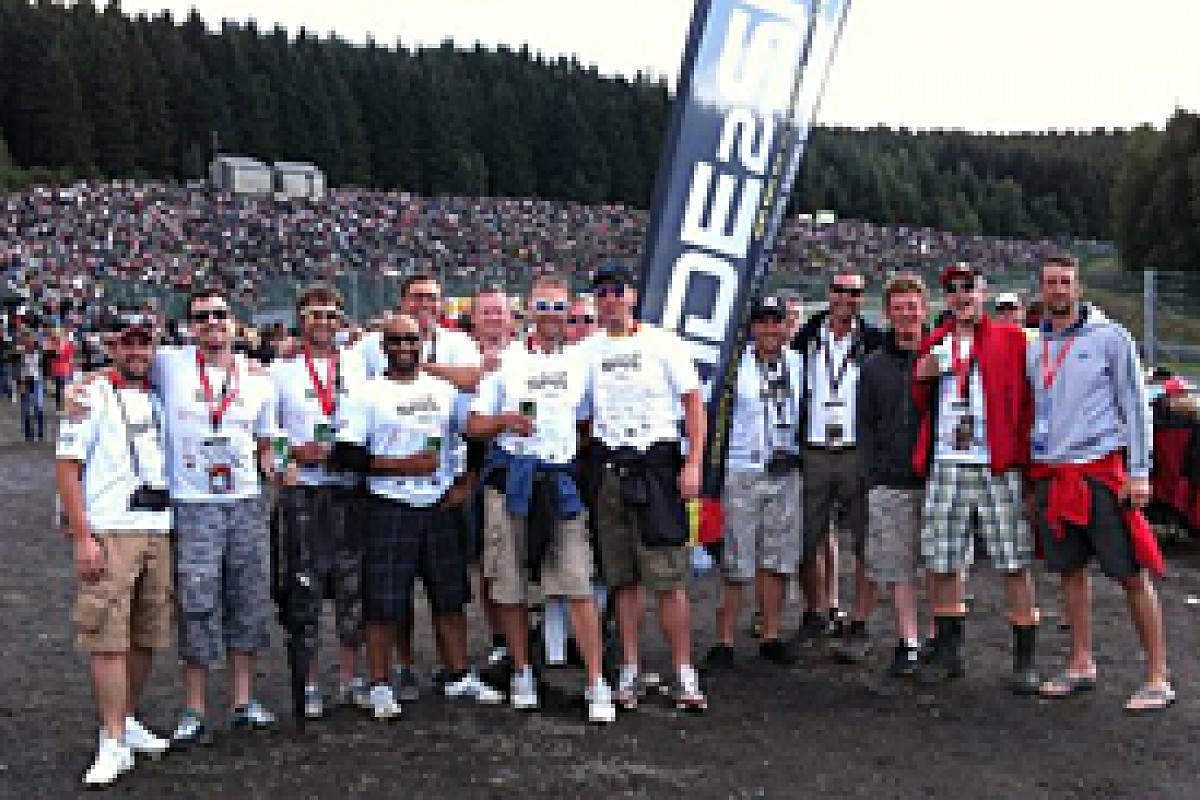 The amazing Ride2Spa crew
Many people chose some special vehicles for the weekend: Martin Brundle did it in his E-type Jaguar; a few went on motorbikes; and the AUTOSPORT crew had a Hyundai minivan.
Special plaudits, therefore, to the 22 British Formula 1 fans who took part in a charity bicycle ride from Silverstone to Spa.
That meant 400 miles in four days, with the aim of raising £20,000 for a number of charities, including MS Trust, Cancer Research, Mind, Ronald McDonald House and Birmingham Children's Hospice.
The 'Ride2Spa' initative was the brainchild of Rich Tindale, who has had multiple sclerosis for 10 years and just two years ago was confined to a wheelchair, having lost sight in one eye, before a recovery allowed him to make plans for the impressive two-wheeled adventure.
The event received widespread support from fans, and there were hundreds of people at the circuit entrance on Thursday who cheered the cyclists on their arrival.
Speaking about it all, Rich said: "Ride2spa started out as an idea over a couple of beers with friends, and a year on has turned out to be the best thing we've ever done in our lives!"
The cycling contingent - which included one of the organisers, Simon Campbell, whose son has leukaemia - were treated to a Friday session in the Marussia pit - and of course a chance to rest their weary legs and sink a few well-earned drinks while watching some F1 action.
Donations for the charity ride can still be made at www.ride2spa.com - further pictures and reports of the adventure can be found at www.badgergp.com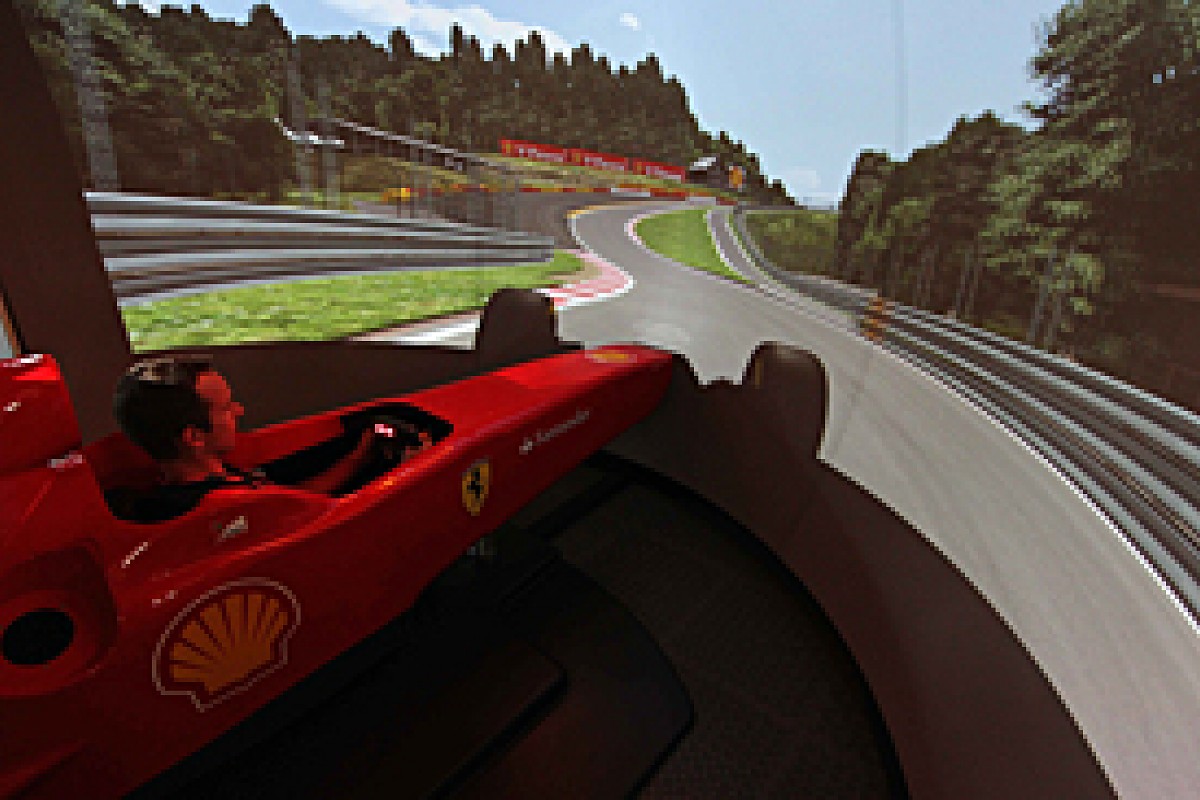 Fernando Alonso was the first back on official 'press' duty in Belgium when he attended an event for Ferrari and race title sponsor Shell at the Spa-Francorchamps circuit on the Thursday.
He was speaking to local technology students to give them an inside line on working in the F1 business - and the big message was to get used to the long hours and sitting on aeroplanes.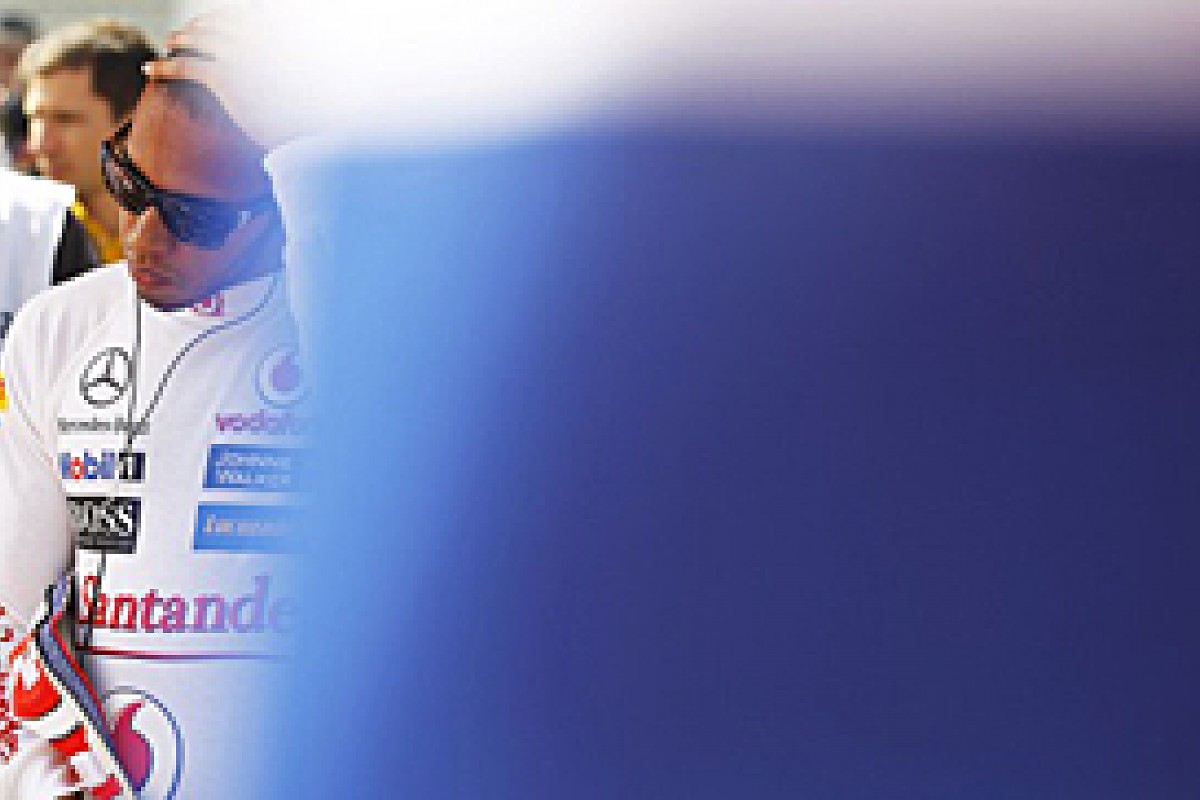 AUTOSPORT's ride around Spa
But the coolest piece of technology, one close to Alonso's heart, was tucked away at the bottom of Eau Rouge in a Shell hospitality unit - this impressive piece of kit has the tag 'Shell Advanced Professional Simulator'.
Developed by Ferrari, using a 2009 F1 chassis with original steering wheel and the pedal layout from the current car, the state-of-the-art simulator offers perhaps the closest experiences fans can get to driving F1 cars, and is one of just three that exist in the world.
The simulator at Spa is the one Shell takes around the world to selected promotional events. Of the other two, one is used for Ferrari's young-driver academy, and the other is at Fernando Alonso's house in Spain!
With laser-modelled tracks - claimed to be within 5mm tolerance of the real tracks - it offered lucky drivers without the talents of men like Alonso an unrivalled chance to feel what it's like driving an F1 car flat-out through Blanchimont. Or, of course, spinning at the top of Eau Rouge.
Lewis Hamilton shocked the world and announced his retirement at the Belgian Grand Prix. From climbing.
During the summer break, Hamilton spent time in the United States with girlfriend Nicole Scherzinger and long-time friend Marc Hynes.
Part of that break included going rock-climbing in Colorado - and there were no half-measures when it came to choosing where he was going to climb.
Lewis Hamilton scared himself on holiday © LAT
Despite successfully making it to the top, Hamilton admitted the experience had scared him, and he has no plans to try it again.
"I've retired from climbing," he said. "It just frightened the life out of me, surprisingly. There's not much that frightens me, but having to abseil down from the top of this mountain was not enjoyable, not one bit.
"Going up wasn't a problem, until I got right to the top where it came back a little bit. The guy who went up with us did it without a rope - he was an absolute psycho!"
Hamilton wasn't the only McLaren star to scare himself over the summer break -team-mate Jenson Button had a bit of an issue during the swimming section of his charity triathlon.
"It was quite cold in the water," he explained. "People were wearing wetsuits. I'd left mine in the hotel so I decided to try to squeeze into my girlfriend's... which felt OK until I got into the water and then it tightened up in... certain areas. So that was the end of my race. I had a panic attack in the water!"

Sebastian Vettel has achieved quite a lot in his Formula 1 career, and now he's got one up on rival Lewis Hamilton by appearing in a music video.
Hamilton is a well-known friend of the music stars - with girlfriend Nicole Scherzinger a former member of Pussycat Dolls - and he widely tweets about his rapper friends who follow his races.
But Vettel could be seeing his face in the charts after starring in a video with double Grammy-winning US R&B star Melanie Fiona - who is a protegee of Jay-Z - for her 'Watch Me Work'.
The theme of the video is that Vettel is tasked with finding somewhere for Fiona and her band to perform, so he drives an Infiniti to a warehouse, powering up the lights and getting the music decks up and running for the finale.
"It was a great experience to shoot a music video, and certainly very different to what I'm used to," said Vettel, whose efforts were released on the eve of the Belgian GP.