Two years ago, the last time at Ricard, Gallic pride got a kick in the face. Alan Jones, at his most determined, wore down the Ligers, forced the drivers to cook their tyres, beat them fair and square. It was, he said, perhaps the most satisfying win of his career.
On Sunday, it was rather different, a turbo wipeout, as expected. Renault, unable to buy a victory - hardly a finish - for several months, scored their first 1-2 in five years of competition, Rene Arnoux winning conclusively, if controversially, from Alain Prost. And third and fourth were the Ferraris, also with French drivers, Didier Pironi and Patrick Tambay. Fifth - and first in class - was Keke Rosberg's Williams, which narrowly beat Michele Alboreto's Tyrrell.
Again, the white of Brabham-BMW stormed away into a distant lead, with first Ricardo Patrese, then Nelson Piquet, leaving the rest breathless. Both, however, blew up in spectacular, fiery, style. That done, the pitch was clear for Renault, and it was merely a matter of waiting, waiting to see if the yellow cars would hold together. We were fairly sure the red ones would.
As a race, it was immensely tedious, the turbos leading with contemptuous ease, and not even having the decency to fight among themselves. The Brabhams, running with light fuel load and intending to pit, were simply beyond the pace of the Renaults, which were equally superior to the Ferraris, who had gone too conservative on tyre choice and were very low on grip. It seemed like a very long hour and a half.
We who hoped for a repeat of Derek Warwick's dramatic showing at Brands Hatch were out of luck. The Toleman handled as poorly in France as it had done well in England, and to add to Derek's discomfort, he had to run the whole race without a clutch.
Out of luck, too, were the McLarens, John Watson retiring early and Niki Lauda finishing eighth after a tyre stop. Seventh, after a drive which deserved far more, was Derek Daly's Williams, which led the non-turbo runners in the early stages before stopping for, you guessed it, tyres. Thereafter Derek drove strongly back, but seventh was his only reward.
For grand prix racing as a whole, the most significant and ominous event of the Ricard weekend occurred on the eleventh lap, when Jochen Mass and Mauro Baldi made contact at Signes, the 180mph right-hander at the end of the Mistral straight. The German's March eventually finished up over the guardrail and halfway into a spectator area. Both drivers were unhurt, but some spectators were less fortunate. We may regard the fact that none were killed as nothing short of a miracle - and this occurred at a circuit which, a decade ago, supposedly set a safety standard at which other tracks could aim. If there is a repeat of this sort of accident in the future, it is unlikely - inconceivable, even - that grand prix racing, and those who watch it, will be so fortunate again. What does it take for people to see sense?
Entry & Practice
This week the pressure was on everyone, particularly the mechanics. Running grands prix on consecutive weekends - save where convenience demands, as Detroit and Montreal - is an absurdity, a very recent phenomenon which nobody likes. Nobody, of course, but a sprinkling of entrepreneurs and accountants who these days see grand prix racing as little more than a motorised Benny Hill Show. The TV camera, folks, the all-seeing eye, is what counts in the eighties. People who comes in through the gate... nickels and dimes.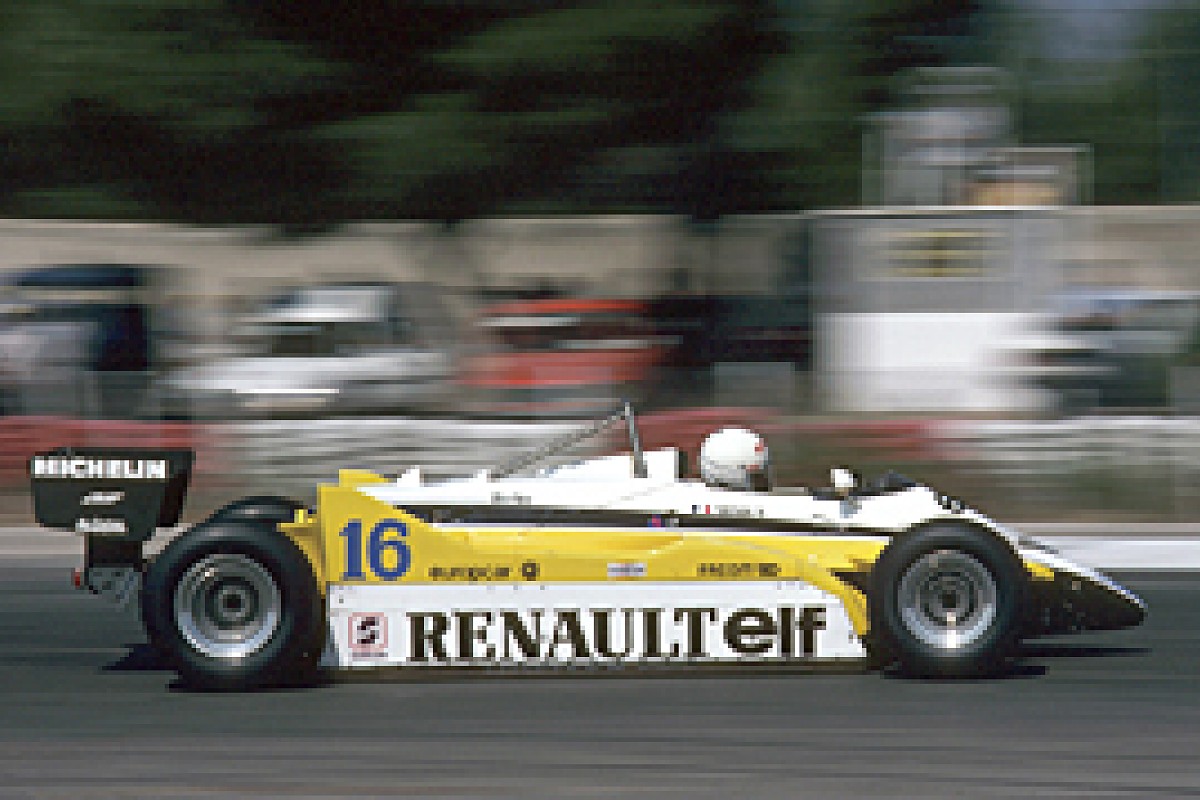 Rene Arnoux soaked up the pressures of home demands to take pole, and then a win © LAT
Our present contorted calendar, therefore, is the bastard child of the World Cup. Quite clearly no one in the broadcasting hierarchy would take a chance on putting out the French Grand Prix, not at the expense of a goalless epic between Fiji and Outer Mongolia or whatever. So the French Grand Prix, and others, had to be rescheduled. Tell you what, let's have it the week after the British. That'll give everyone plenty of time. Let's have it three weeks later than usual, smack in the middle of the French holiday season, when everywhere is booked up and the traffic is solid...
Most of all, you thought of the weary mechanics, working flat out at Brands, packing up, and getting on the road immediately, going south, due at Paul Ricard Wednesday/Thursday. First qualifying on Friday. The media timetable was set, and Formula 1 followed the Piper.
Pressure, then, for all concerned, but most of all there was pressure for Renault. Pole positions they have had by the handful, but little in the way of tangible race results. It takes no great analytical brain to imagine harsh words in the boardroom. After the way the team finished the 1981 season, the yellow cars were expected to carry all before them thus year. Now, in France, they had to deliver.
In qualifying, as usual, they did. Rene Arnoux was on pole for the umpteenth time, and Alain Prost was beside him. No one else was within a second. Then came Ferrari, Brabham-BMW, Ferrari, Brabham-BMW. Ricard, as expect, was a turbo bonanza. "On our timing," commented Keke Rosberg, "I lose two and a half seconds to the turbos down the back straight..." The Mistral is, of course, a mile-long test of a driver's ability to hold a steering wheel straight.
Speed trap figures, issued by the organisers during practice, were so ridiculous as to be a joke - surely no one believes that Tambay's Ferrari was fifty miles an hour quicker than Lauda's McLaren - but there seems little doubt that the quickest cars, aided in qualifying by a strong tail wind, comfortably exceeded 200mph down to Signes, the daunting right-hander at the end of the Mistral. Straightline speeds were up to the point that none of the turbo drivers went through Signes without lifting. "Two years ago in the Ligier," mused Didier Pironi, "Signes was flat, no problem. Not now, though..."
The Circuit Paul Ricard has always been a matter of compromise, a question of balancing things out, so that you have enough wing to take you through turns such as Signes, not enough to hamper you down the Mistral. With turbo horsepower, of course, you can aim at the best of both words. Rene Arnoux may not have been quite flat through Signes, but the lift of his foot was barely perceptible, a fraction of a second. Troubled by porpoising on the first day, he was happier with his car - another new one, of course, after the disasters at Zandvoort and Brands - and flew undramatically round in 1m34.406s on Saturday afternoon, during which he did only two flying laps.

"I think people think my confidence may be low after the last two races," he said afterwards, "but I feel very relaxed." When Arnoux set his time, it was a second and a half quicker than any other, but during the last few minutes Alain Prost ran him close, and finished with 1m 38.88s.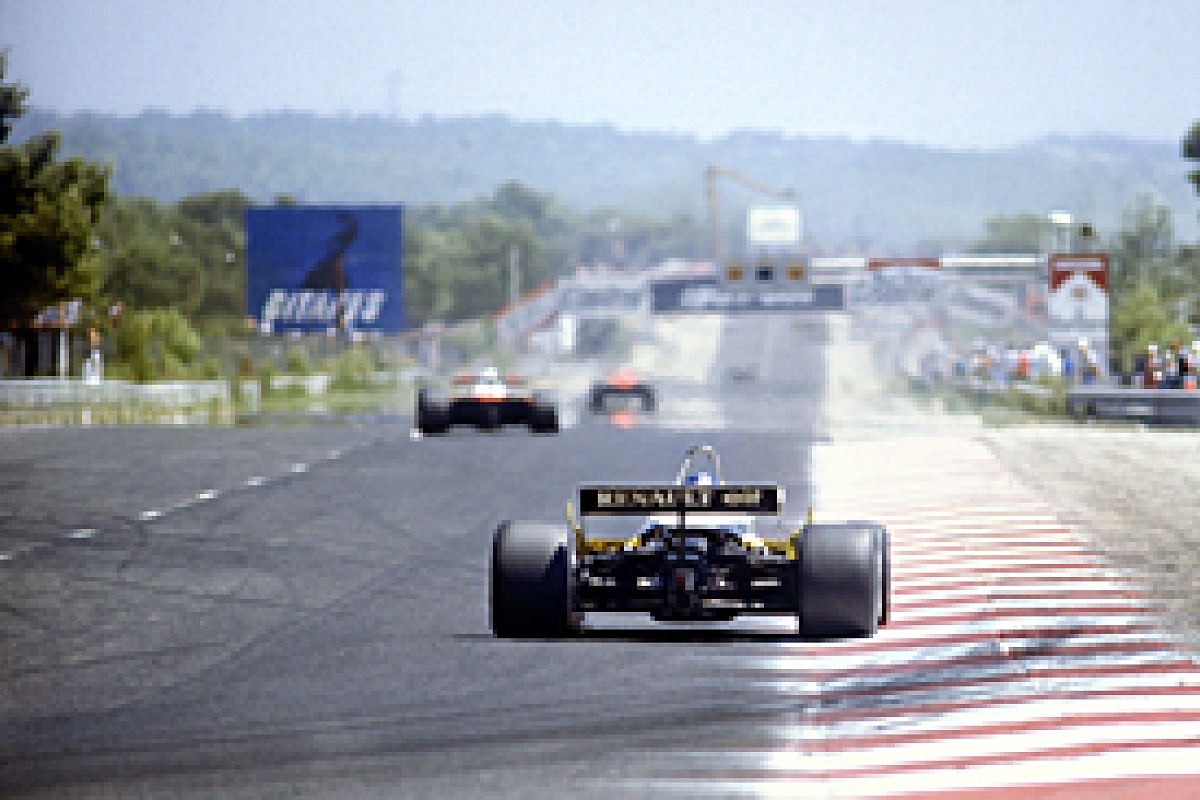 The length of the Mistral Straight lent itself to turbo domination © LAT
On Friday morning Prost's race car was set up with the hydraulic self-levelling suspension system first seen during the Brands Hatch tests a few weeks ago, and also had carbonfibre brake discs. But Alain missed most of the first untimed session, his car sliding to a silent halt out on the circuit, engine cut, an electrical connection broken. Not convinced that the hydraulic system was quite au point, Prost requested its removal before the timed hour, and on Saturday the carbonfirbre discs were gone, too.
Having dominated qualifying, then, the yellow cars were everyone's target yet again. "I don't think we shall run away in the race," remarked Alain. "On qualifying tyres the car is perfect, but we have too much understeer on race tyres and full tanks."
Renault's opposition came, inevitably, from Ferrari, with Didier Pironi qualifying third, Patrick Tambay fifth. As usual Didier had a pair of 126C2s, one with transverse gearbox, the other with longitudinal, and as usual he elected to run the older car. "I used the 'longitudinal' car at the end of the untimed session today," he commented on Saturday afternoon, "and set the fastest time with it. But at present the transverse car is more responsive through tight corners, I think, although not so pleasant to drive. I believe the newer car will be better at somewhere like the Osterreichring, fast corners all the way."
A quick spin on cold tyres put Pironi's car into the catch fence on Saturday morning, but he was able to drive the car out, and damage was light. Beyond that, he suffered a little with what Ferrari called "fuel vaporisation," but which was rather more than that. No one in the team wanted to say very much, but it seems that the real problem lay in the water injection system which has been used for the last few races. Situated between engine and intercooler, the system on Tambay's car was leaking, which of course had a poor effect on the mixture. Patrick, indeed, had a difficult time in practice, losing most of the Friday morning session after a stone had been flicking up into the injection pump, then stammering round intermittently on its mixture of Agip, water and air.
For the last session, though, all was well. "The engine was fine this afternoon, just a little bit hesitant out of a couple of slow corners, but much better. What annoyed me, though, was that I got held up by [Michele] Alboreto on my last set of qualifiers - and he was out there on wet tyres..."
This is the latest in the endless series of Formula 1 absurdities, dictated by the fatuous rules governing qualifying tyres. For each fine session you have two sets of qualifying tyres, both marked, and you may not run any unmarked tyres at any stage, unless you officially withdraw from the session. There is no restriction on those. So now, if you have something to check out in a timed session, and you do not care to squander precious qualifiers, you do it on rain tyres. Quite logical, under the existing rules, if fatuous in terms of common sense. Already there are complaints of the dangers of qualifying, with some going banzai through traffic. On wet tyres, the traffic is slower than ever, of course...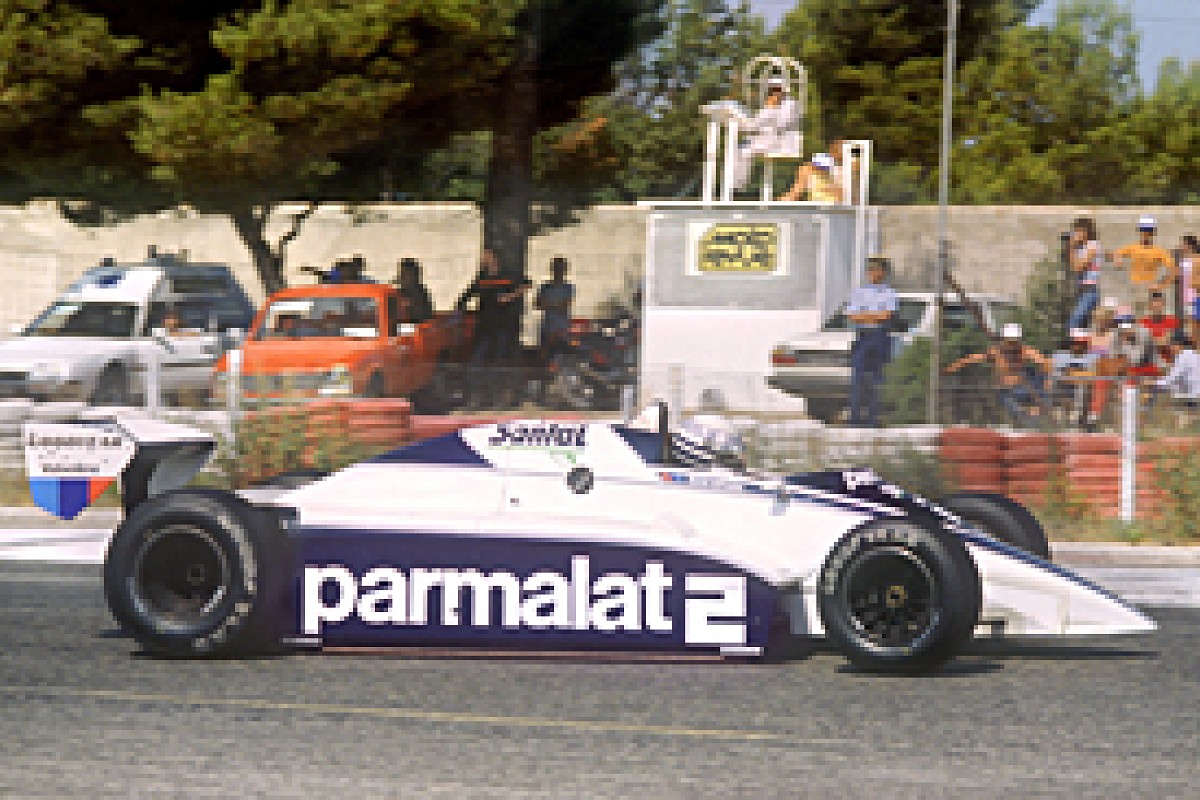 Riccardo Patrese outqualified Brabham team-mate Nelson Piquet and started fourth © LAT
Fourth and sixth were two more turbos, the BMW-powered Brabhams of Riccardo Patrese and Nelson Piquet, but their days of qualifying were worrying. On Friday morning Nelson blew up the T-car, and in the afternoon both drivers blew up their race cars! In the meantime the Brabham mechanics had worked away on an engine change for the space, and Patrese was able to do a few laps with it right at the end of the session. The following morning Riccardo suffered yet another blow up in his race chassis.
If the BMWs were fragile in the heat of Ricard, they were mighty impressive when pushing the Brabhams down the Mistral, and other drivers reckoned the white bolides to be quickest of all in a straight line.
On Friday there was no sign of the team's refuelling equipment which made such a highly-publicised first appearance at Brands Hatch, but the gear arrived the following day, and Gordon Murray - who began to give the matter serious thought after visiting the Indy 500 - said that, yes, it was their intention to use it in the race. On Sunday morning, indeed, practice wheel changes were carried out. The Brabhams would once again be starting light, playing the hare.
All the gloomy forecasts of 'two races' in France seemed to materialising. Renault, Ferrari and Brabham were out on their own. While it was clear that no normally-aspirated car could offer a realistic challenge on a track with a mile-long straight, the leading 3-litre runners got on with their work, trying to comfort themselves with the thought that the weather was hot and likely to stay that way, conditions which have hurt the turbos in the past.
Until the last session, Niki Lauda and Keke Rosberg led Group B, but the McLaren and Williams were displaced ultimately by the Alfa Romeo 182s of Andrea de Cesaris and Bruno Giacomelli, the two Italians apparently tied together throughout practice, just hundredths apart. Alfa Romeo drivers' contracts preclude their discussing the cars with the press, but Bruno did allow that "we changed virtually everything in the set-up since yesterday, and the cars are much better. Also," he added, "we put in long gear ratios for today, and we're much quicker down the straight."
On Friday afternoon Giacomelli lost his rear bodywork (a week after having the rear wing detach itself a Brands Hatch!), and this time it gave Derek Daly a big fright. "I tell you," grimaced the Irishman, "you can have a shunt, and that doesn't scare you. But this was different. I saw the bodywork come off the car, and it fluttered high into the air and seemed to hover there. I was sure it was coming down on top of me, but believe it or not, it fell on a bridge - just as I went under it!"
Daly did well during practice, qualifying 11th, immediately behind Keke Rosberg. The Williams FW08s sported new rear bodywork, with large air scoops to each side, and both drivers were reasonably content. "It's ridiculous how sensitive these cars are," Derek remarked. "One notch on the rear wing is the difference between understeer and oversteer." In the final session Daly cut his engine as he felt it begin to tighten up. An oil line was off, but no major damage was done.
Rosberg was a little mystified. "It's hard to understand," he said, "but something has changed - either in the car or the circuit conditions or something - since we were here testing. Then I could go through Signes flat every lap, no problem. Today I went through flat just once." And how was it? "I didn't like it," he replied sardonically. Nor, for that matter, did he like the spare chassis, opting to stick with his race car for almost all of practice. In the final session he ran out of fuel, fortunately near the end of the lap, and the mechanics were able to retrieve the car and get him out again before two o'clock.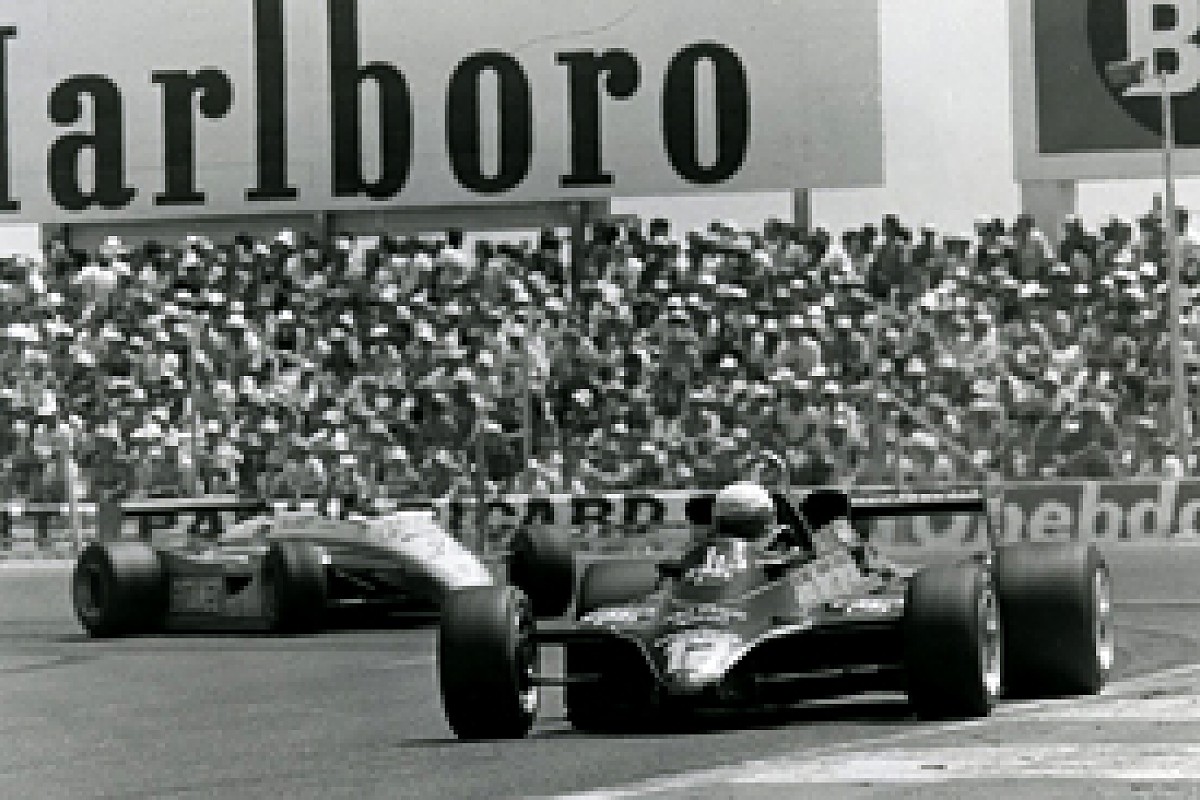 Geoff Lees stood in for Nigel Mansell at Lotus, Action © LAT
After practice Keke was very angry with Niki Lauda, who, he said, had blocked him deliberately during a hot lap. The Austrian was the fastest of all the Cosworth runners in qualifying, two-thousandths of a second ahead of Rosberg. Curiously enough, in the last session, during which most people improved their times, both Williams and both McLaren drivers were slower, which accounts for their being leap-frogged by the Alfas.
As at Brands, Lauda was delighted with his MP4B's behaviour, his only irritation being the way the turbos went away from him down the Mistral. "There's nothing we can do, except hope they break," he said. "It's a matter of 1000 horsepower at least. Joke." A blown engine on Saturday was his only problem, and that was changed in time for the final session.
John Watson was less satisfied with his McLaren, this being a new race car for the Ulsterman, having been the team's spare at Brands Hatch. Not totally happy with the balance of the car, John nevertheless qualified 12th: "I'd love to start a race from near the front, I really would. But still, I seem to go better in the races themselves than in practice, so I hope that's true tomorrow." With no points from the last couple of races, Watson needed a good finish to keep alive his world championship aspirations.
Elio de Angelis was less than delighted to discover that the fuel starvation problem, which cost him third place a Brands Hatch, was still present when practice began at Ricard! After the entire fuel system was changed, all was well, but the Lotus 91 was not really at home on the long straights, and Elio had to settle for 13th, immediately in front of Derek Warwick's Toleman.
Derek's performance at Brands Hatch the previous week did not sit well with some members of the Establishment. The Toleman team, of course, has never learned the FOCA handshake, and frankly it showed in the attitude of some of their rivals. "Oh dear, all you journalists, don't you realise you've been conned? Don't you see that they were running that thing on sticky tyres and a light fuel load?" In that case, I thought, they did remarkably well to get 40 laps out of it. Some of the bitchiness directed towards Toleman was quite simply pathetic, and one team manager who was fulsome in his praise for their showing stood out like a vegetarian piranha.
Many eyes, then, were looking to see Toleman fall flat at Ricard, and they did have more than their share of troubles. On Friday afternoon Teo Fabi's car pulled up ablaze on the Mistral. Caused by an oil leak, the fire was quickly extinguished, but Teo was out for the day. The following afternoon he qualified easily enough, but the same was not true of Warwick.
On Saturday morning Derek had a huge accident at the ultra-quick left-hander onto the Mistral. "You know," he said later, "that the kerbing on the outside is heavily rippled there. Well, I got out onto the ripples, and at the same time it jumped out of fourth. Next thing I was in the catch fencing ..." Thereafter, until the closing minutes of the final session, the Toleman mechanics worked away on the car, and, with very little time left, Warwick went out, at that point 25th fastest and only just in the race. In the course of just two flying laps he knocked a couple of seconds from his previous best time, and moved up to 14th: "I reckon that the lap after would have been quicker still, but the engine began to splutter out of fuel." A remarkably brave effort.
Michele Alboreto had new streamlined Brabham BT50-type rear bodywork on his Tyrell for Ricard, and very smart it looked. The Italian's practice days were trouble-free, unlike those of Brian Henton, whose car did not have the slippery bodywork. On Friday morning Brian was sidelined when an engine mounting broke, and in the last session he had to take the spare 011 after his race car stopped out on the circuit with an electrical fault.
The woes of Talbot-Ligier continued. Two years ago Jacques Laffite's Cosworth-powered JS11/15 was on the pole at Ricard, and some indication of the team's present dilemma may be gauged by the fact that Jacques was unable to match it last weekend. At the insistence of Guy Ligier, only JS19s were brought to Ricard. After testing with new sidepods at Dijon earlier in the week, the team arrived feeling that they had made progress, but the blue cars were still well off the pace.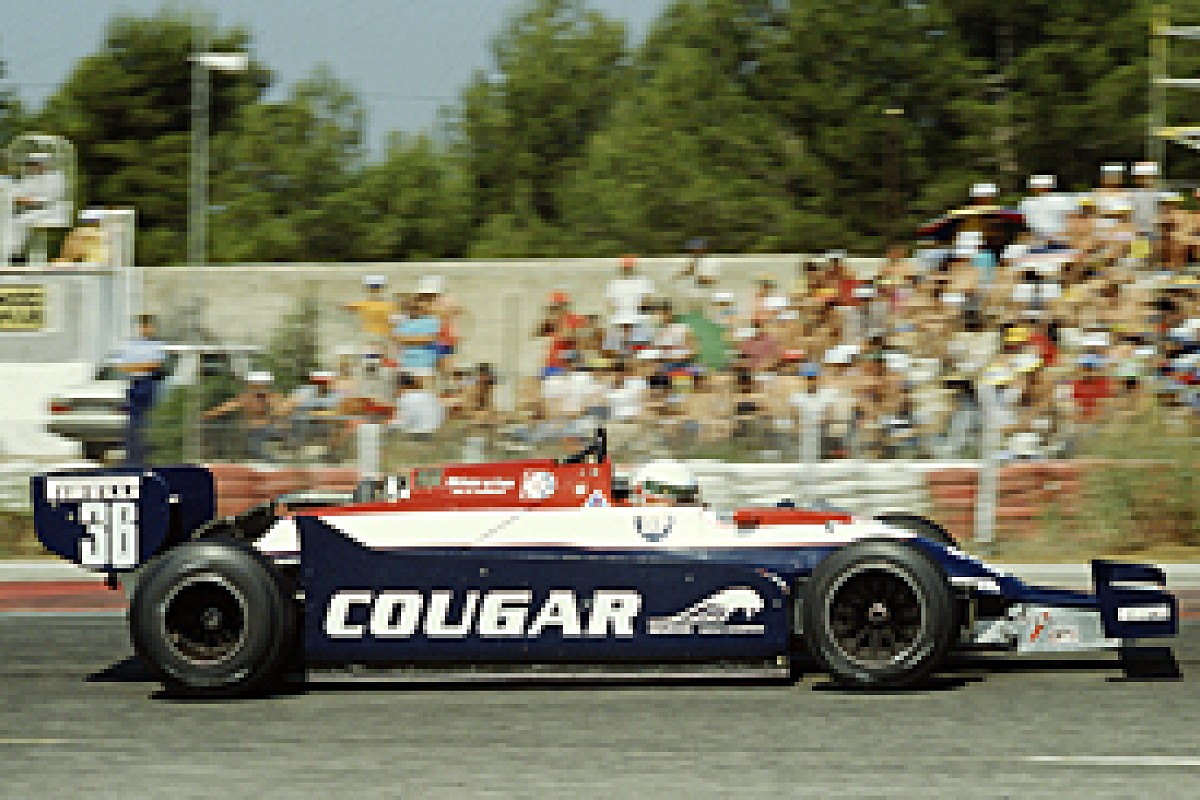 Teo Fabi qualified 21st fastest for Toleman © LAT
"We are hopeless on the straight," commented Jacques. "I think we have a little more downforce than before, but we cannot get it through all types of corner. We can adjust the car so it is good in slow or fast corners - but not both! And, anyway, we have to sacrifice downforce for straightline speed here." Laffite qualified 16th, Eddie Cheever three places behind him.
Jean-Pierre Jarier, his Osella among the quickest Cosworth cars down the Mistral, finished up fractionally quicker than Manfred Winkelhock's ATS, which had very attractive new rear bodywork. The German was again quicker than Eliseo Salazar, who qualified 22nd.
In our innocence, some of us used to believe that reducing the width of Formula 1 tyres would solve all the problems of the sport. It would reduce cornering speeds, increase spectacle, bring back the art of throttle control. Remember all that? Well, at Paul Ricard Pirelli introduced a new rear tyre which was actually 3.5cm narrower than their F2 rear! A narrow tyre obviously hives a straightline advantage, and the smaller 'contact patch' is balanced out by increased downforce from less hindered sidepods. Simply, there is less rubber in the way of the airflow under the car.
Both Arrows, thus shod, qualified with Marc Surer 20th and Mauro Baldi 25th, but Chico Serra failed to make it with the Fittipaldi. The Brazilian ran the new F9 in practice, as well as the F8, but a last-ditch attempt to get the old car in - after the new one's gear change stiffened up - was thwarted by the lack of fresh qualifying tyres.
After all the problems with his injured arm at Brands Hatch, Nigel Mansell decided to sit out the French Grand Prix, and Geoff Lees took over the wheel of the second Lotus 91. Following a disastrous first day, when he blew an engine in each session, Geoff qualified the car in 24th spot.
Last man in was Jochen Mass, the only March driver to qualify. Avon were in trouble at Ricard, and March personnel spoke gloomily of the race, reckoning that as many as three tyre stops would be necessary. Raul Boesel was actually slowest of all with his 821, the other non-qualifiers being Jan Lammers (Theodore) and Roberto Guerrero (Ensign). The unfortunate Columbian had to sit out virtually the whole of the last session while his engine was changed - and the DFV installed was one taken out at Brands Hatch, having already covered 500 miles!
1982 Paul Ricard starting grid on FORIX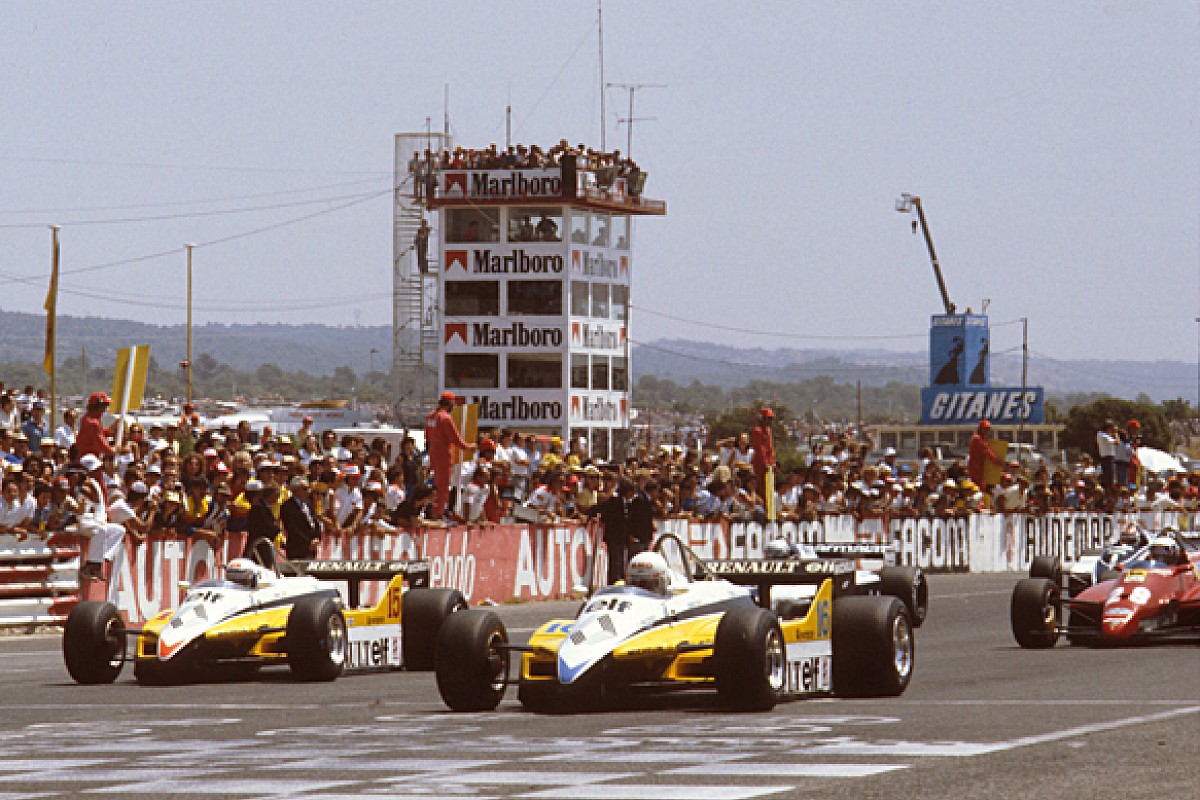 The race
Sunday brought more scorching weather, the blue skies tainted only by thick billowing smoke from forest fires, a fact of life in this part of the world at this time of the year. The Circuit Paul Ricard's big enemy has always been the attractions of the beach (and there were many on the stretch in front of my hotel room), but by mid-morning it was clear that large numbers were prepared to sweat it out in the traffic queues up to Le Camp. The organisers claimed the crowd - 70,000 - to be the biggest in the track's history.
There were few relaxed faces in the Renault pit on Sunday morning, for there was far too much at stake for levity. Rumours abounded that success today was essential, rather than merely desirable. As in practice, pressure. That part had been taken care of, with Arnoux and Prost taking the front row. But the front row had been Renault property for most of the season, so that in itself meant little. Ahead lay the big hurdle.
By Sunday morning the Brabham team had marked out their pits with the long orange stripes seen at Brands, and all was readied for the pitstops. It came as no surprise that Patrese and Piquet easily topped the times in the warm-up, with the Renaults next then Pironi, the McLarens (Watson again up there during a race day, full tanks, session), Tambay - and Teo Fabi's Toleman...
At 1.30 the green light flashed and the Renaults got away to a perfect start, Arnoux leading Prost into the first corner, with Pironi third. Out already was Jarier's Osella, which broke a driveshaft on the line. And before the end of the lap, the race was over for the luckless Fabi, who coasted to a halt with an electrical fault, engine dead. On the third lap Salazar's ATS went off the road at the flat out left-right after the pits. Five minutes gone, three cars out.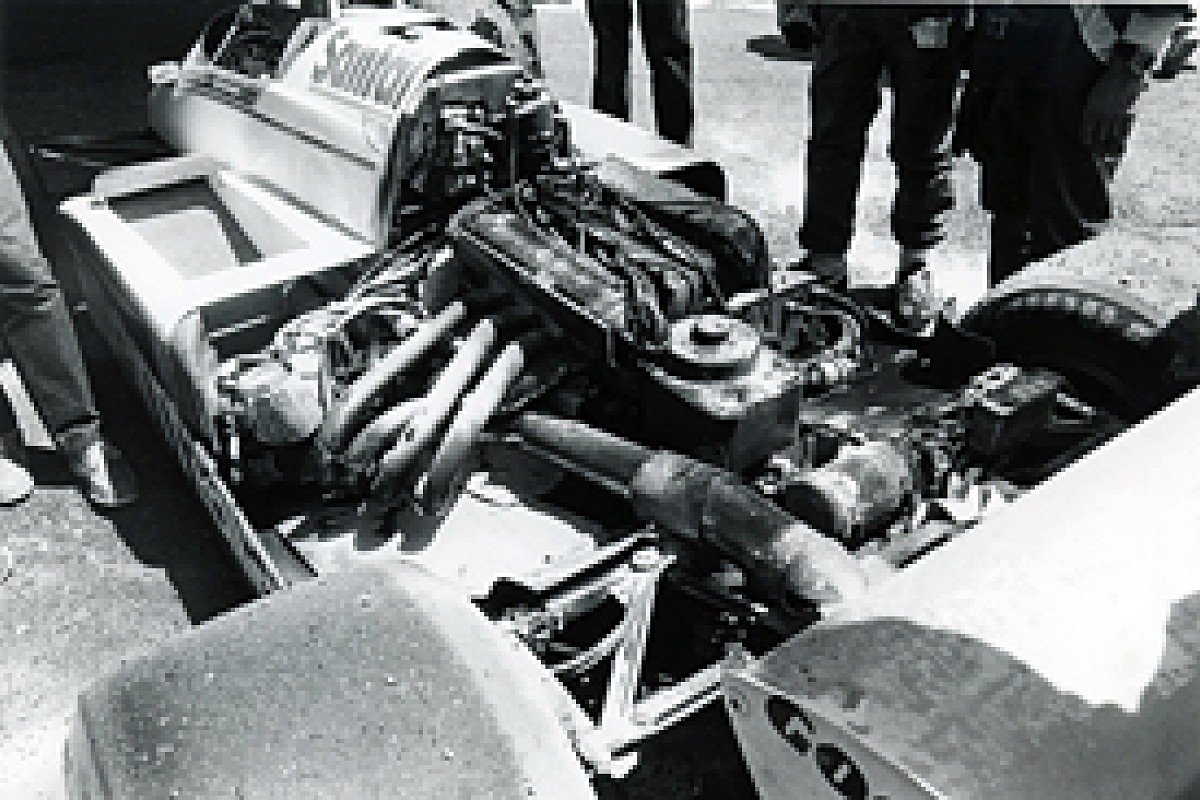 Early race leader Riccardo Patrese was stopped by a large turbo blaze© LAT
Arnoux and Prost ran at the head of the field for only one lap. By the end of the second Rene was still in the lead, but both Brabhams had passed Prost, having dispensed easily with Pironi's Ferrari. And after three laps Patrese, looking to be in absolutely rampant form, was marching away, having overtaken Arnoux in a pure horsepower struggle down the Mistral. Were the Brabhams running with half-full tanks? The men in yellow could only hope so.
Four laps: Patrese now led by almost four seconds, having set what was to stand as the fastest lap of the afternoon. Behind him, Arnoux still clung on to second place, but Piquet was in no mood to dally, and at the end of the fifth it was a Brabham-BMW 1-2. Then came the two Renaults. And then came the two Ferraris. Already a pattern was clearly set.
Behind the six turbos was Daly, who had started magnificently and comfortably led the normally-aspirated brigade, followed by Lauda, Giacomelli, Watson, Rosberg and Alboreto. But the domination of the turbos was total, as everyone had predicted. There were two races. It was that simple.

Patrese's run of glory was brief. After eight laps Piquet came through alone, while Riccardo came into the pits, engine blown, rear of the car well and truly ablaze. Quickly the fire was extinguished. The men of Renault began to hope.
Piquet, though, seemed secure enough, pulling out at least another second over Arnoux every time around. Already the field was well spread out: Piquet - Arnoux - Prost - Pironi - Tambay - Daly - Lauda - Giacomelli - Watson - Rosberg. That was the way of it after 10 laps.
On lap 11 there was disaster. Towards the back of the field Mass and Baldi were in a dispute over 18th place, the Arrows sitting in the March's slipstream down the Mistral. At the entry to Signes the Italian ducked out and made to hold his line, and the two cars touched, virtually at maximum speed.
The outcome was horrifying, both cars hurtling off the road, brushing aside the catch fencing. With today's cornering speeds, the run-off area at Signes is woefully inadequate, and Mass's March was travelling at colossal speed as it hits the tyre-lined guardrail. From there, it went straight over, coming to rest, upside down and on fire, halfway into a spectator enclosure. Mass, somehow, escaped with nothing more than a light burn on his shoulder, and Baldi was completely uninjured. More miraculous by far though, is that no member of the public was killed. About a dozen spectators were hurt, some with second degree burns, but none was dangerously injured.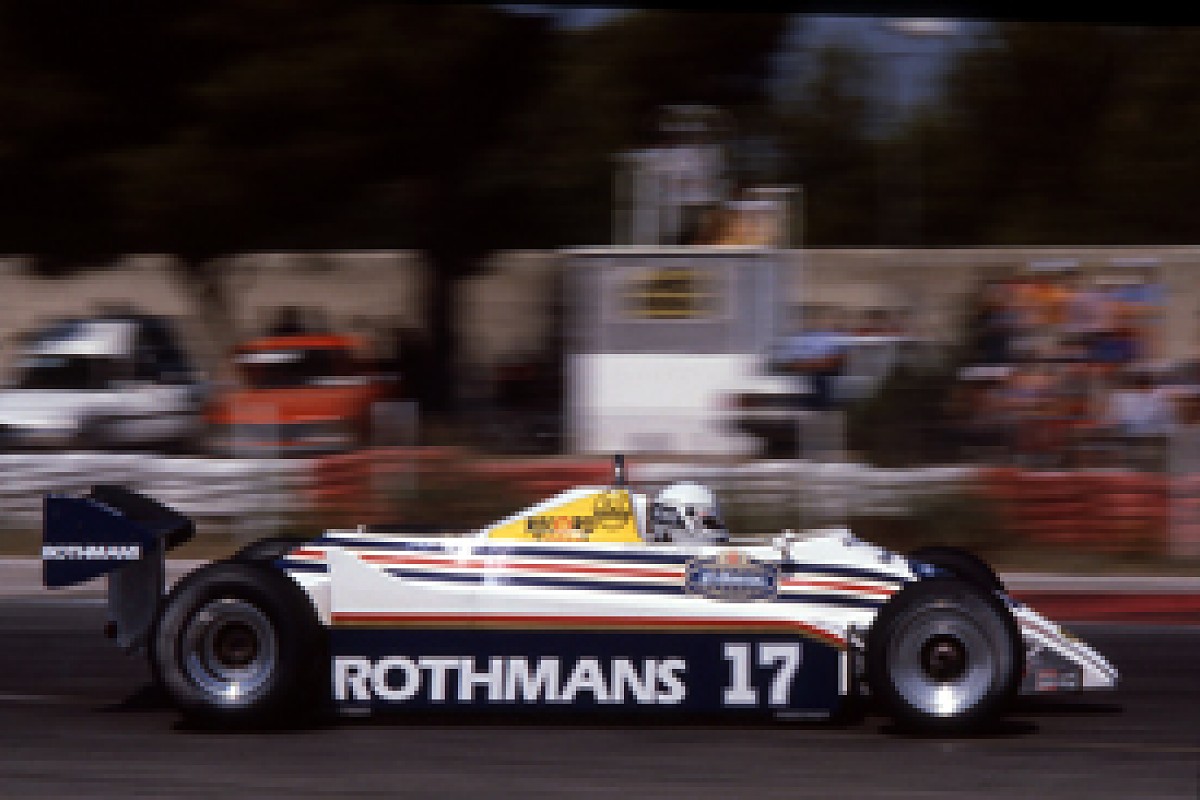 Jochen Mass, and Formula 1, was lucky to escape an accident where his March landed in the crowd, without fatality © LAT
For so long the signs have been there. Early this year Pironi's Ferrari crashed during testing at Paul Ricard, and the wreckage finished up in the spectator enclosure, at Beausset, the corner after Signes. At Zolder, Villeneuve's somersaulting car came within a few feet of the crowd. And now this. Grand Prix racing can count itself lucky that it is now facing a crisis. If there should be another tragedy, such as that at Le Mans 1955, FISA will count for nothing. The matter will become important. Governments will make the decisions about racing's future -as did that of Switzerland, in the aftermath of the Le Mans disaster... In the name of sanity, Formula 1, take your blinkers off before you are put out of business.
The activity of ambulances and fire trucks, working their way to the scene of the accident, was in chilling contrast with the race itself. Essentially, there was no race, merely a fast parade, a procession of white, yellow, red and so on. At the front, the only interest lay in Piquet's progress. How big a lead could he build? When would he stop? Would he stop?
On the 12th lap Watson came past slowly, his McLaren sounding dreadful, and at the end of it he duly pitted, a battery connection broken. The mechanics set to work on the car, which was unfortunate for Lauda, who came in after 16 laps, already in need of new tyres. Seeing that the crew was otherwise occupied, Niki continued straight down the pit lane, remaining out for another lap before making his stop. Rejoining finally, he had dropped sixth to 11th, one place behind Daly, whose brilliant early showing had come to nought when he, too, required fresh rubber.
Although Piquet continued to extend his lead, the BMW turbo engine had developed a harsh rasp - enough to give further succour to the Renault pit. Arnoux, in second place, was a comfortable distance in front of Prost, and Pironi's Ferrari was a further 20 seconds behind. Only the sound of sirens and the sight of ambulances jarred with the sleepy heat of the afternoon. There was no racing going on.
In the early laps it was already obvious that British fans, hoping for a repeat of Warwick's Brands performance, were in for disappointment. Derek had lost his clutch, pitting on lap 14 to have it freed, at the same time taking on new tyres, of course. Thereafter the car ran on to the finish, but it was a frustrating afternoon for Toleman.
For Brabham, it was more than that. At the 24th lap Piquet's engine blew up mightily, leaving the Renaults first and second. "Why," mumbled one of the pit crew, "did we ever start talking about bleedin' pit stops? Since then, we've been packing up by half-distance..." Nelson's lead, by the way, was 22s at the time of the explosion.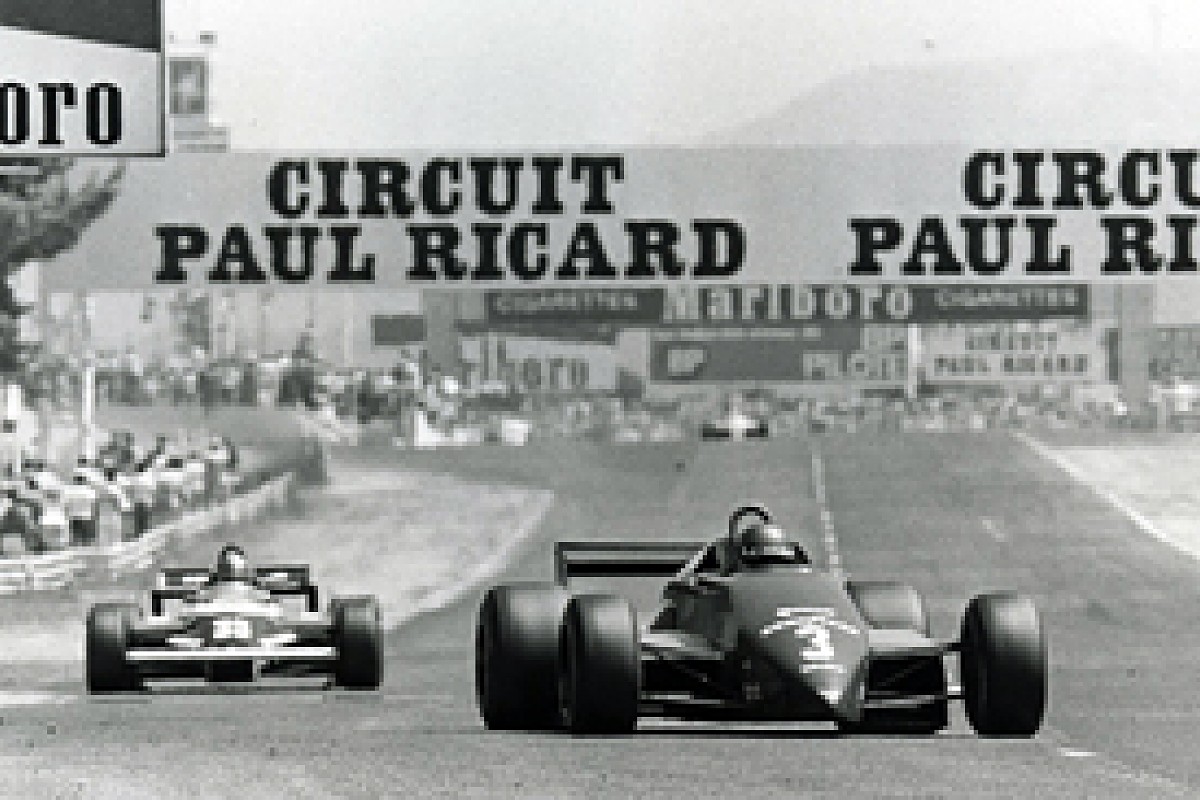 Michele Alboreto finished an encouraging sixth for Tyrrell © LAT
Lap 25: Arnoux - 10 seconds - Prost - 16 seconds - Pironi - 15 seconds - Tambay - 20 seconds - Rosberg . Getting the picture? This was one tedious motor race. The only hope of a scrap lay in Alboreto's attempts to close on Rosberg, who was in some difficulty with blistered tyres. Behind these two, Daly had made a good recovery after his tyre stop, dispensing with both Alfas, but too far behind Alboreto to have a reasonable chance of catching the Tyrell for a point.
The last half of the race was truly soporific - except back in the Renault pits, where hearts beat fast, where reputations - indeed, futures, according to rumour - were on the line. Time after time, though Arnoux drove past, his car running faultlessly, and most people hoping that, just for once, his luck would hold.
Apart, that is, from Prost. The second Renault had lost a skirt, and was quite unable to keep pace with the leader, and there arose for the Renault management a ticklish problem. Arnoux is a popular man in France, a driver renowned for his ill fortune, a regular pole position starter, without a victory in more than two years. Prost, however, has more points, and remains Renault's best hope for the world championship. And to a company like Renault, it means a very great deal to have the world champion on your books. In the later stages, therefore, the signs went out to Arnoux: let Prost win.
We may now have the beginnings of a 'Jones and Reutemann situation' at Renault for little Rene decided against the plan. "If I had been five seconds, maybe even 10, ahead of Alain, I would have let him win," he remarked afterwards, "but I was 23 seconds in front..."
Finally, mercifully, the 54 laps came to a conclusion, and everyone could retire to the paddock for a long draught of cooling liquid. A lonely race was over, ending in total triumph for Renault, whose cars held together when it most mattered. (Interestingly, they have now won three of the last four French Grand Prix). But there was considerable coolness to dilute the victory. Prost was not a happy man: "We agreed before the race that, if we were running first and second at the end, I was to win..." Arnoux countered that: "I was going well, and I didn't want to take the risk of easing off so much, break my rhythm - or the rhythm of the car. Pironi was not <i>that</i> far behind. And, anyway, I have not completely abandoned by own world championship hopes. The next few circuits on the calendar are ones which suit me very well..." It was good to see him win, after so many disappointments.
Pironi was philosophical: "Well, well, four points, anyway. I knew immediately that we could not run with the Brabhams and Renaults. Patrick and I were too conservative on tyre choice. I was simply a matter of driving round." Tambay agreed: "We had 'A' compound tyres on the right, and very hard 'AA' on the left. It was a mistake, like driving on ice." During the last few laps Tambay's car began to misfire, but nevertheless took a comfortable fourth.
Winner of Class B was Rosberg's Williams, the first non-turbo, just a second and a bit ahead of Alboreto's Tyrell. "My left rear tyre was badly blistered on the outside shoulder," reported Keke, "and Alboreto gained a lot through the twisty bits. Fortunately we ran very little wing, and I was quicker than him down the straight." Just out of the points, and unlucky to be so, was team-mate Daly.
Lauda was out of the hunt after his tyre stop, finishing eighth after latching onto Prost's Renault during the late stages. "Clever old Rat," said someone afterwards. "He might not have got any points today, but he made sure his sponsor got some TV exposure..."
Around at the end also were the Talbot-Ligiers, after a miserable race in which both Laffite and Cheever stopped twice for tyres, Henton's Tyrrell, Winkelhock's ATS, Surer's Arrows, and Lees in the Lotus, which went well after an early stop for tyres, De Angelis had retired the other 91 early in the race with low fuel pressure. Also running at the finish was Warwick.
Victory, then for Renault, domination, as expected, for the turbos. And the pattern may be set now for the next four races. We can only hope that they turn out better than this almost totally forgettable afternoon. It was pleasant to see Arnoux having reason to smile, and it was horrifying to witness the aftermath of the accident at Signes. That, more than anything else is the abiding memory of Ricard 1982.
1982 Paul Ricard results on FORIX