It was hardly a riveting race. Rene Arnoux's Renault seized the lead from Patrick Tambay's Ferrari at the end of the first lap, and they crossed the line in that order an hour and 20 minutes later. After the first six laps or so, they were under no threat from anyone.
This was a turbo race. The clutches of both Brabham-BMWs expired almost at once, removing Nelson Piquet and Riccardo Patrese from the equation. Mario Andretti, Ferrari's guest driver for the weekend, had started, remarkably, from pole, but had sticking throttle problems from the outset and finished a distant third. And Alain Prost made a mistake on the opening lap, clambered up to third, then retired with more Renault fuel-injection trouble.
The turbos, then, dominated as expected, but John Watson had a fine day, taking fourth place in his McLaren MP4B - the first time he has finished in the points for three months. World championship leader Keke Rosberg had an unproductive afternoon, coming in eighth after a lengthy pitstop to replace a lost rear wing. They now go to Las Vegas, where Watson must win with Rosberg failing to score if the McLaren man is to take the title. Tenuous, but possible.
The remaining scorers at Monza were Michele Alboreto's Tyrrell and Eddie Cheever's Ligier, both of which were a lap down at the end.
The Monza crowd was perhaps the largest for many years, drawn there by the thought of Andretti on the pole. The former world champion showed scintillating form during the final day of practice, and did a fine job for Il Commendatore on race day. Between them, Tambay and Andretti scored 13 points, and that virtually tied up the constructors' championship for the Maranello concern. Tambay, still in considerable pain at Monza, put in a very courageous display.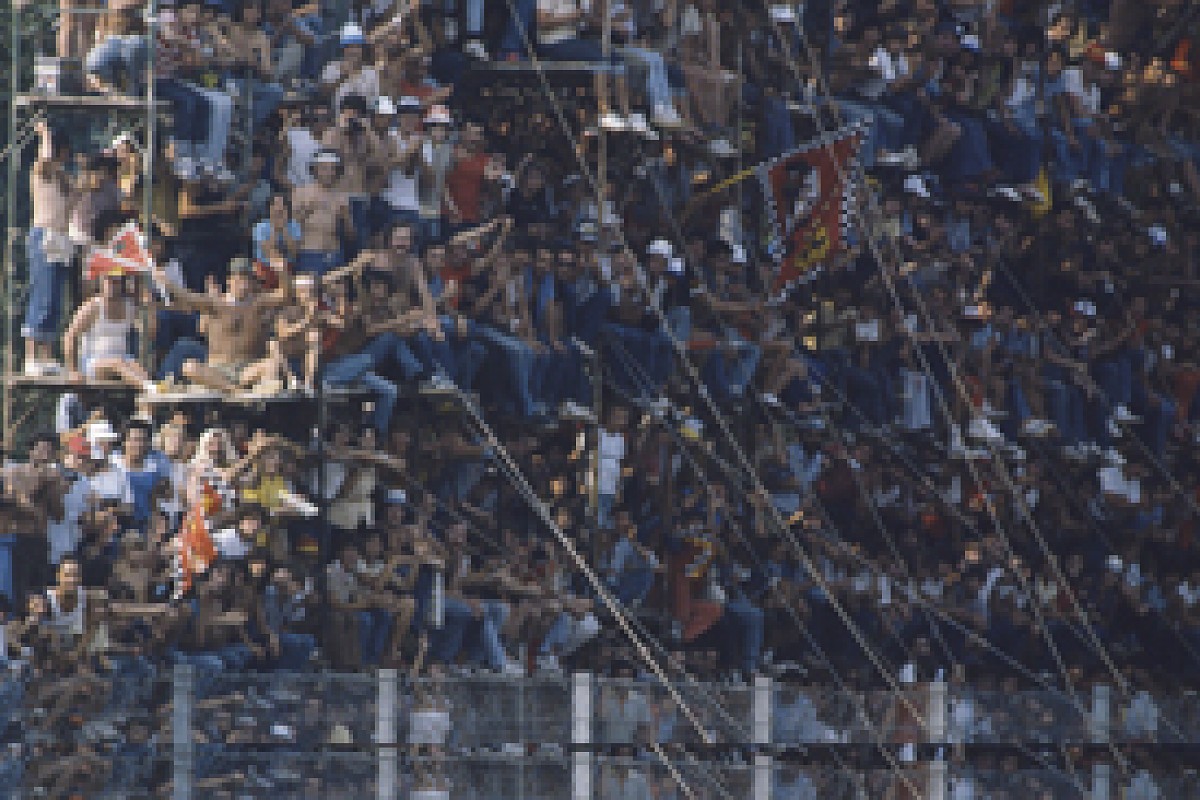 Advanced ticket sales were poor, but you'd never have known it © LAT
At root, though, there was no disguising the fact that the 53rd Italian Grand Prix was a pretty boring affair, due in part to the superiority of the turbos, in part to the multiplicity of chicanes at the modern Monza. Necessary they may be, with the cornering speeds of today. Undeniably they break up the field, cause a multitude of little incidents, serve to make only for processions.
The championship will be decided in a few days' time. After Caruso, we move on to Liberace. Strong wine, move over for saccharine.
Entry and practice
A little bit of history, first of all. Jacky Ickx was on pole, with Chris Amon next to him. Row two: Jackie Stewart and Clay Regazzoni; behind them, Denny Hulme and Emerson Fittipaldi. That was the front of the grid for the Italian Grand Prix of 1972.
Little of motor racing has managed to shelter from the winds of change in that decade, although most of Monza itself remains unchanged. The fans, the tifosi, are the same from year to year; passionate, loud and unruly - except that this time there was serious concern that their numbers would be reduced. True, there were huge crowds for testing - as many as 45,000 on one day! - but then they had only paid a quid or so. Race day prices were steeply higher than ever before and advanced ticket sales were not good. Until...
...it became known that Andretti would be making a sentimental journey to Monza. To drive a Ferrari. And here is a parallel with the 1972 race, for that was Andretti's only other F1 drive for the Commendatore in Italy. Then he qualified seventh. This time he did rather better than that.
"Monza," Amon used to say, "is a great leveller. If you're not in a Ferrari, the crowd might well respect and admire you, but no more than that. But if you are in a Ferrari, their enthusiasm is just overwhelming. You get used to being mobbed and worshipped. Then you leave Ferrari, go back to Monza in something else - and suddenly you're just another racing driver..."
It was that way with Andretti during his Lotus days. With a name and reputation such as his, it was inevitable that the tifosi would respect him, but he was, after all, trying to beat the Ferraris, and there can only be limited enthusiasm for someone like that, an Americano in a black car...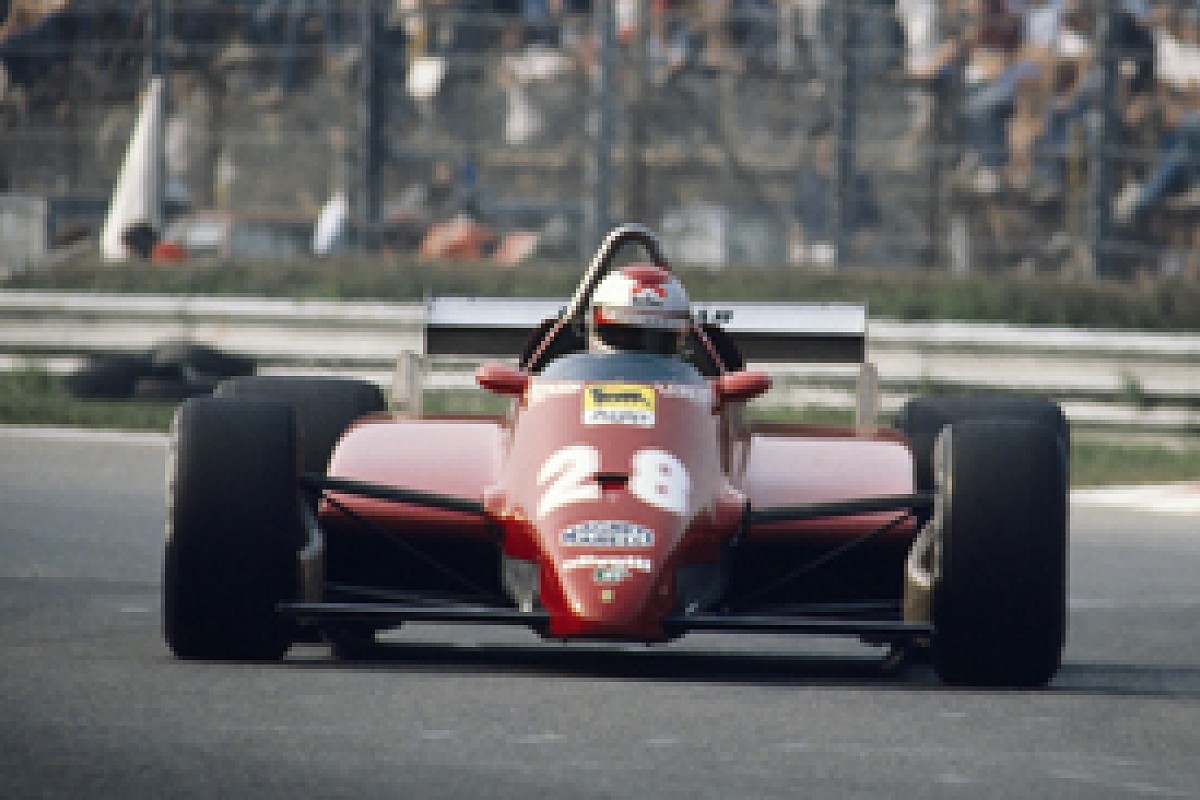 Andretti stunned the crowd by putting his Ferrari on pole for his return © LAT
Last weekend though, he was an Italian again, back with Ferrari and loving it. Forgetting his disappointing weekend with Williams at Long Beach, he has been out for Formula 1 for a year now. "I was never really happy with myself that weekend at Long Beach," he said last Friday. "And that was why, if I was gonna take up Ferrari's offer I wanted to come over here in good time, do plenty of testing, get to know the car, which wasn't really possible with Frank [Williams] because there was so little time. You know me... and that's the way I am. I really need to feel that the car and I are talking to each other before I can really give it a go."
He really did give it a go at Monza, although he was only sixth quickest on the first day. "This is a really fine car, no question, but I feel that I just didn't get the best outta my qualifiers," he said. "You know, you sort of lose the habit of having to qualify in traffic, and today I allowed myself to be blocked several times where I shouldn't have done..."
Saturday was a different matter. First set of qualifiers: 1m30.331s, 1m30.848s. In. Wait for the last few minutes. Out again, warming up: 1m55.120s, building up, down to and through the Parabolica, out of it cleanly, over the start line flat-out. Two flying laps, a 1m28.705s and then an absolute barnstormer of 1m28.473s...
Up in his little box above the main grandstand the commentator was almost crying with emotion, screaming into his microphone. "Andre----tti!" The rest was lost, engines drowned in the welter of sound from the stands. Andretti, 42-years-old, over for a quick visit, was on pole. In the pits Mauro Forghieri jumped up in the air and lost his glasses. Handshakes all round, even a few tears in the Ferrari pit. This was Monza in extremis.
Back in the Ferrari motorhome Tambay grinned and shrugged off his disappointment. Still in quite a lot of pain, he had been conclusively quickest the day before, and he really wanted to start at Monza from pole. Jody Scheckter wandered in: "How was it, Patrick?" "OK, not bad. I thought yesterday that I could improve by about four tenths, which is exactly what I did today. I guess maybe I bedded in my qualifiers for too long..." He was silent for a second, then looked up and laughed. "Well, well, beaten by the old man!" Only he didn't say "beaten"...
You were at 50 per cent, you reckoned, at Dijon. How many today? "Oh, I don't know. Eighty, perhaps. I feel much, much, better, but still I am a little concerned about how I will last in the race. After a few laps it feels like I have very bad cramp in my shoulder and arm. But this is very important, you know. Forgetting that it's Monza and all that, Ferrari needs points for the constructors championship. I must try and get through..."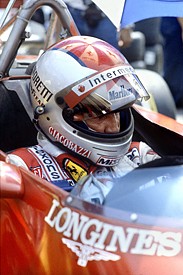 Andretti was mobbed as soon as he got out... © LAT
Then Andretti came in, engulfed by frantic Italian TV people, journalists and fans. He was sweating hard. On his face there was a quiet smile of satisfaction, which occasionally broadened into that familiar grin. "Some of it, I guess, is down to me, getting to know the car and all that, but most of it is down to the engine. Man, it was just fantastic today... yeah, sure, I'd love to do Vegas as well, but it really depends on whether my sponsors will let me miss Michigan... the problem with doing something like this is that it reminds you how much you miss Formula 1... did I accept as a favour to Mr Ferrari? Well, sure, up to a point. But mainly I did it as a favour to me! Jesus, what kind of guy can say no to Ferrari at Monza?"
It was all good old Andretti patter, which many of his less popular and colourful colleagues so much resent. Well, of course, they were saying two minutes after practice, that just shows how quick the Ferrari is - if he can put it on pole... He didn't go very well at Long Beach, did he? There may have been greater drivers in this business, but the fact remains that Andretti is a star, and always has been. And his return, albeit temporary, to grand prix racing was more than refreshing. It is unlikely that anyone will ever replace Gilles Villeneuve in the hearts and minds of the tifosi, but Andretti last Saturday gave them reason to rejoice again, and to be part of that was moving.
Ferrari first and third then, with Piquet's Brabham-BMW between them. The world champion was fastest of all during the first untimed session, and always looked like the only real threat to Maranello. Both he and Patrese found themselves short of brakes at first, but larger ducting at the front and rear sorted that out, after which both cars ran without problem. "The handling here," said Piquet, "is as good as it was bad at Dijon."
Despite the heat of Monza neither car suffered engine failure at any stage of practice, moving Gordon Murray to comment that, if anything, it was all going too well. Piquet made a stirring effort to steal pole position during the last few minutes of the final session, but admitted afterwards that Andretti's Ferrari was just slightly out of reach. He had driven absolutely flat-out, with nothing left, and doubted that he could have gone any quicker. His banzai lap - in 1m28.508s - was a full second faster than any of the others. Patrese was completely unable to match his team-ate on this occasion, qualifying fourth, nearly 1.5s slower.
Just as Michelin had an undisputed qualifying tyre advantage at Dijon, so Goodyear was in the same position at Monza. Many Michelin runners, indeed, found their Q-tyres little grippier than regular race rubber. Arnoux's Renault RE30B, for example, did not use qualifiers on Saturday afternoon, when it set its best lap.
Because of this problem, the Renaults were not able to match their turbo rivals in practice, both being nearly 2s from pole. Arnoux, of course, was not too concerned about this. When he heard Andretti's time, he grinned broadly. He, after all, will be in a red car next year, news confirmed by Ferrari the day before practice.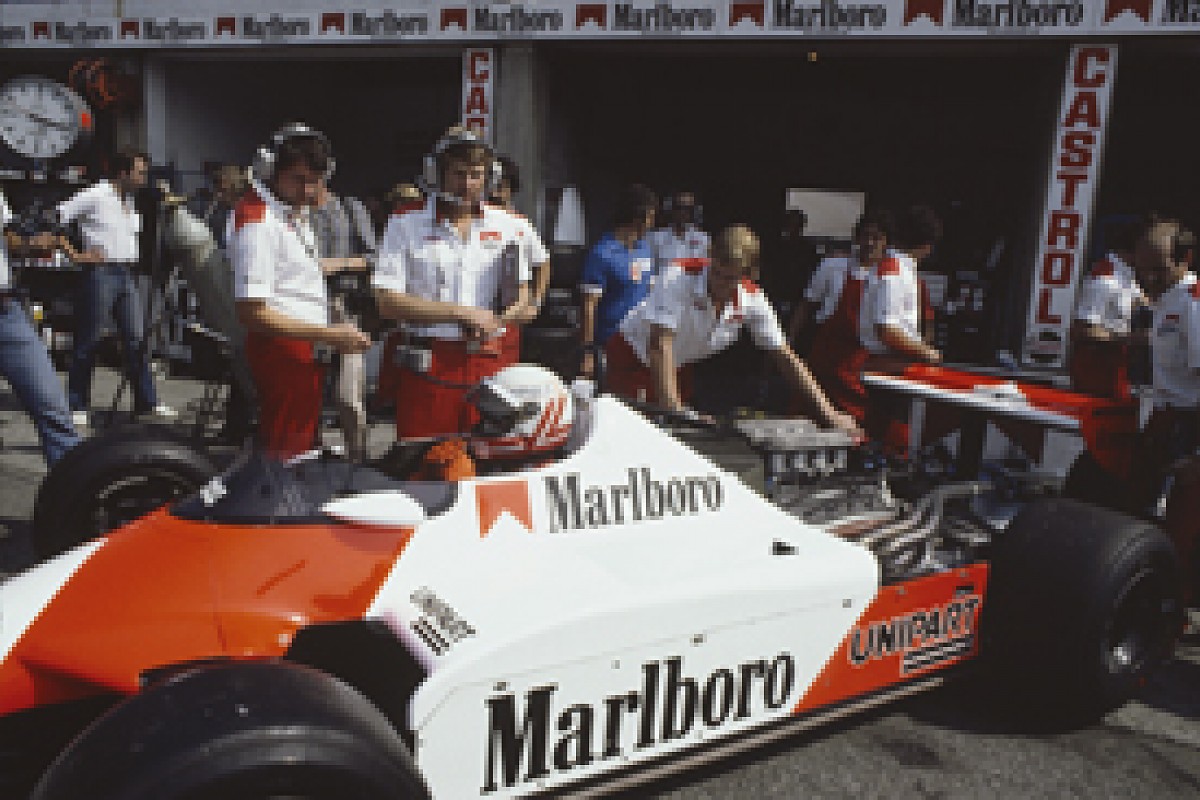 Lauda prepares for another - not especially quick - qualifying run © LAT
Prost, who completely dominated last year's Italian Grand Prix, finished up a fraction quicker than Arnoux. He did use qualifiers to set his time, then switched to race tyres for the balance of the session. "There was no point in doing anything else", he reckoned. "We cannot run with Ferrari or Brabham because of the tyre situation, so it is better to concentrate on full-tank testing and a good set-up for the race. If I am to have any chance in the championship, I must win tomorrow, nothing less. It is my last chance."
Arnoux's Saturday was quite fraught, for he had a coming-together with Elio de Angelis during the morning session, and first of all it seemed that the RE30B's monocoque was damaged too badly for immediate repair. But the mechanics went to work, straightened out the ripples, and had the car ready in time for the last session - whereupon a turbo broke! Arnoux got out only in the last 10 minutes, during which he set his best time.
It was no surprise that Rosberg led the non-turbo brigade, nearly 1s quicker than any other Cosworth-powered car. It was that way on Friday and Saturday, yet Rosberg was not without his troubles. On the first afternoon, after setting his fastest lap on race tyres, the Finn had an engine blow in the race car, after which he was strapped in the spare. And soon he had an unpleasant experience at the approach to the Ascari chicane - "Suddenly I felt one of my legs go very cold." The on-board fire extinguisher had set itself off, and Rosberg lost no time in steering towards the run-off area, freeing his belts and starting to vacate the cockpit before the Williams had come to rest.
The following day he did remarkably well to get around in under 1m32s. "As I was starting my flying lap, the oil pressure warning light came on, but I decided to keep going, and fortunately everything was OK..." That done, he took the race car once more, and put in some work for race day.
Rosberg started seventh, with Derek Daly 13th. On Friday the Irishman complained of too much porpoising from his car, and he began the timed session late, the mechanics repairing a sidepod that had been lightly damaged during the morning. The following day's official session was also disappointing for him: "When I was on my quick lap, I had to go over some dirt in the road. Someone had been off, and showered the track."
Apart from Rosberg's Williams, the fastest normally-aspirated cars at Monza were the Alfa Romeo 182s of Bruno Giacomelli and Andrea de Cesaris, which qualified eighth and ninth. "The balance of the car is perfect here," remarked Giacomelli, delighted to be ahead of his team-mate. "But in the straight the turbos disappear."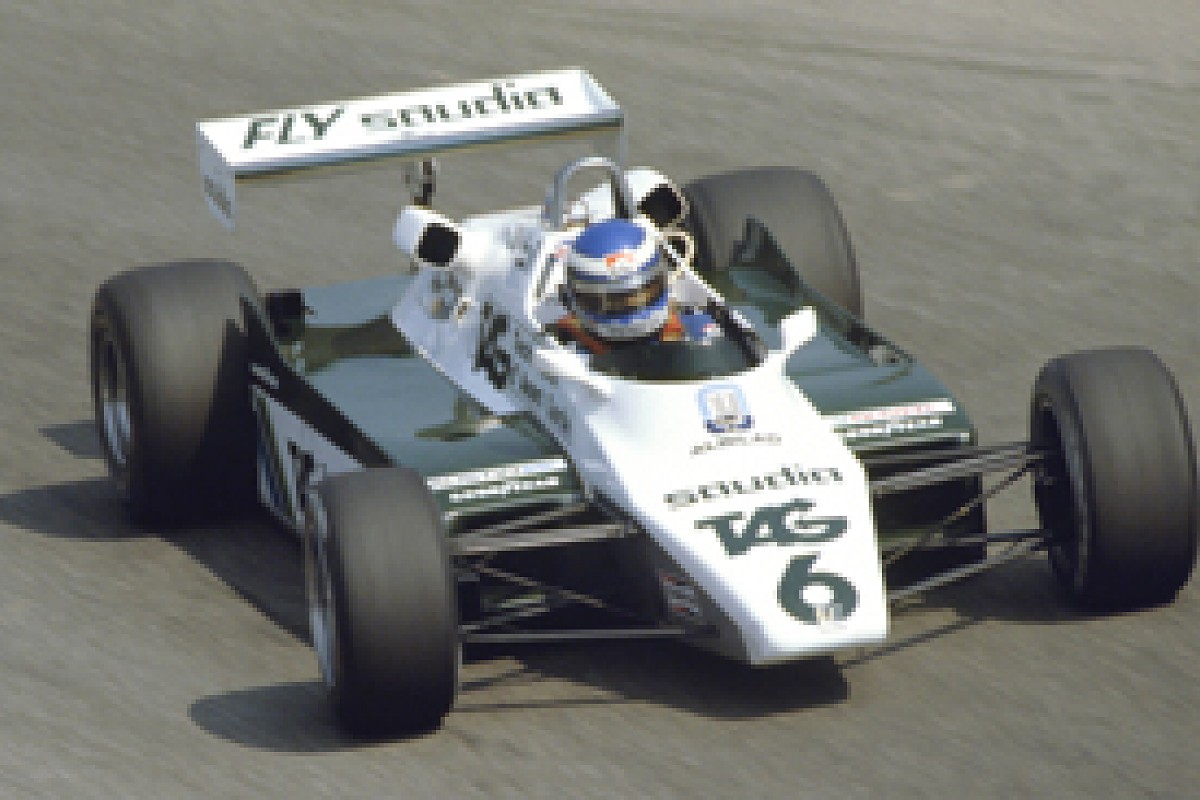 Rosberg knew on Saturday that one point would make him champion © LAT
There had been rumours that the Italian team would bring a 182T to Monza, but there was no sign of it on Friday. Testing a week earlier had not gone especially well, but de Cesaris said he would be going to test the turbo-powered car at Balocco after qualifying on Friday: "If it goes well, we might have it here for tomorrow morning." And, sure enough, there it was the following day. Andrea was sufficiently impressed by its horsepower to say that he might try and qualify with it, although there was no question of using it in the race.
In the event, however, any such thing was out of the question. On Saturday morning the car was back in the pits after only a couple of laps: de Cesaris had been over a kerb sufficiently hard to loosen a sidepod. In the afternoon he ventured out again, once more for only a handful of laps. This time the problem was fluctuating boost pressure. Alfa Romeo first showed its turbo V8 to the press at Imola two years ago. That same weekend Ferrari launched their 126 turbo - admittedly already in chassis. At Monza you were left with the feeling that some Italian companies get more done than others!
The other Marlboro-liveried cars, the McLaren MP4Bs, were close to the Alfas on the grid, with Niki Lauda 10th, Watson 12th. Neither was particularly happy on the first day, each complaining of a lack of grip through the slow corners (i.e. chicanes - Monza had no 'slow corners' until the epidemic of chicane blight).
Saturday was better. Overnight changes to spring rates, ride-height and skirts improved the cars' responsiveness, Watson peeling more than 1.5s from his previous best, climbing from 19th to 12th in the process. Lauda, singularly unimpressed with Michelin's Monza qualifiers, reckoned that all would be well in the race. By Friday afternoon, incidentally, his helmet bore a TAG turbo sticker!
Between the McLarens on the grid we had Alboreto's Tyrrell 011, carrying evidence of the team's one-race sponsorship from Denim Musk. The cars were dark green at Monza, and Ken and his boys were obviously and understandably keen to impress, in the hope of further backing in the future. As usual Alboreto was impressive; as usual he had only nice things to say about his car - with the reservation that another hundred horsepower would have been nice. Brian Henton's sister car qualified 21st.
Cheever, elated at the Renault director's decision to hire him for 1983, was the quicker of the two Ligier drivers all weekend. During the first untimed session hiss gearbox broke, and there was insufficient time to repair it before the opening qualifying session, Cheever having to take Jacque Laffite's JS19 to set his time. Both Ligier drivers were reasonably content with the handling and balance of their cars, but frustrated by their lack of straightline speed.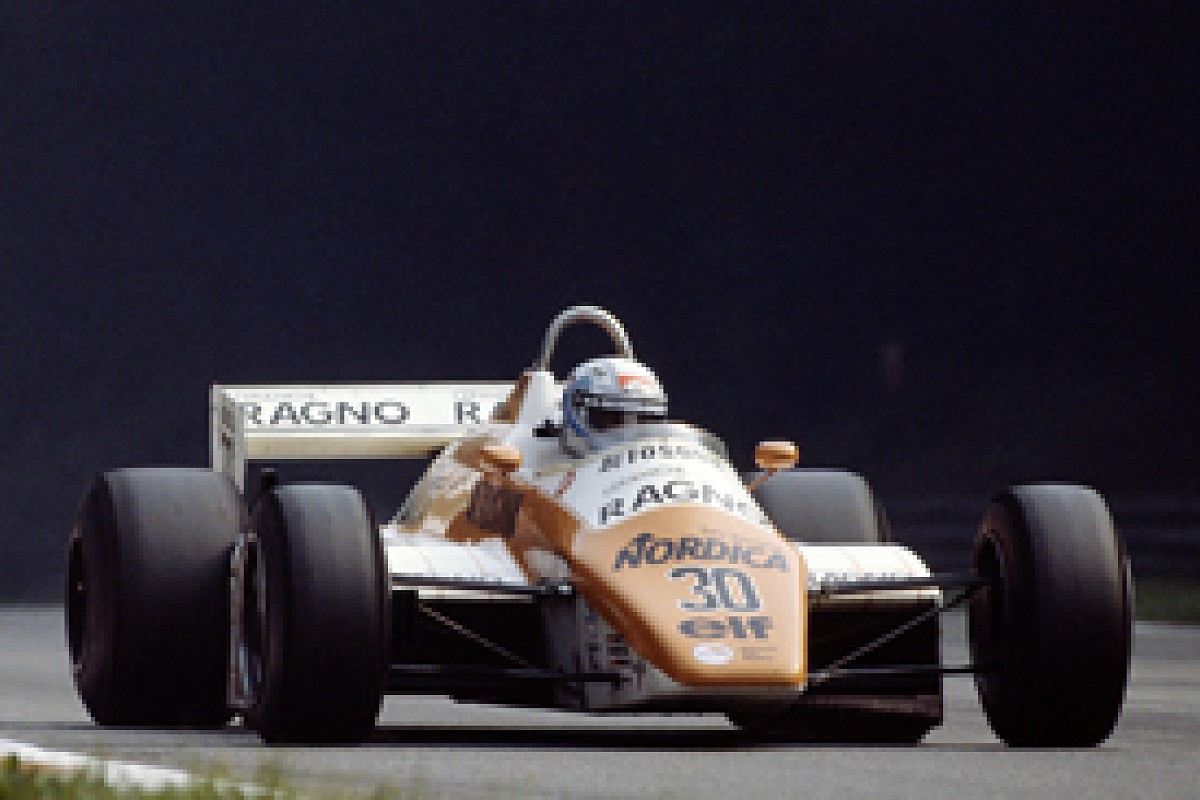 Baldi qualified his Arrows 24th... © LAT
Cheever reckoned that one of the major handicaps was one of weight: "I think a lot of people round here are using lightweight cars..."
It was ironic, therefore, that Lafitte's car should be disqualified from the Saturday afternoon session, when post-qualifying weighing revealed it to be only 574kgs - six under the necessary. You had to feel sorry for Laffite in his team. Turbos apart, that JS19 was probably among the heaviest on the track! Ah, you see, it's not what it weights when it's on the track that matters; it's what it weighs when it's weighed...
There was also a good deal of cynicism on Friday when Jean-Pierre Jarier's Osella turned in ninth best time. Nudge, nudge... An Osella? At Monza? Ninth? "I see they're using their DFL again", grinned one team manager. Others pointed out that JPJ invariably goes well at 'contract time'. On Saturday, though, when nearly everyone went quicker than the day before. Jarier was 0.6s slower, slipping down to 15th on the grid.
Most people had been hoping for good things from the new Toleman-Hart TG183. Derek Warwick had done a testing lap of 1m34.10s, and felt confident that he could go considerably quicker than that. On Friday morning, however, he found the handling of the car dreadful. Pirelli had new-construction tyres for Monza, and they suited neither Warwick's new car nor Teo Fabi's 'Belgrano'. But there was more to Warwick's problem than that. After the first session it was discovered that a rear damper mounting was broken. Thus, he got out only late in the timed session. And the following day, surprisingly still running the new Pirellis, his best lap was 0.5s quicker than he had managed in his testing.
"I was absolutely flat-out. Nothing left," he commented afterwards. During the morning a turbo had seized, losing him 40 minutes, and the day before he had learned that Renault was going for Cheever. All told, it was a weekend he wanted to expunge from his memory.
Fabi ran the older tyres on his car on Saturday, and was much happier, finishing up only 1s slower than Warwick. They qualified 16th and 22nd respectively.
For Lotus the practice days were disastrous. Forget handling problems, porpoising and middling straight line speed. On Friday afternoon de Angelis crashed at Parabolica: "It was my fault. I was on my flying lap and I just came into the corner too fast, and lost it past the apex..." The 91 went into the catch fencing, which tore off the right-front corner. The mechanics went to work.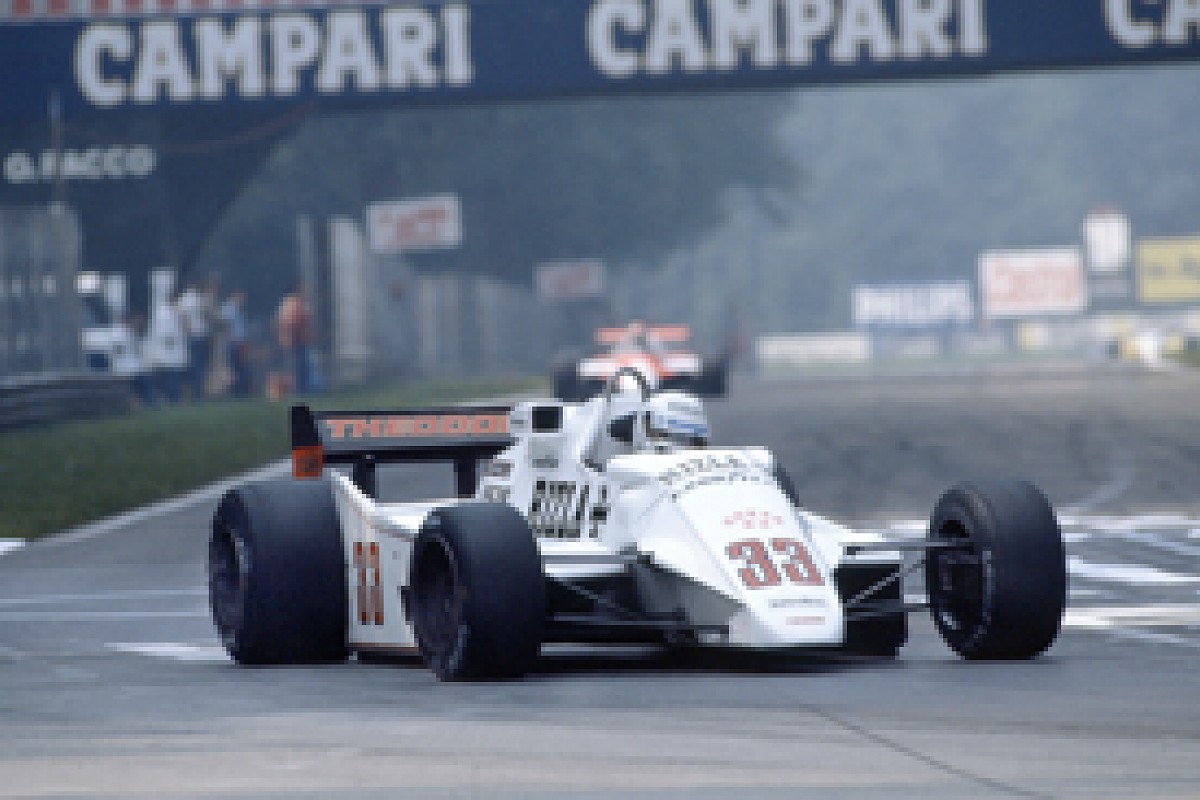 ...but Tommy Byrne couldn't get his Theodore into the race © LAT
Saturday morning. The car - the Italian's favourite chassis - is together again. He goes out, and soon the car is damaged once more, after an altercation at the Roggia chicane with Arnoux's Renault. Damage was confined to the left rear suspension. The mechanics went to work again.
Right at the end of the session Nigel Mansell returned to the pits on foot, having shunted his 91! "It was at the first chicane. I got through the left hand half OK, then turned the wheel to the right - and it just went straight on." The Lotus hit the guardrail very hard, but was surprisingly-lightly damaged.
"I'll tell you one thing," said Mansell. "The 91 may not be the fastest car here, but I'm sure it's one of the strongest. I hit that barrier pretty hard, and the monocoque deformed as far as the footbox and no further. I'm very impressed by that. I really thought I was in trouble..."
After remarkable work by the crew, both cars were out again during the final session, de Angelis qualifying 17th and Mansell 23rd.
Roberto Guerrero was predictably impressive with the Ensign. "The car feels quite nice here, but were are so slow in a straight line. It's a pity because I don't feel as though I'm losing out in the corners. If only we could afford a new engine..." For three days of Monza, the hard-pressed team had but a single DFV.
Mauro Baldi was given the only Arrows A5 last weekend, this being the Italian Grand Prix, the team having an Italian sponsor. That being the case, Marc Surer permitted himself a wry smile when he proved conclusively quicker in the older A4! The Swiss found that the new Pirellis suited his car well, qualifying 20th, four places ahead of Baldi.
Eliseo Salazar was the only ATS driver to qualify, 25th, with Manfred Winkelhock curiously unable to make the pace at Monza, even when he went out in his team-mate's car. Next to Salazar, at the very back, was Chico Serra's Fittipaldi F9.
Early on Friday morning nobody quite knew who was going to drive for March. Raul Boesel was obviously a certainty, but Jochen Mass had indicated he would return to grand prix racing at Monza. With half an hour to go, however, there was no sign of the German, and Rupert Keegan put overalls on. Mass did finally arrive, and indicated to John MacDonald that he had decided against driving. Keegan took over, therefore, but just missed out on qualifying, 0.1s slower than Serra. Boesel was 0.5s off Keegan's pace, so that was that for March, despite their running on Michelin, rather than Avon, for the first time.
Slowest of all was Tommy Byrne's Theodore, the Irishman leaving Monza immediately after practice to run in the Formula 3 race at Snetterton the following day.
So the stage was set. Poor advanced ticket sales had been revived by the Ferrari-Andretti partnership. And now the fact that Mario was on pole guaranteed an enormous turnout on Sunday. The organisers relaxed, and the security people prepared themselves.
1982 Monza starting grid on FORIX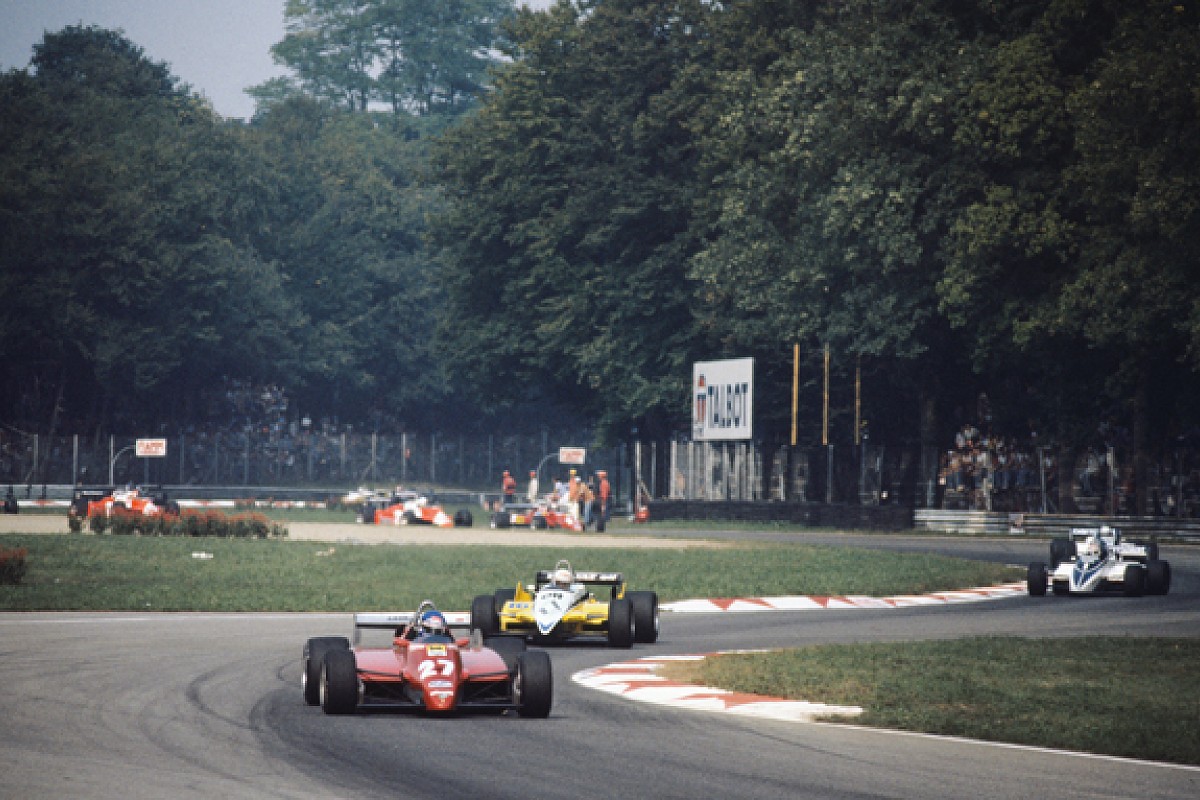 The Grand Prix
Overnight someone had been busy. Near the grid, and at various other points around the circuit, there were messages on the road, in huge white or red letters: Mario e Patrick - Vincete por Gil. Mario and Patrick - Win for Gilles. Well, they were going to do what they could.
Nor were they low on support. In many, many years of going to Monza I have never seen a bigger crowd. From early in the day they were clearly in good heart and voice, as they always are when a Ferrari victory looks on. Everywhere there were banners and flags bearing the name of Villeneuve, an intensely touching reminder that Italians never forget their heroes.
In the morning warm-up there were roars of approval and much clapping from the grandstands when Andretti and Tambay drove out of the pits, but barely a ripple for anyone else, including the Alfa drivers. At Monza only two cars matter. The rest, to borrow Humphrey Bogart's line from Casablanca, "don't amount to a hill of beans."
Dramas in the warm-up: Piquet's Brabham-BMW rolled to a silent halt soon after leaving the pits, an electrical fault causing the engine to cut-out. The Brazilian turned to the spare BT50, and would use it in the race. Tambay's Ferrari also stopped with a dead engine, its occupant running back to the pits to take over the T-car for the last few minutes. The Ferrari mechanics repaired the original car in time for the race, however. What else? Oh yes, Lafitte's clutch expired, and in his mood of the moment the choleric Guy Ligier put his foot through the car's sidepod, which was helpful. Never a dull moment in a grand prix pitlane, particularly when it is so disgracefully full of posers and freeloaders as was the case last Sunday morning.
Then, half an hour before the start, the president of Italy arrived, walking to his place above the main grandstand amid a posse of police, all of whom seemed to be getting in each other's way as they sought to protect their charge. The crowd likes that.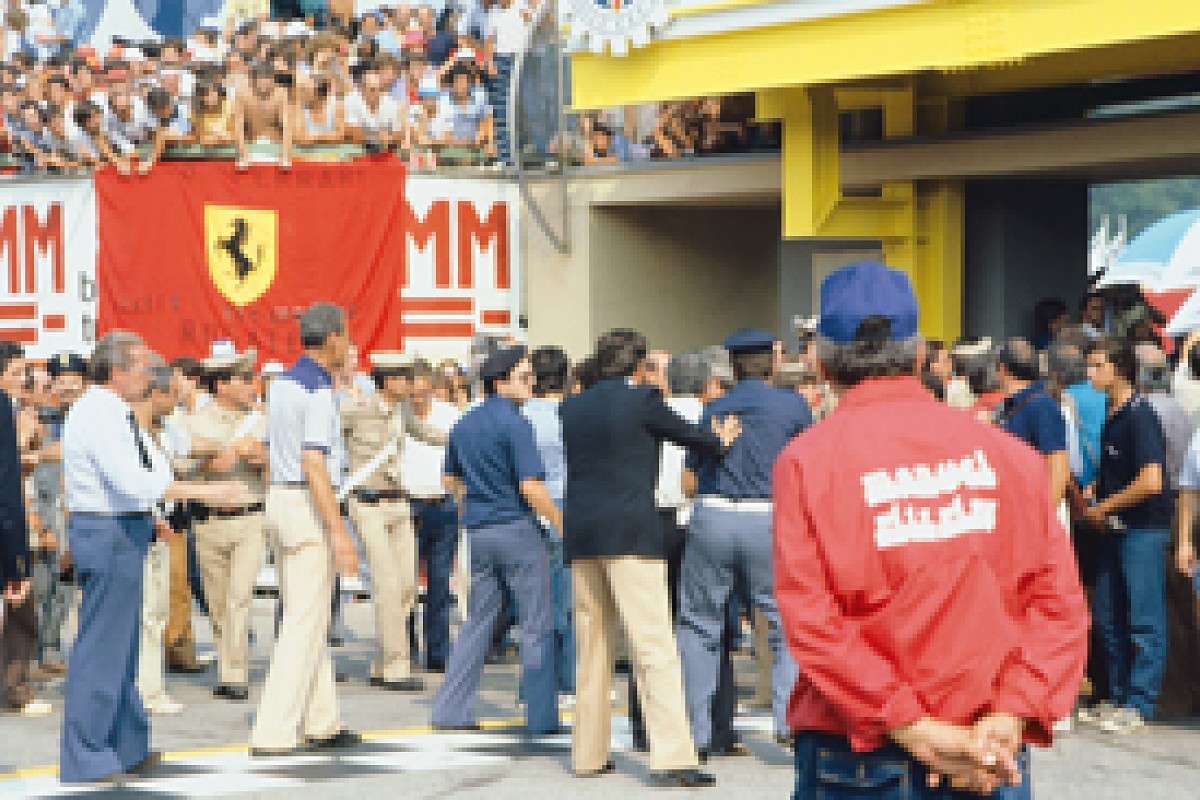 The Italian president arrived, surrounded by his security detail © LAT
They liked much more the firing up of engines at 3:28pm, when Andretti led his 25 colleagues away for the final parade lap, emerging from the Parabolica a couple of minutes later, bringing the field slowly up to the line. Even so, it seemed a long time before all the cars were in position. Who would want to have Derek Ongaro's job at a time like that?
He pressed the button for red, then a few seconds later, green. From pole Andretti's Ferrari jack-rabbited away, then hesitated, almost seeming to stall. "I blew it," confessed Andretti later. "The revs soared up and the limiter came in. I shoulda switched the goddam thing off for the start..." As they surged away towards the first chicane, the red number 28 Ferrari was slightly engulfed, and Prost decided he could take both Ferraris on the left. He could not, soon finding himself with all four wheels on the grass! That little incident dropped him to around 12th. Not an auspicious start for a race he had to win.
Fuel and tyre stops were on the menu for both Brabhams at Monza, so Piquet and Patrese should have been in extremely strong form in the early stages. Sure enough, Piquet had the lead on the first lap, but before its conclusion Tambay, Arnoux and Andretti all went by the world champion. Out of Parabolica Tambay's Ferrari was in front, and the spectators prepared themselves for hysteria - which was stifled somewhat when Arnoux slipstreamed past just a few feet before the start/finish line. From his sixth starting position Arnoux was flying, and his most obvious challenger seemed to be Patrese, who had his Brabham-BMW up in second place by the end of lap two. Already it was obvious that this was a single-pronged Brabham attack, for Piquet was now back in 13th place, his clutch beginning to expire.
But we jump ahead of the action. Three cars went on the first lap. Sequentially it happened like this: at the first chicane Guerrero's Ensign hit the back of Daly's Williams, which broke a wishbone on the FW08. Unaware of the extent of the damage, Daly pressed on. At the next chicane he put the brakes on, whereupon the Williams went out of control, knocking Henton's Tyrrell into a spin. In turn, Henton's car collected Warwick's Toleman. All three were out, while the first link in the chain, Guerrero, struggled back to the pits to have the front of the Ensign patched-up. Eventually the Colombian came out again, now more than 10 laps behind. All in all, it was another sad day for Alex Hawkridge's team, for Fabi's car stopped only after a couple of laps, engine dead.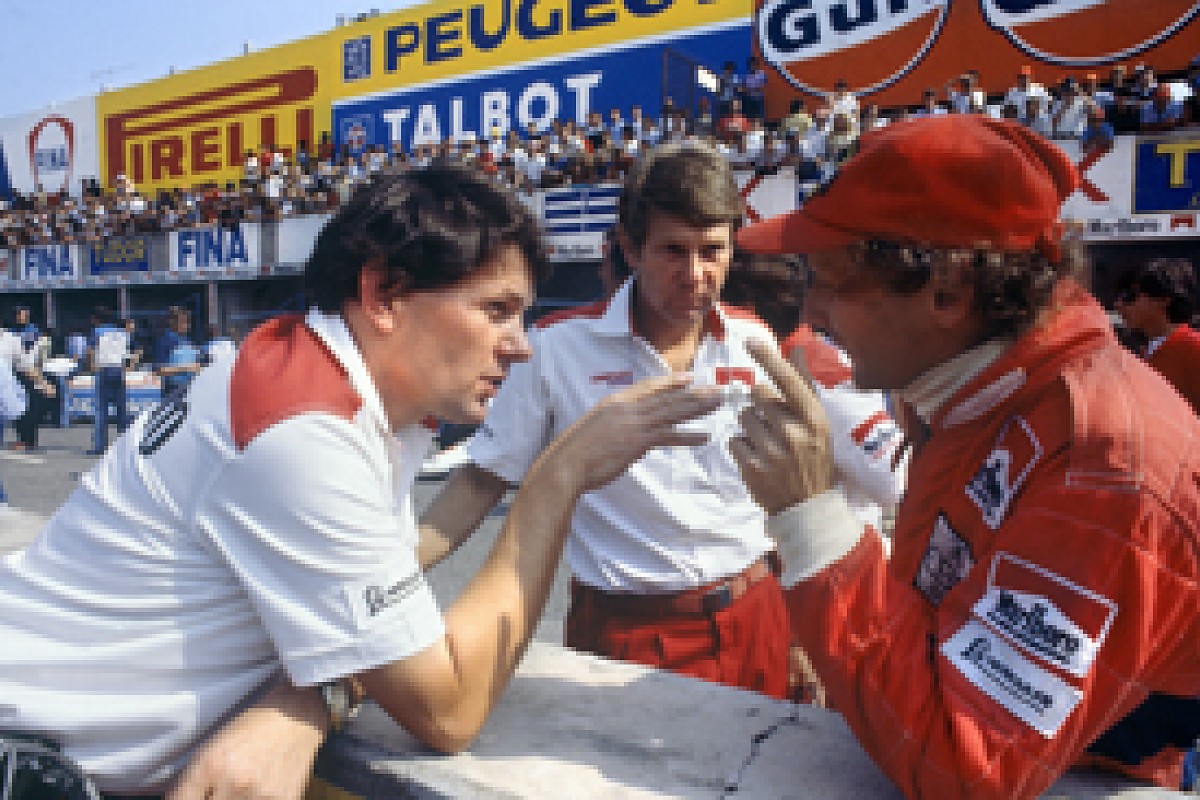 Niki Lauda John Barnard Tyler Alexander McLaren 1982 Italian Grand Prix © LAT
After four laps Patrese was closing in on Arnoux, and there looked the prospect of a real scrap, Brabham's Italian driver knowing that he had to get by, build up a lead and allow for that pitstop. It was all futile. After six laps he came over the line at much-reduced speed, now back in sixth spot. At he end of the next lap he came slowly into the pits, stopped and immediately climbed out. Clutch. Within a minute Piquet had arrived also. Both Brabhams out in the first few minutes, both with broken clutches... Now it was a straight matter of Renault versus Ferrari, and the crowd was quite happy with that.
The question was, how much of a fight was it going to be? The spectators had fallen strangely silent. After half a dozen laps Arnoux led Tambay by more than 7s, and Andretti's third place was coming under threat from Prost, who really put it to the wood after his first lap mistake. On lap seven the Renault was through, and Andretti faced a long, lonely afternoon, not able to make a race of it with the leaders. "It was really a shame," he reflected later. "From the start there was something wrong with the throttle linkage somewhere, and the pedal was sticky. Once or twice it stuck open, which could have been a problem, but mainly it was sticky on the way down. It didn't go down smoothly to the floor, but in a series of jerks, which made it difficult to drive smoothly. I had no problem staying ahead of the res, but I couldn't run at the leaders' speed, no way."
Ten laps: Arnoux, Tambay, Prost, Andretti, de Cesaris, Giacomelli, Rosberg, Watson, Alboreto, Lauda. Already the field was widely spread out, thanks in part to the incidents on the opening lap, and there was little racing to be seen. One point of interest centred on Watson, who had been fifth in the warm-up and, as so often this season, was going much better in the race than in practice. From the start he had been much quicker than Lauda, and now he was pressing Rosberg hard, going past the Williams on lap 11. There was, after all, still the whiff of a world championship, and Watson gave it all he had. "Hmmm," snorted Rosberg. "He passed me under a yellow..."
Another point of interest was the erratic progress of Salazar's ATS, which did not porpoise so much as kangaroo. Past the pits it behaved liked an early fifties Cadillac with tired shock absorbers, bouncing up and down so much that the car's exhaust note rose and fell in time with the rear wheels! In time the vibration was such that the engine cover came loose and flew away. For sheer persistence and courage Salazar deserved some kind of award for this drive.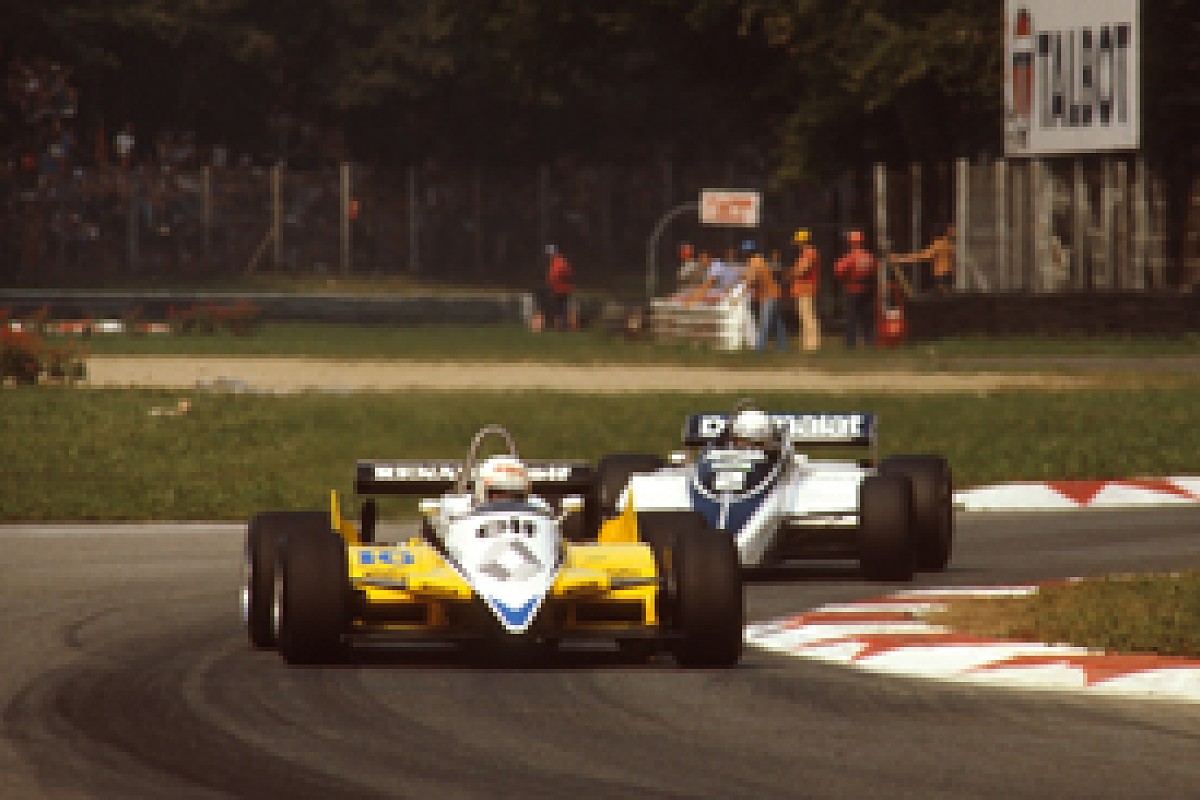 Patrese closed on Arnoux, but then retired with a melted clutch © LAT
After a strong start, de Cesaris pitted for new tyres after only 11 laps, thereby losing fifth place. Goodyear had been confident before the race that the Michelin race tyre - softer than that chosen by most Goodyear runners - would not last the distance. Arnoux was charging along at a truly impressive rate. Would he pay a price for it later? Ferrari, its cars kitted out with 'A' compound Goodyears on the left and 'B' on the right, could only hope.
Having dealt with Rosberg, Watson lost no time with Giacomelli, passing him a lap later to move up to fifth. It was high as he could reasonably expect, for ahead was the turbo quartet.
Twenty laps: Arnoux - 10s - Tambay - 3.3s - Prost - 18s - Andretti - 11s - Watson. Exciting, huh? The only clear progress, apart from that of Arnoux, was coming from his team-mate, for Prost was steadily reeling in Tambay. Was the Ferrari man getting tired, as he had feared? By lap 24 the Renault was right on the tail of the Ferrari, at which point Tambay appeared to rally. On two consecutive laps red and yellow went over the line virtually side by side, with Prost making to go by under braking for the first chicane. He never made it, however, and there was a storm of approving noise from the stands when Tambay came into sight alone on lap 27. The volume increased further yet when Prost steered into the pitlane. It was a repetition of the electronic injection problem that has bugged the team for so long.
In the pits adjustments were made, tyres were changed, and Prost rejoined. But he had gone only a little way down the road before the engine cut completely, and he coasted to a sad halt, one world championship dream shot to hell.
The next significant retirement was that of Giacomelli, who came in to report that his Alfa's porpoising was getting worse as the fuel lightened, making it almost undriveable. That was a great pity, for Giacomelli had driven splendidly from the start, and some points in Italy would have been good for his understandably wilting morale.
Rosberg could also have done with some points in Italy. He had been running right behind Giacomelli, comfortably clear of Alboreto. Then - "The car suddenly seemed to have found a lot of horsepower!" In the straight it was incredible, and I passed Bruno, who kept making signals at me. Then, in the corners I found the car all over the place, nearly lost it once, in fact. I thought I had a rear puncture, slowed down to a crawl, thinking that otherwise I would damage the skirts..."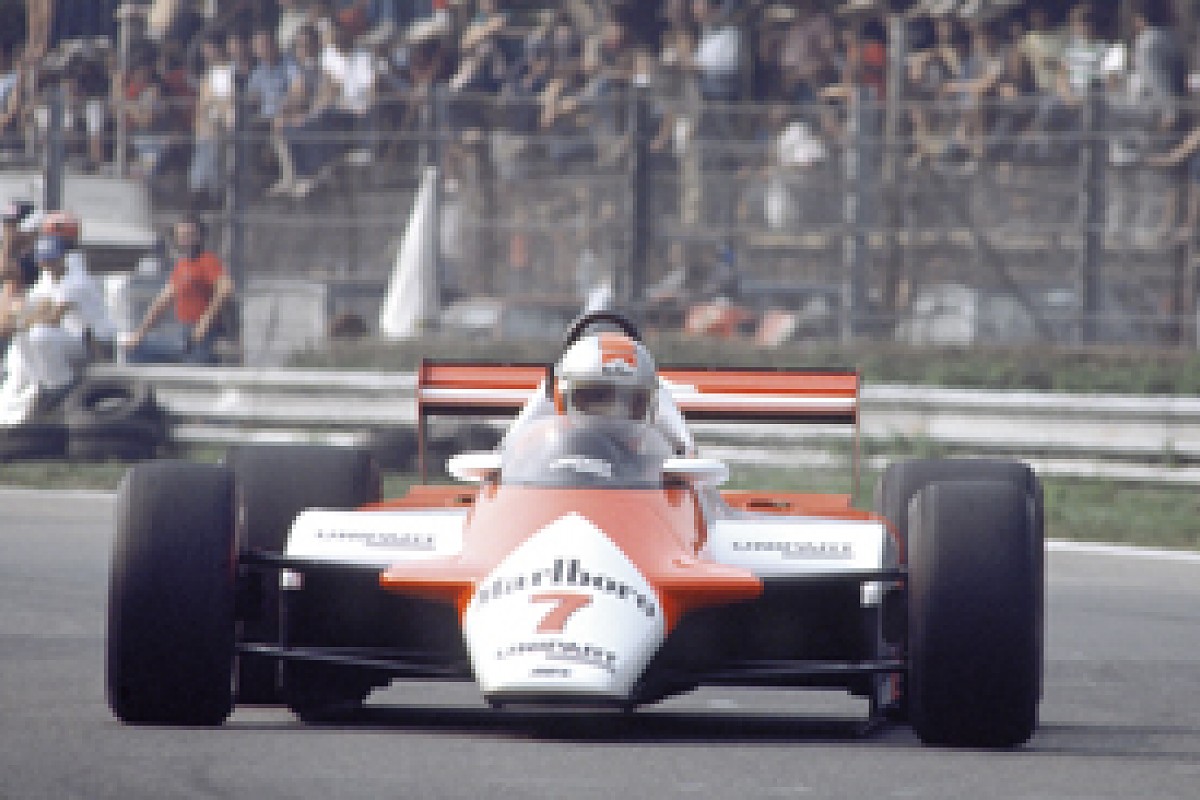 Watson kept his slim title hopes alive with fourth spot © LAT
What Rosberg had was no rear wing. It had parted company with the car after passing the pits on lap 24, fluttering into the air like a piece of lethal silver paper, fortunately landing by the trackside without hurt to anybody following.
From the pits the Williams crew had seen the incident and prepared for Rosberg's stop. "I couldn't see in my mirrors that my wing had gone," retorted the Finn. "And when I stopped I thought they weren't doing anything - because I couldn't see that, either! Instead I was screaming at them to change my 'puncture'. Finally they told me what had happened..."
The work done, he returned to the race, now in 15th place, two laps down. By the end he would climb to eighth, missing out on the points. And Watson would finish fourth, taking three and giving himself a mathematical chance of winning the title. One point - just one - would have clinched it for Rosberg. "I woke up at four in the morning, thinking about it," he said on Monday, "and I didn't get back to sleep again afterwards..."
Nothing much happened after that. Arnoux effortlessly extended his lead over Tambay's oversteering Ferrari, which continued to draw clear of its sticky-throttle sister car. Watson drove on as hard as he could, living in the hope that one or more of the turbo cars would expire: "I don't think I could have done much more, but I couldn't cope with a deficit of 150 horsepower, I'm afraid."
And so they cantered home, with Arnoux ironically defeating his new employer on its home ground. There was not too much despondency. Arnoux took the flag to polite applause, and then came two howls of pleasure as Tambay and Andretti came over the line, beaten but not disgraced. The Fleet Street men rejoiced as Watson took fourth, for the championship remains undecided, meaning that they get to go to Vegas to see the thing through. Alboreto did his usual smooth, professional, job for another points finish, and Cheever's good drive in the Ligier was rewarded with sixth place. And next up, ahead of Rosberg, was Mansell's porpoising Lotus 91, de Angelis having retired earlier with a sticking throttle. Almost unnoticed, Lauda had called it a day after 22 laps, unhappy with the handling and brakes of his McLaren.
"Really," said the joyful Arnoux, "we have three Ferrari drivers on the podium today." The spectators, who swarmed over the debris fences and packed the road, were not quite convinced. But they celebrated for Tambay and Andretti, who showered them with Moet et Chandon and threw their caps into he seething midst. Well, perhaps Ferrari had lost today, but next time Arnoux would be working for them. Hey, here's a reason to celebrate! If he can win against Ferrari, imagine what he'll do when he's driving one...