The 23rd of this month marks the 25th anniversary of Didier Pironi's death in the Needles Powerboat race off the Isle of Wight coast. That, and the occasion of AUTOSPORT's look back at the amazing 1982 season, brought to mind a memorable 'working' trip.
A few weeks back I wrote about reporting the 1986 Monaco F3 race. Long-time friend Mark Gallagher, formerly of Jordan and Cosworth and now sharing commentary duties with Karun Chandhok for ESPN Star Sports, was reporting at Pau the following weekend. We'd decided to take a busman's holiday and see some of those French Riviera places we'd only read about, on the way.
If memory serves, we had work to do on the Monday after Monaco and got as far as Sainte Maxime that evening, with a look around St Tropez on the Tuesday agenda.
I was after a pair of Timberland deck shoes and, wandering around the iconic jetsetter's playground, stumbled across an intriguing small shop window. As well as some Timberlands there was all sorts of trendy swimwear. Lots of pinks and lemons, not the sort of thing any self-respecting Geordie would dare wear on South Shields beach - at least back then.
In among it all was an Autocourse annual and a crankshaft. Eh?
We went in and discovered that the charming proprietor, Fred Prysquel, a St Tropez resident, was an ex Formula 1 journalist with an eye for fashion.
One day, sitting at a portside cafe, he'd cut up a chequered paper table covering into a design for swimming shorts. He then started looking around for suitable fabric, and settled on superfast drying spinnaker canvas. Finally satisfied, the car enthusiast called his brand 'Vilebrequin' - French for crankshaft.
It was approaching lunchtime, which tends to be a movable target in France, so Fred sold me a heavily discounted pair of Timberlands, generously gave me a pair of swim shorts, closed the shop and insisted we went for lunch at that same cafe to talk F1.
Now an octogenarian, Fred still lives in St Tropez. The Vilebrequin brand was acquired by a Dutch private equity fund in 2008 and has outlets in places like Paris, Rome, New York and Beverly Hills. The clientele list boasts George Clooney and Brad Pitt, as well as sundry heads of state, not to mention an overweight Geordie fellow who would no longer fit his lemon Vilebrequins if he could find them...
While we ate, Fred pointed across the bay to a building with a hangar behind it. "That's Pironi's place," he explained.
After his career-ending shunt at Hockenheim in 1982, in which Pironi suffered multiple leg fractures that would require more than 30 operations over the next handful of years, Didier and his half brother Jose Dolhem (they shared the same father and their mothers were sisters) founded Euronautique Leader and based it at St Tropez.
Pironi already imported Abbate boats and Lamborghini engines and there was 5000 square metres of hangar space for boat preparation. They were running three boats in that year's European Offshore championship, one for Didier. He had learned quickly that it could be just as brutal an environment as F1, cracking four ribs in his first race at Villanova, Spain.
At the time there were still rumours about Pironi trying to make an F1 comeback and Enzo Ferrari had always said there was a car for him if he proved he could drive as quickly as before. There were also stories that he may compete in Le Mans the following month, having won it with Renault in 1978.
After a two and a half hour lunch, Fred went back to reopen his shop and, intrigued, we headed across to look at Pironi's boats. On the spur of the moment I decided to see if an interview was possible. The secretary said that Pironi was in Paris but was due to call and she would ask. He did and she did. Didier was coming back to St Tropez by helicopter that evening and if we waited, we could talk to him.
We waited and business delayed him in Paris until the following day. There are worse places to be marooned than St Tropez, so we contentedly hung around. Pironi didn't make it back on Wednesday either but finally, on Thursday afternoon, he arrived and was happy to speak to AUTOSPORT for some considerable time, show us his stunning powerboats and pose for pictures.
While we were there, he took a call informing him of Elio de Angelis's fatal testing accident a bit further along the coast at Paul Ricard that same afternoon.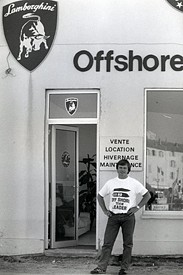 Pironi celebrates his victory at Imola in '82 © LAT
During the interview, I had to ask Pironi about Imola '82, the race when he passed Ferrari team-mate Villeneuve on the last lap, infuriating the French-Canadian, who had presumed the 'slow' board previously hung out by Ferrari, meant retain position.
Imola '82 had been boycotted by the FOCA teams and Pironi, who said he'd never revealed this four years earlier, told me about a pre-race agreement that had previously been struck between the Ferrari and Renault drivers, known only to the mechanics (you can read about it in this week's AUTOSPORT magazine).
Le Mans, he said, no longer interested him, his burning ambition on four wheels had been to become the first French world champion. That was something Alain Prost had achieved the previous year and which Pironi would undoubtedly have done in '82 after Villeneuve's death, had he not rode, unsighted by spray, over the back of Prost's Renault in Germany.
Pironi, then 34, did say that he was still keen to return to F1 and later tested a car, despite the word being that he'd received a considerable insurance payout following his Hockenheim accident, on the basis that it had ended his career. Returning would mean paying it back.
The following year, Pironi and his Leader Offshore team graduated to the Powerboat World Championship. His carbon fibre 40ft Colibri 1V boat had won for the first time at Arendal in Norway the weekend before his fatal crash. He was touched to receive a congratulatory telegram from Enzo Ferrari.
Embroiled in a battle for the lead on the last lap of the Needles race, Pironi's boat hit the wake of the Esso Avon oil tanker, on its way from Southampton to Belfast, at around 80 knots. It was launched 20ft into the air, somersaulted multiple times and then crashed upside down into water that may as well have been concrete at that speed.
Killed with Pironi were his navigator, 37-year-old French TF1 commentator Bernard Giroux, a former Paris-Dakar winner with Ari Vatanen, and Didier's 44-year-old former Ligier engineer Jean-Claude Guenard, who was his throttle man.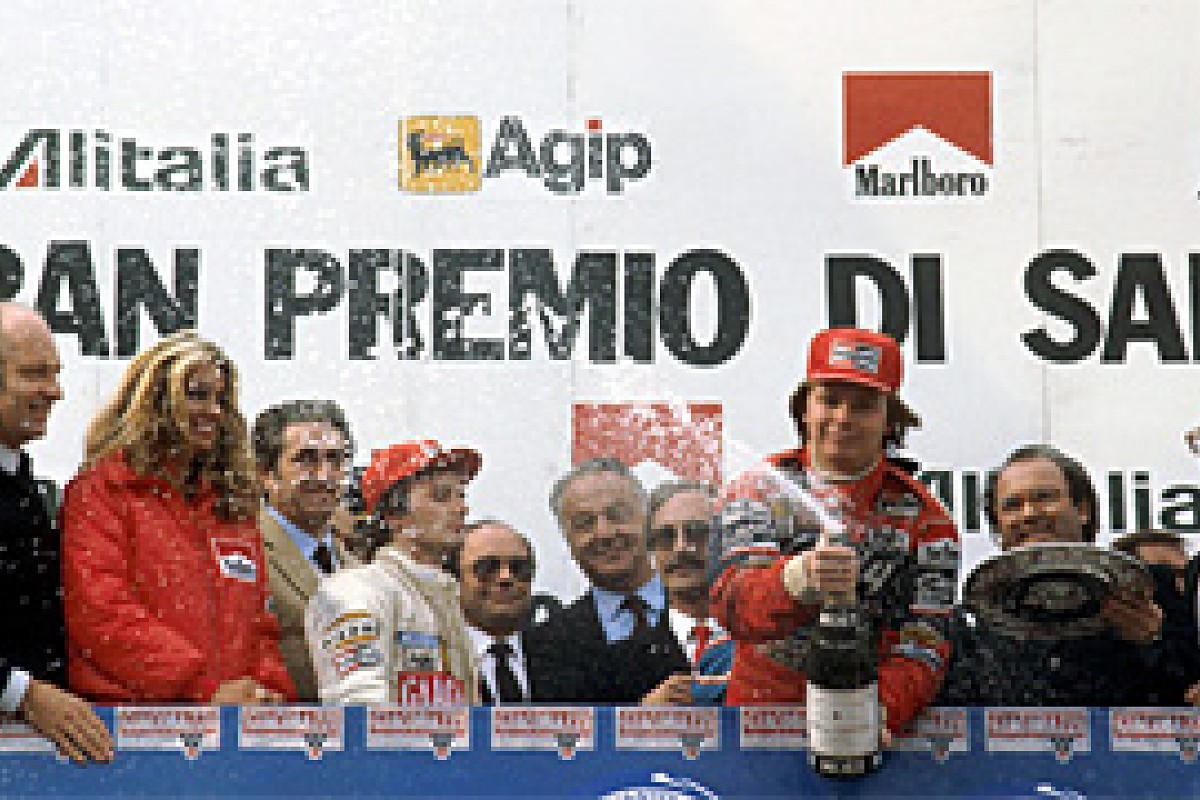 Pironi was killed in a boating accident © LAT
At the time of his death, Pironi's partner Catherine Goux, was pregnant. Some five years after the acrimony at Imola, she gave birth to twins who would never know their father, and named them Didier and Gilles.
The Colibri 1V boat, not extensively damaged in the accident, was salved and subsequently raced by, among others, Jean-Pierre Jarier. But amid more tragic irony, Dolhem, having taken over from his half brother as Leader team principal, was killed in a plane crash en route to the St Tropez race the following year. Pironi and Dolhem now share a grave plot in Grimaud, close to St Tropez.
A Pironi memorial website relates that the boat, by then in delaminated state, was eventually sold to Michel Hommell, car enthusiast and publisher of the French Echappement magazine.
Restored thanks to the Abbatte brothers and Lamborghini, the craft can now be viewed at the Manoir de l'Automobile at Loheac museum, near Brittany.