Stefano Domenicali was a happy man on Sunday night in Valencia, even before the football kicked off.
The Ferrari team principal had loved Fernando Alonso's drive - the early aggression needed to make their strategy work, the move on Grosjean, everything.
It was as good an individual performance as he could recall but he wasn't getting carried away.
"We saw that Red Bull has improved a lot and we can't forget that," he said. "That has to be a target for our people at home. We need to stay focused."
Jenson Button has been saying much the same as he worked through his PR commitments ahead of this weekend's British GP. Yes, Fernando's drive was excellent he admitted - a tad grudgingly one suspects, having been carved up by the Ferrari on the first lap - but did you see the Red Bull pace?
Well, yes, we did. Plenty commented on it and last week's AUTOSPORT magazine did a good job of explaining it, but it seemed to me as if large swathes of the F1 community were in denial, reprieved by the fact Vettel hadn't got the RB8 to the finish.
Newey was heartbroken when Vettel retired in Valencia © XPB
Adrian Newey wears his heart on his sleeve and the TV cameras captured him perfectly, slumped head in hands on the pit wall as Vettel ground to a halt. After an hour or so to take stock, Adrian probably wasn't feeling quite so desperate, while every rival technical director in the pitlane was likely adopting the head-in-hands pose once they'd taken in the details of Vettel's opening stint.
This is supposedly when, with a full load of fuel, drivers have to be doubly careful not to root the tyres and pull themselves into a scenario where they may require an additional pitstop. You need to break the DRS delta of the car behind and then exercise caution. Or so the theory goes.
Vettel was 1.9s ahead of Hamilton's McLaren at the end of the opening lap then, on consecutive laps, 4.0, 5.3; 6.8; 7.6; 8.5; 9.2; 9.6; 10.1, 11.4.
Ah yes, say the straw clutchers, but Hamilton had high tyre degradation and wasn't the right barometer by which to judge. The Lotus was the car and Grosjean the man, but he was stuck.
Christian Horner addressed that immediately after the race, pointing out that when the Frenchman finally got into clear air ahead of Hamilton, Vettel still pulled away at half a second a lap.
"Don't think so..." one journalist said on the way back to the press room, until a look at the race history chart confirmed all that Horner had said, and more.
Once the Lotus had passed the McLaren, the gap continued to grow: 11.9s, 12.5, 13.6, 14.4, 15.2, until they both pitted on lap 16. Okay, perhaps Grosjean had used his rubber more heavily running behind Hamilton, but to suggest that he would have been able to take it to Vettel in a straight fight from the off, seems to be stretching things.
I've enjoyed the unpredictability of 2012, the fact that a level playing field has enabled a wider range of drivers to excel and have their moment in the sun. F1's one failing in my eyes has always been that it is far too machinery dependent and strong driving talent all too often passes under the radar.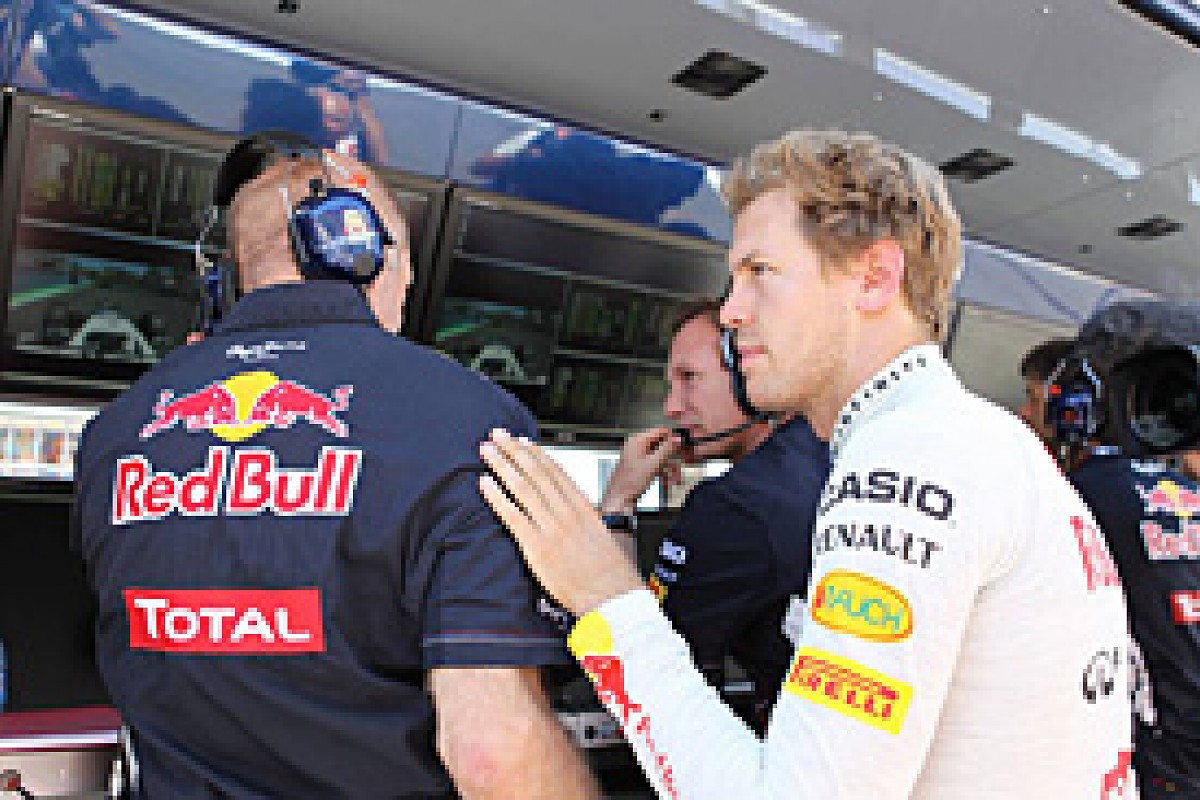 Vettel's pace had no match in Valencia © XPB
Many purists don't agree. It's a meritocracy, they say, excellence in every sphere. So what if one or two teams dominate? Great driving talent is obvious and, over time, the best drivers will find themselves in the best cars.
To a point, yes, but not to a large enough extent. I always thought it would have been tremendous if F1 could find a way to make driver rotation work, so you got a true drivers' championship and still a constructors' championship.
There would be no daft driver retainers to pay but a huge prize fund to reward the top guys instead. They would stay in the game a long time and become very wealthy. But they'd have to earn it every year, like a Tiger Woods or a Roger Federer. No free rides in superior machinery.
Those who couldn't cut it would be relegated. You'd qualify for F1 via success in certain agreed feeder championships and the notion of the pay driver would be consigned to history, quite correctly at F1 level.
Go the driver rotation route and I reckon you'd get a season like 2012 pretty much every year. Sure, there'd be practical matters to address, but none that couldn't be sorted.
But there are plenty who don't actually like the idea of a level playing field. If you want that they say, put everyone out in big Formula Fords (GP2/3) and save the money.
Only last week Niki Lauda was talking of the return to 'normality' in Valencia being a good thing. Because people like to have their heroes, he said. They don't want to see a different guy win every week.
Sorry, but I don't follow the logic. I'm not advocating putting everyone in the same car. Leave the technical competition there for those who want that because it's undeniably a fascinating, intrinsic part of Formula 1 and always has been. Just ensure that the drivers' competition is exactly that as well. Of course people like their heroes -- just make sure that they get the right ones!
Take Lewis Hamilton, for instance. I'm sure that he probably thinks he's the quickest and best driver in F1. His 2007 season will have underlined that belief. But then, post 2008, he has had three seasons in machinery that did not permit him to fight for the championship.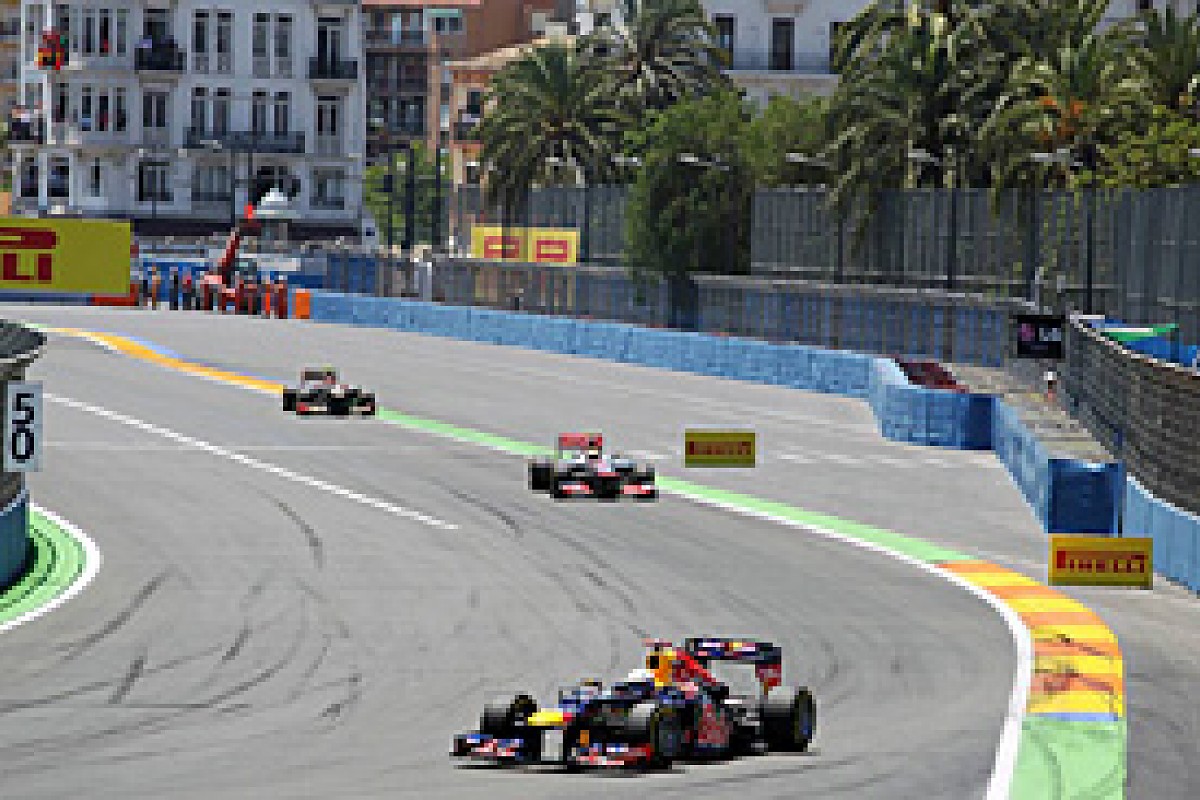 Hamilton, a happier man this year © XPB
Some are going to have no sympathy and point out that the poor little cherub had the enormous great fortune to arrive in F1 with the best car in the first place! A race-winning grand prix car being something that three-quarters of the grid will never get their hands on in their entire career. Which is precisely my point. Why put up with that situation when you don't have to?
It can do funny things to a man. Look at Lewis's 2011 demeanor versus 2012. He was hitting everyone in sight, shooting from the lip and generally looking as if he'd lost a sixpence and found a farthing. But this year, even though he didn't win until round seven, he's looked happy, even congenial by comparison.
Someone not a million miles away from Hamilton reckons that the difference is that Vettel hasn't been winning everything. Over the previous two years the world at large had been starting to believe that this new German kid was motor sport's Main Man. He'd stolen Lewis's thunder. Suddenly, 2012 was much more palatable to Hamilton.
Well, I fear that the suspicions of Messrs Domenicali and Button will prove to be all too well-founded when the cars take to Silverstone this weekend.
If the Red Bull RB8 was that quick in Valencia, I'd be very scared indeed about what it might do in Northamptonshire.
If you've enjoyed 2012, sorry to rain on your parade. Silverstone, of course, might do that as well and serve up another lottery, but I suspect that for the remainder of the year, everyone could once again be cursing Adrian Newey and chasing that missing half second.
And Lewis could be left thinking, 'If I can't beat 'em, I'd better join 'em...