This was not a victory, but a rout. Just like last year, they got what they came for, which was to see Nigel Mansell dominate the British Grand Prix. From the start of qualifying to the end of the race, there was only one man in it. Behind him, on Sunday, there was quite a good race.
One might write of the beauty of Northamptonshire's rolling countryside; of an old RAF airfield at Silverstone; of great heroes who have graced this famous racing circuit or of the amazing helicopters or airlifts and traffic jams at Grand Prix time. And yet none of this helps to describe Silverstone 1992. This was a race apart. A story of patriotic fervour in which the sport took a back seat.
The 'Great British Public' came to laud Mansell. In recent weeks Nigel seems to have captured the public's imagination and become another cult figure. Another Paul 'Gazza' Gascoigne. Gazza became 'a legend' by sobbing in the World Cup semi-final. Nigel has done it by driving fast, winning races, but never managing a world title.
Suddenly there is a pop song called Red Five. Everything has Mansell written on it. For his critics - there are one or two - it has been a painful experience.
"It's incredible," said an Austrian journalist, leafing through a newspaper one morning, "there is nothing in the English press except for Mansell, Princess Diana and Hitler."
The newspapers have accelerated off into a world where people are revved up, everyone laps up action and all wheels are wheels of fortune. Cliche libraries are running out of books.
Nigel Mansell - the showman, winner of six of the first eight Grands Prix of 1992; World Champion-elect; the man with the fastest car and bags of talent to make good use of it - is loving every minute of it.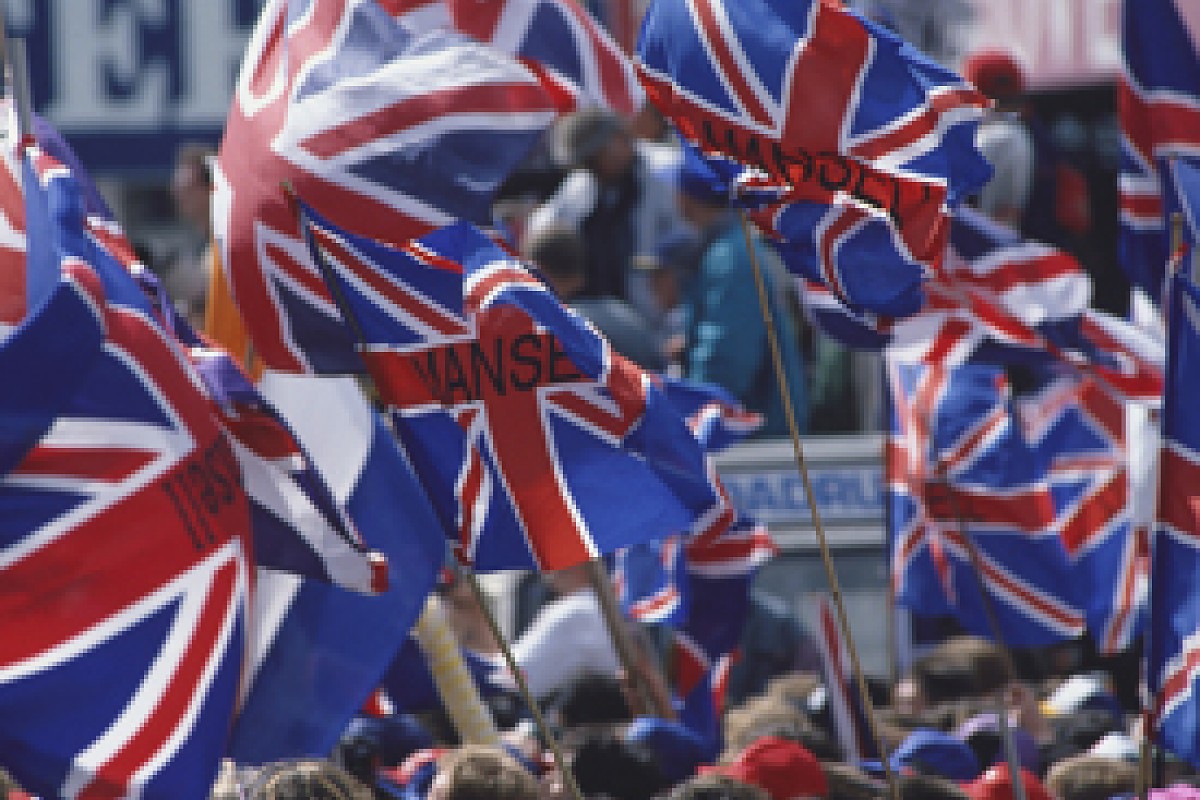 Mansell's success so far in 1992 was galvanising a nation © LAT
Florida-based he may be, but the British public think of him as its own. He's the British lion; the hero of the common man; the bloke next door.
Underlying the personality, Mansell Mania is all about winning. It is about waving Union Jacks and being proud to be British. "The truth is," said someone in the press room, "the British as a nation really like winning. We don't have many winners these days so when we get one, it boils over. You have to remember we're only a small island, there wouldn't have been a British Empire without that kind of thing."
Whatever the phenomenon it arrived last weekend in a sleepy little village, where the signs say 'Silverstone - please drive slowly'.
The Formula 1 trucks have not been away for long, after F1 testing they headed to France, fought their way in and out of the French truck blockades and came back to Silverstone.
This time even Andrea Moda Formula made it, which meant there would have to be pre-qualifying.
It was cool but bright on the Friday morning and the roads were blocked for miles around as the caravan fans came trundling in. There was an alarming number of people present. It had rained in the night and it was drying.
F1's anti-hero Perry McCarthy was chirpily getting ready for a bit of a blast on wet tyres. It was all he was going to get. After three laps on wets in dry conditions he came in, smiled chirpily and failed to pre-qualify.
The rest of the pre-qualifiers had the beginnings of a battle, but the talent of Roberto Moreno in an Andrea Moda could not out-perform Andrea Chiesa in a talented Fondmetal.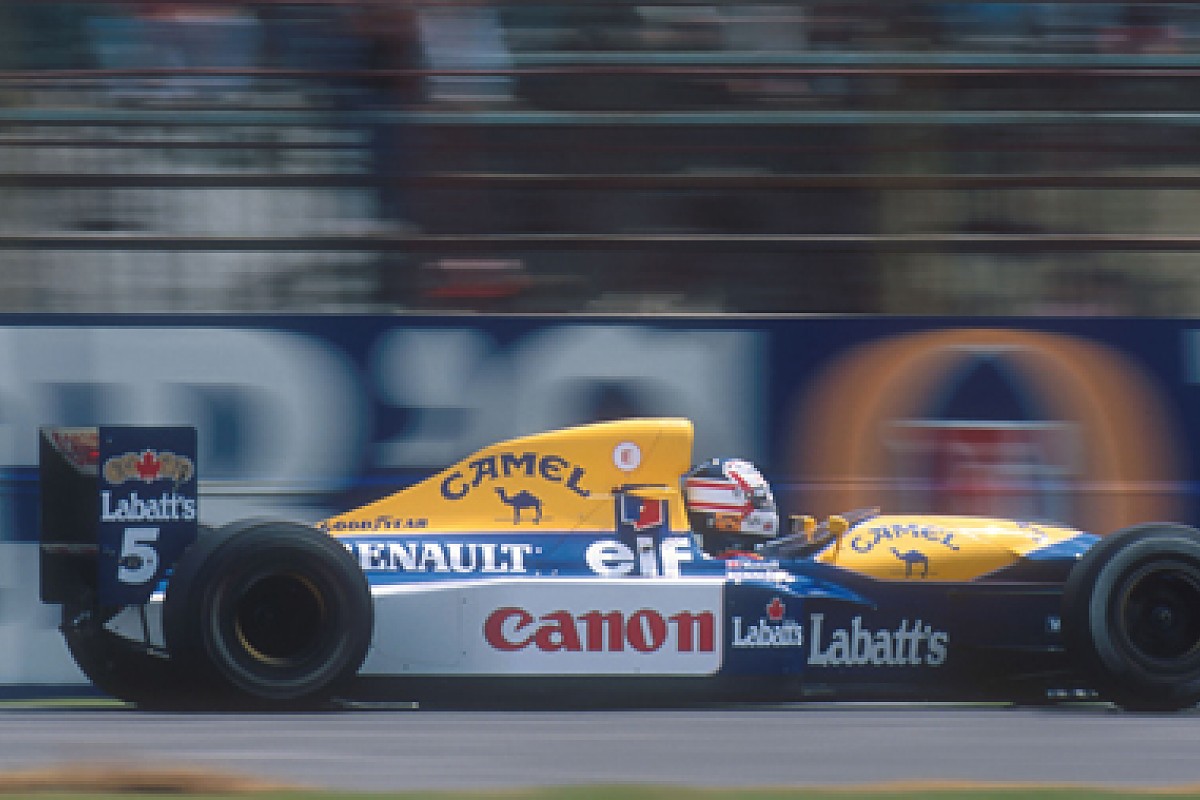 Then, as the skies became overcast and the crowds kept pouring in, the engines of the main fired up. Now was the time that Mansell would appear. Hail Nigel! And so the crowd did as the Williams-Renault star drove out onto the track to set the pace.
In the middle of the session there was a trial run with the new F1 'Safety Car' which proved to be a complete flop because the man who had been designated as imaginary leader, Mika Hakkinen, came into the pits, leaving the pace car without a leader to play with.
As the session went on Nigel chipped ever closer to his testing record of 1m20.56s. In the final few minutes he broke it, a few moments later he broke it again. When the session ended Nigel's best was 1m20.246s
Just to give you some idea how good the car is, and how much the Williams-Renault suited the track, read and digest the following statistics.
Nigel was 1.1s ahead of his team mate Riccardo Patrese. The Englishman was 2.48s ahead of Ayrton Senna's McLaren and 4.7s faster than the last man in the top 10.
As massacres go, this was F1's equivalent of Little Big Horn. Nigel had gone ballistic.
There was never any doubt that Mansell would be on pole. It was really just a question of how much. We did not have to wait long for the answer as most of the field came rushing out in the opening minutes of the official qualifying session, because the air smelled of rain. After five minutes Nigel was lapping 1m20s.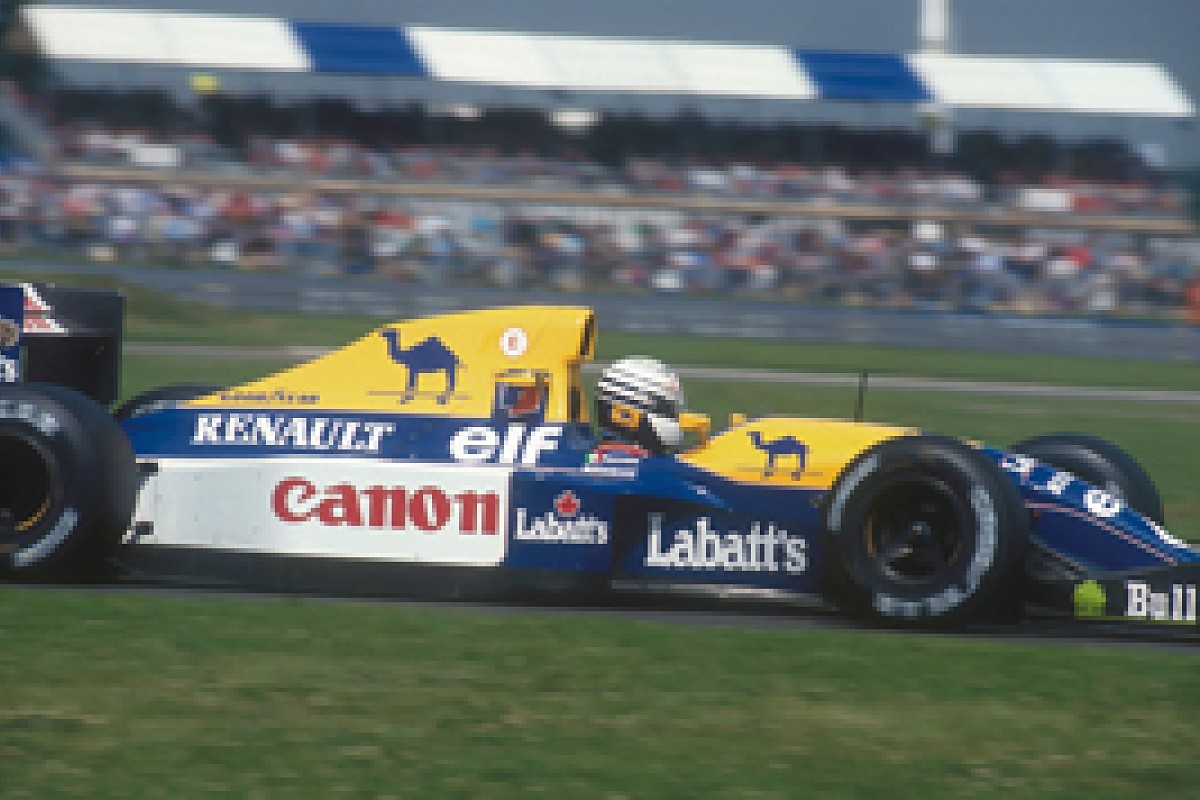 Patrese knew Mansell would be unbeatable at home © LAT
Nigel's Williams-Renault team mate Riccardo Patrese had a go and could only get into the mid-1m21s. The rest were in the 1m24s. Gradually, 10th by 10th, the chasers snuck into the 1m23s and then Ayrton Senna - inevitably - became the first non-Williams man into 1m22s. Dutifully Gerhard Berger followed and Michael Schumacher's Benetton was soon in pursuit. After 21 minutes of the session Nigel broke into the 1m19s. After a couple more laps he took it down to 1m19.161s - and suddenly he had a three seconds a lap advantage on Senna, who was third fastest. It may have been a fluke but at this moment the television producer chose to cut to Ron Dennis, yawning hugely on the pitwall. There was, quite simply, no contest.
"I would have settled for that," said Nigel with characteristic bravado, "but I thought I'd give it another go because there were so many people here."
With just five minutes to go in the session Nigel flashed past the start-finish line, stopping the clocks at 1m18.965s. There was a cheer of enthusiastic amazement in the press room.
"That was a perfect lap," said Mansell. "I cannot imagine going faster than that. Silverstone is a track which demands total commitment and that's what I have when I'm in a racing car. Believe me, my quickest lap was quite something. I'm aching all over now - including my teeth."
If the truth be told, all of Mansell's laps were awesome, for the man is a quite extraordinary talent in a quite extraordinary car. You look at the times and you can only marvel at the ability - and fear for the man. No question, Nigel took it right out to the limit.
Patrese ended up with a best of 1m20.884s. It was 1.9s adrift of his team mate. Riccardo reckoned that Nigel must have very big balls - and asked to have a look...
Senna was third quickest, 2.48s slower than Mansell. This time was achieved not with the car but in spite of it. It was reminiscent of the great Senna qualifying laps of recent years when each flying lap was greeted with a reverant hush.
When people watch Mansell on a flying lap they are excited and noisy. There are lots of oohs and aahs, but when Senna goes for it everyone goes quiet. It is like going to a gallery and feeling the need to always whisper - because genius is about.
"The gap between us and the Williams is bigger here at Silverstone than normal," said Ayrton. "It reflects their strengths and our weaknesses."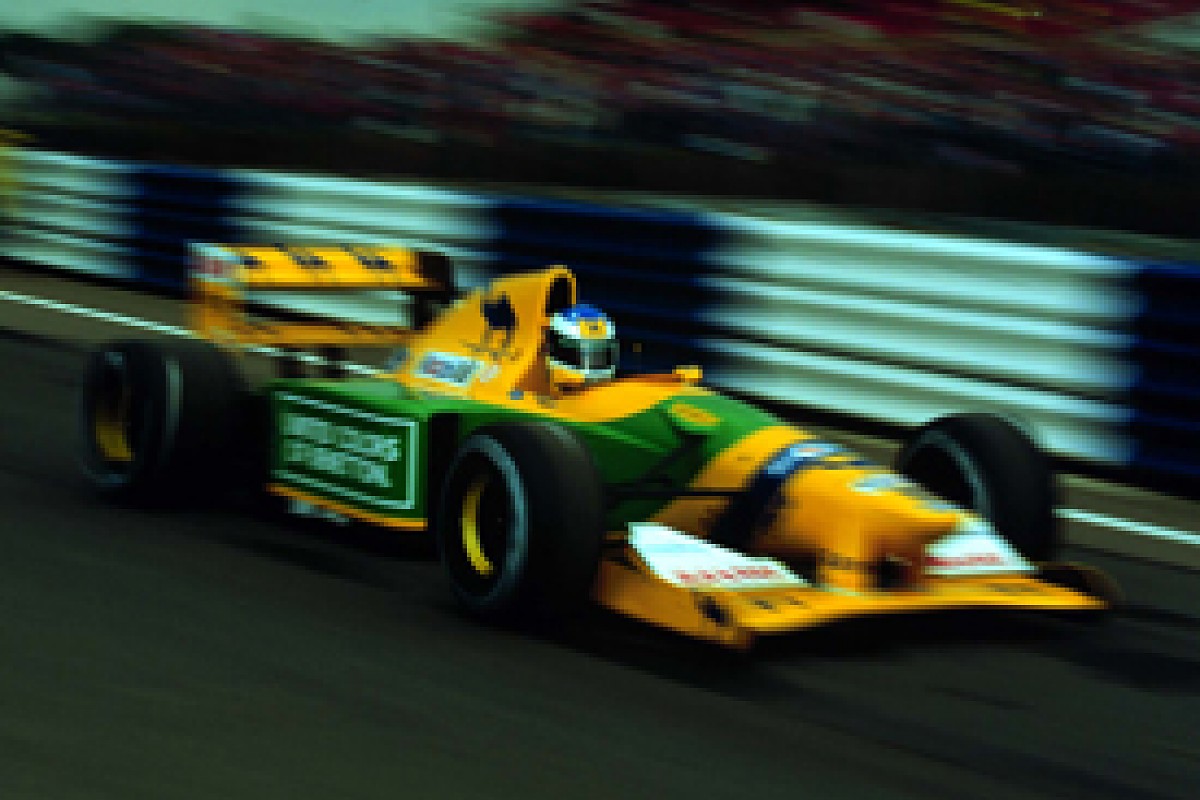 Schumacher was chasing Senna © LAT
Behind Senna was the Benetton of the ever impressive Michael Schumacher, split from his team mate Martin Brundle by the McLaren of Gerhard Berger, the Austrian not happy with his tyre pressures when it really mattered.
Brundle's performance did not please the Englishman, who expected more on Saturday.
Still the Englishmen were doing well and Johnny Herbert was the third Brit in the top seven grid positions (rah-rah, wave the flags). This was achieved despite a spin which slightly damaged his suspension. Mighty.
Johnny's sidekick Mika Hakkinen was ninth, the Lotus pair being split by Jean Alesi, who showed everyone why it is he has car No 27 and deserves to carry the mantle of Villeneuve. Scary.
The top 10 was rounded out by the Ligier of Erik Comas, while Bertrand Gachot was impressive in his Venturi Larrousse in 11th place.
There were the usual disasters further back, but some joyful achievements as well - notably Damon Hill, who was delighted to be 26th on the provisional grid, having outpaced Minardi new boy Alessandro Zanardi, Paul Belmondo, Chiesa and Eric van de Poele, who actually let Damon use his Brabham for much of the session because he figured that Hill would be able to get more speed because of his knowledge of the track.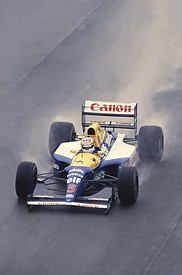 Mansell in action in wet practice © LAT
On Saturday morning it was damp. The track dried but Mansell's best was 1m21.082s. The session was pretty dull until just after one-hour mark when there was suddenly a monstrous shunt in the Vale. Bertrand Gachot had spun and stopped off the track, but close to a kerb. Patrese arrived at the scene, saw the yellow flags and lifted off. Erik Comas behind him did not. Erik careered into the Williams and the two cars went hard into a wall. It was a frightening shunt. Comas climbed out and hobbled away in pain. Both cars were written off. Comas was later find US$5000. Renault's reaction to the crash of two of the four Renault-engined cars was not noted...
The practice was held up for 27 minutes and was finally shortened by seven minutes. Mansell was fastest. Soon afterwards the rains began to fall and that was it. The grid was set.
Most delighted, probably, was Damon Hill. "My father retired from F1 after driving here in 1975," explained Damon, "so it is nice to make a start here myself."
As night fell on a miserably wet and muddy Silverstone there was plenty of rejoicing out in the campsites. There were three Brits in top seven grid positions and Hill was in the race as well. Most importantly, however, it was pretty clear that barring mechanical failure nothing was going to stop Nigel winning the race.
The fans celebrated into the night by launching fireworks - quite a good idea as Mansell was busy trying to sleep in his caravan under their display...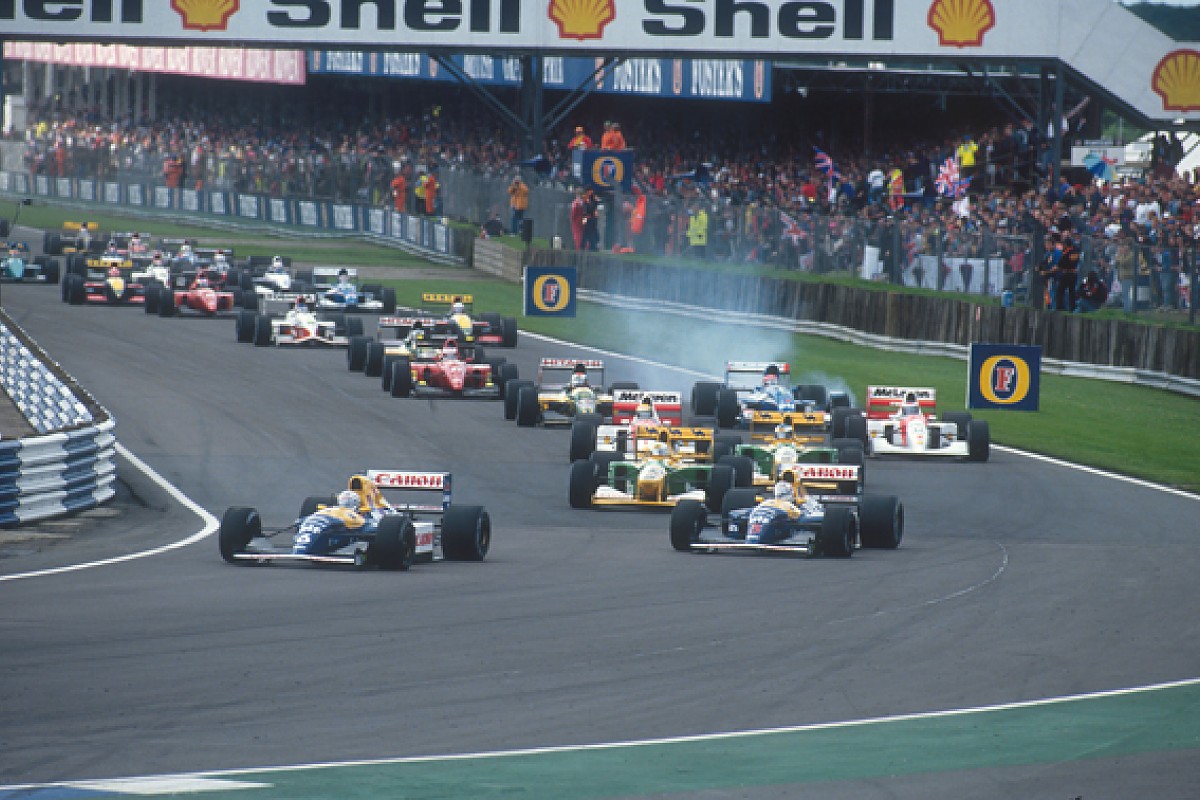 RACE
It didn't look altogether promising on race morning. They had talked of an unsettled day, and, sure enough, there were worrying clumps of blackish cloud around, even the odd spot of rain. No one looked to a possible two-parter with much enthusiasm, particularly so only seven days after Magny-Cours.
Some of those coming to Silverstone on Sunday, however, must have wondered if they were going to see a race of any kind. At mid-morning, horror stories filtered through, of traffic backed up to the M40. Who needs dissident truck drivers?
A quite colonial crowd was on hand, therefore, and in the warm-up it watched Mansell and Patrese confirm the form of qualifying. Nigel was alone in the 1m24s, Riccardo in the 1m25s, and only three drivers - Schumacher, Brundle, Senna - in the 1m26s. Sizeable performance gaps there are in F1 just now. Ask someone like Jean Alesi.
There would be no getting near Mansell, that much was clear. In an average car, he would be favoured to win his home race, and the FW14B is not an average car. It is a stupefying car, to the eye most notably in the way it changes direction. There was no doubt, however, that Mansell was wringing everything from it at Silverstone, that Patrese - with or without team orders - was unlikely to lead him as he had in France.
Only 25 cars took part in the warm-up, for Mika Hakkinen was otherwise occupied with the police.
Through the morning, the clouds continued to threaten, but the rain never came. At two o'clock they got the green.
Actually, some felt they got the green rather too quickly. There seemed an eternity before any light came on, after which came eventually the red - then immediately the green. One or two were caught on the hop.
The pack files through Copse © LAT
Mansell appeared to pull away perfectly from pole position, but then got a dash too much wheelspin, which allowed Patrese to draw level on the run down to Copse, and actually to steal the lead into the first corner.
It was his on a very temporary basis. Out of the turn Mansell pulled up on him, then went by, and at that point the British Grand Prix - in terms of the win, anyway - was over. Behind the Williams-Renaults, though, a fine race was in prospect.
Nigel's lead built up like this: 3.2s by the end of lap one, then, on succeeding laps, 5.9, 7.9, 10.1, 11.8, and like that. Lap four, full tanks and all, was a new lap record. Ten laps in, he was more than 20 seconds clear.
For a race, it was necessary to look elsewhere. "Mansell," Patrese said afterwards, "was in another league today. When he passed me, I just forgot about him, and concentrated on a nice second place again..."
In truth, if you left him out of the equation, there was plenty of close competition. Brundle had made a brilliant start from sixth, swiftly getting passed his team mate Schumacher, and also Senna. At the end of the first lap, he had only William-Renaults ahead of him, and was keen to remind the crowd there were other Brits in this thing.
All told, it wasn't a great first lap for McLaren-Honda, both Schumacher and Herbert managing to scrabble past Berger, who found himself down in seventh. Behind Gerhard was Alesi's recalcitrant Ferrari, Conas's Ligier, Hakkinen in the second Lotus, and Alboreto's Footwork. And of these, the fellow on the move was to be Hakkinen.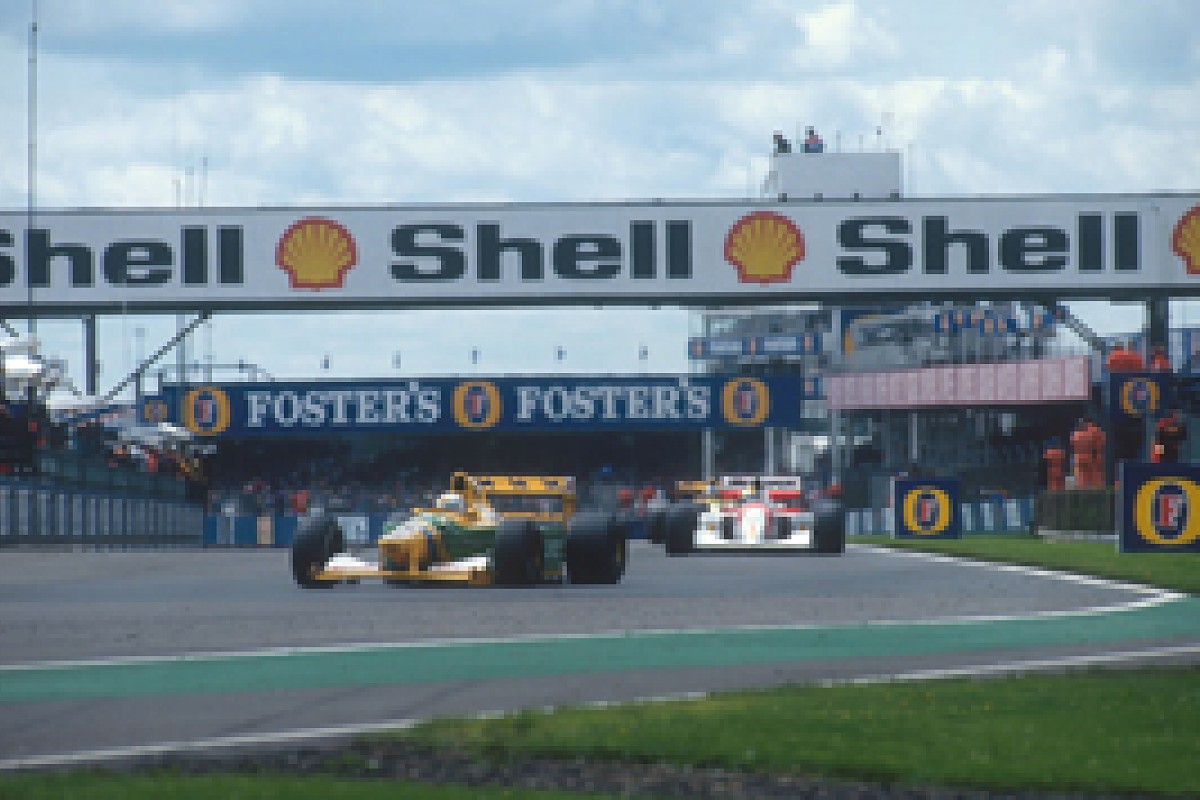 Brundle battled against Senna © LAT
The chief excitement of the British Grand Prix was to be the duel between Brundle and Senna - the old Formula 3 adversaries taking it up again. Not since 1983 had Martin been in a car capable of getting near Ayrton, and he wasn't about to waste it.
"The car," he would later say, "was perfect. Just perfect. I took a bit of a gamble for the race, running less wing to be sure of being quick on the straights. And I'm glad I did ,too, because Ayrton was running a barn door on the McLaren. To run as quickly as he did on the straights with a wing like he had... well, that Honda's got a lot of horsepower."
So, too, it has. But it also has a hell of a thirst at present, which make for a very heavy car in the first part of the race. "The whole way I pushed like hell," Senna admitted. "It was very tiring to keep that going, but I knew in the closing stages the car would be better, and I wanted to be able to take advantage of that."
Overtaking has never been especially easy at Silverstone, old or new, and there were very few position changes in the first 20 laps or so. Out front Mansell pulled away with what seemed like absurd ease, seeming content to hold it at around 20 seconds for a while. Once in a while, he lost a second or two, notably while lapping Grouillard, but then everyone loses a second or two lapping Grouillard, a man who makes the excesses of Rene Arnoux seem a trivial memory. Why must he be so bloody-minded?
His team mate, de Cesaris, hobbled into the pits on lap 23, a rear tyre flat, after being scythed by a front wing endplate on Modena's Jordan. Andrea rejoined, but found the handling had gone away. The suspension had also suffered in the impact, and later in the day the Tyrrell spun into retirement.
In at the same time was Comas, who had started well in the Ligier - perhaps a little too well. His left front tyre blistered long before half distance, which meant a change of all four, swiftly performed by his crew.
Planned tyre changes were a different matter, though. Before the race there were differing opinions: some said they intended to stop, others not.
Berger was the first to come in, on lap 29, the McLaren mechanics needing him stationary for only 6.7s.
Did that mean that Senna must be coming in? Afterwards, Ayrton said that was never his plan - in fact, his tyres were fine, despite the pressure of the fight with Brundle. And this was a fight indeed. On lap 26 the two of them had gone through Stowe side-by-side!
"Because he had more wing than I did," Martin explained, "he was much quicker through Becketts, but then he wasn't able to do much about it on the following straight. I moved to the inside to defend my line, and, Senna being Senna, he went right round the outside - which I knew he would! But I just thought, 'No thanks.'"
When they came out of the corner it was the Benetton in front once more.
Senna also much enjoyed the renewed battle. "It was a good clean fight. On some corners I could catch him; on others he was going away. I tried to pass him many times, using the backmarkers, but as the race went on I began to worry about my tyres. The vibration from them got worse and worse."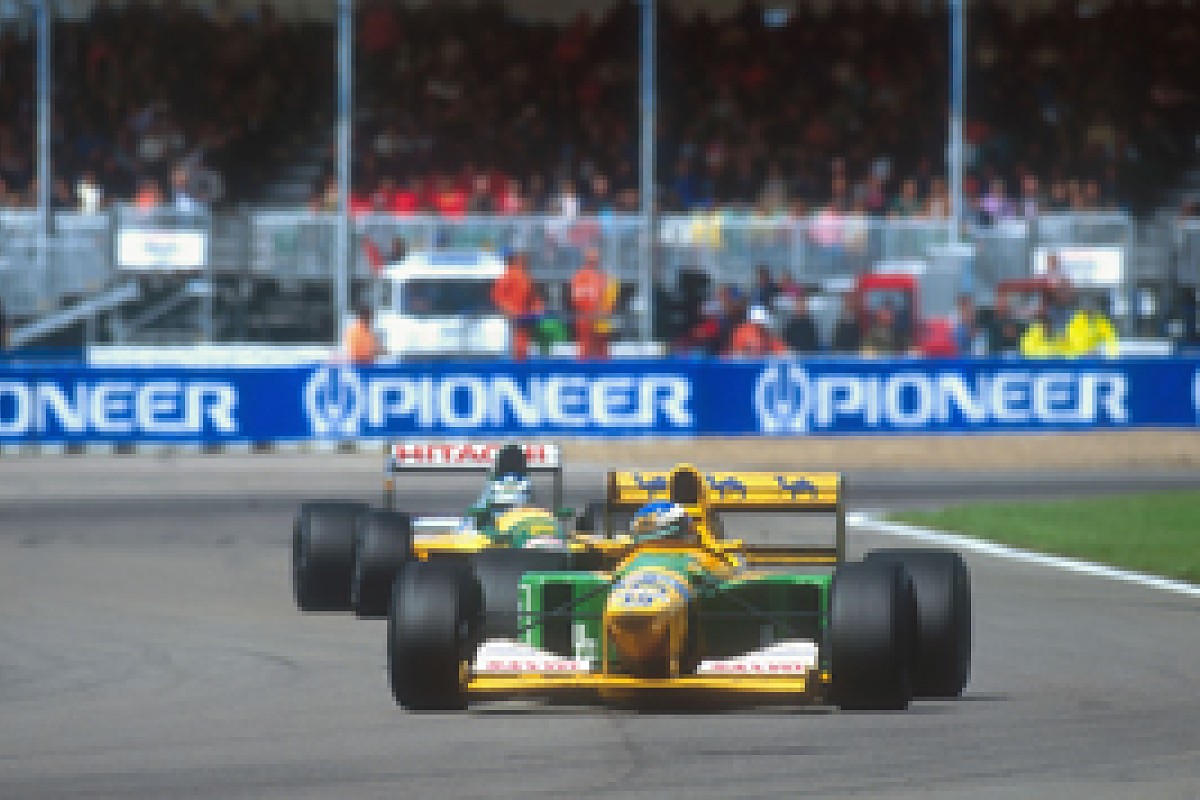 Hakkinen closes on Schumacher © LAT
A great disappointment had been the retirement of Herbert on lap 31. He had been running an easy sixth, and actually gaining on the Brundle-Senna-Schumacher combo. Then the gear selectors began playing up, starting with third, and he coasted into the pits with no drive. The Lotus 107 had again impressed, and Hakkinen immediately took Johnny's place in the top six.
Mansell had always planned to stop for tyres - as you reasonably may, when you can take as read a huge lead at the halfway point. At the end of lap 30 he was in, taking absolutely no risks, approaching his pit gently. The tyre change was also leisurely, requiring 12 seconds, but it didn't matter. At the end of the next lap, Nigel had still eight seconds over Patrese.
Riccardo never did come in, for his team hung out a board to him, advising that his team mate's discarded set were in good shape, that therefore a stop was unnecessary.
Not so for Schumacher, however. As Senna had been pressuring Brundle, so Michael had been pushing Ayrton, but twice he had locked up his front wheels, and afterwards felt a worsening vibration. At the end of lap 33 he stopped for new tyres, which cost him fifth place, of course. "Still, it was the right decision. I only lost one place, and felt sure I could get past Berger again."
At the same time Alesi also stopped for tyres. Mexico apart, this was Ferrari's worst race of the year, but Jean, typically, had driven flat out. "I could not," he said simply, "have done any better than that." Out paced already not only by Williams, by Benetton, by McLaren, but now also by Lotus, the Italian team is in something close to crisis.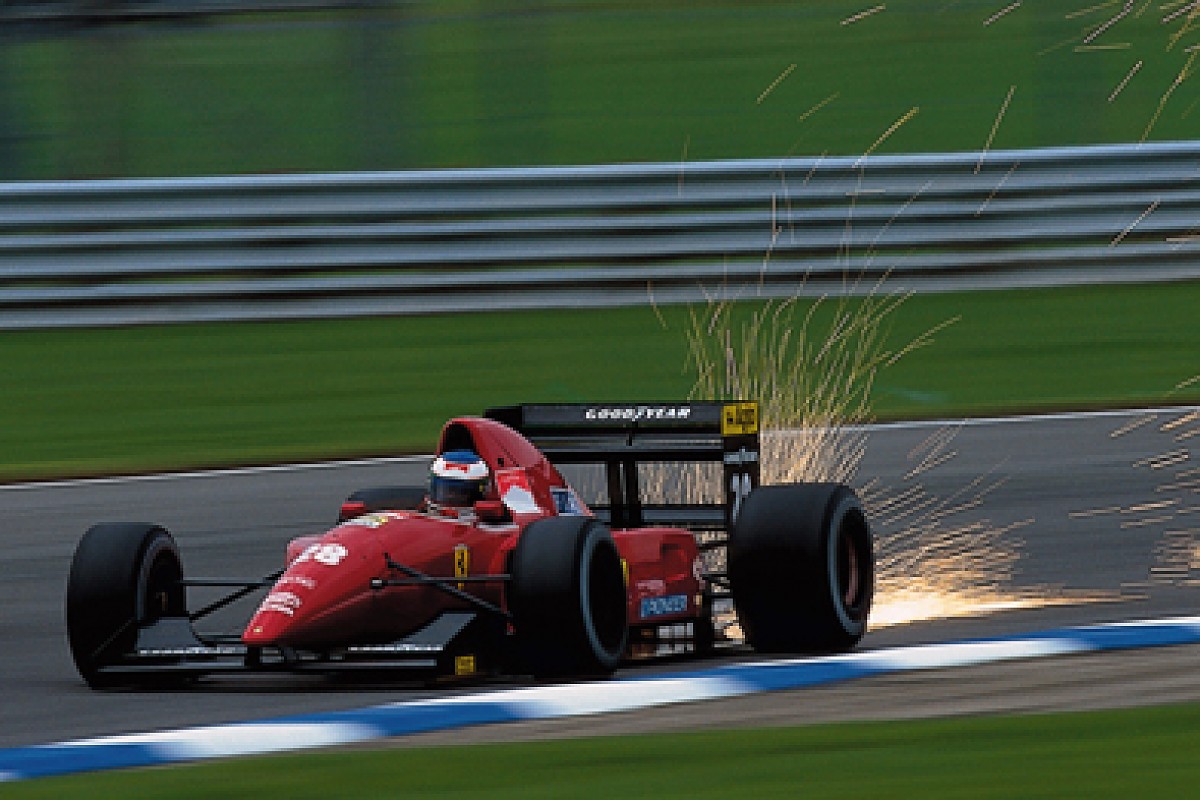 Alesi retired finally on lap 43, pulling off and smartly alighting when his car's fire extinguisher set itself off. And Ivan Capelli's British Grand Prix was another disappointment, sadly. Eventually he finished ninth, between the Ligiers.
At the front the lap records continued, Mansell setting new marks almost as if to keep his concentration up. It wasn't so, of course, but you might have got that impression. He wasn't in a race, as such, on Sunday. He merely set off for 59 laps as the same time as the rest of the field.
On lap 40 Schumacher tangled with Modena, which let Berger through for fifth. When Michael set off after the McLaren again, he was immediately held up by... Grouillard, who else? For a while thereafter Berger was off the hook, but at the flag it was the Benetton which was ahead.
"My engine was never so good after the tyre stop," Gerhard said. "It began to lose power, and at the same time there was a slight vibration. Finally, three laps from the end, the temperature light came on, but I had to keep going hard because of Schumacher. On the last lap the engine let go..."
His luck was better than Senna's, however. On lap 52 came the break he been awaiting.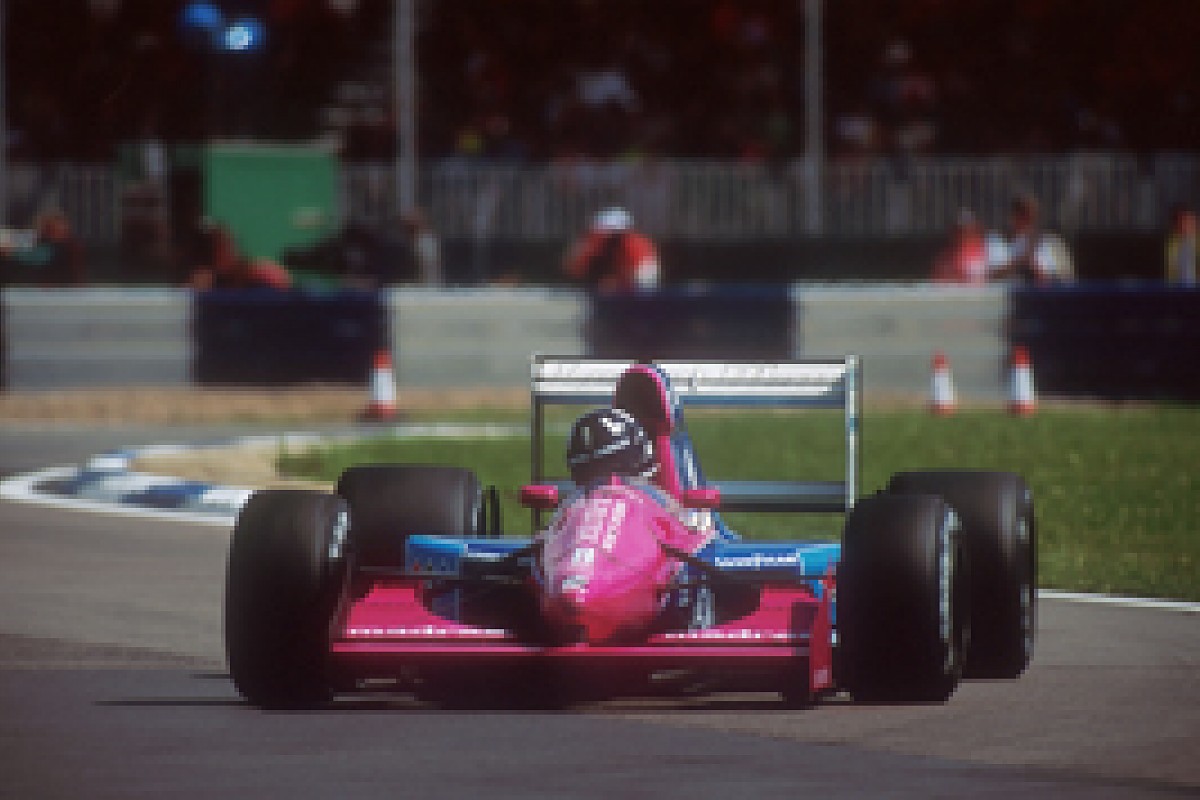 Hill's maiden grand prix start came at home © LAT
"We were following Tarquini," commented Brundle, "and he was running pretty quickly - he'd been in for new tyres. Then we all came up on Damon Hill, who let Tarquini through. I honestly don't think he saw me, because he turned in on me at Maggotts. I had to back right off, even go down a gear more, and then Ayrton outdragged me to Becketts. He was much quicker than me through there..."
There wasn't time, though, even for the crowd to groan, for three corners later Senna, slowed then pulled off.
Transmission. Brundle admitted that he smiled in relief. "Because I'd taken off a lot more wing, the car slid around more than normal, which was hard on the tyres. When they told me there were 20 laps to go, I thought, 'There's no way I can hold him off.' Then I thought, 'Yes, I can!' I really enjoyed myself today."
From another point of view, too, it was probably good that Senna wasn't around at the end; if he had been, probably he and Brundle would have arrived at the finish line more or less together - maybe even side-by-side. And if that had been the case, it might have been difficult for them to miss some of those who took it upon themselves to run onto the pit straight as Mansell took the flag.
It was mindless. As it was, Mansell hit someone, albeit without hurting them very much, but it was only by the Grace of God that people weren't killed. Mansell may have taken the flag, but behind him were Patrese, Brundle, Schumacher et al, who were all expecting to finish the race at racing speed.
Mansell may never again have such an absolute victory. He drove faultlessly, and he will remember the day for the rest of his life. Silverstone's insurance man may well do the same.