The Best of British
It went almost exactly as planned, and they cheered his every lap as if the last. Nigel Mansell did not merely win the British Grand Prix; it surrendered to him.
From Magny-Cours, the Formula 1 circus upped sticks and high-tailed it up to the Channel ports and across the water to England. To the land where Magny-Cours winner Nigel Mansell is a national hero.

Nigel is not really a name which one associates with heroes: Nigel is the name of the bloke leaning on the bar next to you.

But you don't need an evocative name to be a star these days. Skid Solo, Dan Dare, Lake Speed, Christian Vandal, Fireball Roberts and Tazio Nuvolari may sound more like racing drivers, but Nigel Mansell is the tops to his fans.
He may not spend much time leaning on bars, but Nigel Mansell has the image of being the guy from next door. The ordinary bloke who has made it to the big time. The kid who ran away to join the circus. The fans love him.
These days Silverstone on the second weekend in July is a shrine to the cult of Nigel. Everywhere there are Union Jacks and when you listen to the happy throng you hear: 'Nigel did this, Nigel did that. Isn't Nigel wonderful.'
The offbeat Cobra, the Brabham team's fan magazine, has never been very kind to 'Our Nige', but even it had to accept the power of Nigel. This year it included 'The ballad of Red Five'.
Silverstone was the venue of Nigel's great triumph in 1987 and the crowds flock in each year to cheer him on.
Silverstone. Ah yes. The familiar rolling old airfield, where the sky goes on forever, the clouds scud menacingly overhead and the wind whips at the flags.
It is here that Formula 1 engines can always be heard as they should be - wide open, screaming up at the sky; where commitment is spelled with a capital C and speed with a Capital S.
Stefan Johansson in his fourth appearance as stand-in for the injured Alex Caffi at Footwork © LAT
But, hang on, what is this? Someone has stolen the old Daily Express Bridge. That bit of track wasn't there before. This isn't the old Silverstone. This is something new. Something very different.
Oh dear, what have they done? Better take a turn through the paddock; listen to the voices from one end of the field to the other.

Our Nige: "It's the most fantastic race circuit in the world today. There are a lot fantastic circuits in Grand prix racing but the sequence of corners at this race track is just outstanding."

Emanuele Pirro: "This is brilliant. I love it."

Eric van de Poele: "It's fantastic. It's so tough. A real challenge and very interesting to drive on."
They like it! How strange. There must be dissenting voices. People don't like change. There are a few gripes about bumps; a wall or two which are maybe a bit too close to the track. That's all. The credit for this transformation must go, largely, to Tom Walkinshaw. As a driver Tom was always a tough old bird. Not for him the flat, wimpy constant radius tracks.
The fans were clearly keen to see the new Silverstone (and 'Our Nige') for early on Friday morning, at a time when even earthworms couldn't be bothered to get up to be eaten by early birds, the northbound traffic on the A43 was backed up for miles.

The early birds in the Silverstone paddock were up and about, the place growling with engines.
It was cold and the wind laced with spots of rains. But nothing stops the British fan. There were thousands present for pre-qualifying.
It was a shame, therefore, that the session was dull. It was pretty much business as usual. The two Jordans and the two Dallaras made mincemeat of the opposition. It was soon bye-bye time for the rest.
Eric van de poele went home with a positive attitude. The two Lamborghinis had failed to pre-qualify again but if, on Sunday, Footwork, AGS and Brabham failed to finish seventh or better, Eric and his team-mate Nicola Larini would escape pre-qualifying.

"I'm going to watch the race on television," smiled Eric. "And I'll have a bottle of champagne beside me."
To be honest the complexities of how pre-qualifying works did not seem to give the crowd much enthusiasm. They wanted to see Red Five. Soon they caught the first glimpse of Nigel, rocketing along, his Williams showering sparks.
A new track dictates a wander out around the circuit. Copse looked much the same, a subtle change of approach line.
Becketts was impressive. Nigel raved about the new section, referring to it as 'the corkscrew' and to stand in the battering wind and watch Red Five howl through did make one a little dizzy. The cars swept from side to side in dramatic fashion.

Another couple of minutes wandering took one to Hangar Straight and a strange sensation. The wind was so strong that you could hear the cars coming, but only because of the whoosh they made breaking through the air. The scream of the engines was being left behind.
Down a Stowe the cars were teetering around the new corner, curling right and then diving downhill into Vale. Out of Club they were accelerating hard, the drivers' heads being pushed out by the g-forces.
The new Bridge corner was great, a fast right-hand sweeper, with a hidden apex. Balls-out. Nigel took it all in his stride, of course and by the end of that first session Red Five was Number One. It was the perfect story. Nigel arrives from Magny-Cours celebrating his first win of the year and, in front of his home crowd, was setting the pace. His nearest challenger was his team-mate Riccardo Patrese - 1.2s adrift.
Riccardo was a further 1.3s quicker than the rest, and he had run out of gas on his final flying lap. The Williams-Renault boys were not just on the pace - they were setting it.
We had Jean Alesi's Ferrari third and then successful Andrea de Cesaris and JJ Lehto pre-qualifiers. Behind them we had the two McLaren-Hondas. Ron Dennis and his crew know that Williams-Renault is ahead. He is very aware of that, as is Honda.
They have to catch up. To achieve this McLaren had no fewer than five cars available for Ayrton Senna and Gerhard Berger - with two different engine specifications and God alone knows how many different fuel brews from Shell.

Senna jumped between cars like a man playing musical chairs, being chased by a man with a shotgun. Gerhard had to make do with the world champion's leftovers.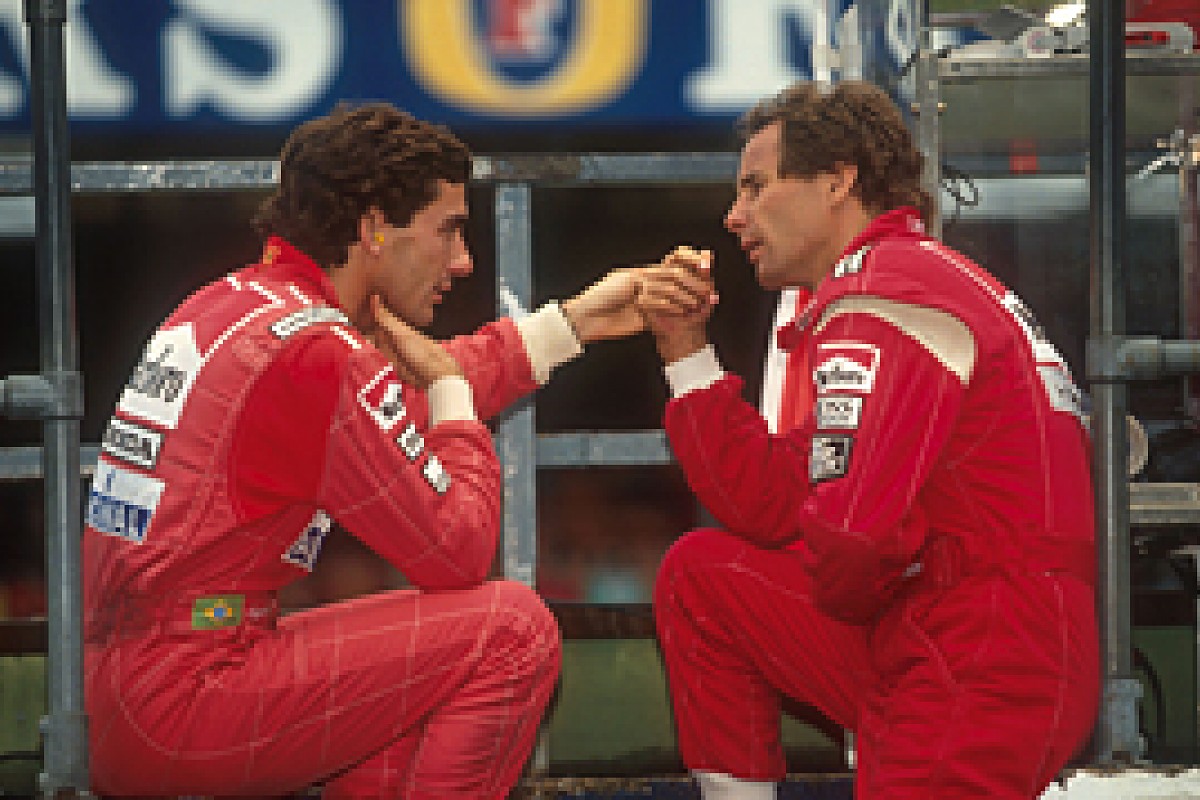 McLaren brought five cars along for its drivers Ayrton Senna and Gerhard Berger © LAT
Behind the McLaren boys came Stefano Modena with his Honda V10-powered Tyrrell and then the impressive Brabham-Yamaha of Mark Blundell. The top 10 was rounded off by pre-qualifier Emanuele Pirro with Aguri Suzuki 11th and the two Lotuses of Mika Hakkinen and Johnny Herbert 12th and 13th. All were impressive performances.
But impressive performances in free practice mean nothing. The only thing that counts is official qualifying. By the time the first session got underway, it was warm but the wind was still up and the cloud was patchy.
Nigel was out early, eager to please his team - and the fans. Kicking up the dust at Luffield Nigel set the pace - a lap of 1m22.644s. Riccardo went a few moments later, had a big wobble at Club, but was still second quickest. It was a Williams one-two - par for the course in recent races.
After 21 minutes out came Ayrton. You can set your watch by Ayrton's first qualifying run. As the Brazilian set off on his flying lap, team-mate Gerhard Berger was also on his way. At Becketts Gerhard's engine blew up. There was oil all over the place. And out came a red flag. Senna's lap was ruined.
For 20 minutes the track fell quiet. The sky cleared, and it was suddenly warm and sunny. When the session restarted, the action began again: Jean Alesi had a big go - as he usually does and then it was Patrese again. He did not improve.
After 41 minutes of the session, Gerhard emerged again in one of the spare McLarens. It was a good one - very good in the circumstances. But only good enough for second. After 48 minutes Nigel went again. It would not be an improvement. Nigel rode the kerbs at Stowe and, in the infield, he came upon Aguri Suzuki and was forced to ride a kerb.
With Nigel having shot his bolt and the sky darkening the rest of the heavy-hitters came out. Berger, Alain Prost, Patrese and Senna. The times came banging in one after another: Riccardo improved but he was still second, Lehto took sixth and Pirro seventh. Prost bounced up to fifth; Senna took second and Berger third. No one was getting close to Mansell and when he tried again, he couldn't do it either.
By the time the session ended, everyone was a bit short of breath. The order was Mansell, Berger, Senna and Patrese. De Cesaris had put in a last-minute effort to bounce Alesi and Prost (in Ferraris, lest we forget) back to sixth and seventh. For the little Jordan team this was a number of Christmases arriving at the same time. "To out-qualify the Ferrari here at Silverstone is something of a dream come true," said team boss Eddie Jordan understanding for once. "Today has been fantastic."
Modena was eighth ahead of Lehto, Nelson Piquet's Benetton, Pirro and the second Jordan of Gachot.
Saturday might change it all, of course, depending on that least dependable of all things - the good old English weather.

It was cooler, as things turned out - and cooler means once things in F1 parlance - quicker.

On Saturday morning Nigel dipped into the low 1m22s, Riccardo still his nearest challenger. There seemed little hope for any driver without a Williams. Berger suffered another Honda V12 blow-up.
The weather had barely improved when the final session began. It was clear that times would be quicker than Friday. But how by how much?
With rain seemingly threatening once again there were qualifying runs right from the start. After 10 minutes out came Red Five and Nigel was quickly on pole with a 1m21.863s and moments later Riccardo came through with a 1m22.389s. Williams one-two... again.
At 22 minutes past one o'clock (bang on schedule) out came Ayrton. Prost had tried to beat the Williams boys and he had failed.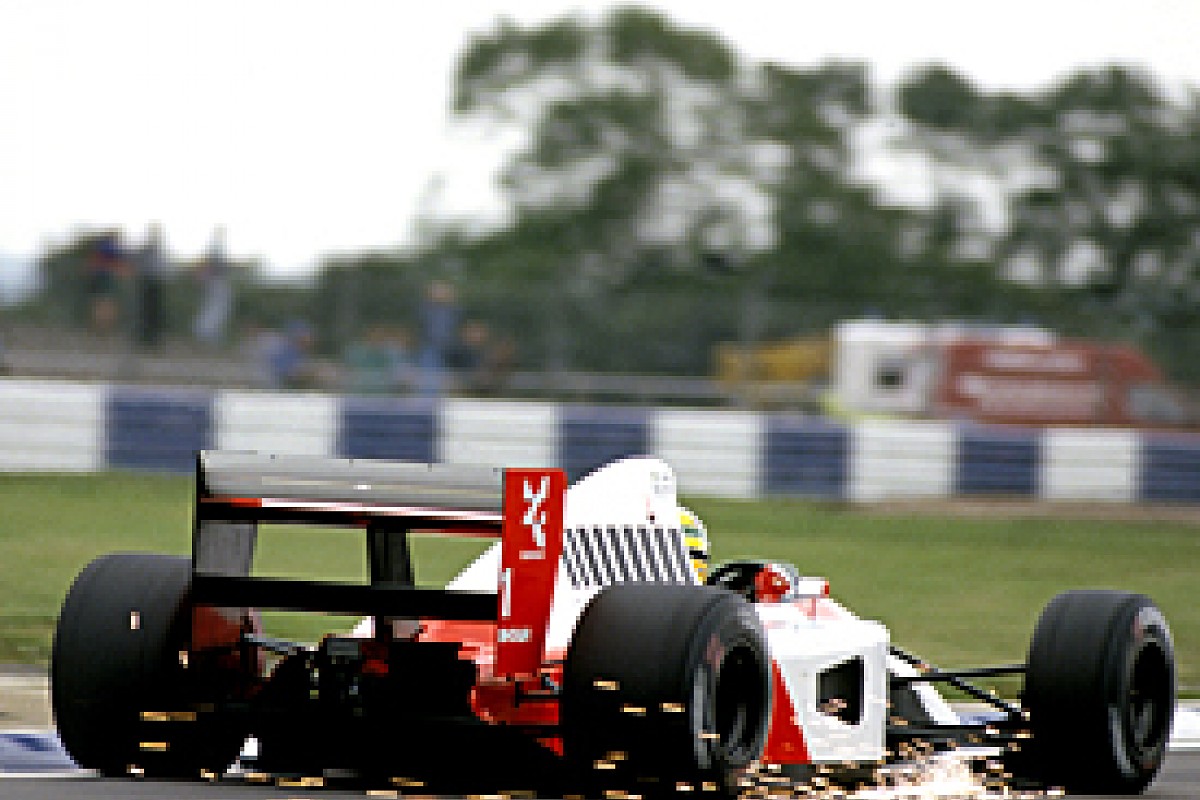 Senna's banzai lap was electric, but not enough to beat Mansell's pole time © LAT
Ayrton's lap included a big wiggle, but it was enough to split Nigel and Riccardo and when Riccardo tried again he could improve his time (and bounce Senna back to third) but he could not match Mansell.
At the halfway point in the session things went very quiet as everyone eyed at times and wondered what to do. Gerhard had two runs still to come. He was pacing the McLaren garage, waiting for a car.
Prost, Alesi, Mansell and Senna each had a run to go. Riccardo Patrese had shot his bolt. After 42 minutes Prost broke the stalemate, but he had never been a contender for pole. His lap was good enough to stay fourth.
Three minutes later it was Senna's turn. This was going to be special. It was. Ayrton's lap was brilliant. There is no other word for it. Clearly the Williams-Renaults were about a second better than the McLaren-Hondas, but Senna conveniently forgot this. It was neat and precise, yet so close to the edge that you feared for the Brazilian. The commitment was startling. There was a collective intake of breath when he crossed the line, stopping the clocks at 1m21.618s. As Ayrton did his thing, so Berger and Alesi also tried, but neither was close to the ultimate pace. In the Williams pit Mansell was waiting.
"What Ayrton did 10 minutes before the end I could have down without," he smiled. "All credit to him. We were in a good position because when you are the quickest you can afford to wait to see what the track does. You don't have to gamble. We had planned that I would be in the car waiting and if we were pipped, we'd be gone in less than a minute - which is what the team did."
This lap was going to be special - you could feel it in the air. Nigel wanted pole. The fans wanted pole. Everyone waiting, hushed.
"It was clean and quick," explained Nigel. "I clipped one kerb. I was probably about an inch off-line at about 160mph. I just touched a corner of the kerb, which woke me up a little bit. Sometimes when you hit them hard it makes you back off, but it was only a nick. I was able to keep my foot flat.
"I was on the limit - and through the limit at times. Around the new Stowe it was exceptionally fast and, coming up under the bridge, it is the first time I can say that I took it flat without a lift.
"At Luffield the tyres had gone away and the car just started to slide. There was grass to run across and I was to run across it. I was on a good lap, I wasn't going to back off." The time, screamed across the tannoys by the commentators, was mightily impressive. 1m20.938s. No one was going to get close to that. Even with their eyes closed and feet flat to the floor.
"The crowd was fantastic on the slowing down lap," said Nigel. "I had to keep reminding myself it wasn't the race and there were other people qualifying behind so I was watching not to hold other people up, but it was a special lap. It was wonderful.
"I was quite surprised that I went as quick as I did. I'm not surprised I am on pole, but I thought I might get two or three 10ths quicker if I got a real good lap and, lo and behold, I got into the 20s. Even for me that was very, very special.
"It is very easy to say this is the best yet, but I would say the time speaks for itself. It was almost a perfect lap. The only other pole position I remember vividly was the first one which I had in Dallas."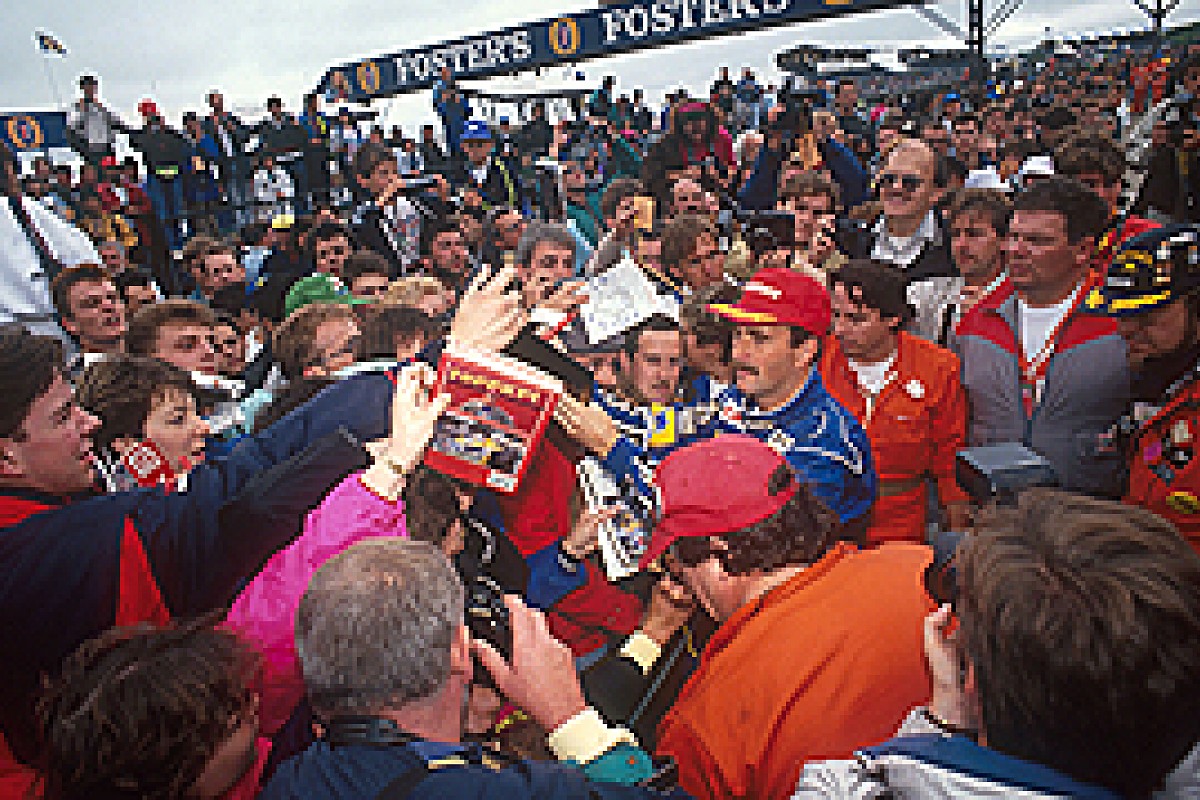 Mansell mania in full effect © LAT
No one beat the time. If they had the cardiac arrest unit at Northampton General Hospital would have been busy. Senna held onto second - which was no surprise for Ayrton's commitment and ability to push right to the edge had been extraordinary. It highlighted, once again, that the Williams-Renault FW14 is still the car to beat in F1 at the moment.

"McLaren have brought five cars here," said Nigel. "They're doing a fantastic job. It is just that Williams has borne the fruits of all the hard work over the winter: a new car and a new gearbox. Renault has done an unbelievable job in a short space of time, Elf has done a great job. We've caught up.

"It's not easy for them (McLaren) now. That's because they had such a big advantage it was easy. Just because they are struggling a little bit, don't sympathise. I certainly don't."

Mansell and Senna's duel had detracted from some of the other action - which had been intense. Patrese was third, Berger fourth with Prost and Alesi fifth and sixth, and the two Benettons seventh and eighth: Moreno outqualfying Piquet. Behind the big four teams it was a scramble with 17 cars covered by 1.8s. On this occasion it was Mauricio Gugelmin's Leyton House which came out ahead of the pack, although Stefano Modena's Tyrrell, JJ Lehto's Dallara and Mark Blundell's Brabham were all very close behind the Brazilian.
By the end of the afternoon session, up in the press centre, people kept asking how to spell the words 'exhilarating' and 'commitment'.
While not wanting - nor daring - to detract from Nigel's brilliance, it was very hard to know if they were asking for the words because of his great lap - or because of Senna's.

But qualifying for a grand prix is one thing. The race quite another...
"You're in for a great race tomorrow," said Nigel.
Out in the fields of caravans and tents, in ditches and in the pubs a lot of people hoped that he was right. Red Five was the favourite for the race and they loved it.

But with Senna around, the impossible is never definite.
Click here for Forix's full practice and qualifying results of the 1991 British Grand Prix
THE RACE
From the opening minutes of the first practice session, it was a certainty that only a mechanical problem to the Williams-Renault would give anyone else a prayer. Nigel Mansell's gearbox worried him in the late laps, but it stayed together. Twenty points in seven days has breathed life into the world championship.

The good weather arrived for race day. After dreary skies, and the chance of rain through qualifying, Sunday was mainly blue, the afternoon hot. The last wild card - a wet race - was gone. Mansell was going to blitz it.
So the spectators believed, anyway. In fact, they almost dared him to lose. Mansell fever was never more manic, not even in the heady days of those very personal Williams battles with Nelson Piquet.
He was fastest in the warm-up, naturally enough, and team-mate Patrese was next in line, with no one else in striking distance. De Cesaris, however, was an impressive third in the Jordan, perhaps the stablest car in the place, and Prost fourth to kindle Ferrari hopes.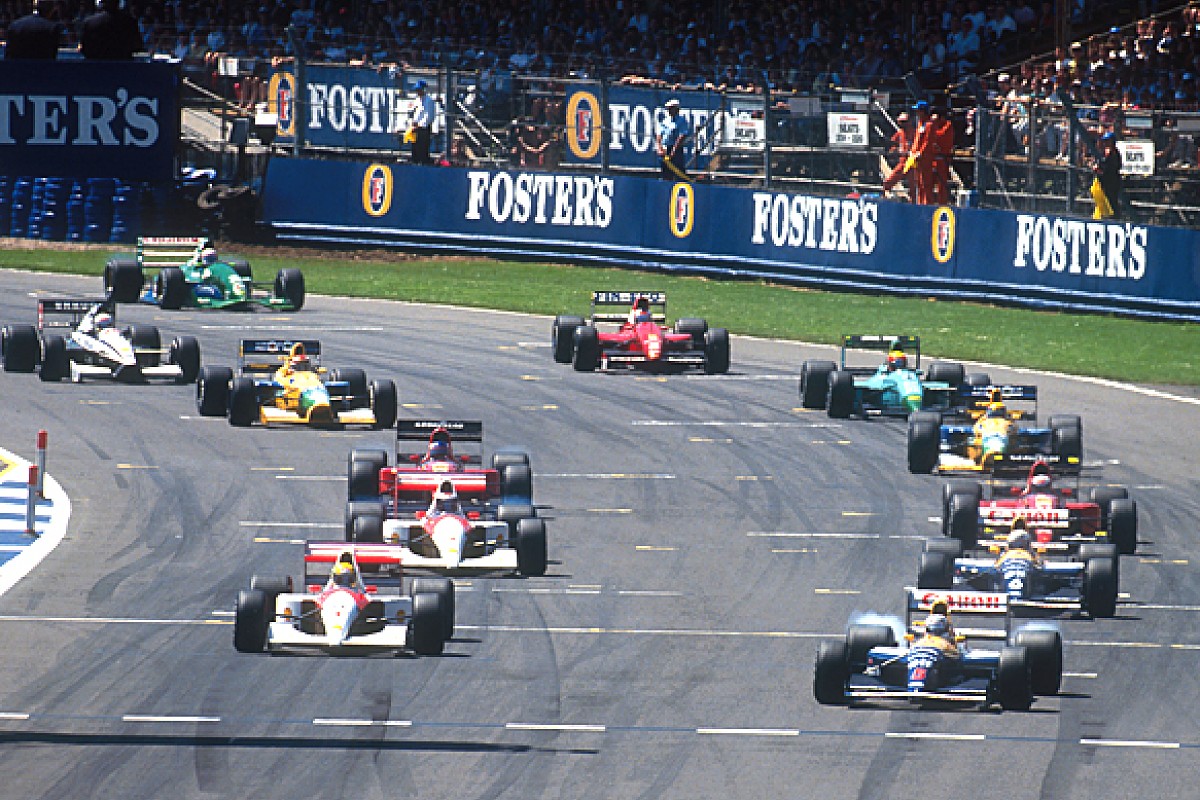 It was then startling to find Martin Brundle's Brabham-Yamaha ahead of Berger's McLaren.
And Senna? Eleventh only, having tried two cars, in an effort decide which of the differing-spec Honda V12s to use for the race.
Ayrton went into the British Grand Prix in pragmatic frame of mind. Mansell, he knew, was gone, beyond reach. What he had to do today was score, and score well, to keep Nigel's advance on his points total in some sort of check. He, like all the leading Goodyear runners, went for Cs all round, but Senna was determined, if possible, to go the distance without a stop.
This was a day for realism. He got a better start than he might have expected, however. When they got the green light, Mansell overdid the revs, and as his wheels spun Senna was past and away.
"I wasn't really ready for the start," Nigel admitted. "I missed the red light going out, and the green coming on - I was just a split-second too late..."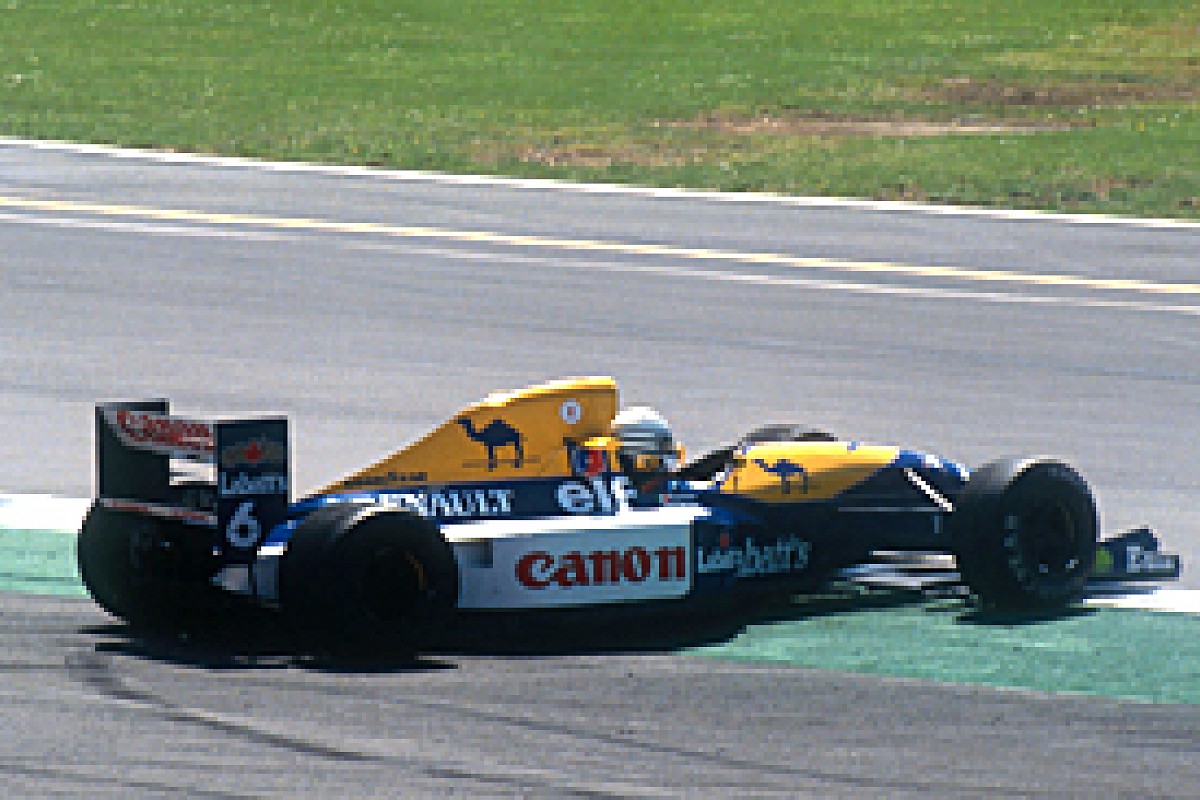 Riccardo Patrese made contact with Gerhard Berger at Copse on lap one © LAT
So, at Copse, the first corner, Senna it was who led, but Mansell's mistake had not been too calamitous, and he ran second. The McLaren was there for the taking. Down the Hangar Straight, he switched off the rev limiter temporarily, drafted up to Senna, and went by with ease. In terms of who was going to win, the British Grand Prix was over.
If all was well with the leading Williams, however, such was emphatically not the case with the second car. At Copse Patrese and Berger had touched, and Riccardo spun to the outside of the corner. He got on his way once more, but the car was rooted for the day. The last week had not been kind to Patrese, all in all.
"I don't want to say too much about it," he said, "except that I really feel it wasn't my fault."
Two-car accidents in Formula 1 are always apparent acts of God, with the finger of guilt pointed at the other guy, and this particular affair was no exception.
"We were side-by-side at the first corner," Berger said, "with me on the inside. And he just turned in, went over my front wheel and bent the suspension." He wasn't laughing as he spoke," but probably he was happier than Patrese.
Lehto, one of the stars of qualifying, was sadly into the pits early for attention to the electrics of his Dollar-Judd, which had misfired almost from the start. JJ went back out, but more than a minute had been lost - and the problem was not conclusively solved.
The best start of the race had been made probably by Moreno, who had the Benetton up in third place during the early laps, before being picked off by Berger, then Prost, the Alesi. He was, for all that, well clear of team-mate Piquet, who had got away poorly and was down in ninth.
At the inside of Copse we knew Mansell was coming every time around, because his approach was greeted by a wall of applause from the stands. It didn't matter that the race was hardly riveting, only that Nigel was leading it, and going away.
And away. Without any apparent effort, he was leaving Senna behind at the rate of a second a lap, and more. Behind Ayrton, Berger relied on straightline speed to hold Prost's Ferrari, this delaying Alain so that his team-mate Alesi came up to make a trio. For many laps they circulated in crocodile.
"The car felt good in the early laps," said Prost. "just as it did at Magny-Cours. It works well on full tanks, when there's some weight on it, and I was quicker than Gerhard through the turns, especially the slow ones. But on the straight I couldn't overtake, not even slipstreaming him."
Mauricio Gugelmin always excels at Silverstone, old track or new, and ran a fine sixth for the first few laps, but a vibration in the car was troubling him, and he stopped for new tyres as early as lap 10. On lap 24 he would stop for good, the vibration so bad that one his legs had already become completely numb. Already out, after spinning over a kerb, was Ivan Capelli, so Leyton House's season of joy continues.
On lap 15 there was a change in the red cars, Alesi coming through ahead of Prost. Friends the two Frenchmen may be, but Alain plainly did not appreciate the manner of Jean's move.
"It was... pass or crash," he quietly said, "and I was surprised, I must say." Not long after Alesi tried the same stunt on Berger, at the same left-hander, Priory.
They touched, but got away with it. "Alesi risked a lot," Gerhard muttered, "and the way he did it was quite dangerous."
Mansell, however, was clear of all this hand-to-hand stuff, 18 seconds ahead of Senna at 20 laps. The Berger- Alesi-Prost combo wasn't far behind Ayrton, but on lap 23 Berger was the first of the front-runners to come in for tyres. "I had to stop early - because of the damaged suspension, I took a lot out my fronts." He rejoined sixth, losing a place to Piquet, now the surviving Benetton driver, Moreno having pulled off shortly before with a shattered gearbox.
Out at Vale there was a most unusual sight: Prost spinning. It lost him very little time, but still it was a surprise. There was an explanation: "Alesi had been losing some oil, and my visor was covered in it. I kept trying to clean it, and then I made a mistake, got up on a kerb, and spun. I was lucky to get the gears back, and afterwards the car was OK, even though the tyres were now vibrating."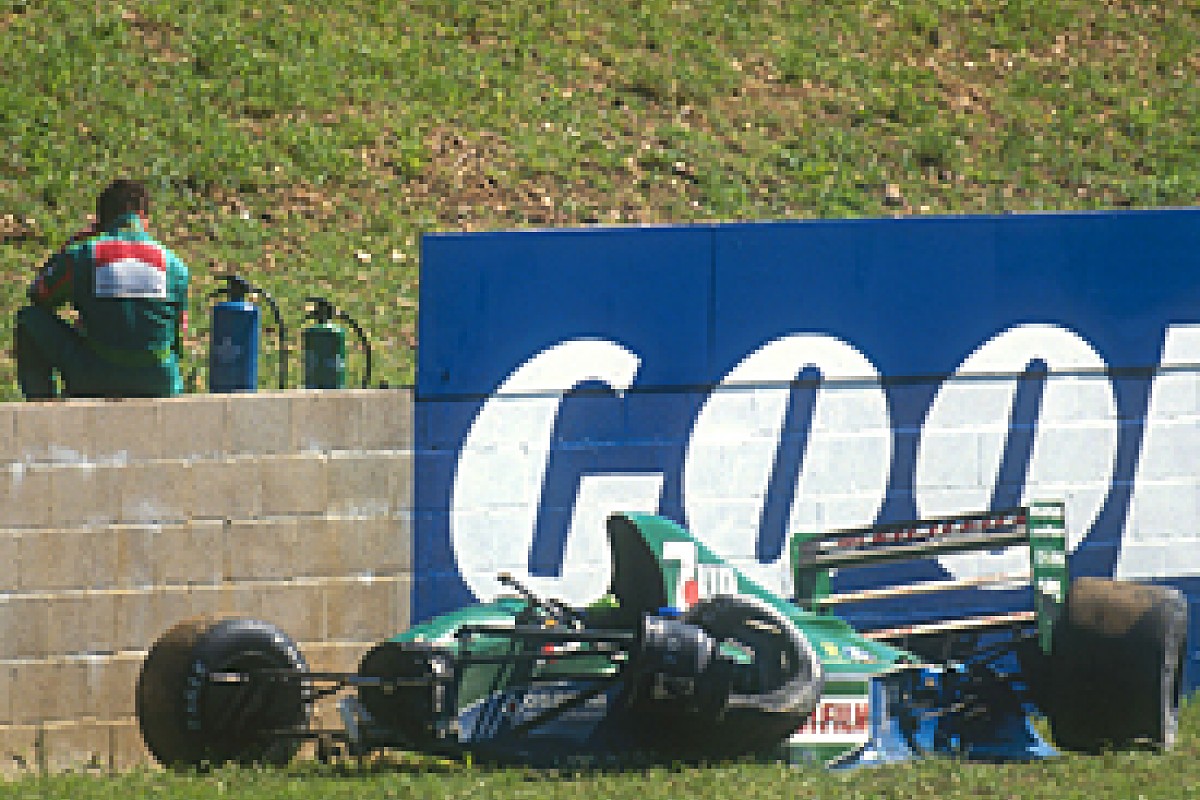 Andrea de Cesaris was lucky to escape smashing into the wall at Bridge with nothing more than severe surprise © LAT
Piquet stopped for tyres on lap 30, and then six laps later, in came Mansell. By now his lead was such that a bad change - as in Magny-Cours - would not have been disastrous, but in the event it went without a hitch. Nigel rejoined without losing the lead, although Senna was close at hand as he accelerated from the pitlane. Next time around his increased lead reassured the failthful.
"I hadn't intended to stop, as a matter of fact," Mansell commened later, "but I lost a couple of balance weights - it always seems to happen to me at Silverstone, I don't know why - and the vibration blistered the tyres. They were still OK, but I decided to play safe."
Lap 40: Mansell, Senna, Prost, Berger, Gachot. Modena, running sixth, had been lapped, and gone altogether was Alesi's smoky Ferrari, after one risky manoeuvre too many. At Priory - his favourite spot for such stunts - Jean hit the back of Suzuki's Lola as he tried to lap it. "I was about to let him through, anyway," the disgruntled Japanese remarked, "but he hit me before I had the chance to get out of his way. A stupid way for the race to end, for him and me."
Prost came in for tyres on lap 43, the vibration following his spin finally proving too much. The stop put him behind Berger, but initially he made strong inroads into Gerhard's advantage, looking sure to pass the McLaren before the end. He got the gap back to a little over four seconds, but then faded.

"As in France, the car began jumping too much when the fuel load lightened. It's a disaster like that, as if the front wheels are hardly touching the ground. And it becomes very difficult to drive. Gerhard could maintain the gap, and I decided not to push. For the sake of one point, at this stage of the championship, it wasn't worth risking - and, in any case, I couldn't have caught him."

Lap 42 brought the one bad accident of the day. De Cesaris, after an early tyre stop, had driven a fine race back to seventh, but going through Abbey the Jordan snapped out of control. After what seemed a long time, it hit a wall extremely hard, and Andrea was fortunate to come out of it with only a bruised leg and shock.
He was sure, he said later, that he had not made a mistake, and Eddie Jordan accepted the probability of a rear suspension failure. At all events, the car was destroyed.
In the closing stages of the race there was little of excitement, bar Piquet's efforts, following his tyre stop, to catch Modena's Tyrrell for sixth. Stefano probably wouldn't have been able to keep the Benetton back, anyway, but he made Nelson's life considerably easier by backing way off to let Mansell lap him at Copse. The Brazilian, by contrast, came off the corner at normal speed, and had momentum on the Tyrrell. Next time through, it was Piquet from Modena, and now Nelson set off after Gachot, whom he would duly separate from fifth with four laps to the flag.
One of the disappointments of the British Grand Prix was the failure of the Brabham-Yamahas, which showed considerably more pace than we have come to expect of them, both Brundle and Blundell in the top 10 at the halfway mark. But Mark's car went out with engine failure, and Martin's - unforgivably in this day and age - with a broken throttle cable. With the spectre of pre-qualifying looming, Brabham had needed a seventh place, or better, at Silverstone, and for much of the day looked on course for it.

At the front, though, all looked very fine for Mansell. But in reality it was anything but. "During the last 10 laps or so, I was getting panicky, because I started having major problems with the gearbox." Nigel said nothing to the pits about his predicament, but the Renault telemetry picked it up, so that Patrick Head and the rest suffered with their driver.
"In the end, I was just relieved to make the finish," Mansell grinned. "I was missing gears, not getting any gears, getting stuck in gears... you name it. For the last couple of laps, in fact, I was changing up to fifth past the pits, and staying there all the way to Club, on the far side of the circuit. I was frightened of not getting another gear, it was as simple as that, and fortunately there was no pressure on me at the time."
None at all, in fact, had there been from lap one. Given his circumstances, Senna's race was superb, if necessarily muted, but he was in no position to get near the Williams. That had to wait until the slowing-down lap, in fact, when he thumbed Mansell down, and hitched a ride back to the pits. Unbelievably, the McLaren-Honda had run out of fuel on the last lap. Still, Ayrton was classified fourth, but that meant a three-point drop from second, which might start to look crucial towards the end of the season.
Berger was luckier. His McLaren also ran dry - but on the slowing-down lap, after he had taken the flag, and after he had inherited Senna's second place. Prost, too, benefited, finishing third in the Ferrari.

In truth, though, 25 of the starters in the British Grand Prix were there as bit players. There never was the slightest chance that anyone was going to worry Mansell, let alone threaten him. If there were signs, earlier in the season, that his confidence was mysteriously lacking, the last two weekends must have dispelled such thoughts.
At Silverstone, from first to last, he and the Williams-Renault were beyond compare. Hockenheim, he insisted afterwards, would favour the McLaren-Hondas, and maybe so, but then come to Hungaroring and Spa. The rest have much to do.
Click here for Forix's full results of the 1991 British Grand Prix