With the mercury nudging 35C for much of the day in the Valencia paddock, it was hard to imagine anyone other than Mad Dogs and Englishmen being happy wandering around in the midday sun.
But while the blisteringly hot weather made life difficult for everyone going about their business on Thursday afternoon, down at Lotus the predictions of even more sunshine was more than welcome - as it left its men as clear favourites to deliver what could be an eighth different winner this season.
There are a fair few contenders who could help achieve that remarkable feat, but on a day when Michael Schumacher and Sergio Perez effectively ruled themselves out, and Felipe Massa's own assertion that he could do it was met with some scepticism, it is clear that this really is Lotus' big chance.
On paper it appears to be near perfect: the E20 excels in the heat; it loves abrasive track surfaces and it likes the kind of braking/traction/medium-speed corners that Valencia delivers. The return of the soft/medium Pirelli compounds also means the troubles its drivers have had extracting speed from the super-softs is no longer a factor, as it was in Monaco and Canada.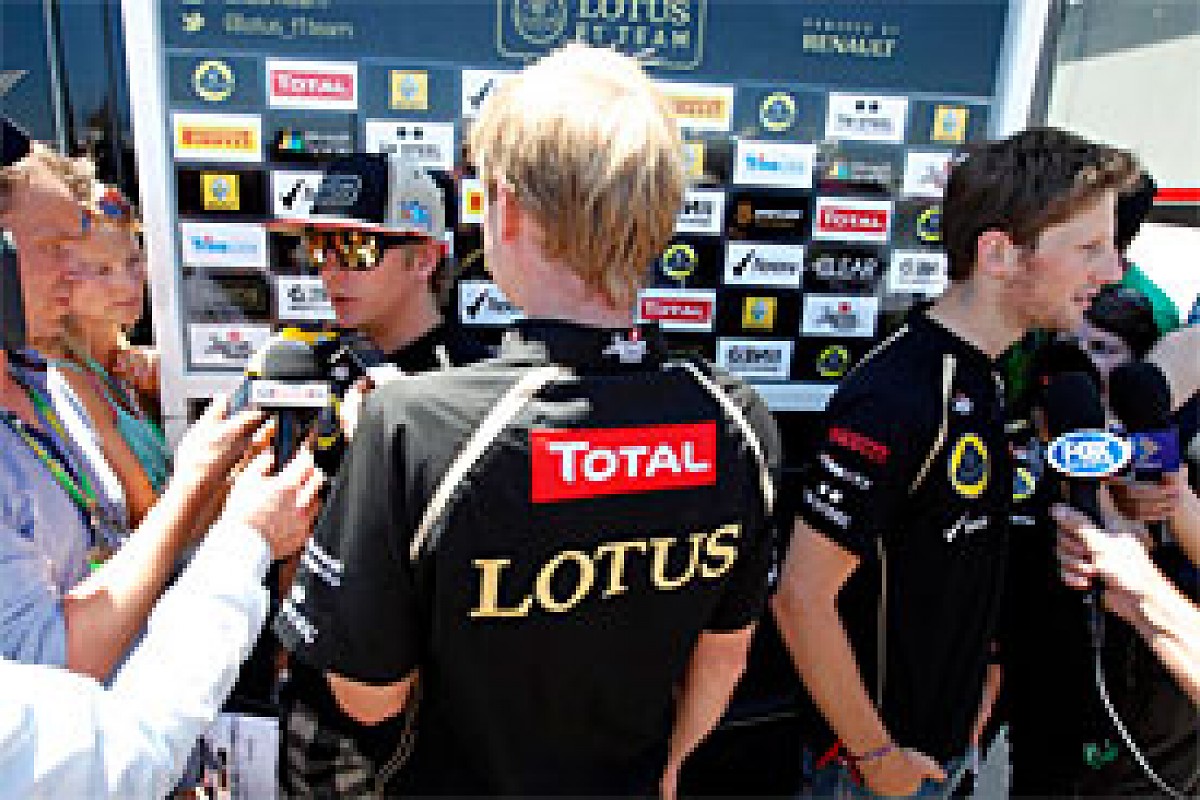 Raikkonen and Grosjean face the media © LAT
Perhaps one of the most fascinating aspects of the build-up to Valencia though was that it was not Lotus's big name star Kimi Raikkonen who was being automatically tipped as the man to do it for Enstone. Instead, smiley Romain Grosjean was being given the nod by many in the paddock to upstage his Finnish team-mate.
After Grosjean's strong second place in Montreal, on the back of him doing almost everything right in Monaco until the run to the first corner, the Franco-Swiss has grabbed the opportunity of his Second Coming in F1 to full effect.
His media briefing in the Lotus motorhome on Thursday gathered as much media interest as that of Raikkonen's, and the contrasting mood of the pair could not have been greater.
A sweating Raikkonen was scowling as he appeared disinterested by the questions being put to him, while bouncy Grosjean showed off the front page of L'Equipe that celebrated his Montreal podium. He simply loved talking about the transformation of himself from the broken man, whose F1 career appeared to be over at the end of 2009, to potential winner now.
"I'm not different, I still have blue eyes and blonde hair," he smiled when asked about how much of a new man he felt compared to when he made his F1 debut here three years ago.
"I didn't change, I got maturity and experience. I understood a few things. I grew up, maybe. It's a different situation, a different atmosphere, a lot of things are different. But still I'm enjoying Formula 1 as much as I was before, maybe even more, and that's the key."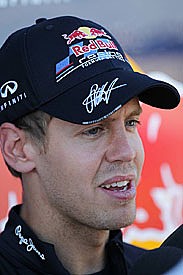 Vettel welcomed Domenicali's praise © LAT
While Grosjean could well go on to become the man of the weekend, it was interesting to see that off-track chatter remained not on this year or even next - but was instead focused on 2014.
Down the road in Valencia city centre, team principals were gathering in a bid to further edge forward cost-saving measures that will help secure the future of F1, while the 'silly season' driver gossip was planted firmly on when - not if - Sebastian Vettel will be joining Ferrari.
Stefano Domenicali's comments that he could easily see Vettel and Fernando Alonso coexisting at Ferrari had served to whip up the speculation further, and it was fascinating seeing how the matter was dealt with by both drivers.
Vettel said he was flattered by the attention, and Alonso - sat right next to Lewis Hamilton in the FIA press conference - suggested that for the first time in his career he actually will have a say in who his future team-mate will be.
With such fun and games on the driver market, a wholly unpredictable season playing out on track, and the prospects of that record eighth winner, F1 has probably never been hotter than it is right now.
And everyone in the Valencia paddock could easily testify to that.