Sebastian Vettel was doing his PR bit for F1 in the US last week; straight after Montreal he flew to the planned New Jersey venue, drove the route in an Infiniti and then headed off to appear on the Late Show with David Letterman.
Letterman, of course, is a race fan and team owner and I wouldn't presume to suggest how he should host a chat show, but it did seem a little odd to have the world champion discussing the ins and outs of DRS activation zones for a US audience!

"They won't have a f****** clue what I'm talking about," Vettel smiled, bringing Letterman's bleeper into action.
The audience seemed to take to Sebastian, particularly when he told the tale of arriving at US customs to be asked the purpose of his visit.
"I'm here for the race," he said.
"Do you have a good seat?" he was asked.
Often, the Canadian Grand Prix clashes with Le Mans, but not this year. The French classic has never really been my thing, but I can appreciate that it's a very special event.
It's just that I like to watch cars being raced, rather than 'enduring', however much more of a sprint it seems to be among the frontrunners these days.
And if I want to drink for 24 hours, which is what it means to some, there's no need to go to France.
Competing in it, though, I understand entirely. I've done four or five 24-hour karting enduros and although not remotely similar, you still get the buzz of being part of a team, and the special atmosphere generated by racing through the day and night.
Le Mans, however, is dangerous, something far from lost on an experienced pro. Some F1 drivers won't countenance it, concluding that the mixture of huge speed differentials and enthusiastic amateurs is not a cocktail they're too keen to taste.
The Mansells at Le Mans in 2010 © LAT
If you want a risk-free existence, though, be a bank clerk not a racing driver. To many, once they've made the decision to accept the danger of a professional driving career, racing is racing.
And if it's a family thing, as it is for the Mansells and the Brundles, you can absolutely understand the buzz of competing at Le Mans with your offspring. As bonding opportunities go, they probably don't come better.
A couple of years ago, you sensed that there would be drama of some kind when Nigel Mansell made his Le Mans debut at the age of 56, driving with sons Leo and Gregg. He shunted just over a quarter of an hour into the race.
I wouldn't imagine that 56 is the ideal age to make your first visit, even if you are Nigel Mansell. According to Martin Brundle, everyone goes ballistic in the opening stint because they know they're on live TV!
On Saturday morning I found myself sending a good-luck text to 53-year-old Brundle, which is not the kind of thing I'd normally do. You'd feel an idiot telling a racing driver to 'take care', and I didn't, but it was along those lines I was thinking.
Brundle knows which way is up, whether it's racing, business or the media. And he's led Le Mans teams for Jaguar, Nissan, Toyota and Bentley, winning for Jag in 1990.
When I learned he was going to do it this year in an LMP2 car with his son Alex, it brought to mind an illuminating chapter on Le Mans in his book Working the Wheel.
As he pointed out, there simply aren't 165 world-class drivers all up to the job. Used to Charlie Whiting's F1 driver briefings, Brundle once found himself at Le Mans the next weekend standing behind a guy who had his young daughter in his arms.
"She kept asking to go home and I was thinking, 'I don't believe this' as I found myself hoping he'd be paying more attention at 3am in the mist on Sunday...
"You can't get away from the fact that Le Mans is distinctive," Brundle continues, "not only from the point of view of driving but also the completely different challenge and the element of risk.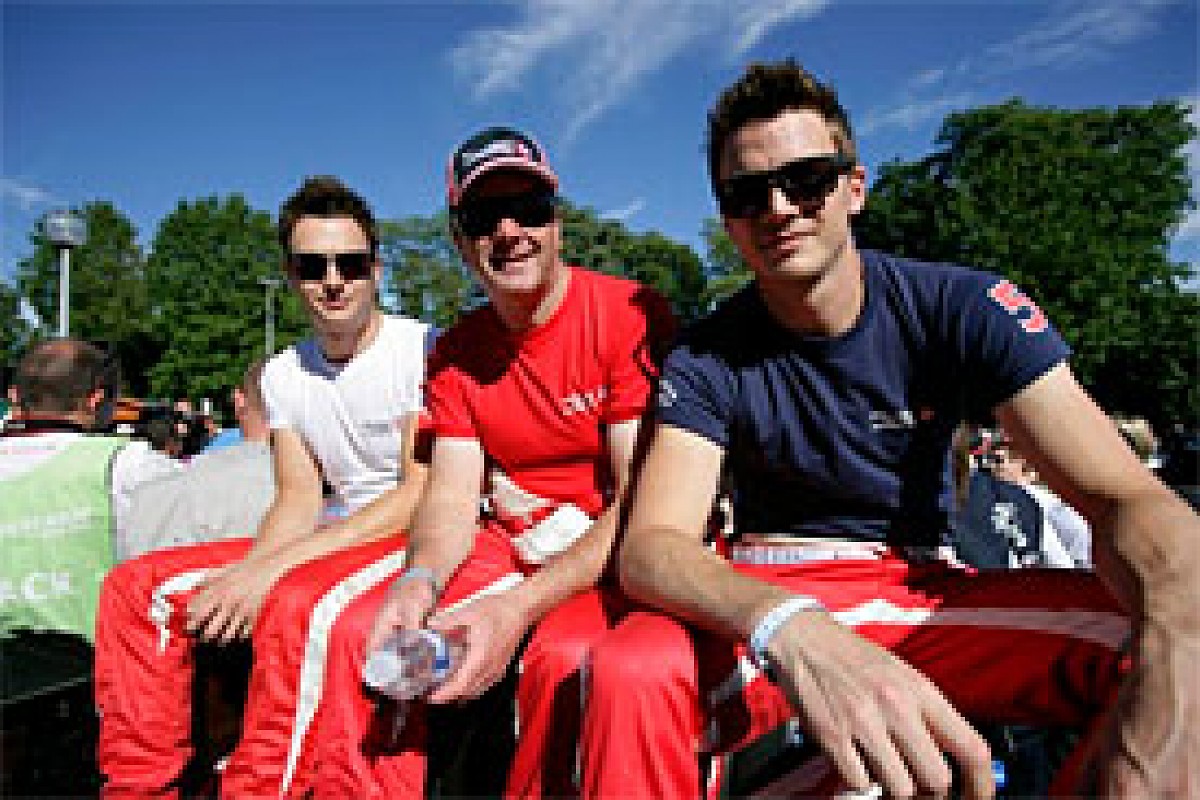 Martin Brundle in action at Le Mans © LAT
"One of the problems is that the faster cars sit lower on the ground. I can clearly recall looking up at the back bumpers of Mustangs and Camaros and finding myself beneath the whale-tail of a Porsche 911. I have got to assume that everyone is going to run into me unless they prove otherwise or I know they've seen me.
"All of this is compounded at night because every car carries a massive set of lights. It's necessary to tweak your mirrors so that they are offset and you need to move your head to check what's coming. You don't dip your lights at Le Mans, a full set on whatever car you have just overtaken will dazzle your mirrors.
"The slower drivers cannot judge how fast a car is approaching simply because they can't look closely in the mirror without being blinded. You might be lapping half a minute faster than a few of them and the speed differential is even bigger when it rains, which is a whole new problem."
At every previous visit to Le Mans, Brundle was always behind the wheel of one of the quickest cars in the race. While an LMP2 car is not slow, this year he had to monitor the mirrors too.
The Brundles finished the race 15th, and Sky Sports will have its co-commentator safely in Valencia this coming weekend. It may not have Anthony Davidson, however.
'Little Ant', one of the leading lights in the two-car Toyota attack, experienced just the sort of Le Mans accident you can't legislate for and of which Brundle spoke, when he was tagged by a GT Ferrari while flying down its inside.
The Toyota got sideways and such is the flat-floor area of LMP1s that get air underneath them and they fly. Davidson's car took off, somersaulted and slammed into a tyre barrier.
The worst impact came as the car 'landed', which broke the 11th and 12th vertebrae of Davidson's back.
"Well, that was a big one!" he tweeted on Sunday. "Feeling a bit sore today but generally happy to be alive."
He was unlucky and lucky all at the same time. Think about it too much and you'd never step in another racing car. These guys are a different breed.