With seven different winners from the first seven races - and every chance that there could be an eighth if the Lotus boys or Michael Schumacher get their act together in Valencia - you could be forgiven for thinking that Formula 1 is heading for its closest ever championship battle.
Having six world champions on the grid, and all of them in pretty competitive machinery, there was every chance that the twists and turns of this remarkable campaign were going to open up the biggest pool of title contenders we had seen for years. What chance of six of seven-way title decider in the season finale in Brazil?
Yet circumstances have meant that that scenario has not played out - with it looking increasingly likely that 2012 is turning in to a classic three-way competition between Sebastian Vettel, Lewis Hamilton and Fernando Alonso.
The three men who fought so hard wheel-to-wheel at the Circuit Gilles Villeneuve have carved their way through the topsy-turvy start to the season to deliver the points that have shuffled them all to the top of the drivers' standings.
They have each had the edge for much (but definitely not all) of the season over their team-mates, and each is thriving in the challenges that the 2012 tyre situation is throwing at each of their teams.
But after one third of the season, is it too simple to appoint one of these three men as where F1's world championship trophy is heading?
The conservative response would be to say no, because Hamilton, Vettel and Alonso now appear to have found that confirmation that they indeed do have the title destiny in their hands - and can we really expect Jenson Button, Mark Webber and Felipe Massa to stamp their authority on the campaign with the way current form is?
Vettel leads Hamilton and Alonso in Montreal © LAT
Only Webber has shown the speed and consistency that could tag him on to the group of title contenders; but he will need to start lifting his performance if he is realistically going to not lose ground.
But it is not Button, Webber or Massa who hold the key to just how wide this title battle is going to become; for the men who could yet prove to be ready to join that fight are in different cars - namely a Mercedes and a Lotus.
Indeed, while Nico Rosberg has not yet repeated his triumph from China - or indeed ever looked like being able to dominate to that extent - the German has been quietly chipping away to top up his world championship challenge.
And if you discount the opening two races because of the tyre disasters his team suffered, it is fascinating to note that it is Rosberg who is tied with Sebastian Vettel as having scored the most points from the Chinese Grand Prix onwards.
In a season that is going to be decided by consistency, rather than one man being able to lay down a run of victories to pull clear at the front, Rosberg's doing exactly what he needs to do.
And while his fifth position in the championship points to him being adrift of the leading men, it is remarkable to note that he is actually only 21 points off the world championship lead. If this was a straight two-way contest with that gap, there is no way anyone would be saying the title fight is over.
Has Mercedes the car to do it? That is the big issue - and it is the next run of races before the summer break that are going to answer once-for-all about just good the W03 is.
The team had gone into Canada with many expecting it to win - because the low/ medium speed corners were said to be perfect for the car, plus the long straights, were theoretically ideal for its double-DRS system.
However, the reality was much different, which is why the team was keeping its cards close to its chest beforehand. The double-DRS advantage was not as great as some expected - because the low drag nature of the track meant there was never going to be as much to gain as there is at other tracks which require more downforce.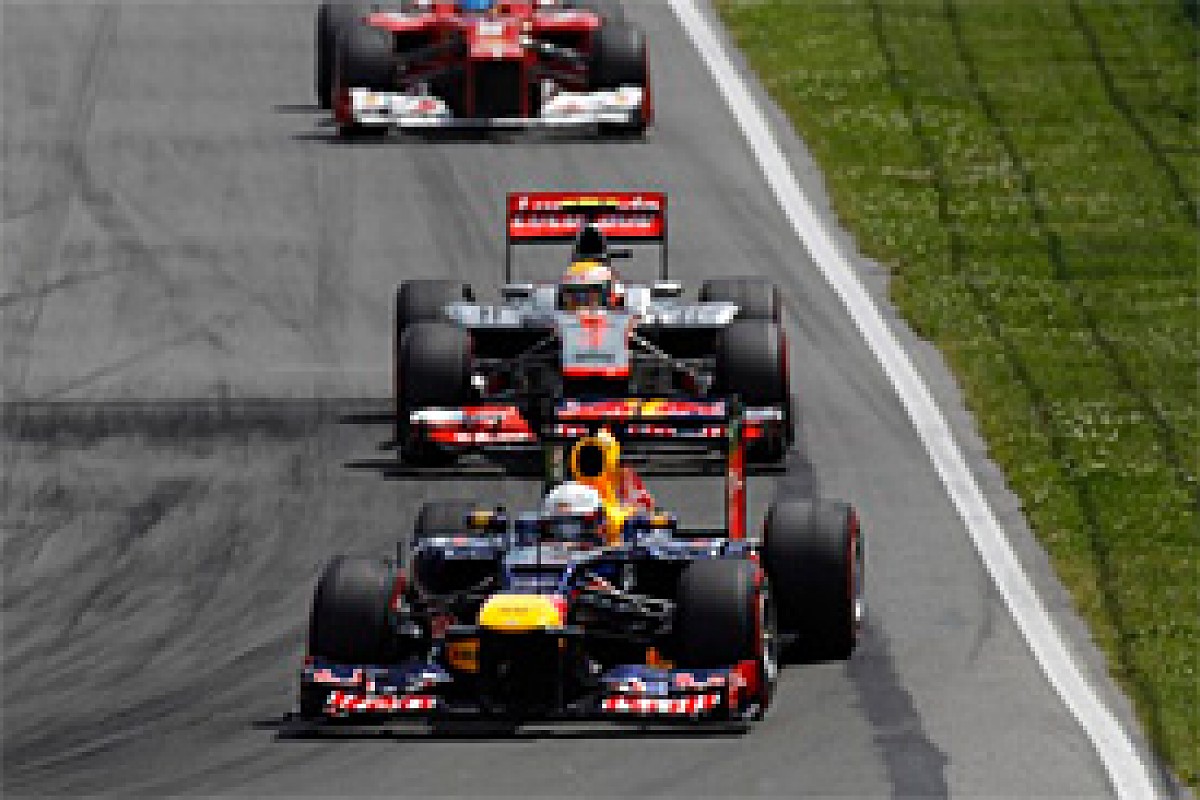 Can Rosberg stay in the title fight all year long? © LAT
Plus, the determinant factor in the performance of the Mercedes appears to be how well it can gets its rear tyres working - and how its drivers can then look after them. It appears that the car is much better on front limited tracks, something Canada is definitely not...
The factors that meant Mercedes was not as competitive in Canada as had been hoped should not be so prevalent at Valencia - which has the perfect mixture of the right type of corners, good downforce levels for double-DRS and a venue that should be better for it in tyre terms.
Valencia will also have one thing that Lotus appears to love too: heat. Montreal proved to be a similar tale to Bahrain for Lotus - with struggles to extract grip from the tyres in qualifying being switched around to a brilliant consistent run in the hot races to allow Romain Grosjean to charge his way up the field.
Lotus is well aware that at both Bahrain and Canada, if it had qualified higher up then it would definitely have been in a much better position to win the race. The key though will be switching the tyres on for qualifying without then sacrificing long-run pace.
Valencia should allow us to see whether the potential that so many believe lies in that E20 can finally be unlocked - and help Grosjean or team-mate Kimi Raikkonen start nearer the front of the grid.
If they can start doing that, then the duo are not so far off the leading trio that they cannot get themselves back in it.
F1 does not yet have its three-way fight - but by the time Valencia is behind us then we will be pretty close to knowing just how many men are going to be battling out.
But whether we have three, four of even five men realistically in the hunt matters little: F1 2012 is producing thrillingly competitive racing - and that means a title battle that is going to go all the way to the wire no matter how many are involved.