The Formula 1 silly season always kicks off in earnest around this time of year. Most of the gossip and speculation surrounds the plans of Lewis Hamilton, but in Montreal the 2008 world champion wasn't playing.
"I'm not thinking about my future," says Hamilton. "I've got people to do that for me. At some point I'll sit down and say what I think, but right now I'm trying to win another championship. Who knows, I might not even see next year..."

That seemed like an odd thing to say, and while Lewis won't be entering any discussions with the press about his future, you can bet he'll be thinking about it.
It's not an easy call. Any potential route to Ferrari seems to be blocked by Fernando Alonso for the foreseeable future, and then there's the rumour about Sebastian Vettel's 2014 option with the team.
One leading team principal mused in Canada that when the music stops, all the leading players will probably still be sitting where they are, including Felipe Massa at Ferrari.
If you were Lewis, what would you do? Staying put seems a likely option. Or perhaps he might feel like renewing old acquaintances with Nico Rosberg at Mercedes.
The three-pointed star would undoubtedly fancy him, if it's brave enough to tell Michael Schumacher that there's no longer any room at the inn!
If that happened and Michael didn't feel like stopping, Bernie Ecclestone said some time ago that he'd like to see Germany's two great stars together at Red Bull. Could that work?
Webber to Ferrari is a deal that I can see happening. But his boss doesn't agree. "Why would he want to leave?" Christian Horner asked in Monte Carlo, after Webber had just won his second Monaco Grand Prix in a Red Bull.
I think the feeling is that after the tenacity Webber has shown at Red Bull, and his refusal to be cast in a supporting role to Vettel, why would he accept playing second fiddle to Alonso at Ferrari? It seems generally understood that anyone going to Maranello needs to accept that such a role will be their fate. Alonso, it is said, controls Ferrari to a much greater extent than even Schumacher did.
The Scuderia is believed to be entirely happy with what it has - and why ever not? - and isn't keen to do anything that removes Alonso from his comfort zone.
Mark Webber and Fernando Alonso have always been good mates in F1 terms © XPB
If the supposed Vettel 2014 Ferrari option has anything to it, it's interesting that Alonso is prepared to have the German alongside him, but not Hamilton. He must be quietly confident that he can handle the 2010/11 champion in the same car. But Lewis? He's been there once before...
But Alonso and Webber get along and maybe Fernando sees Mark as the ideal team-mate: quick and reliable, but not Lewis quick.
So, to Horner's question: why would Webber want to leave?
Well, first off, he's 36 in August. A babe in arms next to Schumacher perhaps, but clearly nearer to the end of his racing life than the beginning. And what better place to finish a good F1 career than Ferrari?
Second, Webber is a true sports enthusiast. He went straight from his Monaco success to the Isle of Man to support 16-time TT race-winning Lancastrian John McGuinness. While a pragmatic, no-nonsense sort of guy, you can't help but feel that he's the type for whom the magic of Maranello would register.
However, if Vettel's coming for 2014, wouldn't that mean the slot would be open for just one year? Possibly, but what if Sebastian doesn't go? And, in any case, by the end of 2013 Webber will have done a dozen seasons in F1 and may think that's enough.
What about all the number 2 stuff? Well, maybe, but if you look at relatively recent history, the distinction wasn't clear-cut in the Raikkonen/Massa years. If Felipe could perform, he was allowed to, and did, from '07 to the middle of '09.
Also, Webber's a realist. He's spent the last six years at Red Bull, and in highly competitive machinery these past four seasons. He's had an Adrian Newey car and he's had his crack at the world title, in 2010.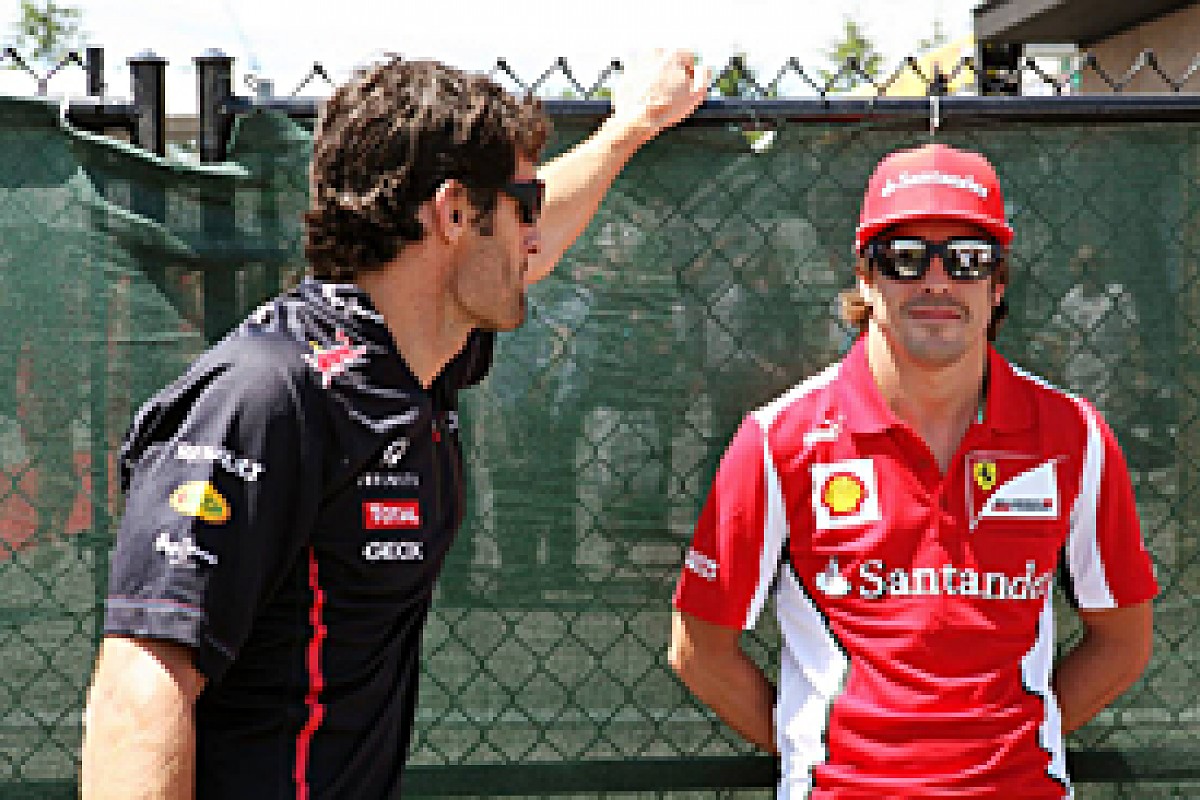 Team orders; would that suit Webber's approach? © XPB
It didn't quite happen for him and you wonder how often, in quiet moments, he beats himself up about Korea. Yes, you can rationalise it as just one out of the 19, but...
Today, Webber might see things a little differently. Newey is far more than just an aerodynamicist, but it's also fair to say that he's an aero genius. Has not the FIA just spiked a large portion of his influence with its blown-diffuser regulation changes and tougher flexi-wing restrictions?
If ever there's a time to drive for another team, it could well be right now.
Ferrari might not be having a vintage season, but it's getting ever closer and Alonso is right there in the championship hunt. And you know for sure that even a bad season at Maranello is never going to put you in HRT territory. Besides, an Australian has never driven for Ferrari.
What would the Scuderia see in Webber? A quick, focused, determined, reliable, gritty competitor who would work well with Alonso and facilitate a constructors' championship.
And only recently, wasn't Luca di Montezemolo talking about the importance of experience? Not by accident, one suspects. There you go, I've convinced myself.